Royal Class Bf 109 E
& Bf 109 E-4 ProfiPACK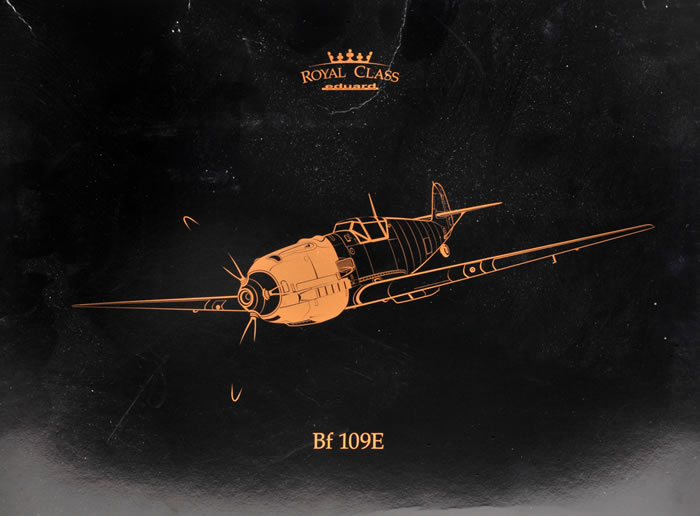 Eduard, 1/48 scale
S u m m a r y

Catalogue Number:

Eduard Kit No. R0007 - Royal Class Bf 109 E

Eduard Kit No. 8263 - Messerschmitt Bf 109 E-4 ProfiPACK

Scale:
1/48
Contents and Media:
(Royal Class) Nine sprues in olive coloured plastic; one sprue in dark grey plastic; one sprue in black plastic; five sprues in clear; five photo-etched frets (one in colour); canopy masks; markings for twelve aircraft plus full stencil data; brushed stainless steel coffee mug.
Price:
Review Type:
FirstLook
Advantages:
Includes parts for two full kits with a choice of all Emils from E-1 to E-7 including Trop and Jabo variants; very high level of detail including engine; restrained and impressive surface features; separate control surfaces including flaps and leading edge slats; colour photo-etched parts; addresses outstanding issues from Eduard's 1/32 scale kits (revised leading edge slats, spine profile and seat shape); excellent quality decals with colourful options
Disadvantages:

Royal Class already sold out from Eduard (still be available from retailers including Squadron); questions raised about fuselage length.

Conclusion:

In my opinion, the best Messerschmitt Bf 109 E in 1/48 scale; and now with more goodies!

Reviewed by Brett Green


Eduard's 1/48 scale Messerschmitt Royal Class Bf 109 E is available online from Squadron.com

Background
The Messerschmitt Bf 109 A, B, C and D were powered by the Junkers Jumo engine. The Spanish Civil War presented the opportunity to test these revolutionary fighters in action, and they proved their worth in combat with Legion Condor over the skies of Spain.
The Messerschmitt Bf 109 E series was the first of the family to be fitted with the Daimler Benz DB601A engine, resulting in a significant improvement in performance.
Two variants were manufactured in parallel - the lightweight Bf 109 E-1 that retained the wing-mounted 7.9 mm machine guns of the earlier Bf 109 B, C and D; and the Bf 109 E-3 that was fitted with one 20 mm MG FF cannon in each wing. Both variants featured two additional 7.92 mm machine guns in the cowl.
The Messerschmitt Bf 109 E-4 shared the armament of the E-3 but introduced a number of improvements, including a revised canopy.
The Bf 109 E-7 incorporated lessons learned during the Battle of Britain - in particular the fighter's relatively short range. The E-7 permitted the installation of a 300 litre centreline drop tank plus the ability to carry bombs.
A tropicalised version was also developed for use in the Mediterranean Theatre, and especially in North Africa. The Bf 109 E Trop versions were easily distinguished by the long filter in front of the supercharger intake.
Fighter/bomber versions of the E-1 through E-7 were also introduced. These could carry a variety of ordnance on several different centreline bomb racks.
Eduard released their first 1/48 scale Emil, a Bf 109 E-1, back in February. That kit offered the option to display the engine, had a detailed cockpit featuring coloured photo-etched parts, separate control surfaces including flaps and leading edge slats, and superb surface textures.
You can see my review of that kit in the box by following this link; and also my build article here on HyperScale.
If you have read these, you will know that I am a fan of Eduard's new 1/48 scale Emil series.
Eduard continues the series with its Royal Class boxing.
Inside the large black box, we find parts for two full 1/48 scale Bf 109 E kits; two Brassin resin wheel sets; a 1/4 scale Messerschmitt Bf 109 E instrument panel and a brushed metal engraved Bf 109 E coffee mug
The Royal Class kit offers the choice of virtually any mainstream Bf 109 E variant from the E-1 to the E-7, including fighter-bomber and tropical versions.
In addition to two full sets of sprues, Eduard has added two sets of early and two sets of late canopies, plus an additional cannon armed wing, making a total of three sets of wings. This means that the modeller may choose to build one Bf 109 E-1 plus one of any variant between the E-3 and the E-7; or any combination of two E-3s to E-7s.
The main difference between February's Bf 109 E-1 and these sprues are the new wing, the new canopy parts and additional photo-etched parts for the tropical and fighter-bomber versions.
The new canopy parts include two styles of windscreen (one for Galland's famous ranging telescope), separate armoured glass and two opening canopy sections.
The dimensions look good and the parts are thin and clear.
Two sets of Brassin main wheels and tail wheels are included too. The tail wheel assembly is cast as one piece but the detail is lovely, as is the finesse of the hubs on the resin main wheels.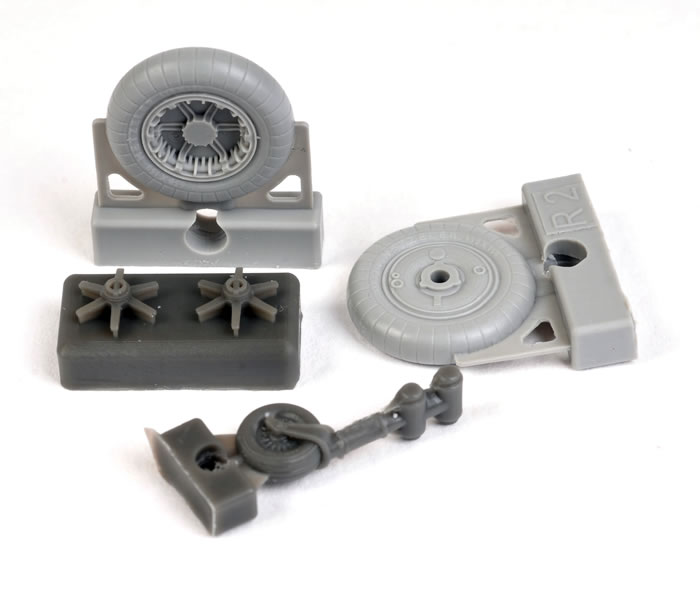 Being a Royal Class package, extra photo-etched frets are included that add yet more detail to the interior and exterior of the model.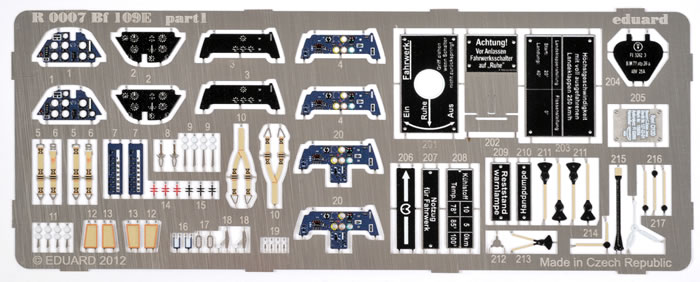 Apart from these enhancements, all of the comments made about the fine surface features, high level of detail and excellent fit of the earlier Bf 109 E-1 kit apply here too.
A whopping 12 marking options are offered, which cover a broad selection of variants, colours and markings.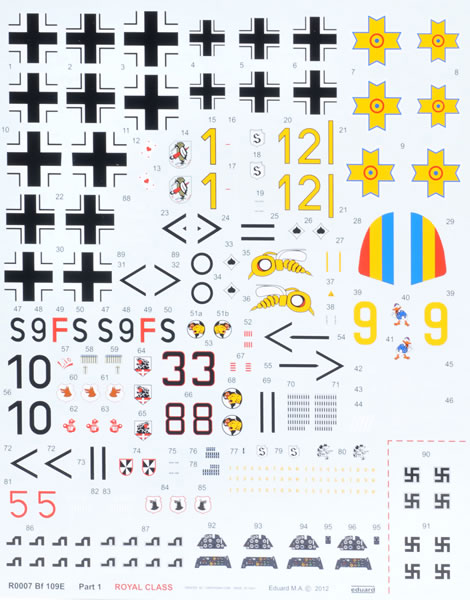 Two decal sheets are included. One contains the main aircraft markings and the second supplies several full sets of stencils. A number of alternatives are included on the stencil sheet.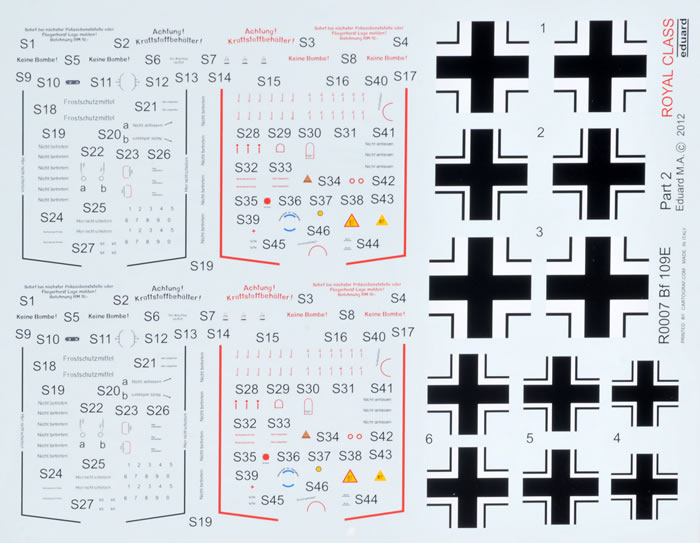 Decals have been printed by Cartograf. Register is perfect, colours are rich and opaque, and visible carrier film is non-existent. They don't come much better than these. I particularly like the depiction of RLM 04 Yellow on this sheet too, which is richer and deeper than the interpretation on some other Eduard-printed sheets.
---
Bf 109 E Instrument Panel with REVI 12C Gunsight
Eduard included a 1/4 scale instrument panel with their Messerschmitt Bf 110 Royal Class release back in 2008, and I have been hoping that they would do a new panel ever since. Four years later, Eduard has answered my prayers with a 1/4 scale Bf 109 E panel as part of this Royal Class release.
The fundamentals are similar to the earlier Bf 110 panel, but there are some improvements and additions. Most noticeably, the Revi 12C gunsight is included this time around. Also, the vinyl stickers for the dials have been replaced by decals, which will make adjustment of the dials easier during application.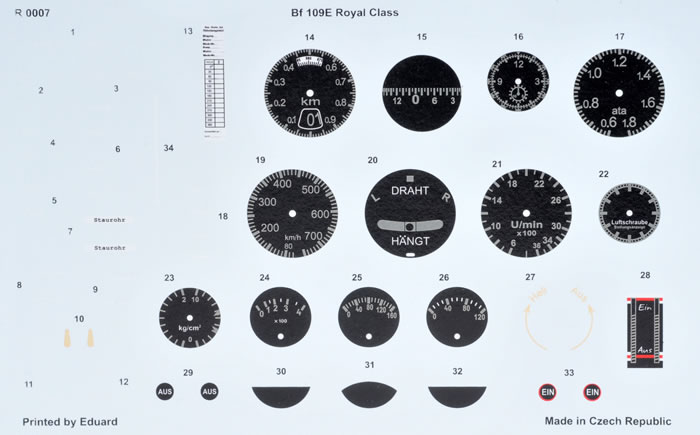 There are also more photo-etched parts, both printed and nickel plated.
I particularly like the printed placards.
This 1/4 scale instrument panel is big enough to see all the detail of the real thing, and will be an impressive display piece.
---
Mug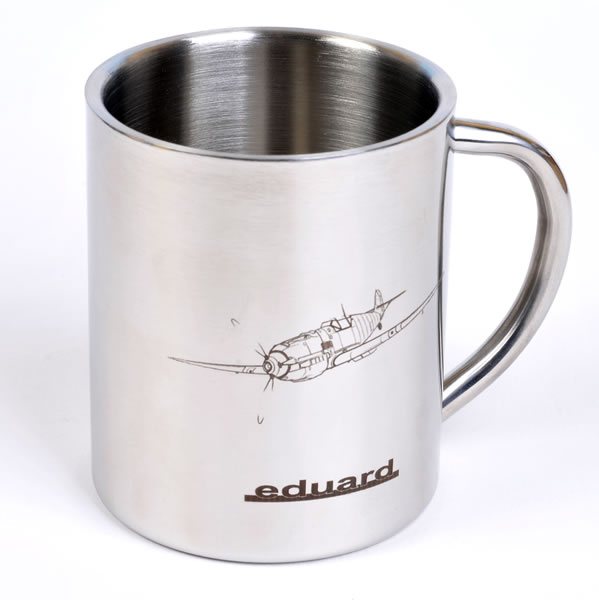 Another bonus is the inclusion of an attractive brushed stainless steel 1:1 scale coffee mug.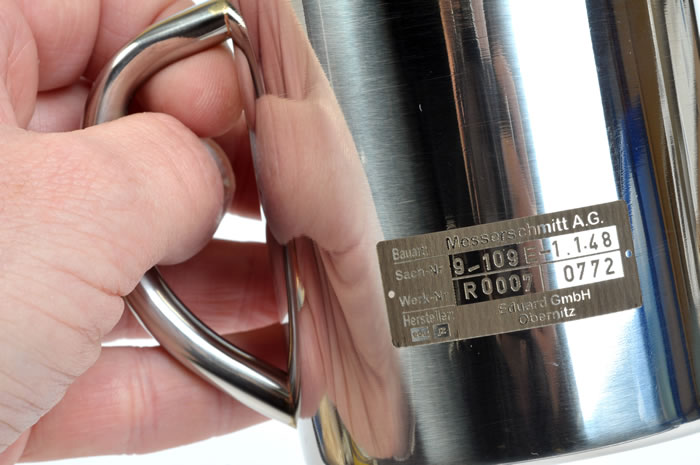 This is laser engraved with a Bf 109 E on the front, and a data plate on the back.
If you're not planning to build two Emils, or if your budget does not run to the Royal Class price tag, Eduard has now also released a ProfiPACK version of the Bf 109 E-4.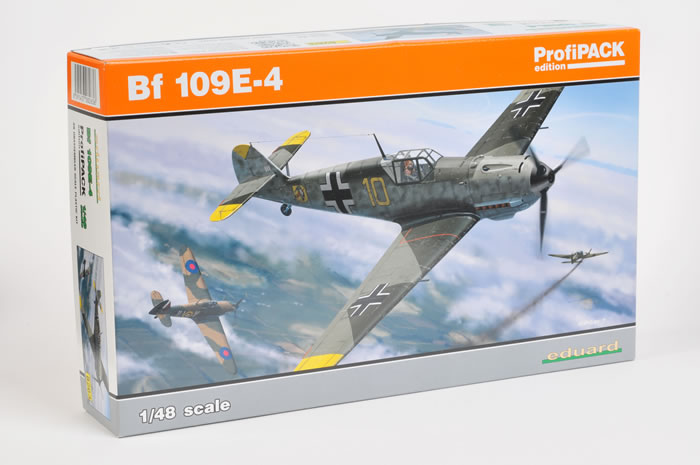 This offers the same plastic parts as the Royal Class for a single aircraft, along with a significant sub-set of the photo-etched parts. One of the frets is in colour, supplying essential enhancements including the instrument panel and harness straps. The Brassin wheels are not part of this package, but they are available separately.

Five marking options are included:
W.Nr. 5587, Ofw. Fritz Beeck, 6./JG 51, Wissant, France – 24 August 1940

W.Nr. 5344, Maj. Helmut Wick, Geschwaderkommodore JG 2, Beaumont, France - November 1940

Lt. Josef Eberle, 9./JG 54, The Netherlands – August 1940

W.Nr. 1480, Oblt. Franz von Werra, Gruppenadjutant II./JG 3, Wierre-au-Bois, France - 5 Sept. 1940

W.Nr. 5819, Obstlt. Adolf Galland, Geschwaderkommodore JG 26, Audembert, France – Dec.1940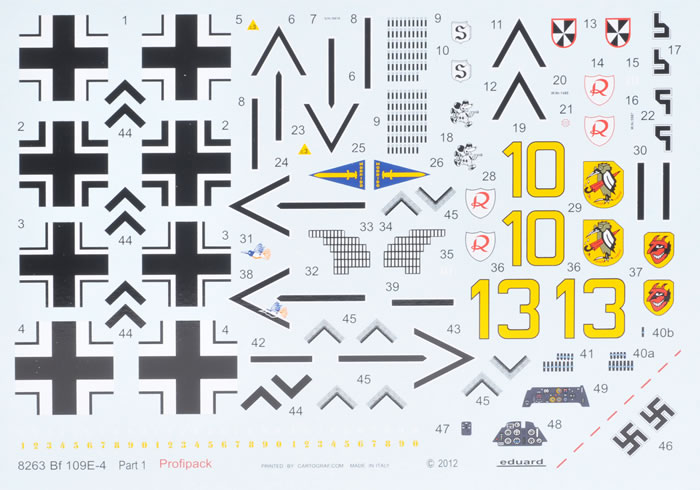 Once again, the decal sheet is beautifully printed by Cartograf
Eduard's 1/48 scale Messerschmitt Bf 109 E family benefits from all the incremental improvements to Eduard's 1/32 scale Emils over the last three years including excellent new wheels.
In addition, Eduard has taken advantage of the new tooling in this scale to improve the pilot's seat, the fuselage spine and leading edge slats (certainly narrower than the 1/32 scale kit and now barely perceptibly different to the Airfix slats at the widest point).
The level of detail is essentially the same as its big brother, which means that this is clearly the best detailed Bf 109 E straight from the box in 1/48 scale. Out of all the 109 Es currently available in 1/48 scale, Eduard's is the only one with proper engine detail as well (Airfix has an upper engine block shape moulded to the fuselage halves, but it is not really meant for display).
The amazingly crisp and subtle surface detail makes it a class leader in this category too.
The Royal Class offering is the Rolls-Royce option for the Emil fancier. The inclusion of two full kits, plus the big instrument panel and the mug make this a unique package. It must be popular too, as I see that it is already sold out on Eduard's website. It still is available from retailers though, but be quick if you want one.
The release of the Bf 109 E-4 ProfiPACK provides a more economical way to expand your Emil collection too.
With its service from the Spanish Civil War, the Munich Crisis, the invasion of Poland, France and the Low Countries, the Battle of Britain, the Balkans, the Western Desert and Mediterranean, and the Eastern Front, there is certainly no shortage of colourful and varied markings for a new Emil.
It looks like I'll be building a few more 1/48 scale Emils before long!
Thanks to Eduard for the sample
---
Review Text & Images Copyright © 2012 by Brett Green
Page Created 20 August, 2012
Last updated 21 August, 2012
Back to HyperScale Main Page
Back to Reviews Page