Airfix's 1/72 scale
Fokker F.27 Troopship
by Danumurthi 'Monty' Mahendra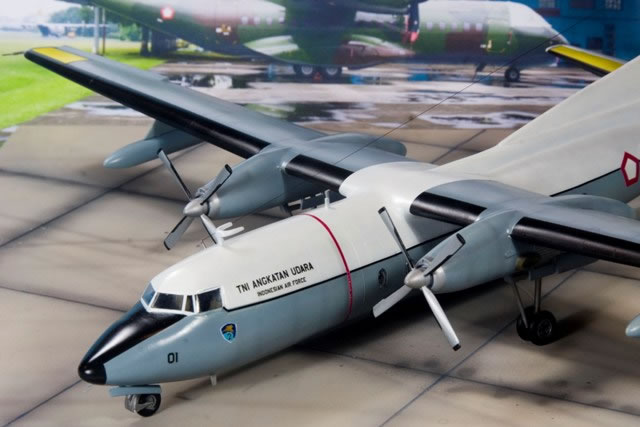 Fokker F.27 Troopship of the Indonesian Air Force

Airfix's Fokker F.27 Friendship is available online from Squadron
This is my Fokker F.27 Friendship from Airfix. I made some conversion to this 1/72 scale kit into a F.27 MK.400 Troopship of the Indonesian Air Force (TNI-AU). I built this classic model to represent an ex-VIP aircraft of Skadron Udara 2 which is based in Halim Air Base, Jakarta.
As you may have known, all Indonesian Air Force F.27s have been grounded following a fatal crash in 2012. The accident killed all 7 crew and passengers. They are slated to be replaced by new CASA C-295s.
---

The Kit
This kit has been around for a long time. Airfix issued this kit a couple of times using different box arts. This link http://designer.home.xs4all.nl/models/f27/f27mod.htm gives you a great review of the kit and also some nice tips if you plan to make one for your own.
Typical old Airfix kits, all come in a single plastic bag. Sprue trees are simple and crude and parts are rather thick.
The embossing on the wing says "1960" - perhaps that was the time they issued the molds?
Anyway, you get a large sheet of decals for three airlines. They all look very colorful, thin, and in good register. You also get a separate decal instruction sheet in full color that shows the painting guidelines for three airline schemes.
Nice touch Airfix!!
Here are some of the construction highlights:
Re-scribe all of the more prominent panel lines. Airfix's Fokker F.27 has raised panel lines, but luckily they are over-simplified and not that many. After re-scribing, I sanded them clean with #500, progressively #800 and #1200 wet sandpaper.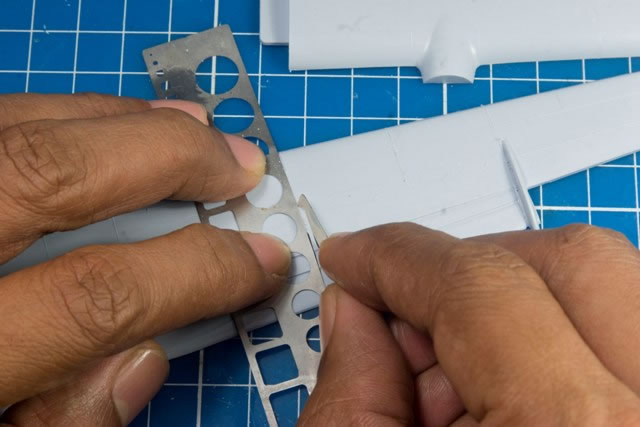 Added 0,25mm and 0,5mm styrene strips to the forward cabin door because it is undersized and sits too deep within the fuselage.

Thinned the edges of the Rolls Royce Dart exhausts using a power tool to give it a better look. It is a bit too shallow on the base and too thick on the outer edges.

Clamped the whole fuselage and stabilizers using a vice to straighten it up. The molding quality is rather poor.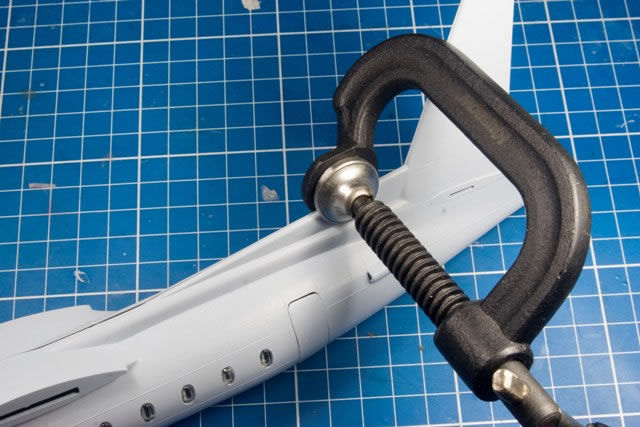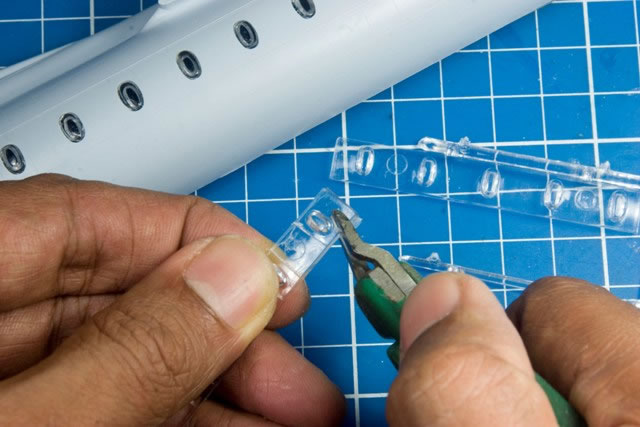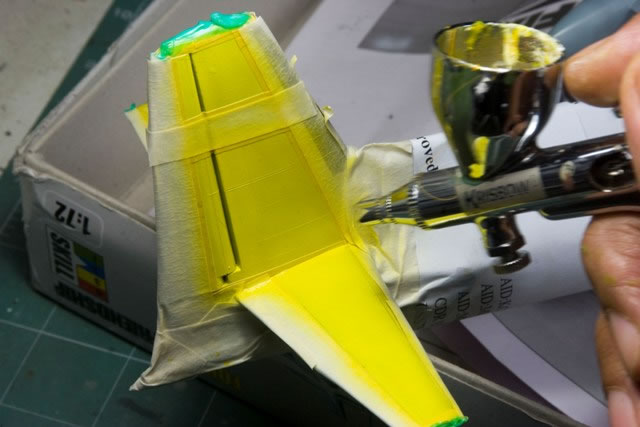 Constructed an additional air scoop on the starboard side of the rear fuselage. Airfix only gives you the port side. I use an old 1/72 drop tank from my spare box which I cut to size.

Carved, sanded, and reshaped the nose and upper cockpit area using Tamiya Epoxy Putty. The nose cone that came with the kit was pretty off shape.

Scratch-built extra wing fuel tanks. I made them using parts from a 1/72 scale F-104 and F-86 drop tanks, and a 1/48 AIM-54 Phoenix missile. The pylons were taken from an Italeri 1/72 F-14 Tomcat's wing glove missile pylons.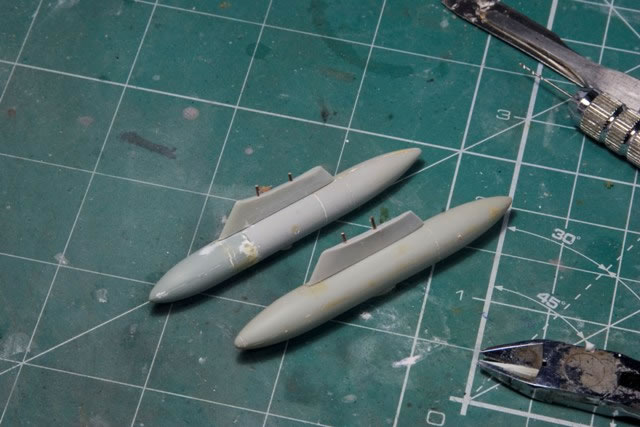 I painted my F.27 with Gunze 307. Once the grey is done, I continued painting the leading edge with Tamiya enamel XF-1 Flat Black. I spent more time masking than the painting itself!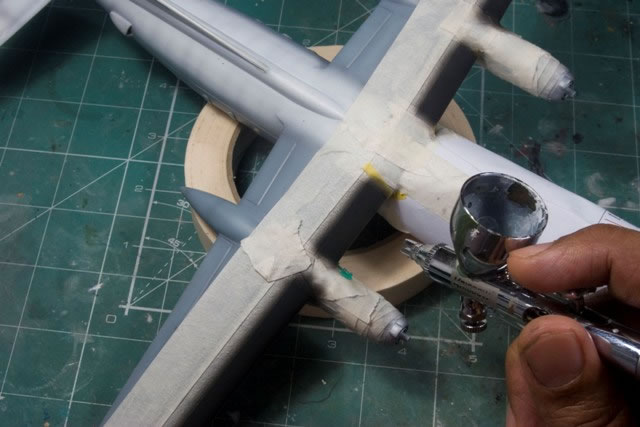 Painting the white section of the F.27 was a challenge. I use Tamiya White liquid primer as a base coat, before coating it with Tamiya XF-2 Flate White. This technique helped speed up the process.
The masking saga continues.... This time, I focused on the yellow ID panels. Here, I use small strips of Tamiya masking tape to construct the outlines. I used Gunze Insignia Yellow. Make sure your air brush clean before using translucent paints like yellow, orange, or red because dust and spec can easily ruin a good paint job.
---

Decals and Finishing
I made my own decals using Epson Stylus bubble jet printer on a regular decal paper. A great way to make your own decals is using this Microscale "Liquid Decal Film". On my previous projects I always use Testor Dullcote to coat my decals, but this time I use Microscale to compare. What do you think, which one is better.?
I made the belly antennas using Tamiya Plaplate 0,5mm and stretched sprues. The F.27 Troopship has at four blades and a pair of areal antennas.
I use Revell's Decal Soft to help the decals adhere onto the model's surface.
---
Model, Images and Text Copyright © 2013 by Danumurthi 'Monty' Mahendra
Page Created 14 June, 2013
Last Updated 14 June, 2013
Back to HyperScale Main Page