Messerschmitt
Bf 109 E-7 Trop ProfiPACK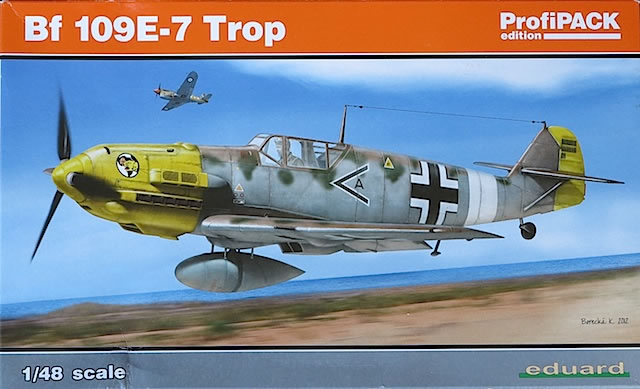 Eduard, 1/48 scale
S u m m a r y :

Catalogue Number:

Eduard Kit No. 8264 – Bf 109 E-7 Trop Profipack

Scale:

1/48

Contents & Media:

Approximately 150 grey plastic parts (20 unused); 8 clear plastic parts (4 unused); 2 frets of photo-etched brass, 1 of them pre-painted; pre-cut canopy masks; 1 decal sheet containing markings for 5 aircraft; 1 decal sheet containing enough stencils for two models; 16 page A4 instruction booklet, including full colour painting and marking guide.

Price:

USD$33.96 plus shipping available online from Eduard's website and specialist hobby retailers worldwide

Review Type:

First Look

Advantages:

Excellent base kit that is given a further lift by the photo-etched details, canopy masks, comprehensive instructions and interesting marking options

Disadvantages:

Conclusions:

Another well-produced 1/48 Bf 109 E release from Eduard that, with its focus on the colourful and distinctive machines of JG 27, should appeal to many. Eduard has now released 1/48 kits of all major Emil variants from the E-1 to the E-7; can we have a Bf 109 T next please?

Reviewed by Brad Fallen


Eduard's 1/48 spitfire Mk.IX Royal Class is available online from Squadron.com

The Messerschmitt Bf 109 E-7 was the last major development of the Emil series before production changed to the F variant in late 1940. According to Lynn Ritger's SAM Datafile on the Bf 109, improvements introduced in the E-7 included a more powerful engine, strengthened landing gear and – addressing the range problem that so hindered Bf 109 operations during the Battle of Britain – provision to carry a 300 litre drop tank. The E-7/Z subtype was equipped with the GM-1 nitrous oxide power boosting system, while the E-7 Trop was optimised for harsh operating environments with a dust filter on the air intake and survival gear in the rear fuselage.
Otherwise the Bf 109 E-7 was similar to the previous major production version, the E-4, a commonality that saw many earlier Emils rebuilt to E-7 standard when they were repaired after being damaged. This upgrading makes it hard to determine the exact number of E-7s manufactured, with a total known production of just under 450.
The E-7 was used extensively in Germany's 1941 offensives in the Balkans, Mediterranean, North Africa and the Soviet Union, where it made a significant contribution to the Luftwaffe's aerial superiority. While the quality of Allied aircraft encountered during these campaigns was generally lower than that on the Channel front, the E-7's refinements also made it more than competitive against opponents like the Hurricane Mk.II and early P-40s.
In North Africa the E-7 was used with great success by several Luftwaffe units, probably most famously by Jagdgeschwader 27, until late in 1941 when it was replaced in front line service by the Bf 109 F.
Eduard launched its 1/48 Bf 109 E series in early 2012 with an E-1 Profipack (reviewed by Brett Green here), and the family has since grown to include the following boxings:
Bf 109 E-4 Weekend Edition, and
Bf 109 E Royal Class, which contained two full kits and allowed modelers to build almost any Emil variant between the E-1 and the E-7.
Now Eduard has released a standalone E-7 Trop kit, focusing on machines operated by JG 27 in the Western Desert in 1941.
Eduard's box art is usually excellent, and this kit is no exception with its painting of a JG 27 Bf 109 E-7 Trop (kit marking option A) flying low along the African coast in close company with an RAF Kittyhawk.
Much of the box's contents will be familiar to anyone who has already examined one of Eduard's 1/48 Bf 109 E Profipack kits:
Four sprues of dark grey plastic parts, Eduard having now moved completely away from the olive brown plastic that characterised its kits for many years. As you would expect from moulds that are less than two years old, the parts are all cleanly moulded with no flash. The surface detail is extremely fine, and if you disagree with Eduard's interpretation of airframe rivets these can be easily toned down with liquid putty and a coat of paint. In building this kit you will use some of the parts that were marked 'not for use' in earlier boxings, such as the pointed spinner, drop tank and tropical supercharger intake.
One sprue of clear plastic parts. These are very clear and thin, and – unsurprisingly given the E-7's similarity to the earlier E-4 – the same parts that are included in Eduard's Bf 109 E-4 kits.
A sheet of pre-cut tape masks that will make painting the canopy much easier.
Two frets of photo-etched parts – one pre-painted and the other unpainted.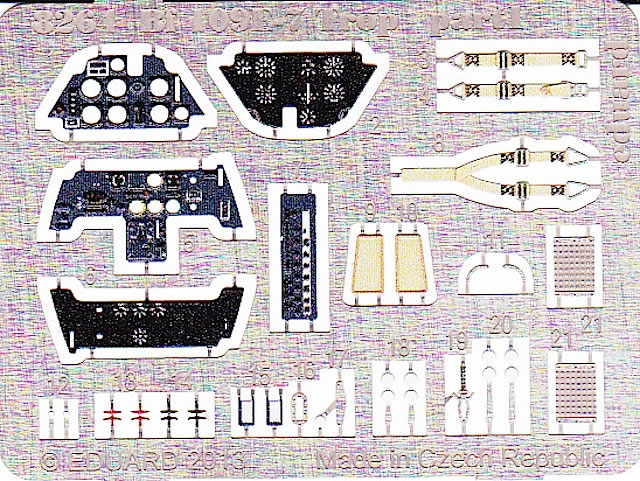 The latter includes a number of cockpit details including the rudder pedals, as well as front and rear radiator grills and a dust screen that you will need to carefully fold around the long tropical supercharger intake.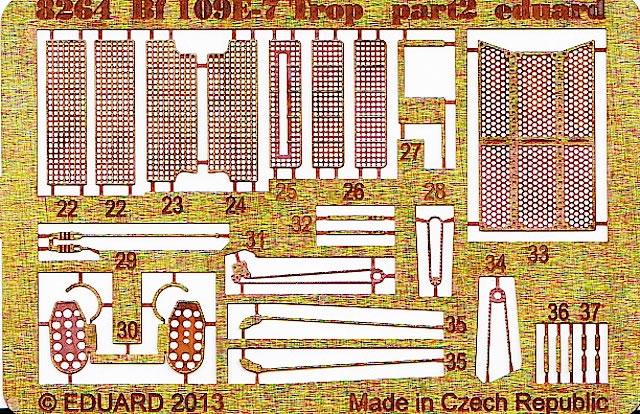 Be careful in doing this, because there is no equivalent plastic part provided if you make a mistake! The pre-painted fret is intended exclusively for the cockpit, and will dress up this area beautifully.
A 16-page booklet that provides clear building instructions (including in relation to some of the kit's potentially tricky aspects, such as completing it with the upper engine cowling closed); four view, full colour illustrations of each marking option, as well as a front view of the propeller blades and spinner; and a detailed, greyscale stencil placement guide.
Two decal sheets – a larger sheet containing all of the national insignia, unit emblems, codes, and individual aircraft markings, and a smaller sheet containing enough stencils for two models. Both sheets have been produced by Eduard and appear to be of good quality; the only flaw I found was a tiny piece of lint that had been trapped beneath one of the Balkenkreuz decals during the printing process. Two sizes of the JG 27 emblem are supplied, as are instrument panel decals for those who don't want to use the pre-painted etch or paint the equivalent plastic parts.
---

Markings
Eduard's five marking options were all flown by JG 27 from Ain-el-Gazala airfield in Libya in 1941:
'Black chevron/A', flown by Oblt. Ludwig Franzisket, Stab I./JG 27. This E-7 Trop, and marking options C and E, were finished in RLM 78 Sky Blue undersurfaces and fuselage sides, and RLM 79 Sand Yellow upper surfaces with an oversprayed mottle of RLM 80 Olive Green. Franzisket's aircraft also carried an RLM 04 Yellow engine cowling, spinner and rudder, and a white theatre identification band around the rear fuselage.

'Black 3' of 2./JG 27. This well known Emil originally carried standard European camouflage of RLM 71 Dark Green and RLM 02 Grey splinter over RLM 65 Light Blue, with a high demarcation between the upper and lower surface colours. However this camouflage was substantially modified in the field; as described in the kit instructions, this included overpainting the top of the originally all-yellow engine cowling with RLM 71, overpainting an original fuselage number with RLM 02, and painting long diagonal stripes of RLM 04 down the RLM 65 fuselage sides. The rudder remained yellow, the spinner was two-thirds red and one-third white, and there was a white theatre identification band on the rear fuselage. Interpretations of 'Black 3''s overall finish vary, so check your references – there are several photos of this aircraft easily found.

'Black 8' of 2./JG 27. Another famous JG 27 Emil, 'Black 8' also carried red-and-white sectioned spinner and a white identification band.

'Black double chevron', flown by Hptm. Eduard Neumann, Gruppenkommandeur of I./JG 27. The second European-camouflaged marking option, Neumann's machine was finished in standard RLM 02/RLM 71 over RLM 65, with RLM 02 mottling on the fuselage sides, RLM 04 engine cowling and rudder, and a white ID band.

'Yellow 4' of 3./JG 27. This well-photographed E-7 Trop was almost identical in finish to marking option C, with the exception of the all-yellow spinner.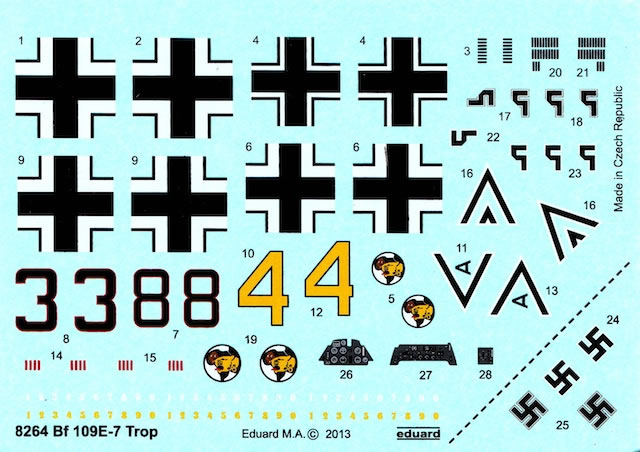 Decalsa re in register and colours look good.
Eduard's 1/48 Bf 109 E-7 Trop kit is another well-produced Emil boxing that – with its focus on the colourful and distinctive machines of JG 27 – will likely appeal to many Luftwaffe modelers. With this release, Eduard has now produced 1/48 kits of all major Bf 109 E variants from the E-1 to the E-7.
The enormous variety of Bf 109 E marking schemes means that there is plenty of scope for Eduard to release Limited Edition boxings of its 1/48 Emil sprues, as it did in 1/32 scale two years ago with the 'Bf 109 E over the Balkan Peninsula' kit.
However I hope Eduard is also more adventurous than this, because I think a Bf 109 T kit would be well received – while a 1/48 Jumo-powered Bf 109 family would be wonderful.
Highly recommended.
---
References
Lynn Ritger, The Messerschmitt Bf 109: A Comprehensive Guide for the Modeller, Part 1: Prototype to 'E' Variants (Sam Publications, 2005)

A. Elbied and A. Jouineau, Messerschmitt Me 109 Volume 1: From 1936 to 1942 (Histoire and Collections, 2002)

R. Cross, G. Scarborough and H.J. Ebert, Messerschmitt Bf 109 Versions B-E: Classic Aircraft – Their History and How to Model Them (Patrick Stephens, 1972)
Thanks to Eduard for the sample and for the images.
---
Review Text Copyright © 2013 by Brad Fallen
Page Created 30 September, 2013
Last updated 1 October, 2013
Back to HyperScale Main Page
Back to Reviews Page