P-47D Thunderbolt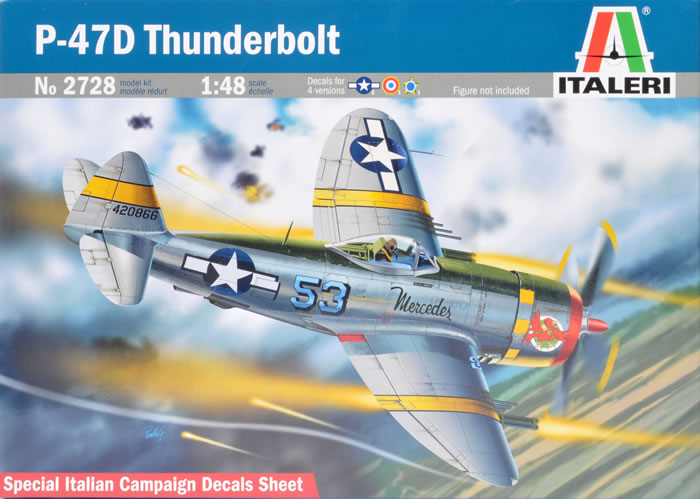 Italeri, 1/48 scale
S u m m a r y :

Catalogue Number:

Italeri Kit No.2728 – P-47D Thunderbolt

Scale:

1/48

Contents & Media:

Approximately 94 grey plastic parts (6 unused); 11 clear plastic parts; 1 decal sheet containing markings for 4 aircraft; 8 page fold-out instruction booklet including full colour painting and marking guide.

Price:

From GBP £21.25 plus shipping available online from www.hannants.co.uk

Review Type:

First Look

Advantages:

Reasonably accurate and easy to build kit, based on Academy's 1990s-era plastic parts; interesting choice of marking options

Disadvantages:

Some detailing and dimensional errors in the plastic parts; limited cockpit detail; marking option A inappropriate for this kit; incorrect descriptions in the instruction sheet for marking option B; minor errors on decal sheet

Conclusions:

Academy's 1/48 P-47D bubbletop isn't perfect, and it's not as good as its Tamiya equivalent, but it still builds into a very acceptable Thunderbolt replica. There is also a truckload of aftermarket accessories available if you want to add detail or make improvements. The highlight of this release is Italeri's choice of markings, which focus on a specific operational theatre – Italy – and include two interesting non-USAAF options. In summary, I can recommend this Italeri boxing to anyone who is contemplating a 1/48 P-47D build and wants a generally accurate, reasonably priced kit with some interesting marking options.

Reviewed by Brad Fallen


Zvezda's 1/48 Yak-3 is available online from Squadron.com

Nearly 16,000 Republic P-47 Thunderbolts were built between 1941 and 1945, more than any other United States fighter aircraft before or since. 12,600 of these were D models, manufactured in 33 production blocks at two factories in Farmingdale, New York and Evansville, Indiana, of which almost 7,200 were the definitive bubbletop version. This was the most obvious of many changes introduced during P-47D production. Other – but by no means all – modifications included the addition of four more cowl flaps and a bulged keel; strengthened wings with provision for carrying drop tanks, bombs and rockets; improved cockpit and gun bay heating; more effective propellers; better internal fuel capacity; underwing compressibility flaps; and the introduction of a dorsal fin. In the cockpit, the original corrugated floor was replaced with a flat unit from the P-47D-30 production block onwards.
In modeling terms, this means that if you want to create an accurate replica of a particular P-47D, you need to be aware of the production block in which it was manufactured. Fortunately P-47 references abound, both in hard copy and online. If you know the aircraft serial number, then an internet search will reveal the production block to which this relates. After this, it should be fairly straightforward to work out your Thunderbolt's specific mix of features. Field modifications were carried out as well, however, so photo references are also important.
The P-47 is a popular modeling subject, with a wide range of kits available in all major scales. In 1/48 scale, Lindberg, Hawk, Monogram, Otaki, Academy, Promodeler, Hasegawa, Tamiya and HobbyBoss have all released kits, and there may be others of which I'm not aware. The pick of this bunch is without question Tamiya's P-47 family, which ten years after its launch remains one of the most highly regarded series of kits ever released. The HobbyBoss P-47D bubbletop kit is much newer – it was only released last year – but has been designed as an easy-assembly kit, with some consequences for detail and accuracy. Of the older kits, the Monogram, Hasegawa and Academy kits build into respectable models, as does the Promodeler P-47N kit if you can put up with its idiosyncrasies. Monogram's P-47s hail from the 1960s, while the other three companies released their kits in the 1990s.

Academy's range contains two kits: a P-47D bubbletop and a P-47N, which despite having different major airframe components actually share a majority of sprues. The P-47N was the first kit I completed after getting back into modeling in 2004, and I appreciated its good fit and straightforward engineering. I was less impressed with the quality of Academy's decals (translucent and with a tendency to disintegrate), and in hindsight a natural metal finish wasn't the most sensible choice for my first serious attempt at airbrushing. But the overall experience was very satisfying, and left me with a positive view of Academy's P-47 kits.
Now Italeri has repackaged Academy's P-47D bubbletop kit under its own label, with a focus on Allied Thunderbolts operating in Italy in 1944-45.
Italeri's box art of a 57th Fighter Group P-47D (kit marking option A) attacking a ground target with rockets makes for a colourful first impression. Inside the box are five sprues (two of them identical) in Academy's distinctive light grey plastic, one small sprue of clear parts, one large decal sheet and one eight page fold out instruction booklet. Because this is a straight reboxing of the Academy kit, there are no photo-etched parts or other additional items included.
Academy's P-47 moulds are now at least 15 years old, but do not appear to have suffered much during that time. All parts are crisply moulded with only a tiny amount of flash apparent. Parts breakdown is conventional, with the fuselage split vertically and wings horizontally; the latter attach to the fuselage through a combination of locating tabs and overlapping parts. This makes for a strong join and reasonable, but not foolproof, alignment, so take care at this stage of assembly. All control surfaces are moulded in the neutral position.
Points worth noting about the kit's plastic parts are:
Access panels on the wings and fuselage have been moulded as standing proud of the surrounding aircraft skin. I wondered about the accuracy of these panels when I built Academy's P-47N nine years ago; they're incorrect and should be sanded flat.
The corrugated cockpit floor is nominally accurate for P-47D-25 through P-47D-28 airframes, although as Brett Green points out in his "Modelling the P-47 Thunderbolt" book, the corrugations are actually incorrectly portrayed on the kit part – running mostly the length of the cockpit floor rather than across it.
The level of cockpit detail provided is just acceptable. While a seat belt decal is provided on the decal sheet, I'd recommend investing in an aftermarket harness instead. I used an Eduard Zoom set in the cockpit of my Academy P-47N, which dressed things up just enough to be interesting.
The absence of underwing compressibility flaps also indicates a bubbletop P-47D from the P-47D-28 or earlier production blocks.
A wide variety of underwing stores is provided on the two sprues this kit shares with Academy's P-47N kit. Not all of these stores were appropriate for the P-47D, so check your references. Two different types of gunsight are also supplied.
Two sets of mainwheels are also provided – six-spoke P-47D wheels, and eight spoke P-47N wheels. Unfortunately Italeri's instructions would have you install the latter, having blocked out the P-47D wheels on the sprue map as 'not for use'.
The gear bays are moulded integrally with the lower wing and fuselage halves. The bays are nice and deep, and look good when painted up. The pattern depicted on the ceiling of the bays is not particularly accurate: it looks like cross-hatching, where reference photos clearly show corrugations running span-wise across the ceiling. In his Detail and Scale book on the P-47, Bert Kinzey mentions that the seam between the parts of the bays moulded on to the lower wing and the fuselage halves can be tricky to eliminate.
The single propeller option provided most closely resembles the Curtiss Electric asymmetrical paddle-blade propeller fitted to many Thunderbolts from the P-47D-23 production block onwards. Two other types of paddle-blade propeller – a Curtiss Electric symmetrical unit and a Hamilton-Standard asymmetrical unit – were also fitted to bubbletop P-47Ds, so check your references for the aircraft you are modeling.
The wing gun bay hatches are removable, with parts provided to represent the ammunition feed mechanisms and the rear of the guns. These parts aren't particularly detailed, and the hatches don't fit very well if kept as a 'removable option' – so I'd recommend either detailing or replacing the gun/ammo parts and leaving the hatches off, or omitting the guns and gluing the hatches on securely from the inside to ensure a good fit.
The shapes of the windscreen and canopy are slightly off – the kit windscreen appears to be too tall and not sufficiently rounded at the top, while the kit canopy doesn't quite capture the complex curves of the real thing. That said, both items look the part when painted and installed, and will never be mistaken for anything other than what they are!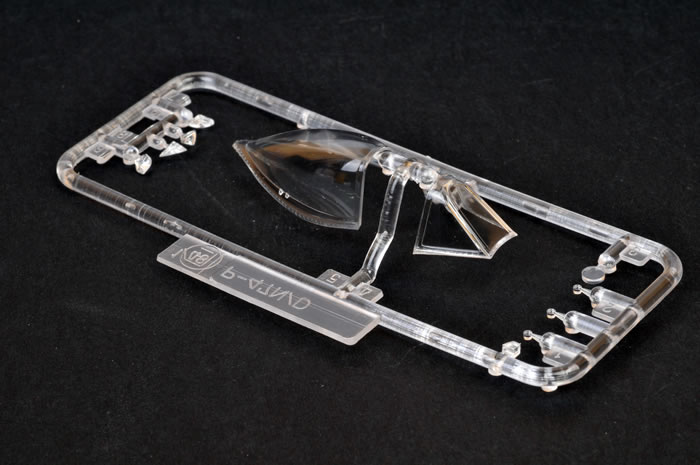 The shape of the rear section of the inner gear doors is also not quite right, being slightly too undernourished, although this is not something that will be obvious on the finished model.
Italeri's instructions come in the form of an eight-page fold out booklet. A parts map is provided, and construction is called out over nine clearly illustrated steps. Colours for detail painting are provided along the way in the form of generic colour names, US Federal Standard codes, Italeri Acrylic and in one case Model Master (ironically for flat black, which probably doesn't need to be coded at all!).
---

Markings
Italeri's stamp on this reboxing comes in its choice of marking options –schemes for four P-47Ds that operated in Italy in 1944-45. Italeri has chosen an interesting variety of subjects, in part by going beyond the always popular USAAF schemes to include two Thunderbolts operated by other Allied air forces. Italeri provides four-view, full colour drawings of each marking option, as well as a four-view black and white stencil placement guide; combined, these guides should make painting and decaling a straightforward and pleasant exercise.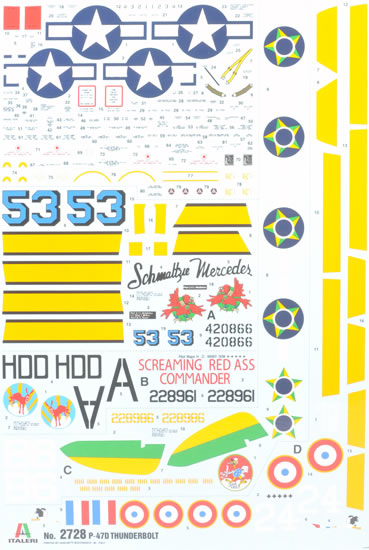 The specific aircraft featured are:
P-47D-30-RE, 44-20866/'Schmaltzie/Mercedes', flown by Lt. F.J. Middleton of the 65th Fighter Squadron, 57th Fighter Group, USAAF, Grosseto, Italy, 1945. The most colourful by far of the schemes on offer, 'Schmaltzie' was a natural metal P-47D with an Olive Drab anti-glare strip running the length of the upper fuselage, yellow and black identification bands on the vertical stabiliser and upper and lower wing surfaces, alternate yellow and natural metal cowl flaps, and a red ring around the front of the cowl. Unfortunately, however, if you want to model this aircraft you'll need to modify the kit's lower wings, because as a P-47D-30 'Schmaltzie' had underwing compressibility flaps, which aren't present on the Academy parts. I haven't been able to identify the propeller type used on this or the subsequent marking options, so if you are concerned with accuracy in this area you may want to do some further research.

P-47D-28-RA, 42-28961, 'Screaming Red Ass Commander', flown by Major Hugh D. "Rowdy" Dow of the 347th FS, 350th FG (not 'Hugh D. Randy' of the 35th FG, as listed on Italeri's instructions), Tarquinia, Italy, September 1944. 'Screaming Red Ass Commander' was another natural metal/Olive Drab P-47, its reasonably subdued finish more than compensated for by the large and dramatic red lettering on the forward port fuselage.

P-47D-28-RA, 'B6'/42-28986, flown by 2° Ten.Av. Leon Roussoliere of the 1° Grupo de Aviação de Caça ('First Fighter Group'), Forca Aerea Brasileira, Tarquinia, Italy, Autumn 1944. This Brazilian unit undertook extensive operations in Italy in late 1944 and 1945. 'B6' was finished in Olive Drab over Neutral Gray, with the Brazilian national insignia in six locations and a long tally of bombing sorties on the port fuselage beneath the cockpit.

P-47D (serial number and production block unknown), flown by Capitaine Pierre Gouachon-Noireault of the 2 Escadrille, G.C 2/5, Armee de l'air, Italy, March 1945. Also in OD over Neutral Gray, this French machine carried yellow identification bands on all flying surfaces.
The large and colourful decal sheet is printed in Italy by Zanchetti Buccinasco, a company I have not previously heard of. The decals look reasonably good, with crisply printed number, letters and stencils. For example, the reproduction of the names 'Schmaltzie' and 'Mercedes' for option A match closely with photos of the real aircraft. Carrier film appears to have been kept to a minimum, and the colours used are bright – to the extent that many decals will warrant toning down following application.
There are some minor negatives. The French roundels for option D appear to be slightly out of register, and the white 'B6' codes for option C look a bit translucent on the sheet. And while the yellow identification bands for options A and D and the yellow-and-green rudder flashes for option C are provided as decals, you'll probably get better results if you paint the markings instead (although I concede that painting the black pinstripes that border the yellow on option A will be challenging).
I like this kit, notwithstanding the list of minor niggles above. Academy's 1/48 P-47D bubbletop isn't perfect, and it's not as good as its Tamiya equivalent, but it still builds into a very acceptable Thunderbolt replica. There is also a truckload of aftermarket accessories available if you want to add detail or make improvements.
The highlight of this boxing is Italeri's choice of markings, which focus on a specific operational theatre – Italy – and include interesting non-USAAF options. It's frustrating that marking option A can't be built from the kit as is, because I suspect it's the scheme that many people who buy the kit will be attracted to. And while there are a couple of errors on the decal sheet, based on my own experience it's hard to see how they could be any worse than the decals that come with Academy's own P-47 releases – and they are probably much better.
In summary, I can recommend this Italeri boxing to anyone who is contemplating a 1/48 P-47 build and wants a generally accurate, reasonably priced kit with some interesting marking options.
---
References:
Brett Green, 'Modelling the P-47 Thunderbolt' (Osprey, 2004)
Bert Kinzey, 'P-47 Thunderbolt in Detail and Scale' (Detail and Scale, 1998)
Thanks to The Hobby Company Limited for the sample
---
Review Text Copyright © 2013 by Brad Fallen
Images Copyright © 2013 by Brett Green
Page Created 20 September, 2013
Last updated 20 September, 2013
Back to HyperScale Main Page
Back to Reviews Page