Vought F4U-1 Corsair "Birdcage"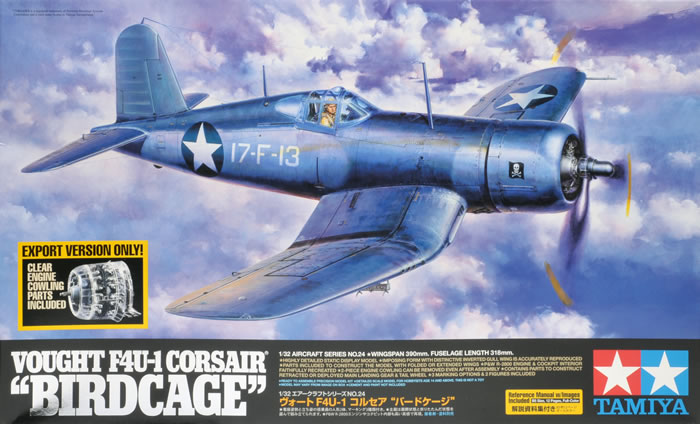 Tamiya, 1/32 scale
S u m m a r y

Catalogue Number and Description:
Tamiya Kit No. 60324 – Vought F4U-1 Corsair "Birdcage"
Scale:
1/32
Contents and Media:

453 parts in grey plastic (plus 11 for the two figures); 50 parts in clear (includes 22 limited edition clear cowl parts); four black plastic pieces; two frets of photo-etched metal; one self-adhesive metallic name plate; a self-adhesive masking sheet; two vinyl tyres; two metal rods; one screw; one nut; one small screwdriver; one poly cap; two decal sheets with markings for three schemes.

Price:
¥ 11,800 Japanese Recommended Retail Price
Available for pre-order from Hannants from £89.99 (Export Price) or £107.99 (EU Price)
Review Type:
FirstLook
Advantages:

Perfectly moulded; accurate; excellent detail with full engine, cockpit, and wheel wells; wings may be posed either folded or extended; separate control surfaces; positionable undercarriage; includes display stand.

Disadvantages:
Conclusion:

This is an outstanding kit. If you have the slightest interest in the F4U Corsair, Tamiya's new 1/32 scale kit will be an essential ornament to your modelling shelf. Do yourself a favour and build one soon!
Reviewed by Brett Green


Tamiya's 1/32 scale F4U-1 Corsair will be available online from Squadron

Background
The combat career of the F4U Corsair stretched longer than almost any other WWII fighter aircraft. The first of more than 12,000 Corsairs were produced in 1940, and the last of these bent wing birds were still doing battle above Central America nearly thirty years later.
The Vought Aircraft company had a strong association with the US Navy during the inter war decades, but their focus in the 1930s was observation aircraft, trainers and seaplanes.
In response to a US Navy specification issued in February 1938, Vought submitted two designs. With the second of these carrier-based fighter proposals, Vought adopted the simple strategy of building the smallest possible airframe around the most powerful available engine.
At the same time, Pratt & Whitney was developing the supercharged R-2800 radial engine. Radial engines had recently lost favour to the sleeker inline configuration, but the US Navy preferred the ruggedness and simplicity of the radial arrangement. Vought therefore designed their new V-166B around the Pratt & Whitney R-2800 powerplant.
The brute force of the R-2800 engine had to be absorbed by a correspondingly large propeller. With a diameter of 13' 4", the Hamilton Standard three-bladed propeller assembly was the largest fitted to a fighter aircraft to that date.
This imposing propeller needed very high ground clearance. Vought's solution was to install an inverted gull wing. The main undercarriage was fitted to the lowest point of the wing, improving ground clearance for the propeller while still permitting robust landing gear – essential for carrier landings. This design also lowered the profile of the Corsair with the wings folded, and strengthened the join with the fuselage via its sturdy central spar.

The result was the sole prototype XF4U-1, which first flew on 29 May, 1940. The ruggedness of Vought's design was proven at the end of that maiden flight when the aircraft flipped after a forced landing. Although the prototype was badly damaged, it was repaired and flew again within months. Indeed, before the end of 1940 the XF4U-1 became the first US fighter aircraft to exceed 400 mph in level flight.
Further development was required to iron out a number of undesirable flying and landing characteristics. In December 1942 the Corsair commenced carrier trials. Ongoing problems with poor pilot visibility on final approach and premature port wing stall disqualified the Corsair from US carrier operations at this time.
However, the first land based Corsair Marines squadron entered front line service in February 1943. The famous Jolly Rogers, VF-17, became the first US Navy Corsair unit to see action shortly after. The Corsair immediately demonstrated its superiority over Japanese fighters with an impressive kill ratio. The performance of the F4U also proved to be at least on equal footing with its US Army Air Force fighter counterparts, the P-47 and the P-51.
The Corsair was also adopted by the British Fleet Air Arm. Unlike the US Navy, Britain operated their Corsairs on carriers from their first sorties in March 1944. With their strikes against the Tirpitz, the Fleet Air Arm was the only Corsair operator to face German forces.
US Navy Corsairs were eventually cleared for carrier use in April 1944, in time to deal with the Kamikaze threat later that year.
The Royal New Zealand Air Force was the third Corsair operator in the Pacific. 238 F4U-1As, 126 -1Ds and 60 FG-1Ds served with 13 RNZAF squadrons from May 1944.
---
Tamiya and the Corsair
Tamiya released their 1/48 scale F4U-1 Corsair around 1996. Hobbycraft had the great misfortune of releasing their 1:48 scale Corsair kits around the same time. Tamiya's was superior in all the important areas - accuracy, detail, engineering and fit.
This was the first in a line of Tamiya 1/48 scale Corsairs that included an F4U-1D and F4U-1A, released in that order. Tamiya also released 1/72 scale F4U-1D, F4U-1A and F4U-1 Bircage Corsairs between 2001 and 2006.
Following the launch of Tamiya's groundbreaking 1/32 scale Spitfire Mk.IX in 2009, Spitfire Mk.VIII in 2010, P-51D Mustang in 2011 and their P-51K in 2012, speculation has been intense about the next release in the series.
Tamiya has made many modellers very happy with their choice of an F4U-1 Corsair. Once agan, they have picked the Birdcage version as the first in this scale.
Tamiya's 1/32 scale Vought F4U-1 Corsair "Birdcage" comprises 453 parts in grey plastic; 50 parts in clear (includes 22 limited edition clear cowl parts); four black plastic pieces; two frets of photo-etched metal; one self-adhesive metallic name plate; a self-adhesive masking sheet; two vinyl tyres; two metal rods; one screw; one nut; one small screwdriver; one poly cap; and two decal sheets with markings for three schemes.
The parts count may seem daunting, but quite a number of parts are for alternative versions and configurations. The engineering of the kit is straightforward too, so there should be few (if any) traps and tricks during construction.
Surface detail is possibly even finer than the Tamiya 1/32 scale Mustang. Crisply recessed panel lines are supplemented with rows of extremely restrained rivets. The visibility of the rivets varies depending on the angle and intensity of available light, ranging from subtly noticeable to almost imperceptible. Several different sizes of rivets are apparent too, as are selected slotted screw heads and raised hinges.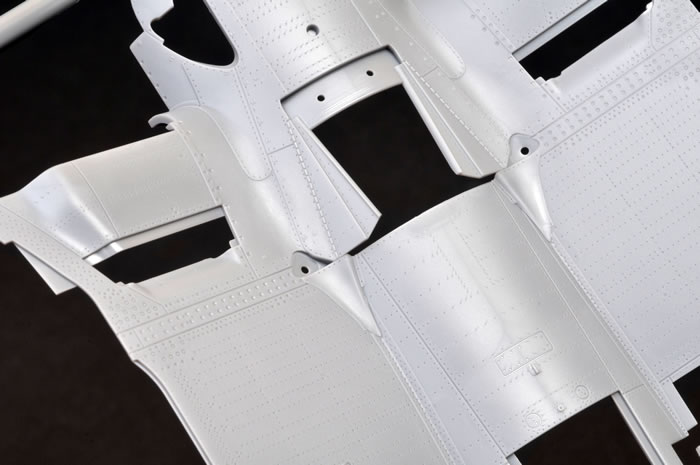 Fabric detail on the control surfaces and on the outer wing panels is restrained.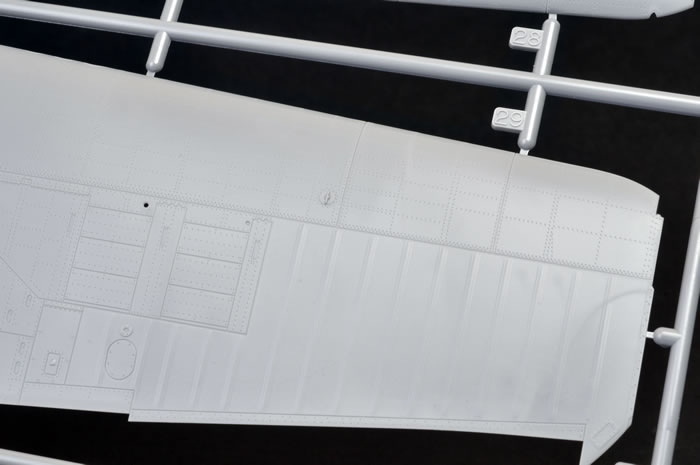 The fuselage halves are each presented in two main parts. Several options are possible for the turtledeck, mid upper spine and the top of the aircraft nose thanks to the use of inserts. The joins for these inserts fall on natural panel lines.
The cockpit is beautifully detailed and is specific to the F4U-1 Birdcage. The seat and floor were slightly lower in the initial production variant, and this is depicted correctly. The instrument panel follows the lead of Tamiya's other 1/32 scale kits, with a clear part sandwiched between a grey plastic panel and decals at the rear.
Photo-etched parts make an appearance in the cockpit. They are used for the harness straps and a number of other details.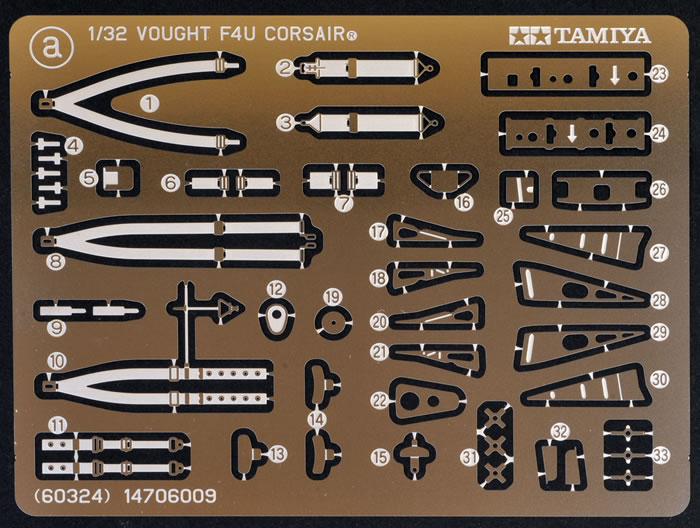 The R-2800 radial engine is beautifully detailed too. This is an all-plastic affair so assembly should be straightforward. The ignition harness is not included, so you might like to add fine wire to depict the various leads. The ends of the exhaust pipes are hollowed out.
Cowl flaps may be posed either open or closed. Different parts are supplied for each option.
Control surfaces including the elevators, flaps and ailerons are all provided as separate parts, but they are poseable as opposed to moveable. I actually like this approach as I tend to glue my control surfaces in position anyway, and it is certainly easier and more positive than metal rods and hinges. With the optional folded wings and small wing doors associated with the Corsair's flaps, hinged surfaces would have involved some necessary compromises in detail and scale too.
Similarly, the undercarriage may be built either down or up; and the flaps can be built either extended or folded. You'll need to decide on your model's configuration around Step 37 of construction.
The wing intakes, structure, spars and landing gear bays are intricate and authentic. Photo-etched parts are employed for the intakes and some of this structural detail.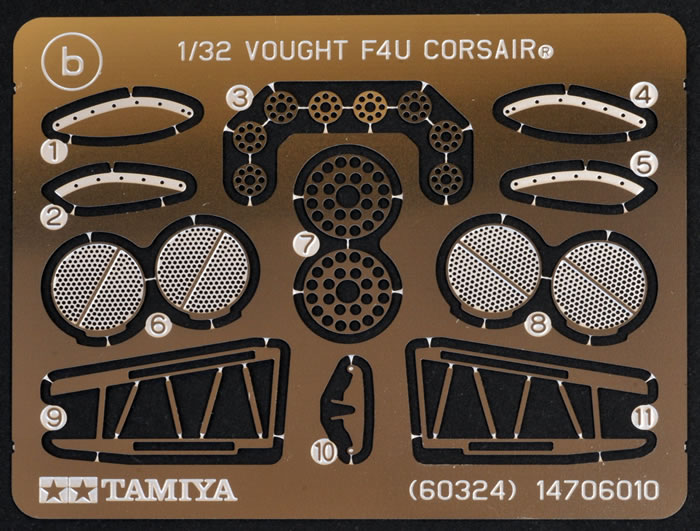 The landing gear legs - all three - also look fantastic.
Tyres are vinyl.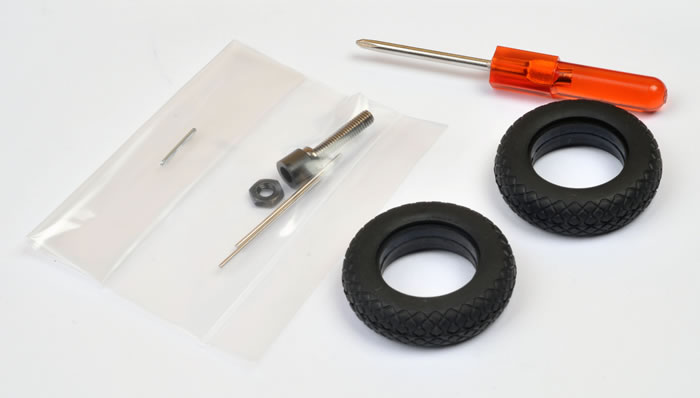 The horizontal stabilisers and fin are attached to the fuselage via stout fixed locating slots.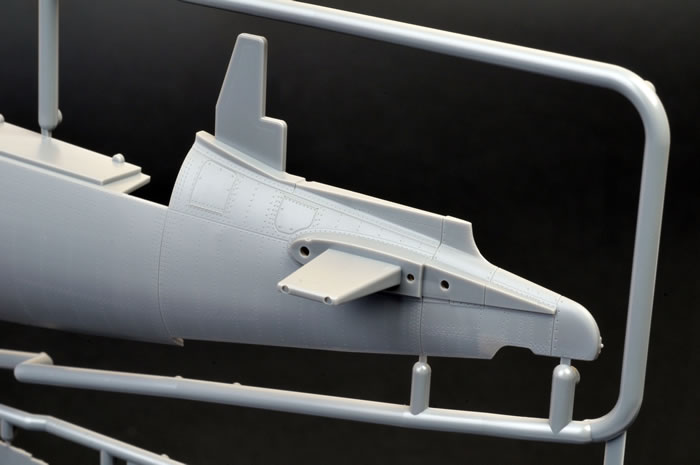 The clear parts are thin and sparkling and totally free from distortion. The window in the bottom of the fuselage is included.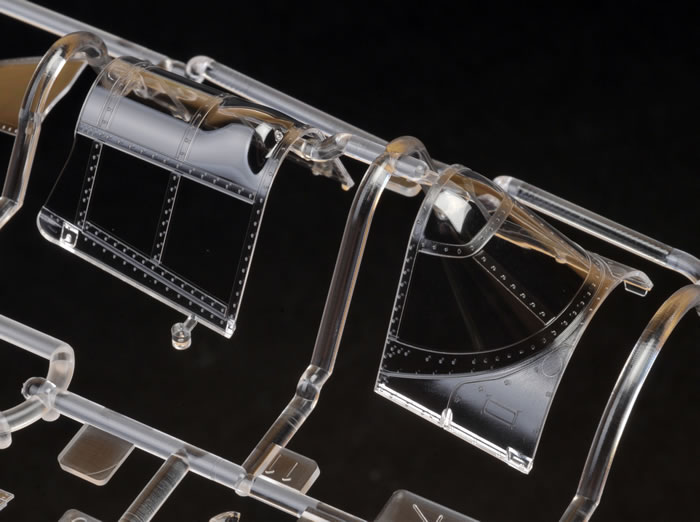 Alternate parts are offered for the rear quarter windows. One set has a front vertical frame and the other does not.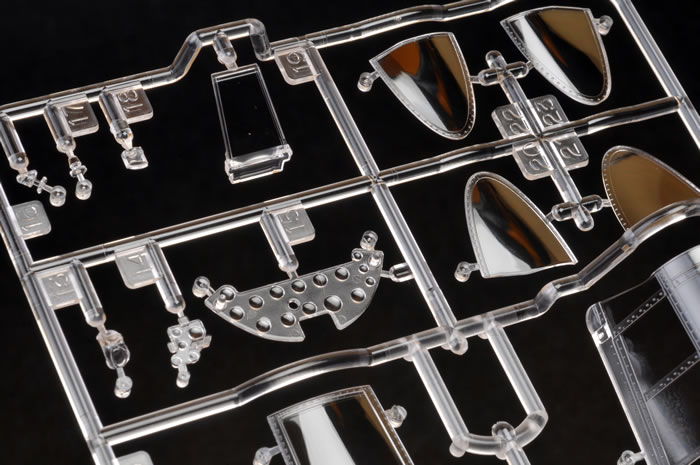 Self-adhesive canopy masks are included, and are quite welcome for the Birdcage canopy framing. The frames are printed onto the sheet but not die cut, so you will have to cut the individual masks out yourself (not a great chore though).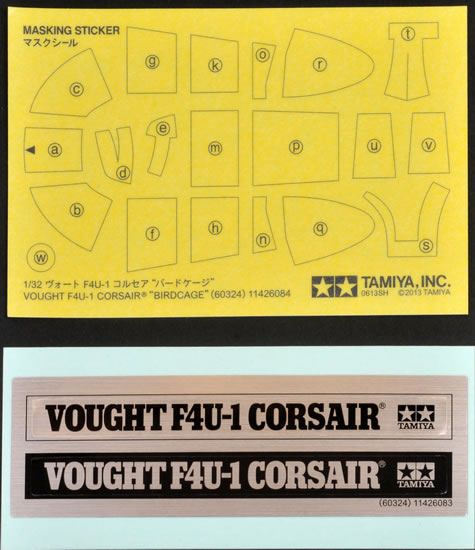 My sample is a standard initial production kit for export, so it has the limited edition clear cowling parts. These are a direct duplicate of the grey plastic cowling parts but these will permit you to display your engine if you are felling that way inclined. The clear cowl parts are a little cloudy on the sprue, but a bath in Future floor polish should greatly improve their transparency. In fact, a small supplementary instruction sheet suggests spraying a thick coat of Tamiya Clear from the spray can on both sides of the clear parts.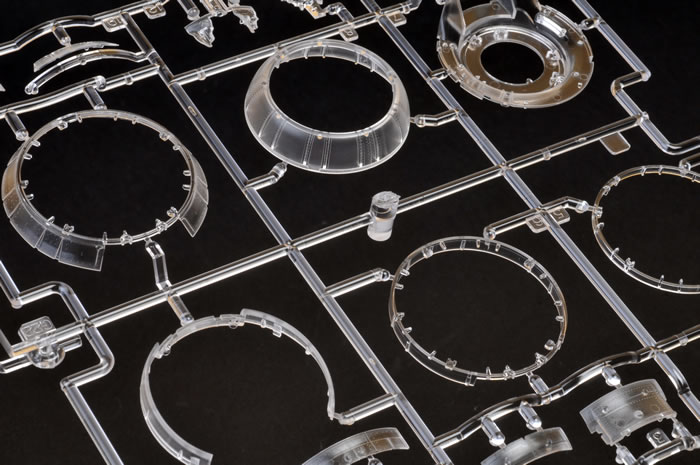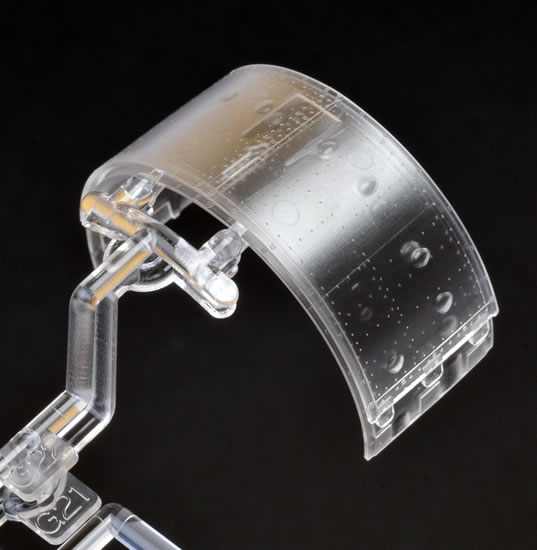 A stout black plastic stand is supplied for "in-flight" display, along with a self-adhesive metallic label.
Two pilot figures round out the package – one standing and the second seated in full flight gear. I like the clear goggles provided for the seated pilot!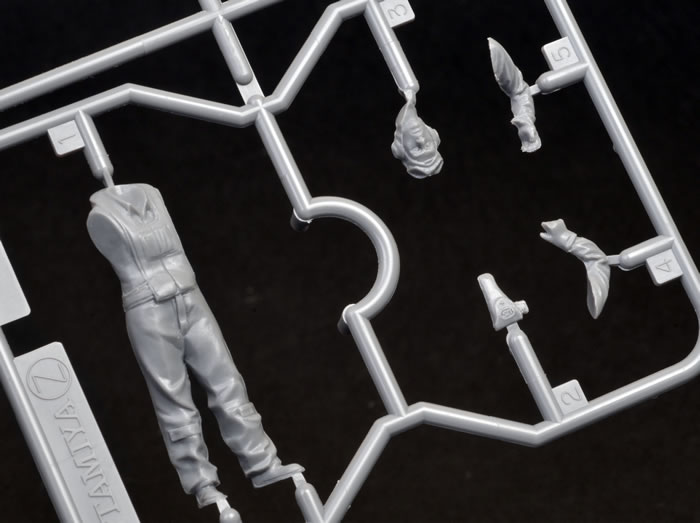 Markings are supplied for three aircraft plus extensive stencilling.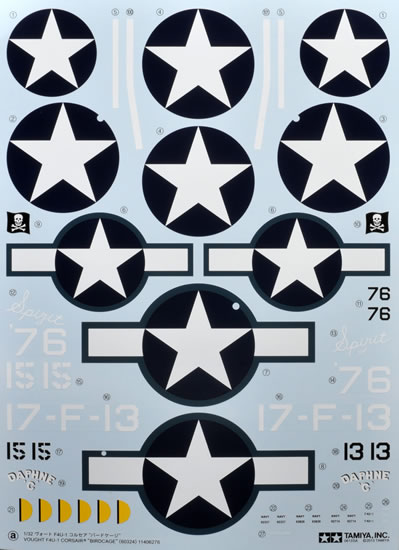 Both decal sheets are in register on my sample.
With its radial engine and folding wings, the Corsair is a very different aircraft from the Spitfire and the Mustang. Tamiya has clearly taken this into account and resisted the temptation of cookie cutter engineering.
Based on their previous 1/32 scale kits you might have expected open gun bays and metal hinges and removable cowl panels, but Tamiya has instead taken a fresh approach to some of these elements. This Corsair will be a more static model than its two predecessors, but that does not mean there is a lack of options or detail. You'll be able to pose the gear raised or lowered, wings folded or extended, flaps up or down, control surfaces deflected or neutral.
Detail in the cockpit, engine and wheel wells is superb and the finesse of surface textures, including panel lines and rivets, is once again unsurpassed.
I think that the approach taken with this Corsair represents another evolutionary step forward. With this kit, Tamiya seems to have taken some time to consider what is really important to most modellers. The result, to my eye, is a more mature offering.
Once again, Tamiya has delivered a truly outstanding model. If you have the slightest interest in the F4U Corsair family, Tamiya's new 1/32 scale kit will be an essential ornament for your modelling bench. Do yourself a favour and build one soon.
I know that I will be!
Highly Recommended.
Thanks to Tamiya Japan for the sample.
---
Text and Images Copyright © 2013 by Brett Green
Page Created 4 July, 2013
Last updated 5 July, 2013
Back to HyperScale Main Page