Scratch Built 1/5 scale
North American
P-51D Mustang
by David Glen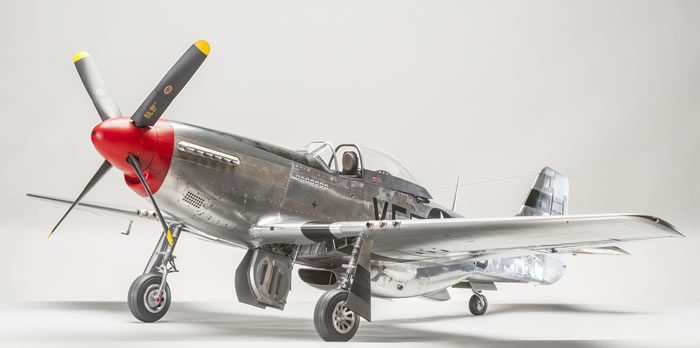 North American P-51D Mustang

Tamiya's 1/72 scale A6M2b Zero Model 21 is available online from Squadron.com
I completed my 1/5 scale model of the North American P-51D Mustang in the summer of 2013, eight years after cutting the first plywood sections. In September the model was taken to the Royal Air Force Museum, where it joins my Spitfire Mk I on permanent display - my own humble tribute to the US pilots and crews who gave their lives in support of their European allies over two World Wars.
The model scales out at 6.45 ft long from tail light to spinner. It has a wingspan of 7.41 ft and height of 2.66 ft. I never weighed it, but it takes three people to handle it safely.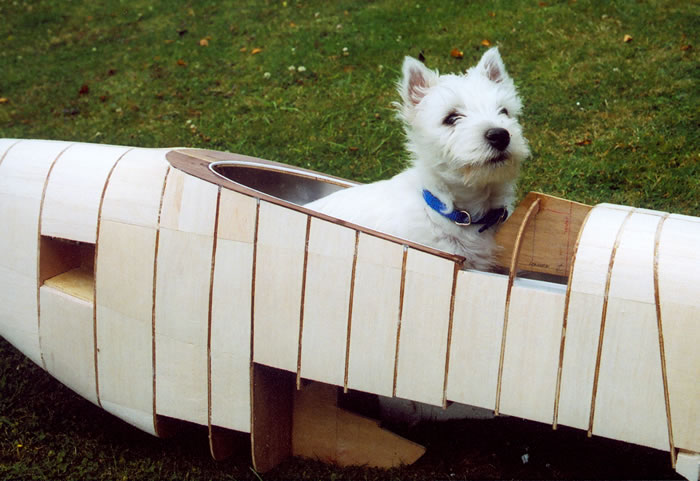 The livery is that of VF-B 413317, the machine flown by Captain Donald Emerson, 336 Squadron, 4th Fighter Group, who was killed on Christmas Day 1944 (in another aircraft) during the Battle of the Bulge. I have deliberately omitted the under wing and belly invasion stripes and Donald Duck nose art, the former to avoid hiding skin detail and the latter on the grounds that if it can't be done well, don't so it!
My principal full-size reference was Bob Tullius' magnificent restoration, which, resplendent in the same striking livery, deservedly occupies a place of honour in the RAF Museum at Hendon in North London. I used Arthur Bentley's P-51D three-views and the wing, empennage and fuselage sections that he kindly provided. All detail was built directly from the NAA production drawings, of which I have the complete set, numbering several thousands, on DVD.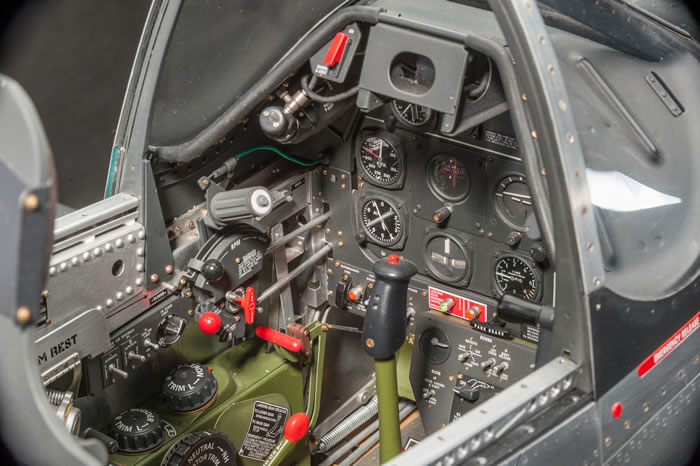 As far as I can make it, the model is complete and accurate in every visible detail, and work in the cockpit and wheel bays alone occupied 40-50% of the entire build. I outsourced to professionals just two jobs, the 'spinning' of the aluminium spinner blank and the vac-forming of the canopy using a plug that I made myself. All markings and stencils were produced on my Apple Mac and sent to a graphics studio for the production of dry rubdowns. I offer my gratitude to Mal who provided paint masks to my specifications for the insignia and codes, etc. I would also like to acknowledge help given me by Nigel Wagstaff at Flightline Graphics, particularly in producing special multi-layered rubdowns to replicate the bas relief logos and data on the tyre walls.
At a fundamental level, the model is constructed from plywood profiles and sections, in-filled with solid balsa and over-skinned with litho plate. As in my Spitfire, every rivet is emplaced individually into holes drilled through the skin, and all visible screws, bolts or nuts are also replicated using real fastenings in sizes down to 16BA. Use was made of my simple, home-made vac forming box for components such as exhaust stack fairing and instrument panel shroud, and items such as the airscrew blades and gun port blisters were cast in two-part resin from a silicone rubber mould. Numerous other assemblies, such as the wheels and olio struts, were machined from the solid metal.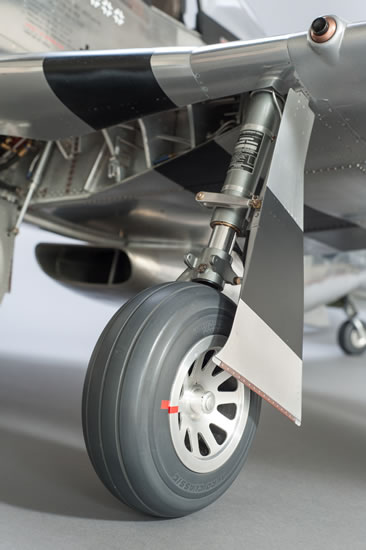 A more detailed account of the building of the P-51D and my other large-scale model projects can be found on my website www.spitfireinmyworkshop.net . On completion of its case, the model is to be put on display in the entranceway to the Visitor Centre at the Royal Air Force Museum at Cosford. My Spitfire can be seen at the RAF Museum, Hendon.
The model features in a detailed 16 page article in Issue 33 of Military Illustrated Modeller, available right now.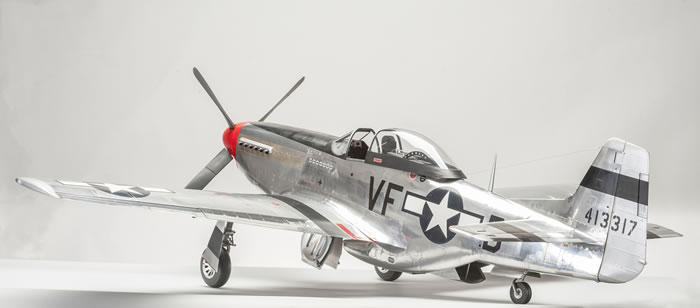 David Glen MSc
Whaddon, Cambridgeshire
September 2013
---
Images and Text Copyright © 2014 by David Glen
Page Created 11 February, 2014
Last Updated 13 February, 2014
Back to HyperScale Main Page