Focke-Wulf Ta 152 H
EagleCals Decals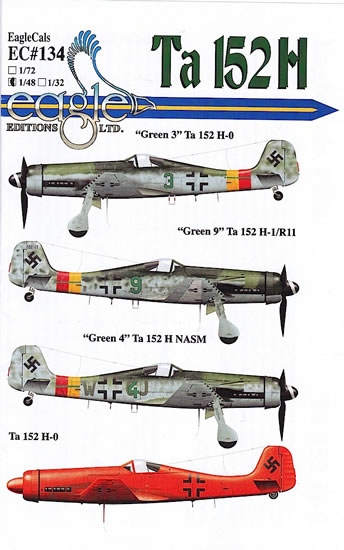 1/48 scale
S u m m a r y

Catalogue Number:
EagleCals Item No. EC#134-48 - Ta 152 H
Scale:
1/48 (also available in 1/72 sand 1/48 scale)
Contents and Media:
One waterslide decal sheet of national markings, codes and other aircraft-specific markings, one double-sided A3 fold out full-colour instruction sheet with marking options for four aircraft, and one double-sided A4 full colour photo supplement.
Price:

EC#134 available from www.eagle-editions.com:

1/72 US$11.00
Review Type:
FirstLook
Advantages:

Interesting and well-researched subjects; comprehensive instructions; high-quality decals.

Disadvantages:
Conclusion:

Another quality release from EagleCals that can be highly recommend to all Luftwaffe modellers.
Reviewed by Brad Fallen


Eagle Cals Ta 152 Decals and Reference are available online from Squadron.com
This EagleCals release focuses on the Focke-Wulf Ta 152 Hs operated by JG 301 at the end of World War 2. The chaos of the Third Reich's final months means that most information on these aircraft comes from the recollections of JG 301 pilots and the study of machines captured by the Allies, not official Luftwaffe records. Of the four machines featured on this release, one was evaluated by Britain and another by the United States – the latter the only Ta 152 airframe to survive to the present day, at the National Air and Space Museum in Washington, D.C.
One of the Ta 152's most attractive qualities as a modelling subject is the diversity of camouflage schemes in which it was finished. Most of these were variations of RLM 82 Bright Green and RLM 83 Dark Green over RLM 76 Light Blue, but the construction and painting processes forced on the Luftwaffe by Allied bombing meant that almost no two Ta 152s looked the same. Add to this unit level repainting – ranging from minor changes to complete makeovers – and Allied reinterpretations of Luftwaffe camouflage on captured aircraft, and you have a wide variety of interesting Ta 152 schemes.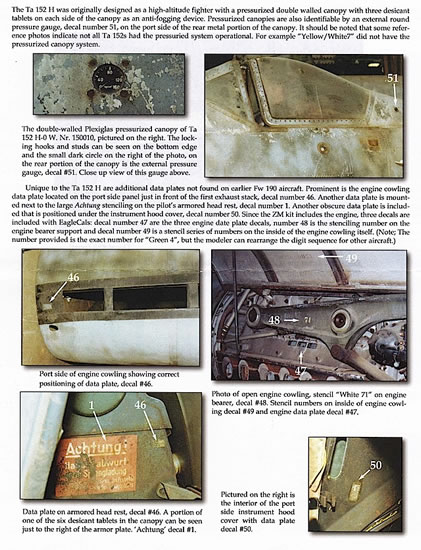 EagleCals presents a good selection of these finishes here, providing decals for four Ta 152 Hs and a combined total of seven different schemes. Much of the supporting material for this decal release has been drawn from Thomas Hitchcock's Monogram Monarch book on the Ta 152, published by Eagle Editions in 2010. If you have any interest at all in this late war German fighter, then you should consider picking up this book (not least for Tom Tullis' superb illustrations) which contains detailed information on all of the machines featured here.
These aircraft are:
Ta 152 H-0, W.Nr. unknown, originally 'Yellow 3' of 11./JG 301, Alteno airfield, Germany, February 1945; subsequently 'Green 3' of Stab JG 301, flown by Obfw. Josef Kiel, 10 April 1945 and Obfw. Walter Loos, 20 April 1945. This and the following two aircraft were camouflaged in 82/83 over 76 – in the case of 'Yellow 3/Green 3' with a fairly clean demarcation between the upper and lower surface colours along the fuselage sides, and comparatively heavy mottling on the vertical tail surfaces. In transitioning from 'Yellow 3' to 'Green 3', the yellow horizontal bar on the yellow/red JG 301 fuselage bands was repainted green, and the original RLM 70 Black Green spinner was repainted black with a white spiral.

Ta 152 H-1/R11, W.Nr.150168/'Green 9' of Stab JG 301, flown by Hptm. Roderich Cescotti, T.O. JG 301, 7 April 1945, and Fw. Willi Reschke, 24 April 1945; subsequently captured by British forces and test-flown by Captain Eric Brown. 'Green 9' featured a heavier mottling of upper surface colours on its RLM 76 fuselage sides than the previous aircraft, and the rear half of the lower wings were unpainted natural metal. The instructions describe how this finish was modified during RAF captivity, including by overpainting the red/yellow fuselage bands and repainting the spinner red with a white spiral. Unfortunately an illustration of this captured scheme isn't included in the instructions, but there are a number of photographs in the Hitchcock book and on the internet that are well worth studying if you are tempted to model this aircraft.

Ta 152 H-0, W.Nr.150010, originally 'Yellow 4' of 11./JG 301, and subsequently 'Green 4' of Stab JG 301; flown by Obfw. Walter Loos on 24, 25 and 30 April 1945. This Ta 152 H carried light mottling on the fuselage sides along with the overpainted factory codes 'CW+CJ', which EagleCals has provided as decals. Changes made when the aircraft became 'Green 4' – apart from the obvious – include repainting the yellow horizontal bar on the fuselage bands green, and painting the original solid RLM 70 spinner black with a white spiral. As the sole surviving Ta 152 H, 'Yellow 4/Green 4' is well documented, and EagleCals has usefully included a number of relevant detail photographs of the machine as part of the instructions.

Ta 152 H, flown by Kommodore of JG 301, Obslt. Fritz Auffhammer, 22 March 1945. This well-known aircraft was reportedly painted bright orange-red to discourage German anti-aircraft gunners from attempting to shoot it down. The overpainting obliterated all stencils as well as the original, complex paint scheme, which makes this scheme worth considering if you're not comfortable with painting Luftwaffe camouflage but still want a model that stands out from the crowd.
As usual with EagleCals decals, a wealth of supporting information is provided to help you model your selected aircraft. This includes:
Full colour port or starboard profiles, including options 1 and 4 in both their 'green' and 'yellow' guises

Full colour, generic overhead and undersurface plans for the three camouflaged options

Three full colour scrap drawings to assist with painting and decal placement on specific areas

Detailed written descriptions of each aircraft, including historical background, painting and marking characteristics and evolution, and specific page reference numbers to the Hitchcock book and other sources

A comprehensive greyscale stencil placement guide

The previously mentioned walkaround photographs of 'Green 9'.
The decal sheet has been printed by Cartograf and contains enough national insignia for two models, and enough stencils for at least one. If you rob your decal bank for additional insignia and stencils, then you'll be able to complete five models from the sheet - option 1 as 'Yellow 3' and 'Green 3', option 2 in its pre-captured colours as 'Green 9', option 3 as either 'Yellow 4' or 'Green 4' (only one set of factory code decals is provided), and option 4. If you want to portray either 'Green 9' or Yellow 4/Green 4' in captured colours, then only some of the EagleCals decals will be applicable, and you'll also need to track down relevant RAF markings from another source.
The decals look great on the sheet: thin, glossy, in perfect register and with no apparent production issues. Spinner spiral decals are included for 'Green 9' and 'Green 4', and the Hakenkruez come in two parts that will require careful alignment.
This is another quality release from EagleCals that I can highly recommend to all Luftwaffe modellers. If, like me, you are fascinated by captured World War 2 aircraft and the paint schemes in which they ended up, then this sheet contains key information and decals that will help you create an accurate Ta 152 'in enemy hands'. Alternately, if you prefer your late war German aircraft in their original colours and markings, then this release has everything you need to complete a great model.
Highly recommended.
---
Reference:
Thomas A. Hitchcock, 'The Focke-Wulf Ta 152' (Eagle Editions, 2010).
Thanks to Eagle Editions for the review samples
---
EagleCals decals are available from Eagle Editions Website
---
Preview Text Copyright © 2014 by Brad Fallen
This Page Created on 6 January, 2014
Last updated 6 January, 2014
Back to HyperScale Main Page
---