Supermarine Spitfire Mk.Vb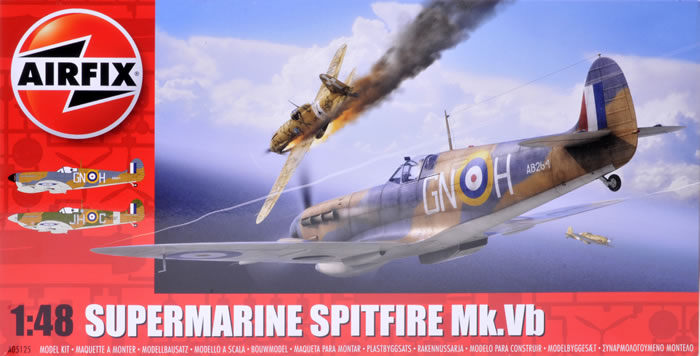 Airfix 1/48 scale
S u m m a r y

Description and Catalogue Number:

Airfix A05125 - Supermarine Spitfire Mk.Vb

Scale:
1/48
Contents and Media:

123 parts in grey injection moulded plastic; 17 parts in clear plastic; markings for two aircraft

Price:
Review Type:
FirstLook
Advantages:

High level of detail; accurate; many useful options including Vokes filter, Rotol and de Havilland propeller assemblies, bombs, slipper tank and more; straightforward construction; clever engineering for parts such as windscreen mounts; crisp and fine surface detail.

Disadvantages:

It's not a Mk.Vc!

Conclusion:

This is an excellent kit. Not only is it certainly Airfix's best Spitfire kit to date, I would rate it the best Spitfire Mk.V currently available in any scale. Highly Recommended.
Reviewed by Brett Green
The 1990s saw the peak of Airfix excellence with their 1:48 scale English Electric Lightning, Seafire Mk. 46/47 and Spitfire Mk.22/24 kits. These were the equal of anything coming out of Japan at the time, and they have remained the pinnacle of Airfix quality until recently.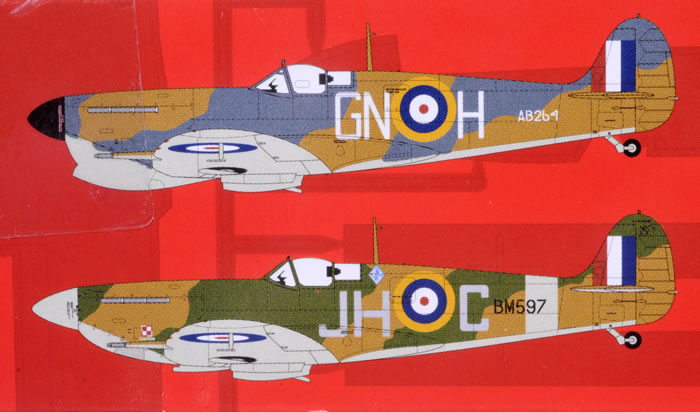 Airfix picked up the baton again in 2007 and have been busy releasing new 1:48 scale Spitfire and Seafire kits ever since. The first of this new generation was, appropriately, the Mk.I. That kit was generally nice but had a number of weaknesses including thick wings, chunky clear parts, decals with visible dot-screen effect, and a fuselage that was based on the 1970s-vintage Spitfire Mk.Vb kit. After a short shuffle backwards with their Mk.IXc, Airfix picked up their game significantly with a Spitfire Mk.XII and Seafire Mk.XVII during 2011. These were all-new kits with improved surface features and clever engineering.
Even so, they still hadn't reached the standard of the Spitfire Mk.24, especially in terms of surface finesse and detail.
Airfix released a 1/48 scale Spitfire PR.XIX in late 2012. This was a brand new kit, and a definite improvement over the previous year's Mk.XII and Mk.XVII, with finer panel lines and better detail. At last, Airfix had matched, or even slightly bettered, the standard of their 1990s Spitfire Mk.24 and Seafire 46.
The new Airfix 1:48 scale Spitfire Mk.Vb comprises 123 parts in light grey plastic, 17 parts in clear and markings for two aircraft.
This is an all-new kit with absolutely no parts in common with any previous Airfix Spitfire release. In my opinion, this kit is even better than 2012's Spitfire Mk.XIX.
Moulding quality is very good. The plastic is smooth, and moulding imperfections are few. The most obvious is a faint vertical line on the mid-fuselage at the location of the rear cockpit bulkhead, but this may disappear under a coat of paint.
Surface detail is by way of recessed panel lines. These are finer than those seen on any of Airfix's latest generation of 1:48 scale Spitfires. Fabric texture on the elevators and rudder is subtle and I like the raised fasteners on the engine cowlings.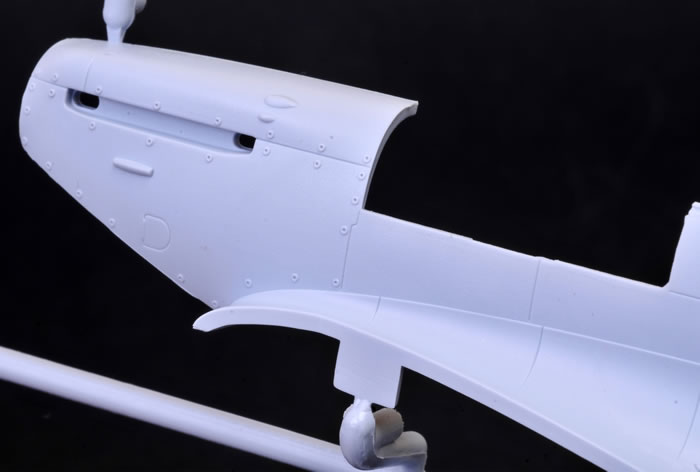 As good as the Spitfire XIX was, this cockpit is the best effort yet in any Airfix Spitfire. it features the correct bottomless floor, with separate parts for the various bulkheads, the seat and an instrument panel with simple but effective raised bezels. I particularly like the separate lower cockpit halves, which are moulded with crisp raised detail.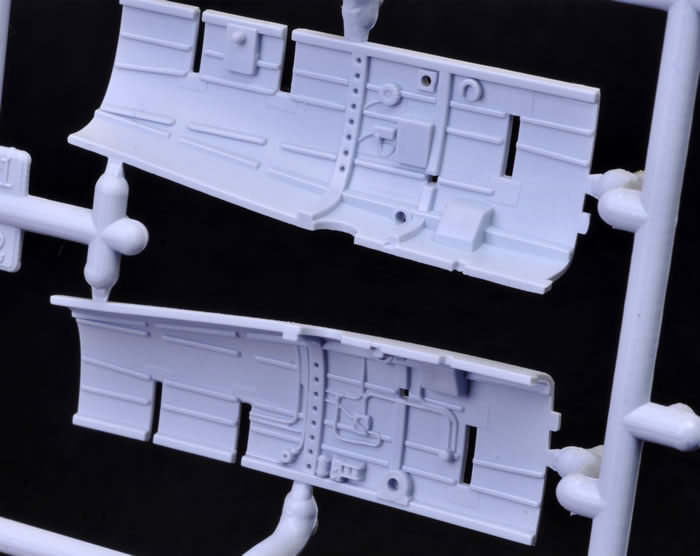 All you really need to add is a set of harness straps, although even that won't be required if you choose to use the supplied pilot figure. You may wish to drill out the lightening holes in the seat bulkhead though. A separate pilot's entry door with moulded-on crowbar is also included.
The exhausts are one piece for each side. The outlets are solid, so a little time with the sharp end of a hobby knife will be required to hollow them out. Three styles of exhaust are offered.
Two propeller and spinner options are included – Rotol and de Havilland.
The wings are moulded as a full-span lower section plus separate upper wing halves. The various bulges are all moulded in place. The only insert is in the leading edges for the Hispano cannon barrels. Strengthening strakes are moulded onto the upper wings. Check your references carefully as these were not universally fitted to the Spitfire Vb.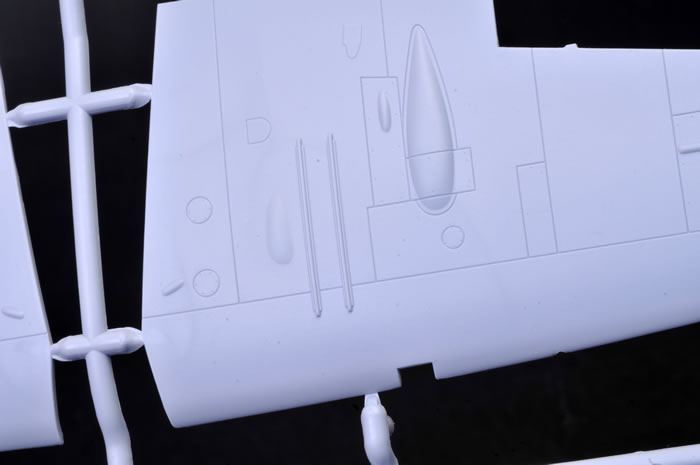 Control surfaces are all supplied separately except the flaps, which are moulded closed. This is appropriate, as the the flaps were generally not seen deployed except on approach and while landing. The port and starboard elevators are moulded as a single part so you can't accidentally pose them out of alignment.
The main wheels are bulged and flattened, and keyed to the axles of the undercarriage legs to ensure they sit flat on the ground. A second set of unflattened wheels are supplied for raised undercarriage. The wheel hubs are five-spoke.
The kit features two styles of separate "saddle" insert on the front fuselage decking for alternative windscreens.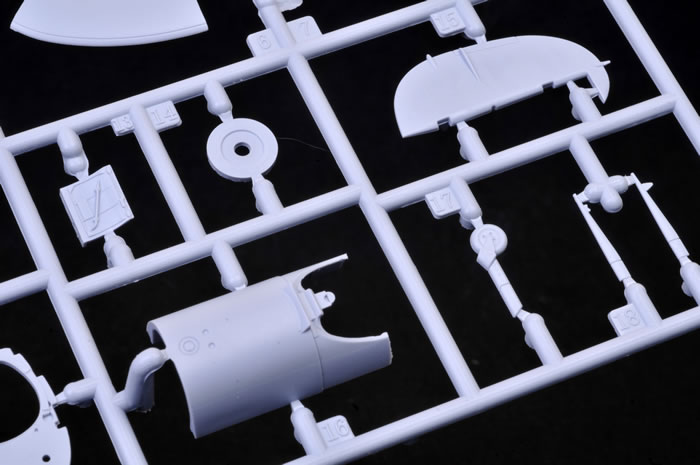 A one-piece mid and rear canopy piece is supplied for the closed option. If you want to pose the canopy open, Airfix has supplied separate overlapping parts.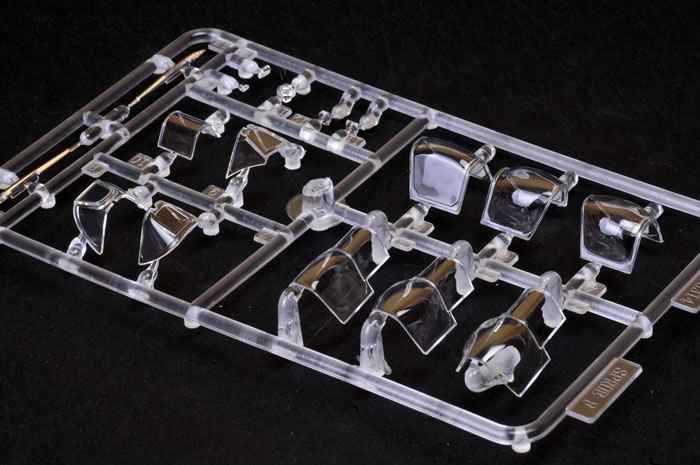 Other options include Vokes tropical filter, alternative oil cooler housings, poseable radiator flap, a large slipper tank, two 250 lb bombs and racks, clipped wing tips (supplied as separate parts in both clear and grey plastic) and two styles of aerial mast.
Parts breakdown is conventional, with locating pins and other devices that make this model perfectly appropriate for even less experienced modellers.
---
Markings
Two marking options are offered – one in Dark Earth and Dark Green wearing the markings of 317 Sqn.; and a Malta option with Sea Grey and Dark Earth upper surfaces. The decals feature perfect registration, rich colours with a the hint of a satin finish.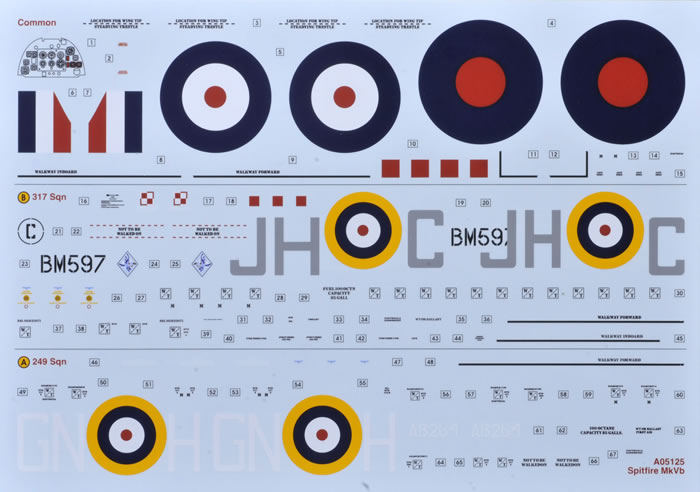 Accuracy appears to be very good, as you would expect from an Airfix Spitfire.
This is an excellent kit. Not only is it certainly Airfix's best Spitfire kit to date, I would rate it the best Spitfire Mk.V currently available in any scale.
Detail is very good, surface textures are crisp and restrained, and there is no reason to expect that it won't be a straightforward build.
Roll on Airfix!
Sample purchased by reviewer from Hannants.
---
Text and Images Copyright © 2014 by Brett Green
Page Created 8 August, 2014
Last updated 8 August, 2014
Back to HyperScale Main Page