P-47D Thunderbolt
Jugs Over Italy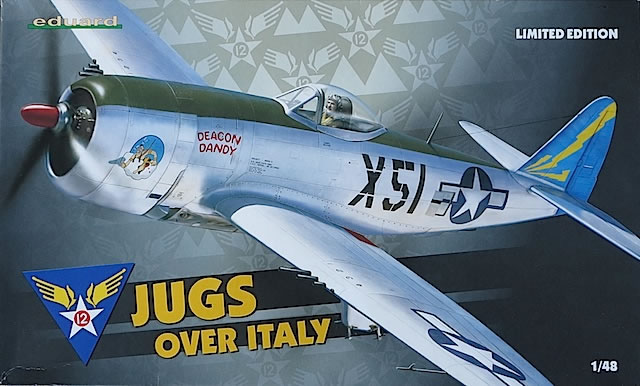 Eduard Limited Edition, 1/48 scale
S u m m a r y

Catalogue Number:
Eduard Kit No.1180 – P-47D Thunderbolt Jugs Over Italy Limited Edition
Scale:
1/48
Contents and Media:
Approximately 96 grey plastic parts (34 unused); 11 clear plastic parts (3 unused); 30 grey resin parts; 2 frets of photo-etched brass pieces (1 pre-painted, 1 unpainted); 1 sheet of die-cut tape masks; 1 A4 decal sheet containing markings for 6 aircraft; 1 smaller decal sheet of stencils; 16 page full colour instruction booklet
Price:

USD$63.71 plus shipping available online from Eduard's website

Review Type:
FirstLook
Advantages:
Good base kit; comprehensive resin and photo-etched upgrade sets; high quality decals from Cartograf.
Disadvantages:
Resin cockpit floor not accurate for most if not all marking options; shape of resin propeller blades appears to be slightly off.
Conclusion:
This is another excellent reboxing of an Academy kit from Eduard. While Academy's 1/48 P-47D bubbletop was eclipsed by Tamiya's kit more than a decade ago, it is still a sound kit that can be built into a good model. The Brassin and photo-etched details address the weakest elements of the original kit, and the marking options are interesting and colourful. Very highly recommended.

Reviewed by Brad Fallen

Eduard's Limited Edition 1/48 Jugs Over Italy
is available online from Squadron.com for only USD $47.22
The Republic P-47D Thunderbolt's success as a ground attack aircraft in Northern Europe after D-Day is well documented. Also very effective, but less widely known, was the P-47's contribution to Allied operations in Italy. The Thunderbolts equipped USAAF Twelfth and Fifteenth Air Force units from late 1943 onwards, and flew mainly ground attack and escort missions. Many of these aircraft were finished in typically colourful USAAF schemes, and as result make excellent modelling subjects.

In September 2013 I reviewed Italeri's reboxing of the Academy 1/48 P-47D bubbletop kit, which provided markings for four Thunderbolts that flew in Italy in 1944-45. This welcome re-release of the Academy kit, which isn't perfect but builds into a very acceptable replica, was let down only by some minor errors in the decal sheet.
Now Eduard has given Academy's P-47D sprues an Italian twist. The difference between the two releases is that while Italeri has reboxed the original kit – albeit with improved decals – Eduard offers a deluxe Limited Edition package with resin and photo-etched details, canopy masks, and Cartograf decals for five P-47s.
Eduard's box art is typically arresting, featuring a painting of 86th Fighter Squadron P-47D 'Deacon Dandy' (marking option A) superimposed on a background of stylised Twelfth Air Force logos. One side of the box features profiles of the kit marking options, while the other illustrates some of the Brassin and etched details provided with the kit.
Most of the space inside the box is taken up by five sprues of Academy's medium grey plastic parts, the moulds for which date back to the 1990s. All parts are crisply moulded with only a tiny amount of flash apparent. Parts breakdown is conventional, with the fuselage split vertically and wings horizontally; the latter attach to the fuselage through a combination of locating tabs and overlapping parts. This makes for a strong join and reasonable, but not foolproof, alignment, so take care at this stage of assembly. All control surfaces are moulded in the neutral position.
Points worth noting about the plastic parts are:
Access panels on the wings and fuselage have been moulded as standing proud of the surrounding aircraft skin. I wondered about the accuracy of these panels when I built Academy's 1/48 P-47N ten years ago; they're incorrect and should be sanded flat.
Cockpit detail is just adequate, with some errors and omissions. These issues can be ignored in this boxing, because the kit parts are replaced with a Brassin cockpit.
The absence of underwing compressibility flaps indicates a bubbletop P-47D from the P-47D-28 or earlier production blocks.
A wide variety of underwing stores is provided on the two sprues this kit shares with Academy's P-47N kit. Not all of these stores were appropriate for the P-47D, so check your references.
The gear bays are moulded integrally with the lower wing and fuselage halves. The bays are nice and deep, and look good when painted up. The pattern depicted on the ceiling of the bays is not particularly accurate: it looks like cross-hatching, where reference photos clearly show corrugations running span-wise across the ceiling. If this concerns you, Eduard has produced a photo-etched P-47D-25 upgrade set (not included in this boxing) that largely replaces the kit gear bays.
The single plastic propeller option provided most closely resembles the Hamilton-Standard Hydromatic paddle-blade propeller fitted to many Thunderbolts from the P-47D-22 production block onwards, and which Eduard recommends for marking options B, C and D. Hub detail is good but the blades themselves could do with a little cleaning up around the edges.
The wing gun bay hatches are removable, with parts provided to represent the ammunition feed mechanisms and the rear of the guns. These parts aren't particularly detailed, so I'd probably omit the guns and glue the hatches securely from the inside to ensure a good fit.
The shapes of the windscreen and canopy are slightly off – the windscreen appears to be too tall and not sufficiently rounded at the top, while the canopy doesn't quite capture the complex curves of the real thing. That said, both items look the part when painted and installed, and will never be mistaken for anything other than what they are.
This sounds like a long list of nit-picks, but it isn't meant to be: Academy's 1/48 P-47 kits are well-engineered, easy to build and reasonably accurate. What they need most are some additional, fine details to enhance this sound underlying structure, which is where this Limited Edition boxing comes into its own.
Brassin and photo-etched parts completely replace the original kit cockpit. The resin castings are beautifully done, with the one-piece sidewalls especially nice.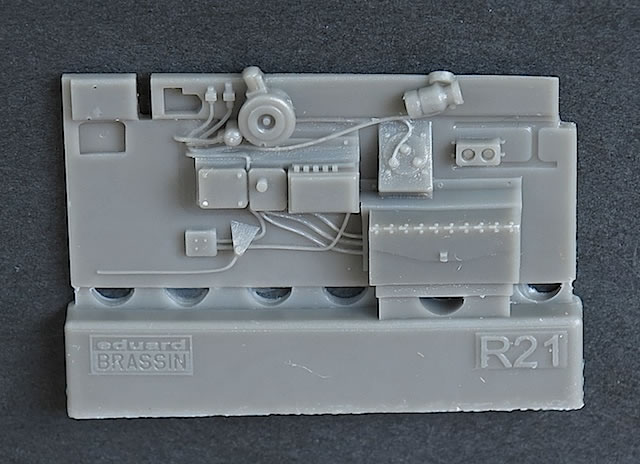 Detail is built up in layers, with smaller resin and photo-etched parts added to the larger parts to create a convincing three-dimensional representation of the P-47D cockpit.
One minor drawback here is that the cockpit floor depicted is the flat version installed from the P-47D-30 production block onwards; unfortunately this means it's inaccurate for at least four of five machines featured in this boxing, which are P-47D-25s and -27s. The floor is attached to a substantial casting block, which will need to be carefully sawn and/or ground away. The attachment points for all of the other resin parts, however, have been cleverly designed with rebates and perforations that should make removing the parts quite straightforward.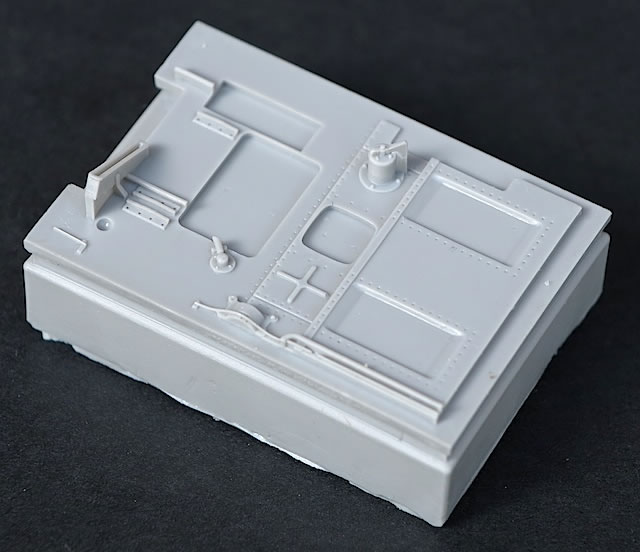 Academy's plastic mainwheels are reasonable, but completely shaded by their Brassin replacements that have very fine hub and tyre details. The tyres are depicted with a diamond tread pattern, but other patterns were common so check your references for the aircraft you are modelling.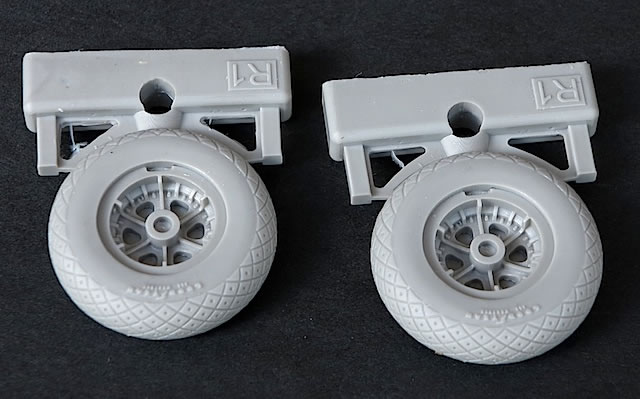 Replacement Brassin propeller hubs and blades are provided those building kit marking options A, E and F. These represent the Curtiss Electric symmetrical and asymmetrical units fitted to many bubbletop P-47Ds, although comparing the resin blades to reference photos I don't think Eduard has quite nailed the shape of either. The blades are individual parts that must be attached to the hub, a chore that will be made considerably easier by the hub's deep attachment points and the jig that Eduard has thoughtfully supplied. The hub is well detailed and correctly depicts the pointed tip of the Curtiss Electric product.
The Brassin parts are well complemented by the two frets of photo-etched brass, one pre-painted and the other unpainted.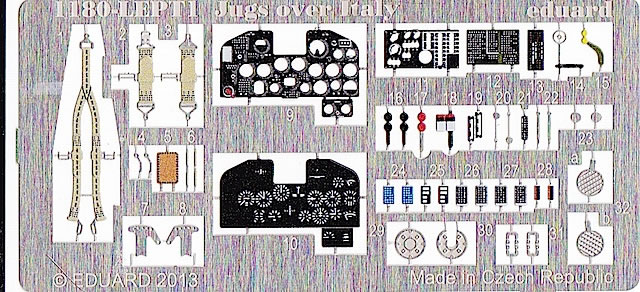 As usual, most of the former is used in the cockpit, with the instrument dials and harness stitching just two of the details that would be difficult to replicate in any other media. The unpainted fret includes rear cockpit decking, undercarriage details, bomb fins and an ignition harness.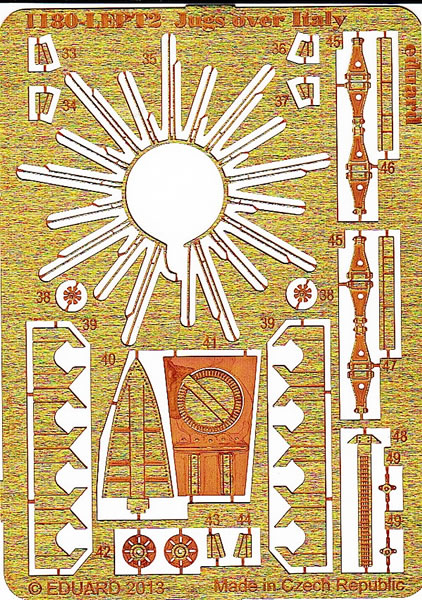 A small sheet of Kabuki tape provides the luxury of pre-cut masks for the canopy and wheels. I love these masks, because they usually fit well, are easy to use and deliver much better results than I achieve when left to my own devices.
Finally, the 16 page A4 instruction booklet offers a clearly set-out construction guide, full colour four view illustrations of each marking option, and a very comprehensive greyscale stencil placement guide.
---
Marking Options
The highlight of an Eduard Limited Edition kit, for me at least, is the wide range of marking options included. This kit is no exception, featuring six options for five P-47Ds operated by Twelfth Air Force units over Italy in 1944-4.5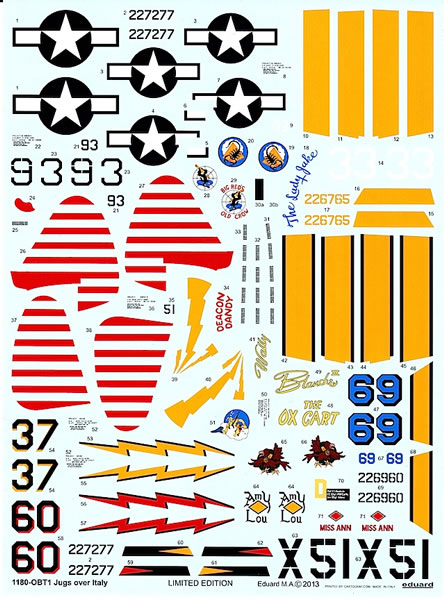 .These aircraft are as follows:
P-47D 'Deacon Dandy' (serial number and production block not identified) of the 86th Fighter Squadron, 79th Fighter Group, Fano, Italy, February 1945. 'Deacon Dandy', along with options C, D, E and F, was overall natural metal with an Olive Drab anti-glare stripe along the entire upper fuselage. Its distinguishing features were a red propeller boss, a blue vertical fin and rudder decorated with yellow lightning bolts, and the 86th FS insignia on the port engine cowling.

P-47D-25 'The Lady Jake'/22-6765 flown by Captain Edward F. Jones of the 64th FS, 57th FG, Grosseto, Italy, early 1945. The only camouflaged aircraft in this line up, 'The Lady Jake' was finished in Olive Drab over Neutral Gray with yellow identification stripes on all wing and tail surfaces, a red propeller boss and forward cowl ring, and the scorpion insignia of the 64th FS on the port engine cowling.

P-47D-25 'Big Red's Old Crow' of the 527th FS, 86th FG, Pisa, January-February 1945. True to its name, the very colourful 'Big Red's Old Crow' wore a red propeller boss, red cowl ring and flaps (with neither of these carrying over on to the anti-glare panel), red-and-white stripes on its vertical and upper horizontal tail surfaces, and the unit insignia on both sides of the engine cowling.

P-47D-27RE 'Blanche III/Wally/The Ox Cart'/22-6960 flown by Lieutenant Sylvester 'Bud' Hendricks of the 65th FS, 57th FG, Grosseto, late 1944- early 1945. Also very colourful, this machine carried yellow and black identification stripes on its wing and vertical tail surfaces, a red cowl ring, blue-and-black identification numbers, and a stylised unit emblem on both sides of the engine cowling.

P-47D-27RE 'Miss Ann'/22-7277 flown by 1st Lieutenant Richard G. Keene of the 315th FS, 324th FG, early 1945. 'Miss Ann' had a red propeller boss, a red forward cowl ring that didn't extend into the anti-glare panel, red-and-black lightning bolts on either side of the fuselage and a red-and-black horizontal stripe on the vertical tail surfaces. The aircraft name was repeated on both sides of the engine cowling beneath a black-bordered red diamond.

P-47D-27RE 'Amy Lou'/22-7277 flown by Captain Harry A. Chance of the 314th FS, 324th FG, Dole, France, late 1944-early 1945. This is the same aircraft as option E, but in an earlier guise when it was operated by the 314th Fighter Squadron. The markings are almost identical, but here they are yellow rather than red and there is no coloured band around the forward cowling.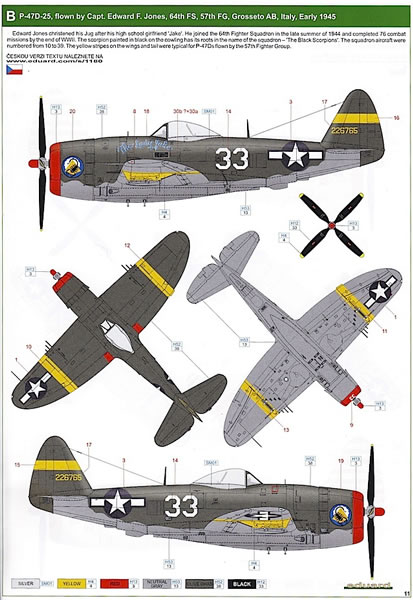 The decals are supplied on two sheets – a larger A4 page that contains all of the national and individual aircraft markings, and a smaller sheet of stencils. The latter has been produced by Eduard and provides a full suite of P-47 airframe stencils. The A4 sheet is a show-stopping Cartograf production that looks better every time I examine it. Printing is flawless, with good colour density and very crisp demarcations, including on the numerous unit insignia. There are some big decals here, particularly the red-and-white tail surfaces for option C and yellow identification stripes for options B and D, which will require thorough surface preparation if they are to look convincing when applied. Some of the colours are very bright and might benefit from toning down during the weathering process.
This is another excellent reboxing of an Academy kit from Eduard. While Academy's 1/48 P-47D bubbletop was eclipsed by Tamiya's kit more than a decade ago, it is still a sound kit that can be built into a good model. The Brassin and photo-etched details address the weakest elements of the original kit, the marking options are interesting and colourful, and the decals are great. Very highly recommended.
Thanks to Eduard for the review sample.
---
References
Bert Kinzey, 'P-47 Thunderbolt in Detail and Scale' (Detail and Scale, 1998)
Thanks to Eduard for the sample
---
Review Text and Images Copyright © 2014 by Brad Fallen
Page Created 24 March, 2014
Last updated 24 March, 2014
Back to HyperScale Main Page
Back to Reviews Page