MiG-15
Weekend Edition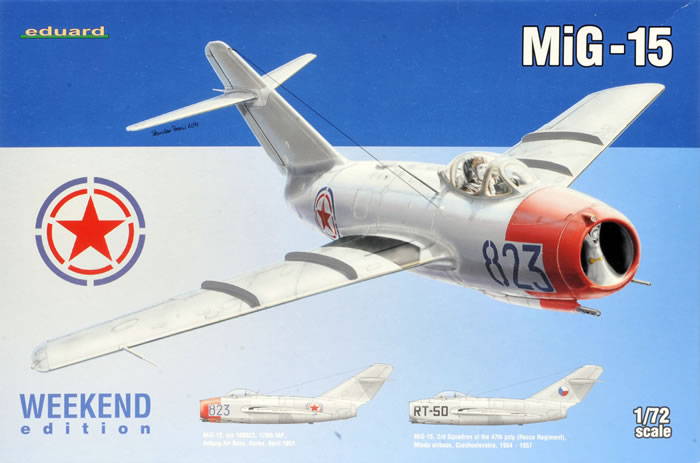 Eduard, 1/72 scale
S u m m a r y

Catalogue Number:
Eduard Kit No. 7423 – MiG-15 (Weekend Edition)
Scale:
1/72
Contents and Media:
78 grey airframe and seven clear styrene canopy parts, with decals for two subjects.
Price:

Available on-line from:

Click for currency conversion
Review Type:
FirstLook
Advantages:
Simply a superb kit; it is accurate, well detailed, and great value. The "Super Fabric" seat harness is a real plus too.
Disadvantages:
None noted
Conclusion:

Eduard's range of MiG-15 kits offers the most accurate and best detailed 1/72 examples available.

I accept that you might choose the Hobby Boss kit for its simple construction if you plan to build a fleet of MiG-15's; but you would have to have rocks in your head to buy any other brand kit but Eduard's if you only wish to build one or just a few Fagots in this scale; be they Weekend, Profipack, or Dual Combo Editions (where you get one of each variant).

Besides their accuracy and quality, all packages are priced very competitively in my opinion. The Weekend Edition reviewed here is ideally suited for those who shy away from or actively dislike working with PE details. The inclusion of Super Fabric seat-belts is a real bonus however, as is having two decal options.

This is a superbly engineered top quality product; I cannot recommend this kit highly enough.

Reviewed by Mark Davies

Eduard's MiG-15bis Profipack Edition is available online from Squadron.com
Background
The Mikoyan-Gurevich MiG-15 (Fagot) surprised Western forces upon its service debut, and outclassed the Western fighters it opposed in the Korean War until the United Nations fielded North American F-86 Sabres to counter it. Both designs were the amongst the first widely deployed swept-wing fighter designs, and both would achieve well-deserved iconic status.
The MiG-15 exploited captured German aerodynamic research and, just as importantly, a license-built British Rolls-Royce Nene jet. The latter came about as a result of late-1940's British government lunacy to share technology in accordance with a wartime offer; despite the onset of the cold-war. Much of the credit is of course also due to the MiG design Bureau, as far more was involved than simply cobbling together other nations' ideas.
The MiG-15 effectively founded a dynasty of jet-fighters, and one of the most widely produced aircraft ever; with around 18,000 built when licensed production outside of the Soviet Union is included. Without doubt, it is one of the most widely used post-WW2 fighters, and introduced jet-powered warplanes to a multitude of air forces. Several still fly today in private hands as Warbirds, and perhaps there are still be some two-seat MiG-15UTI trainer versions in military service somewhere.
Check out Wikepedia here for more insight into the MIG-15's history, development and service.
---
Previous 1/72 MiG-15 Kits
Several kits have preceded Eduard's MiG-15 kits in The One True Scale. Here is a quick summary based on my personal experience, plus from reading kit reviews and build articles (I will not distinguish between whether a MiG15 or MiG-15bis is represented):
Airfix – First try from 1958, long-run, very basic and inaccurate. They tried again in with a new long-run tooling in 2010 but should not have bothered; the new kit has heavy recessed panel lines and is still inaccurate in shape.

Dragon (re-boxed by Italeri & Hobbycraft) - From 1993, long-run, some nice detail but covered in recessed rivets, very inaccurate wing, fuselage and undercarriage both a bit too short.

Gran - From around 2006, classic limited run, but generally accurate.

Hobby - Boss From around 2007, long run, modern easy-build, generally accurate (also offered a UTI 2-seater).

KP/Korpro (re-boxed by Mastercraft) - From the 1970's? Long-run with fine raised detail, generally accurate, moulded in very hard plastic, often with flash, for many years the benchmark for Fagots (also offered a UTI 2-seater).

Panda – From the 1960/70's judging by its appearance, long-run, simplified detail and inaccurate.

Zhengdefu – From about 2000, long-run, under-scale (it is about 1/77), heavy recessed surface detail, basic and inaccurate for 1/72-scale.

There have also been MiG-15 kits from, Charmore, Coma/Aermech (1/69-scale), LFI MZMPI, Nitto, Vacukit, and ZP Ruch; all of which I know nothing about, except that they rate as insignificant.
Until Eduard's releases, the best readily available Fagots were China's Hobby Boss offerings. Despite many good points, their simplicity left the field open for a company like Eduard to deliver us a kit that the MiG-15's iconic status deserves.
I have already reviewed Eduard's MiG-15 Profipack Edition here on HyperScale in July this year. This kit covers the earlier version, and includes Profipack goodies like coloured PE details, pre-cut paint masks, and five decal options.
The Contents
Numerous variants of the MiG-15 were produced, but aside from the two-seat trainer versions, the differences are not that readily apparent as many differences are either internal or externally very subtle to many. The two most significant fighter variants are the MiG-15 and improved MiG-15bis. Eduard has issued kits of both of these, appearing in several boxings, including Profipack, Weekend and Dual Editions. Of the styrene parts, all but the sprue with the fuselage halves are common to both kits. I believe that a MiG-15UTI is planned as well.

The parts come in a top-opening box and are enclosed in resealable cellophane bags.
The decals are loose in the box with their tissue-paper protective covering, and unusually for a Weekend Edition kit, provide for two colour schemes rather than just one.
The instructions are provided as matt-finish coloured folded sheets (in contrast to the Profipack's glossy colour printed booklet). They include a parts map and have very clear and easy to follow drawings. English is used throughout. Paint colours are cross-referenced to Gunze's Aqueous and Mr. Color paint ranges (stocked and sold by Eduard on-line), and detail colour call-outs are provided throughout.
A copy of the instructions can be down-loaded or opened as a PDF by clicking here, as can the Profipack kit's for comparison here.
---
The Kit
The kit is straightforward with a conventional parts breakdown, and is well-engineered. Parts are crisply moulded with delicate recessed surface detail, and include some quite delicate pieces. There is just the tiniest hint of the mould seam in one or two places however. It is not enough to be called flash, but it does mean this kit is just not quite as crisp as a Tamiya kit is, for example, despite initial appearances. These tiny seams were only apparent to me under magnification.
The cockpit is well detailed for the scale, and offers the option of decaled or 3-D instrument panel; whilst providing only decals for the small side panel details. There is a very nicely done seat, detailed control column, and various small side-wall details.

A real plus, and something not mentioned in the instructions, was a small bag containing sheet of what looked like sort of 3-D seat harness decals. These are very well printed, and have a distinct raised thickness to them. The instructions advise to use white glue to attach the belts, and here is a link to a PDF on how to use Super Fabric seat belts. It seems the belts must be peeled from their backing paper and applied using white glue (it warns not to use super-glue). They are the most true to scale 1/72 seat-belts I have encountered.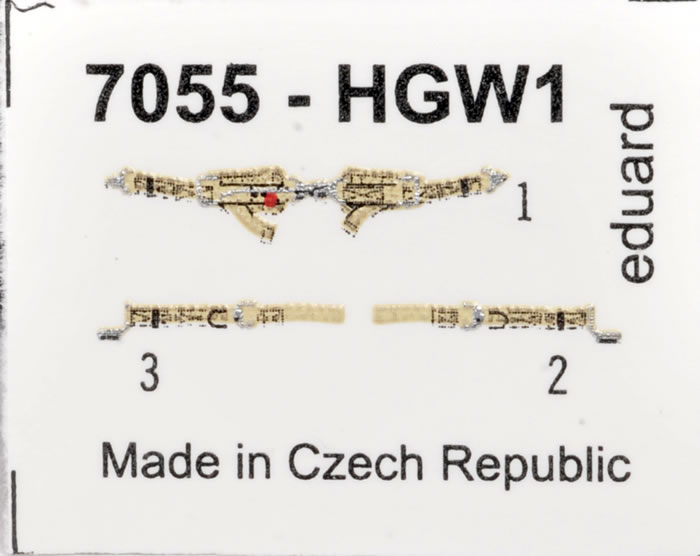 The cockpit and nose wheel-well are enclosed within the intake trunking as per the original plane. There is a clear part for the ASP-3N gyro gun-sight, which is more applicable to the MiG-15bis, as the earlier MiG-15 used the more primitive ASP-1N sight fitted to the MiG-15 initially. This looked like a British Mk.2D, or similar to that seen in many WW2 Soviet piston-engined fighters. I think that the cockpit will look most acceptable when finished, especially due to the superb Super Fabric seat harness that is supplied.
A lengthy two-piece jet-pipe is blanked of by a turbine face, although I think this would only be visible with the aid of a torch. The cockpit and jet-pipe sub-assemblies are enclosed in the fuselage halves along with the separate rudder.
The forward underside from the wing leading-edge to the nose-ring is a separate piece; this provides the nose wheel-well, three gun mounting points, and ejection chute detail for the two 23-mm cannons. The instructions identify the need for nose ballast to be placed under the cockpit floor to prevent tail-sitting, but I would advise to include some more right behind the cockpit as well to be safe, as the under-floor space is quite small. The three canons are moulded as barrels and their fairings, and these simply fit to the nose underside. The nose ring caps this area off, but only after fitting a clear part to form the front of the intake spitter. This is a clever touch, as being clear it enables the intake landing-light to be realistically represented. However, one of the decal options uses the intake splitter associated with later MiG-15's and the MiG-1bis, and the instructions advise to use the alternate grey part supplied.
There is a clear circular cover to fit to the rear ventral fuselage which on the real machine covered the ARK-5 radio-compass fitted to late MiG-15's (and standard on the MiG-15bis and UTI). I suggest filling in the panel lines surrounding this cover and over-painting it if you are making an earlier MiG-15. As it happens, neither of the colour plans shows this clear cover as present. If you do need use it I think that the small bulge ahead of the tailfin should be removed as I believe that the ARK-15 replaced the RPKO-10M radio semi-compass that the bulge represents (if in doubt, check your references where possible).
The two-piece canopy is acceptably thin and very clear. There is a clear armoured-Glass panel behind the pilot's head-rest and rear decking to fit inside the sliding portion of the canopy. Eduard provides alternate decking depending on whether you model the canopy open or closed. I think that this is a practical measure due to moulding limitations and the need for the canopy to sit correctly in either position (there is a diagram illustrating this). The important thing is to decide which way you intend to display your model before cementing the decking inside the canopy.
All that remains for the fuselage is to fit the antenna mast and a dorsal blade antenna, plus the nose wheel and its doors. The nose-wheel and it leg are one-piece, as to be expected given its size, but it still looks very finely done indeed.
The wings are divided into top and bottom halves, with the trailing-edge for both moulded with the top piece to provide a sharp finish. The instructions advise which of the partial holes in the lower wing halves to fully penetrate to locate the drop tanks if wished. They also give dimensional guidance for the insertion of the wing-mounted pitot, which is a nice touch. The two single-piece tailplanes simply locate onto the tailfin.
The wheel wells are boxed in and feature moulded detail on the inside of the wing. The main legs are very nicely done. There is a choice of wheel hub style, but the choice is not cross-referenced to the markings options. The undercarriage doors are nicely detailed, and the instructions include a couple of detail sketches to guide the angled placement of the doors.
The sheer quality of Eduard's moulding is apparent from the accompanying images and supported by Brett's review I linked to earlier. Kits like this make Eduard for me in many ways Tamiya's closest rival, almost their equal, when it comes to 1/72-scale aircraft kits (Tamiya moulding is just a bit crisper). In fact, some might say, that in this scale at least, the Profipack option's coloured PE and paint-masks put the Czech brand ahead of the Japanese one. If this is not enough for you then Eduard offers extra resin and PE detail from it Brassin and various PE ranges; take a look by clicking here.
---
MiG-15 & MiG-15bis Differences
With the MiG-15bis numerous internal changes were made, so it is worth mentioning these so as to point out those that Eduard has captured with its kits of the two main fighter variants. Of course, it is the external changes are those most significant to modellers, and the key points to note in 1/72-scale are:
A change in the type and installation of the two 23-mm cannons (from NR-23 to NS-23) in all but the earliest production bis variants. The external difference being shorter fairings over the NS-23 cannons of the MiG-15bis and bulges around the case ejection chutes, when compared to the MiG-15's NR-23 installation.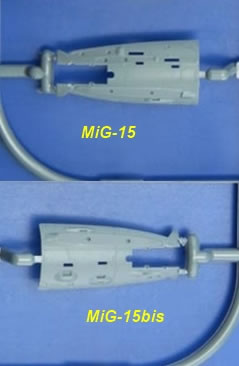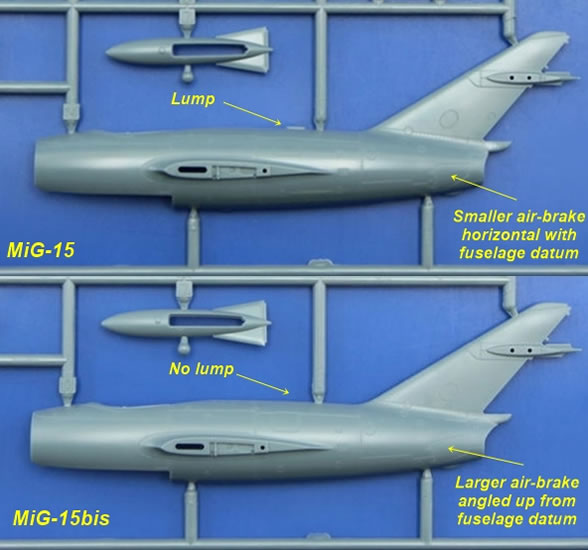 The MiG-15bis had a slightly larger jet pipe associated with its more powerful VK-1 engine (replacing the RD-45F), as well as a subtly different tail-cone.

The MiG-15bis deleted the earlier version's landing light integrated with the air-intake divider to underside of the port wing just ahead of the wheel-well at the wing-root.

The MiG-15bis had a rectangular clear panel covering a MRP-48P Marker-Receiver on the ventral rear fuselage.

All but late MiG-15 had a small bulge for the RPKO-10M radio semi-compass on the dorsal rear fuselage, whereas late-MiG-15 and all MIG-15bis had this replaced by a clear circular panel on the ventral rear fuselage following a change to ARK-5 radio compass.

In the MiG-15bis the gun-sight was changed from the MiG-15's ASP-1N to an ASP-3N. The former was apparently similar to the RAF's Mk.2D, whilst the latter was a copy of the early USAF's Mk.18 gyro-stabilized sight used in the F-86.

Some MiG-15bis modified to fighter-bombers and were equipped to carry underwing payloads (MiG-15bis IB, SD-21, and SD-5).
All of these differences are reflected in Eduard's MiG-15 and MiG-15bis kits as far as I can tell, except Eduard has missed supplying the ASP-1N gun-sight initially fitted to the early MiG-15.
Engineering to accommodate the differences between the early and bis variants has not affected the complexity of kit's breakdown. All the parts variations required are taken care of within what could be considered logical engineering to mould the shapes required, regardless of variant. In other words, you either use the parts intended for one variant or the other, and these are designed in the same way they would have been were there no choice to be had.
---
Markings
The decals look to be of superb quality, and the kit provides decals for two colour schemes; this is a welcome departure from the economy of just one scheme usually found in Weekend Editions.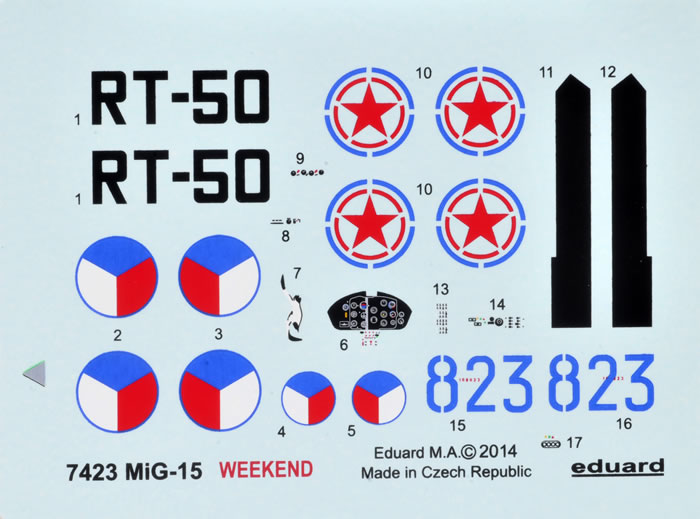 The two schemes supplied are:
---
Comparative Value
I thought to make a price comparison of currently available MiG-15 kits using Hannants as a leading on-line stockist. I could not find a current listing for the new-tool Airfix MiG-15 (which is no great loss), even on Airfix's own site. I was able to price kits by Eduard, Hobby Boss and KP Models however. I consider Eduard's Profipack MiG-15 kits to be the best available kit overall, and expressed the remaining kit's prices as a percentage of the Profipack's price.
Profipack - 100% (£11.66)

Weekend Edition - 68% (£7.92)

KP Models- 41% (£4.83)

Hobby Boss - 36% (£4.16)
Of the above kits, I would discount KP's kit as not worth the effort or price in such company.
Hobby Boss obviously suits quick-builds and a large collection of MiG-15's displaying multiple colour schemes, due to its simplified assembly and very keen price. Eduard's kits are however far superior; I think their price differential justifies the extra cost of both compared to Hobby Boss, and is a fair reflection of the differences between the Profipack and Weekend Edition contents.
Percentage differences aside, the actual monetary difference between Weekend and Profipack Editions is quite small, and suggests to me that the Weekend Edition is more likely to appeal due to its lack of "PE complexity", rather than just costing less.
Eduard's range of MiG-15 kits offers the most accurate and best detailed 1/72 examples available.
I accept that you might choose the Hobby Boss kit for its simple construction if you plan to build a fleet of MiG-15's; but you would have to have rocks in your head to buy any other brand kit but Eduard's if you only wish to build one or just a few Fagots in this scale; be they Weekend, Profipack, or Dual Combo Editions (where you get one of each variant).
Besides their accuracy and quality, all packages are priced very competitively in my opinion. The Weekend Edition reviewed here is ideally suited for those who shy away from or actively dislike working with PE details.
The inclusion of Super Fabric seat-belts is a real bonus; let down somewhat by a lack of instructions regarding how to correctly apply them, as the process is far from obvious.
This is a superbly engineered, top quality product; I cannot recommend this kit highly enough.
Thanks to Eduard for the sample
---
Review Text and Images Copyright © 2014 by Mark Davies
Page Created 18 November, 2014
Last updated 18 November, 2014
Back to HyperScale Main Page
Back to Reviews Page