Messerschmitt Bf 109 G-10
Erla Production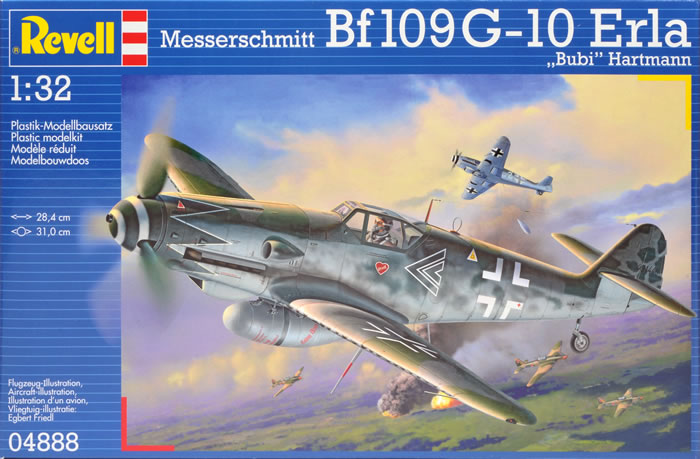 Revell, 1/32 scale
S u m m a r y

Item No.
Revell Kit No. 04888 - Messerschmitt Bf 109 G-10 Erla Production
Contents and Media:
175 light blue grey (including 31 marked not for use); 12 clear styrene parts; markings for two aircraft
Scale
1/32
Price:
£22.99 available online from Hannants
Review Type:
FirstLook
Advantages:
First time this version has been available as a mainstream kit in any scale; accurate overall; simpler parts breakdown than earlier G-6 kit; high level of detail; crisply recessed panel line detail; convincing fabric texture; moveable control surfaces; separate leading edge slats; intergrally moulded wheel bulges; useful options (although some not mentioned in instructions) including long and short tail wheel and alternative rudders.
Disadvantages:
Thin supercharger intake lip; solid-moulded fuselage scoops and exhaust stacks; questions about width between gun troughs; propeller blade profile is not quite right; small wheel bulge not provided; a few sink marks.
Recommendation:

In some ways, the Erla-built G-10 was the ultimate Messerschmitt Bf 109. It is great to finally see this version available straight from the box and at such an affordable price. This one bypasses some of the shortcomings of the earlier G-6, and it will be easier to build thanks to the full-length fuselage halves too.

Highly Recommended.
Reviewed by Brett Green

HyperScale is proudly supported by Squadron.com
Once upon a time, not really all that long ago, it was commonly believed that there was a variant of the Bf 109 G-10 fitted with the DB605AS engine. In fact, quite a number of books included reference to the "Bf 109 G-10/AS".
This was a fair assumption based on examination of wartime photos. A number of very late-war Bf 109 G-10s were observed with the streamlined "asymmetrical" cowl but without the characteristic lower chin bulges. These aircraft also shared another trait - the crescent-shaped fairing on the fuselage side below the port side of the canopy was substituted with a simple, flat rectangular panel.
Subsequent research uncovered the true story. These aircraft were powered by the DB605D engine like the rest of the Bf 109 G-10 family. However, they were the subject of an attempt at the Messerschmitt Erla production facility to further streamline the front end of the bulging fighter.
The oil cooler was made wider and shallower, and the plumbing was redesigned. This led to a new wider and shallower oil cooler housing, and permitted the lines of the lower forward cowl to be smoothed, eliminating the cheek bulges. The main cowl contours were modified too, as were various panels. This, in turn, led to different shapes for the gun troughs. A new, larger supercharger intake was installed. The squared-off port-side fairing was another key identifying factor.
Luftwaffe researcher Jean-Claude Mermet labelled this the "Type 110 cowl". This was not a Luftwaffe designation, but is a convenient way to name the cowl in the absence of an official designation. These days, the type is more commonly referred to as Bf 109 G-10 Erla.
In can be argued that the Erla-built G-10 was the ultimate Bf 109. It was lighter in weight, more streamlined and actually performed better than the Bf 109 K-4, making it the fastest of all the Messerschmitt Bf 109s.
It would appear that all Erla built Bf 109G-10s had the tall tail, but photos show that they could be fitted with every possible combination of short/tall tailwheel strut and narrow/wide wheels and upper wing bulges. Early Erla G-10s also had the canopy-mounted antenna mast.
Revell's 1:32 scale Messerschmitt Bf 109 G-10 Erla shares a number of sprues with the G-6 kit released mid-2013. It comprises 175 light blue grey (including 31 marked not for use); 12 clear styrene parts; markings for two aircraft.
This is the first time that an Erla-production Bf 109 G-10 has been produced as a mainstream kit in any scale.
Unlike the G-6, Revell has moulded full-length fuselage halves for this Erla G-10. This means that the only fuselage insert is the upper gun trough, so there will be less work aligning and filling join seams.
The starboard fuselage spine is moulded with three filler hatches. These should all be there - you won't need to fil and sand any of the filler hatches on this model.
Another nice feature is that the new large wing wheel bulges are not separate stick-on parts but fully formed on the top and bottom surfaces of the inboard upper wing panels.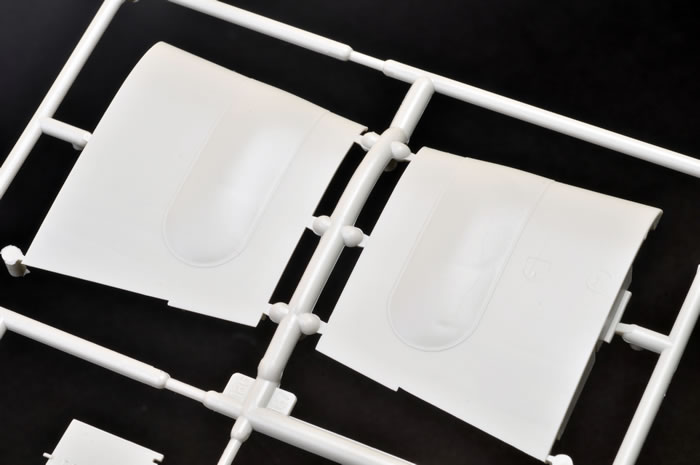 Also, the internal wheel well sidewalls are split into three parts plus wing spar on each side, resulting in a realistic depiction of the undercarriage bays.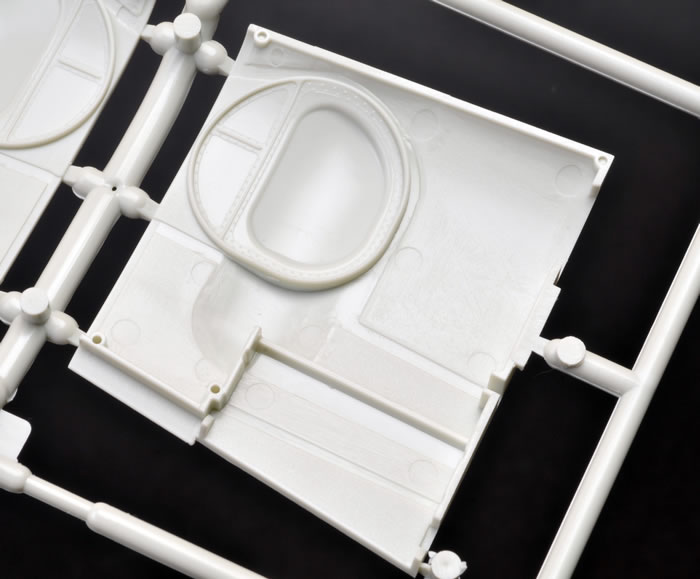 Surface features are crisp and fine, comprising mainly recessed panel lines. Recessed rivets are used sparingly. I like the fabric texture on the control surfaces too, which is raised and appropriately restrained.
All control surfaces, including the leading edge slats and even the front radiator ramps, are separate. The rudder, elevators and ailerons are hinged and may be built to be moveable when the model is complete, and the separate leading edge slats may be glued in the raised or lowered position.
The cockpit is well detailed straight from the box. It is made up from a modest 19 parts, but the result is really impressive. The fuel line that runs along the starboard sidewall is provided as a clear part, so the inspection panel may be masked off during painting. Harness straps are moulded in place on the seat pan and rear bulkhead. Also interesting is the wing spar, which is attached directly to the bottom of the cockpit floor.
Outline accuracy appears to be very good. The fuselage length is correct, and the nose captures the smooth appearance of the real thing. The specific attributes such as the integrated square panel on the port side of the fuselage, the streamlined front bottom corners of the nose and the Erla oil cooler housing are all captured by the kit.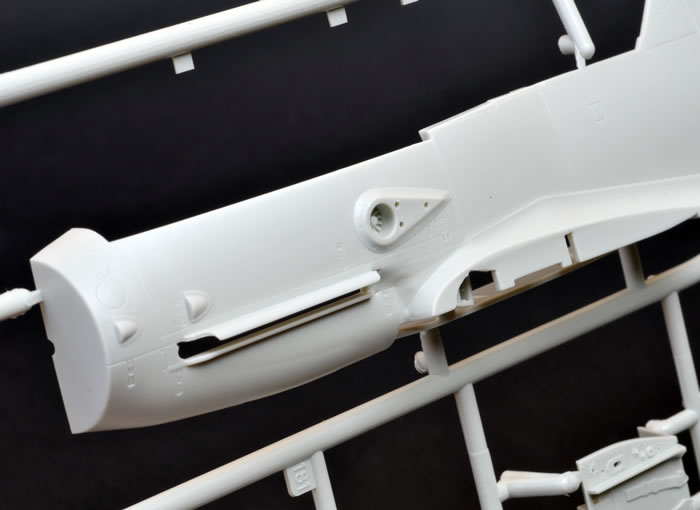 The machine gun troughs correctly depict the Erla style - in-panel pressing with an elongated tear-drop shape. Comparing the kit troughs with drawings in Luftwaffe Verband magazine Issue No. 13, the spacing looks okay, although they may be just a millimetre or two too close together.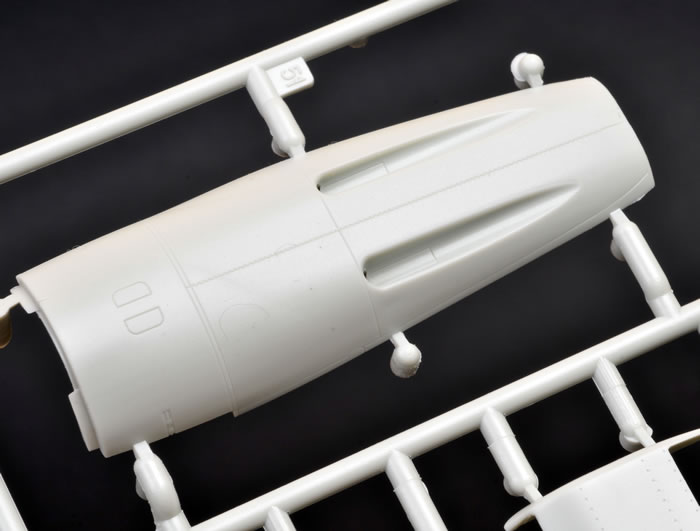 Being such a specific version, there are less options than the G-6, yet there are more than the instructions actually mention. These undersold options are:
three rudder styles (rounded bottom coner; squared-off bottom corner; and "flattened cone" reinforced rudder). All three are moulded with fabric texture and are fitted with two fixed trim tabs and one Flettner tab. At least some Erla G-10s were fitted with wooden rudders with the rounded bottom corner. If your chosen subject has a wooden rudder it won't be difficult to sand off the fabric texture.
long and short tail wheel strut and alternate tail wheel well fairings
wide and narrow main wheels, with two choices of narrow wheel and tyre style. All the wheels look really good.
Some Erla built G-10s also featured rudders with no trim tabs. It will be a very simple matter to cut the kit trim tabs off to depict this version. As always, consult your references for the specific attributes of wing bulges, tail wheel, antenna mast and rudder.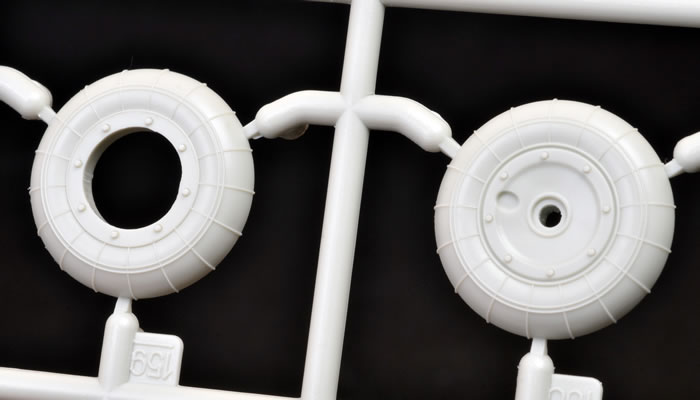 Considering early Erla-produced G-10s were fitted with the narrow main wheels and short tail wheel strut, it is a pity that the small wheel bulge insert was not included in the box as well. They are the only pieces needed to represent an early Erla G-10.
The clear parts are thin and free from distortion.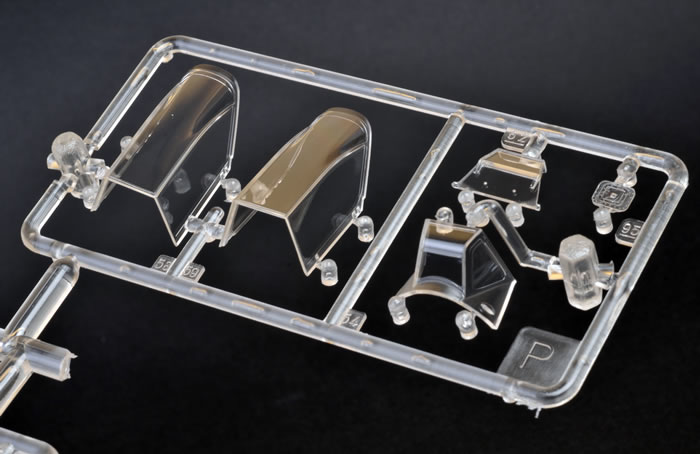 So the news is generally very good although there are a number of areas that could have been done better, and most of these are hangovers from last year's G-6 kit.. The circular front of the supercharger intake is thin and some details are absent; the propeller blade profile is not quite right (I assume that these are supposed to be the wide VDM9-12159A blades, which more resemble a broad breadknife - take a look at Ultracast's accurate 1/48 scale VDM-9 blades to see what I mean), while the small cowl scoops and exhaust ejectors are moulded solid. The shapes of the 300 litre drop tank and ETC rack have not been depicted perfectly either.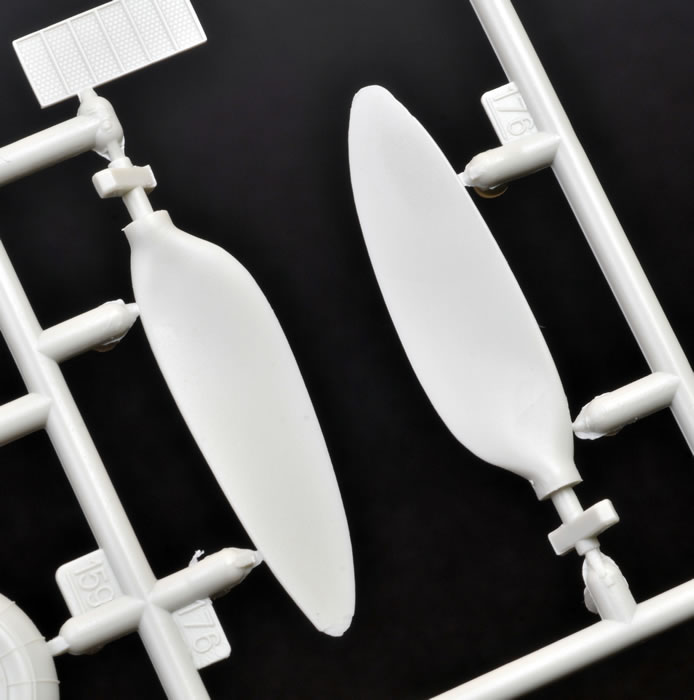 The spinner shape looks good, and it correctly depicts the tapered "keyhole" openings for the propeller blades. However, the split between the top and bottom of the spinner is not on a natural panel line and will be a pain to eliminate, especially if you want to apply a spiral decal.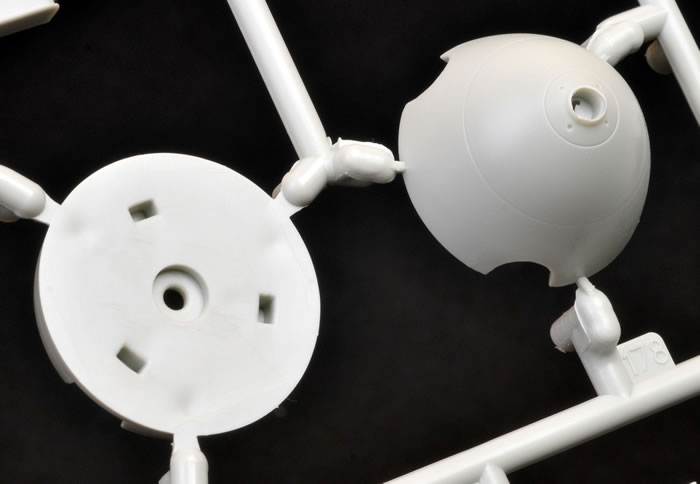 Forthunately, most of these issues may be addressed by parts in Alley Cat's Gf 109 G-6 update set. Eduard also offers a replacement cockpit that will be 95% suitable, resin hollowed exhaust stacks and brass undercarriage legs. Barracuda Studios offer replacement wheels and have new propeller blades and other improvements in the works too.
---
Markings
Markings for two aircraft are included:
W.Nr. 491446, Maj. Erich Hartmann, JG 52, April 1945. I assume that this aircraft is supposed to be finished in a scheme of RLM 75 Grey Violet and RLM 83 Dark Green upper surfaces (also possibly RLM 74/75) over RLM 76 Light Blue, although the instructions indicate the unlikely combination of RLM 74 and 83 on the uppers.

W.Nr. 152016, JG 300, Praha-Kbely, May 1945. Once again, probably not RLM 74 and 83 on the upper surfaces. This one may have been either RLM 74 and 75 Greys (or RLM 75 and 83) on the nose and the wings, with a solid application of RLM 81 Brown Violet and/or RLM 83 Dark Green on the fuselage and possibly the tops of the wings and the tailplanes. An interesting one, this!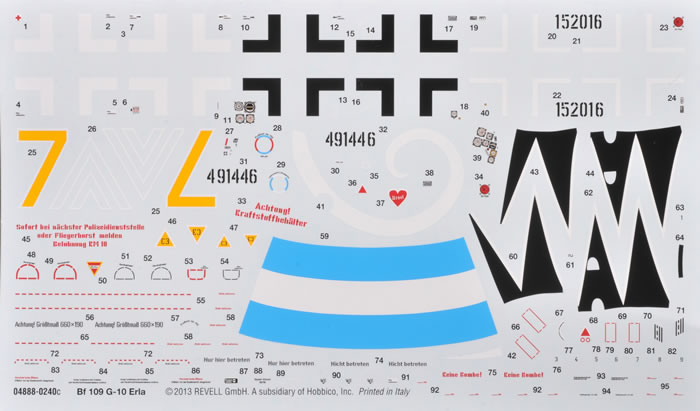 The decals are in register and colour saturation looks good. Full stencil data is provided. The markings are flat in finish.
It can be argued that the Erla-built G-10 was the ultimate Messerschmitt Bf 109. It is great to finally see this version available straight from the box and at such an affordable price.
Detail is very good, surface textures are state-of-the-art and there is some really nice attention to detail. For example, I love that Revell has supplied three different styles of rudder, including the "flattened cone" version, and that there are so many bonus parts included too.
This release bypasses some of the shortcomings of the earlier G-6, and it will also be easier to build thanks to the full-length fuselage halves.
Now, Revell, while you're working on important yet overlooked Bf 109 variants, how about a 1/32 scale Bf 109 G-6/AS and G-14/AS?
Highly Recommended.
Thanks to Revell for the sample
---
Review Text and Images Copyright © 2013 by Brett Green
Page Created 28 January, 2014
Last updated 31 January, 2014
Back to HyperScale Main Page
Back to Reviews Page