F-16CJ Block 50
Fighting Falcon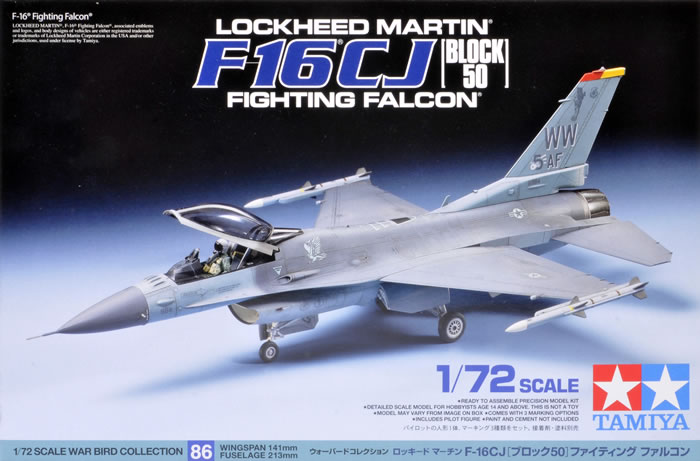 Tamiya, 1/72 scale
S u m m a r y

Catalogue Number and Description:
Tamiya Kit No. 60786 - F-16CJ Block 50 Fighting Falcon
Scale:
1/72
Contents and Media:

93 parts in grey plastic; six parts in clear and decals for three marking options.

Price:

¥ 1,900 Japanese Recommended Retail Price

Review Type:
FirstLook
Advantages:

Perfectly moulded; exquisite surface texture including crisp, subtle recessed panel lines; accurate; high level of detail; optional ordnance

Disadvantages:
Conclusion:

Even if you are not a big fan of small scale modern jets, you would be doing yourself a favour by sampling the sheer excellence of Tamiya's 1/72 scale F-16CJ Block 50.
Reviewed by Brett Green


Tamiya's 1/72 scaleF-16CJ Block 50 Fighting Falcon will be available online from Squadron

The General Dynamics (now Lockheed Martin) F-16 Fighting Falcon is a single-engine multirole fighter aircraft originally developed by General Dynamics for the United States Air Force (USAF).
Designed as an air superiority day fighter, it evolved into a successful all-weather multirole aircraft. Over 4,500 aircraft have been built since production was approved in 1976. Although no longer being purchased by the U.S. Air Force, improved versions are still being built for export customers. In 1993, General Dynamics sold its aircraft manufacturing business to the Lockheed Corporation, which in turn became part of Lockheed Martin after a 1995 merger with Martin Marietta.
The Fighting Falcon is a fighter with numerous innovations including a frameless bubble canopy for better visibility, side-mounted control stick to ease control while maneuvering, a seat reclined 30 degrees to reduce the effect of g-forces on the pilot, and the first use of a relaxed static stability/fly-by-wire flight control system helps to make it a nimble aircraft.
The F-16 has an internal M61 Vulcan cannon and 11 locations for mounting weapons and other mission equipment. The F-16's official name is "Fighting Falcon", but "Viper" is commonly used by its pilots, due to a perceived resemblance to a viper snake as well as the Battlestar Galactica Colonial Viper starfighter.
In addition to active duty U.S. Air Force, Air Force Reserve Command, and Air National Guard units, the aircraft is also used by the USAF aerial demonstration team, the U.S. Air Force Thunderbirds, and as an adversary/aggressor aircraft by the United States Navy. The F-16 has also been procured to serve in the air forces of 25 other nations.
The F-16C (single seat) and F-16D (two seat) variants entered production in 1984. The first C/D version was the Block 25 with improved cockpit avionics and radar which added all-weather capability with beyond-visual-range (BVR) AIM-7 and AIM-120 air-air missiles. Block 30/32, 40/42, and 50/52 were later C/D versions. *
This is the first time that Tamiya has offered a modern jet of their own tooling in 1:72 scale.
Tamiya's brand new 1:72 scale F-16CJ Block 50 Fighting Falcon comprises 93 parts in grey plastic; six parts in clear and decals for three marking options. This is not a reissue or a reboxing. It is a genuine Tamiya product.
And what a product!
As you would expect, moulding quality is perfect.
Surface detail is exquisite, especially considering the small scale. Restrained recessed panel lines and subtle raised features are all present, as well as selected rows of rivets, evenly moulded but almost invisible except under direct light. This is the best surface detail that I have seen on a 1:72 scale kit. The photos really don't do it justice.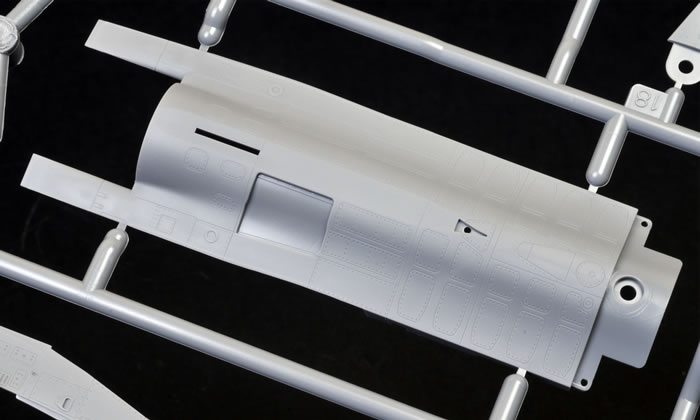 Detail is very good straight from the box. The cockpit tub is a single piece with side consoles moulded in place. Seat detail is reasonable, with the option of either decal harness straps or a really nicely moulded pilot figure. If you don't like painting faces, you're in luck - his visor is down!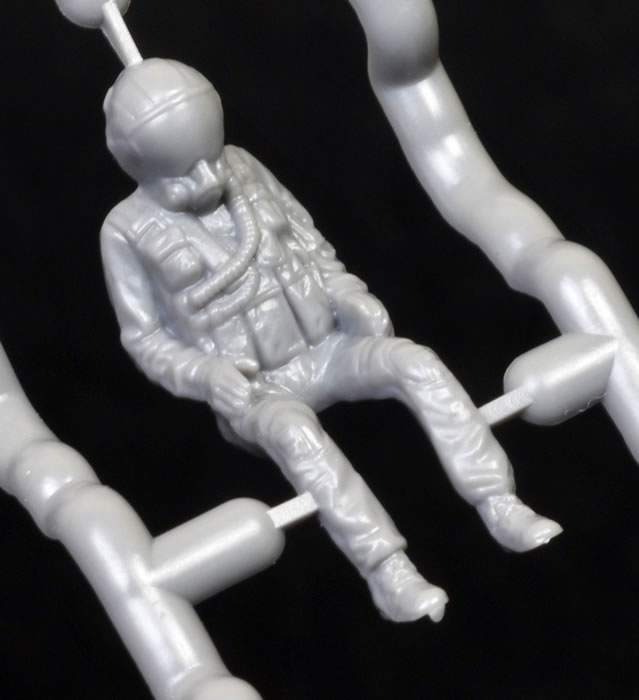 The instrument panel features raised moulded detail, and the coaming looks suitably busy.
The engine nozzle continues the threme of good detail with simple parts breakdown. The nozzle itself is one part, detailed inside and out, which simply attaches to a length of exhaust ducting.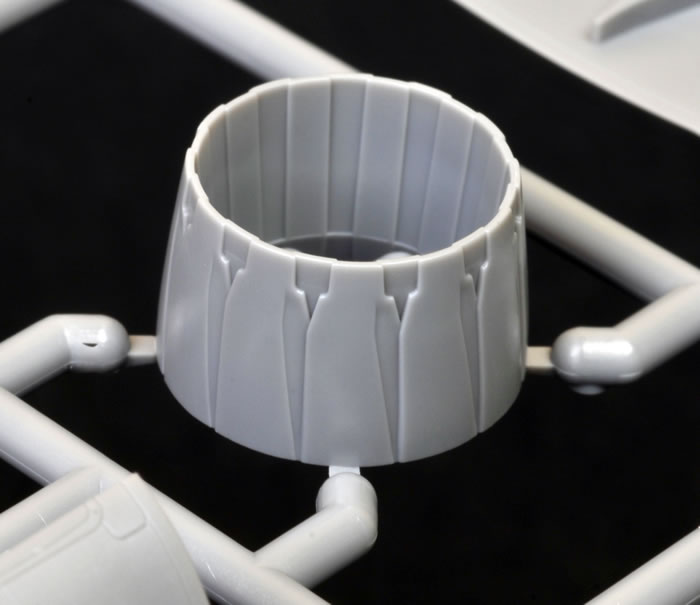 The undercarriage and their bays look particularly good. The two main gear legs are moulded as a single piece, ensuring strength and alignment when the time comes to glue them in place. These are supported and supplemented by various struts and other detail parts.
There is plenty of detail moulded to the insides of the undercarriage doors, and no evidence of ejector pin marks.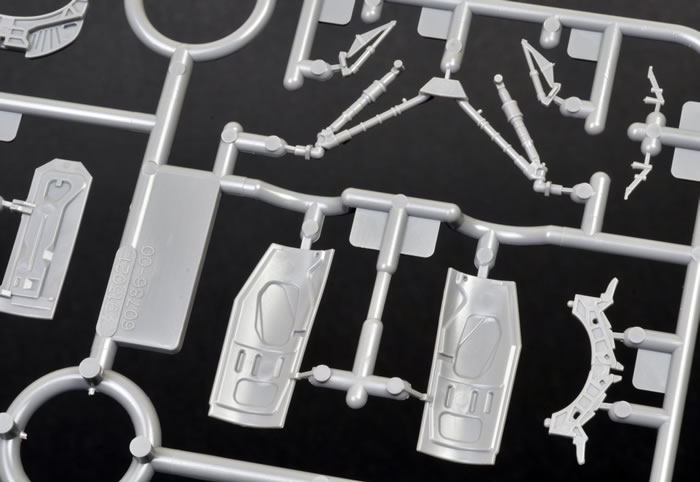 The engine detail inside the main wheel well looks good too.
Control surfaces are moulded in the neutral position except the elevators, which may be posed offset thanks to a single locating pin.
Partds are included for AIM-120C and AIM-9M air-to-air missiles. Pylons and a third style of missile (possibly an AIM-9X) are included too, but they are not mentioned in the instructions.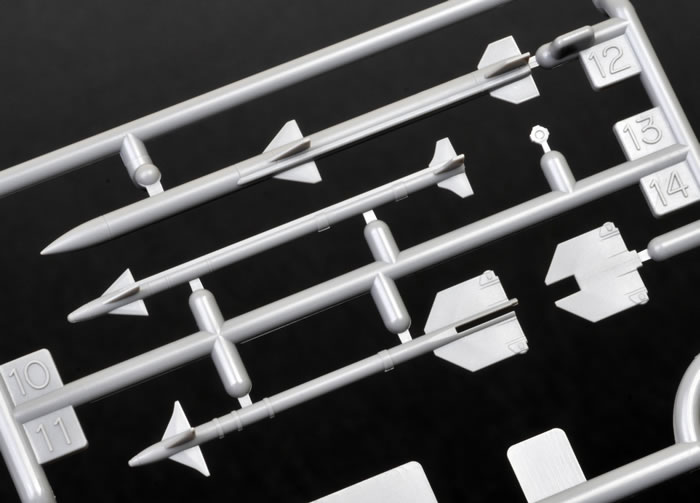 The clear parts are thin and completely free of distortion. The canopy is provided in two parts so it may be posed open if desired.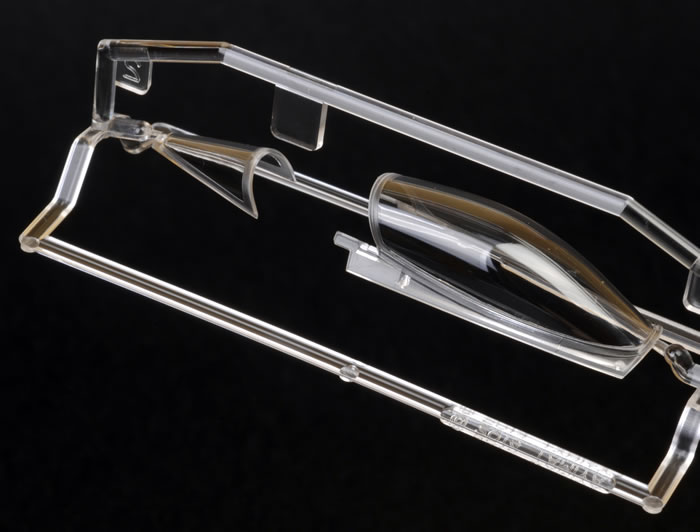 Tamiya has captured the elusive shape of the F-16's nose very well, and the raised strakes are moulded in place. The nose is moulded in two parts split horizontally along the centreline, so care will be needed for a clean join here.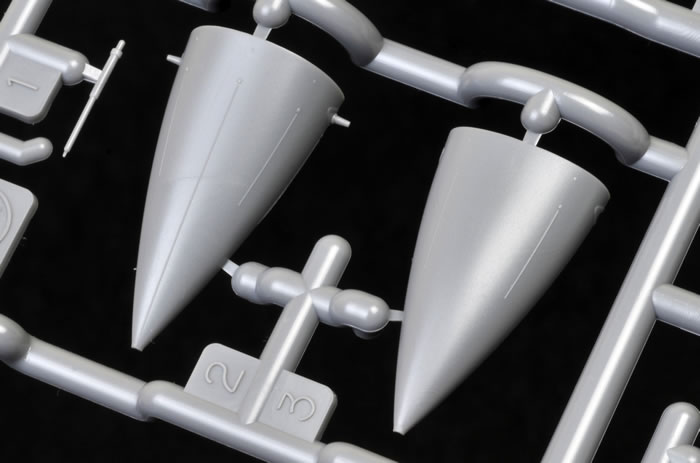 The breakdown of the kit parts suggest that other variants may be on the way. The forward upper fuselage is a separate part, which hints at the possibility of two-seaters in the future. Indeed, two seats are supplied on this kit's sprues. The tail is separate, and there are a number of inserts used for critical avionics and weapons, so backdating (and forward-dating) is certainly on the cards. We can only hope!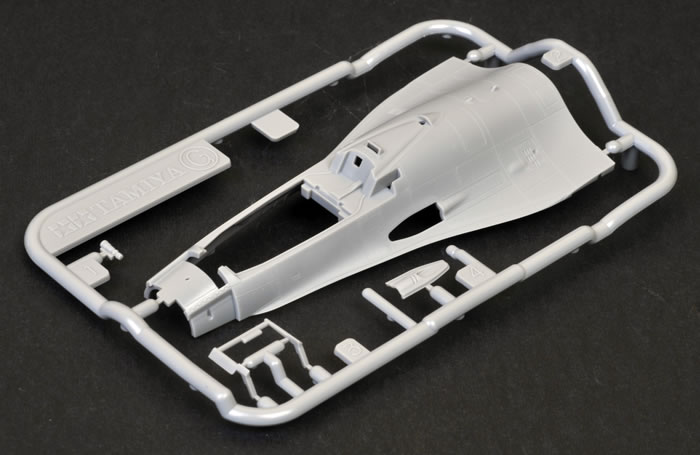 The inserts include the AIFF antenna bumps forward of the windscreen, applicable to the two most recent marking options.
The decal sheet supplies markings for three F-16CJs.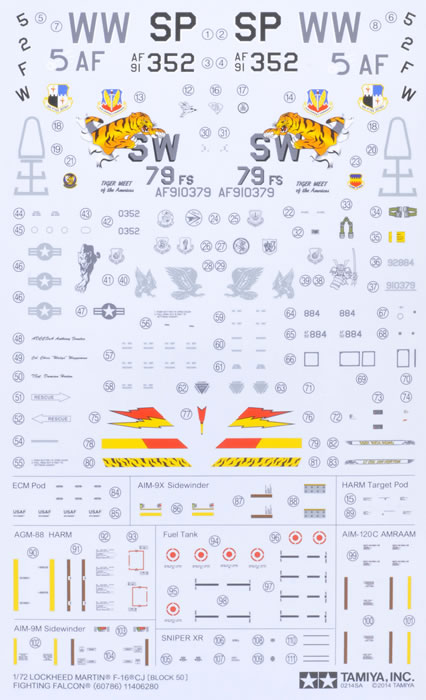 All three are finished in standard greys but the markings themselves are quite interesting. If they're not to your taste though, there are plenty of after-market options.
Tamiya's 1:72 F-16CJ Block 50 Fighting Falcon is an excellent kit, with the best surface detail that I have seen on a kit of this scale. The model should be a pleasure to build thanks to the thoughtful planning of Tamiya's designers too.
Even if you are not a big fan of modern jets, you would be doing yourself a favour by sampling the sheer excellence and of Tamiya's new 1:72 scale F-16CJ Block 50 Fighting Falcon.
Thanks to Tamiya Japan for the sample
Tamiya kits are distributed in the UK by The Hobby Company Limited
* Background courtesy of Wikipedia
---

Text and Images Copyright © 2014 by Brett Green
Page Created 11 March, 2014
Last updated 12 March, 2014
Back to HyperScale Main Page