KP 1/72 scale
Avia S-199
by Yoav Efrati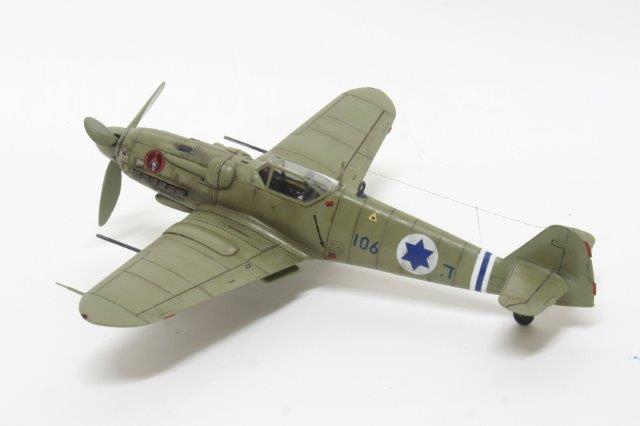 Avia S-199

Eduard's 1/48 scale Spitfire Mk.VIII ProfiPACK
is available online from Squadron.com for only $39.96!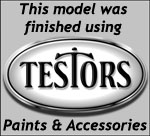 Producer: Kovozavody Prostejov (KP)
Availability: Hannants
Subject: Avia S-199 "Messer/Sakin" IAF
Scale: 1:72
Stock Code: KPM0006
Price: £7.49
Paints Used:
Testors Model Master: MM17220 Duck Egg Blue
Revell: 362-RAL 6013 Greyish Green, 45 (RLM02).
Humbrol: 11 Silver, 20 Crimson, 32 Dark Grey, 53 Gun Metal, 54 Brass, 60 Scarlet, 85 Coal Black, 94 Brown Yellow, 110 Natural Wood, 149 Dark Green, 154 Insignia Yellow, 222 Moonlight Blue, 27004 Gunmetal.
Xtracolor: X504 Exhaust, X505 Tyre Black,
Author's Additional Investment:
AML – AMLA 72-036 Avia S-199 bomb rack with 4 X ETC50 & SC70 bombs.
Sky's Decals – SD72022 IAF First Fighters
Detail Associates 2524 flat brass bar .010" X .030".
Bare Metal Foil
Uschi "Rig That Thing" .003OD fine wire
Weathering Agents:
Winsor & Newton's Raw Umber
Winsor & Newton's Payne's Grey
Winsor & Newton's White
Recommended Reference:
1. Air Enthusiast Magazine Spring 1995 no.57,
2. # Air Enthusiast Magazine Sep/Oct 1995 no.59,
3. * IDF Ministry Publishing, The Messerschmitt - the First Fighter Plane of the IAF (Hebrew Text).
4. Spitfires Over Israel – by Brian Cull, Shlomo Aloni and David Nicolle; Grub Street London.
5. IPMS / Israel Kne-Mida magazine no.23, December 1995.
6. Zlinek model magazine, S-199 Avia on the cover (8.3.1994 ?)
7. Aero Journal issue no.22, Dec 01 – Jan 02.
8. Biaf Air and Space Magazine issue no.30, Feb.1979
9. Wings & Wheels Publications – Avia S-199 special
10. Interviews with Ezer Weizman and Lou Lenart
With only a single serviceable fighter plane in Israeli Air Force inventory, former RAF P-51 Mustang pilot, 101 squadron commander Modi Alon used his Czech built S-199 to attain the first air to air kills for the Israeli Air Force.
On the afternoon hours of June 3rd, 1948 Alon scrambled from Herzelia improvised airfield in pursuit of a pair of natural metal Egyptian C-47 Dakota converted bombers and Spitfire escorts returning from their bombing mission over Israel's densely populated city of Tel Aviv.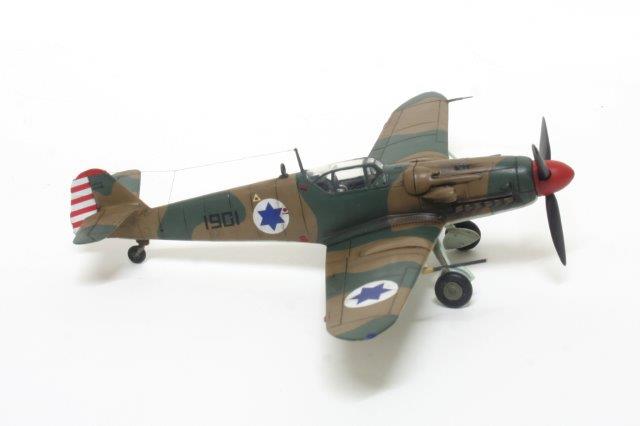 Coming in from the sea, with the sun at his back, Alon evaded the Egyptian Spitfires and while over Tel Aviv dispatched one of the un-expecting bombers to the cheers of the onlookers below. The second bomber broke due south, flying towards the Egyptian Sinai, but it too was downed by Alon over the sands of Rishon Le Tzion. Between May 15th, Israel's declared day of Independence, and June 3rd, 1948 Egyptian Spitfires and Dakotas operating from the Sinai forward base of Raffia, conducted daily bombing missions over central Israel with impunity.
On their 16th mission, Alon, flying "Messer number D-106, put an end, to Egyptian bombing missions over Israel by downing two of them that afternoon.
Building KP's 1/72 Avia S-199 "Messer/Sakin"
The Israeli Air Force version of the new tooled S-199 kit by KP, provides three marking options, including Messer numbers Daled-117 "Nechama", Daled-120 with red spinner and red and white rudder stripes, and 1901 painted in a post War of Independence brown and green over sky blue display scheme. The recessed detail kit provides optional parts to build a deep carbonator intake and stream lines nose versions of the Avia S-199.

The first step in building the side opening canopy, Israeli version of the Avia S-199 "Messer" is to file off the canopy rails moulded to both sides of the fuselage, parts 82 and 93.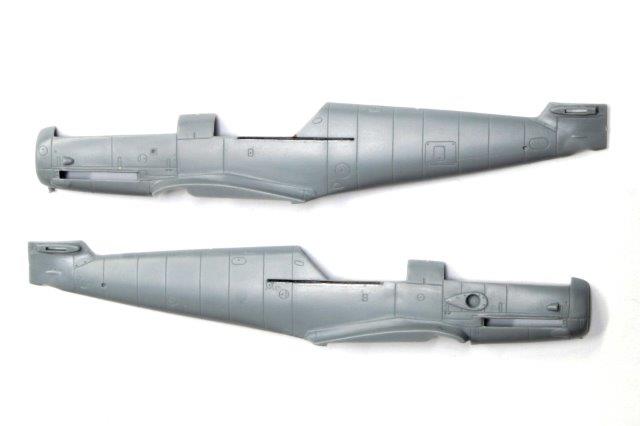 There are parts applicable to the "Messer" which are erroneously crossed off in the instructions, including: part 60 wheels, clear rear canopy shell protector part C03, and horizontal stabilizers 50 and 51.

The raised relief side wall and cockpit detail look excellent, requiring only seat belts to look complete. One has the option to use kit decal seat belts or look for replacement items. I opted to furnish seat belts from strips of Tamiya tape, which were fixed in place using super thin Rocket cyanoacrylate cement. The kit provided trim wheel parts 27+28 were cemented to a 1mm high strip of plastic instead of attaching it to the seat. To the slanted cockpit aft section, part 31, battery bulge was added although not shown in the kit's instructions.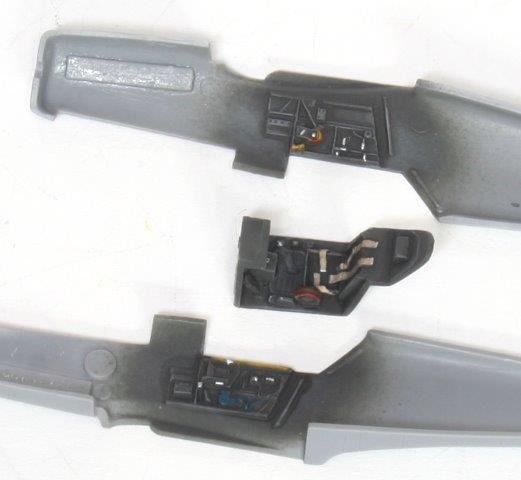 The cockpit was painted overall Humbrol 32 dark grey (RLM66), with details painted using Humbrol 11 Silver, 121 sand seat belts, 130 white, 154 yellow and 174 red. Nose machine gun bulge diameters were slightly trimmed with a hobby knife in order not to cover surrounding details; and a panel line was scribed where the bulge separate at the cowling cover panel line.

The lower wing fitted the lower fuselage gap like a rubber glove. The upper wings were attached and sheet plastic strips were used to fill gaps in the wing roots.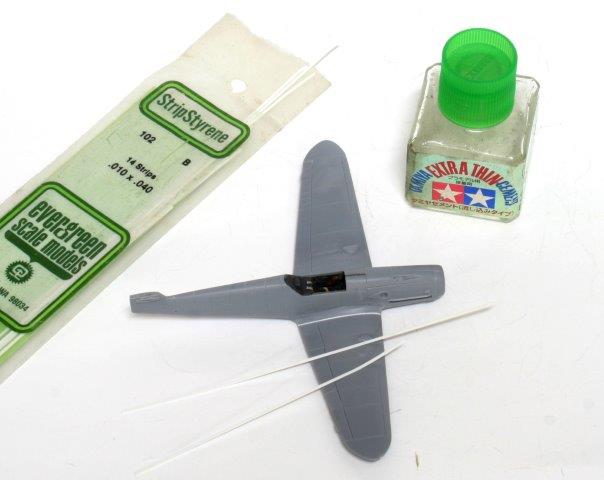 The lower wing root flaps were affixed in place using Rocket super thin cyanoacrylate cement. Over-wing wheel well cover no.69 is to be installed atop the left wing and no.70 atop the right, the edge of each cover is 3.5mm from the panel line outboard of it. Left wing tip pitot tube part 19 was replaced with metal tube and piano wire inserted into a hole drilled through the leading edge of the wing, slightly outboard the wing leading edge slat panel line. The kit's plastic wing mounted canon barrels were used as dimensional reference for metal tubing replacements. With the barrels affixed with Rocket thick cyanoacrylate cement, the canons were cemented outboard the fastener line of the panel line shown in the instructions. The conformal bomb rack and 70kg bombs were obtained from AML resin accessories and cemented at the location shown in reference drawings.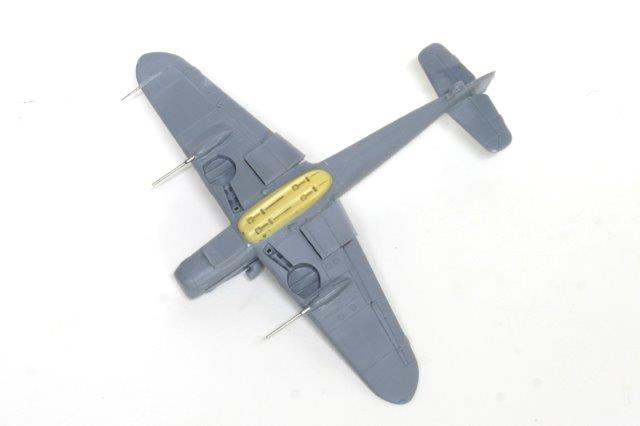 The kit provides only a closed canopy option, which eases installation of the mast antenna and clear bullet proof shield which are a part of the canopy. Using the kit's mast antenna, part 18 for dimensional reference, I implanted a flat brass bar replacement into the fuselage at the aft canopy frame ridge tangent line. The clear bullet proof shield, part C3 was cemented into a groove bored into the horizontal sill just aft the seat. For the canopy to fit over the brass antenna mast, a small recess was filled into the canopy rear frame curvature. The instrument panel and gun sight were attached and painted prior to cementing the canopy in place using two part clear epoxy glue.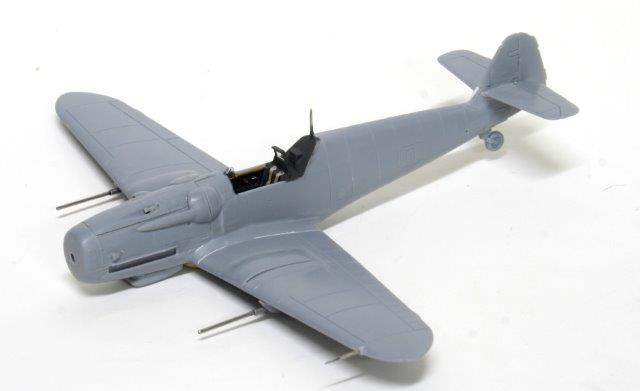 The canopy was masked using Bare Metal Foil burnished down with a cotton swab and wooden tooth pick in preparation for painting.
Once masked, Humbrol 32 was sprayed atop the canopies to represent their internal dark grey frame lines. Alon's Daled-106 was spray painted Revell Greyish Green SM362 (RAL6013/US Federal Standard 595b-14257) overall. A spray application of Future Klear Cote diluted with Pharmaceutical alcohol followed in preparation of decal application and oil paint weathering. Kit decals were used throughout, with the exception of the numeral "Daled" 106 which was taken from Sky's Decal – Israel's First Fighters sheet SD72022.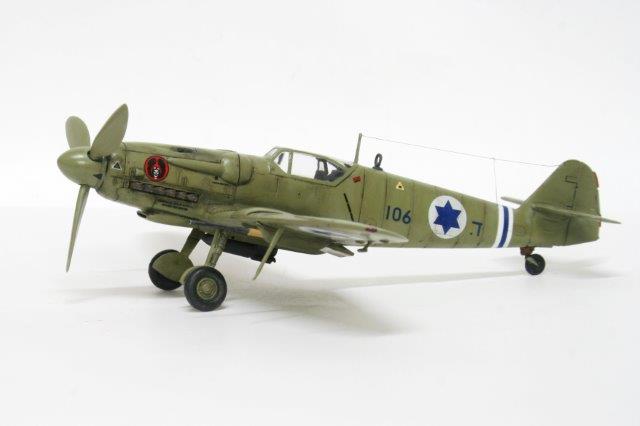 The post war of independence Messer 1901 lower fuselage and wings were sprayed Testors Model Master Duck Egg Blue. Hard edge mask was used to cover the areas remaining blue and Humbrol 110 Wood Brown was applied to the upper surfaces. The green paint demarcation lines were drawn with a 2H pencil using photos and the kit instructions, with corrections made using a pencil eraser.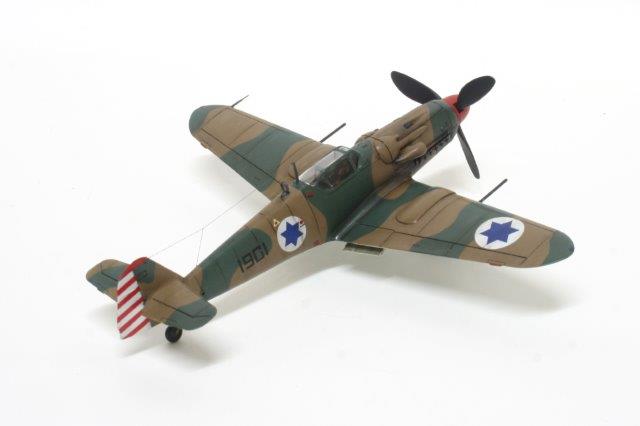 The upper camouflage demarcation lines were masked with thin strips of Tamiya tape, and the areas remaining brown were masked with Humbrol Maksol. Humbrol 149 Dark Green was sprayed to the remaining areas. The tip of the vertical stabilizer and prop spinner were painted Humbrol 60 red to match the kit's decal colour. The kit decals were applied to the red nose Messer, with artistic license used in applying the nose squadron insignia.
With decals and oil paints in place, the model was sprayed with a flat finish mix made up of Tamiya Flat Base X-21, Johnsons Klear, and pharmaceutical alcohol.
Final items to be painted after the application of a flat code included the main gear struts and tail wheel which were brush painted Revell 45-RLM02 Grey. The engine exhausts were brush painted brass and once installed, they were airbrushed with Xtracolor X504 Exhaust along with the staining along the fuselage wing root, just aft of the exhausts. Gun barrels were painted Humbrol 27004 Gunmetal, with Humbrol 94 yellow-brown fabric sleeves. The wing tip position lights painted; Humbrol 20 red to port and Humbrol 222 to starboard. Last to be added was the Uschi "Rig That Thing" .003OD fine wire antenna which extends from hole made in the vertical fin leading edge to the brass canopy mast. With the primary mast antenna in place, the diagonal empennage antenna was added using the same method.
---
Acknowledgements
I want to thank Petr Muzikant, owner of Azmodel/KP, for giving me the great pleasure of assisting with the production of S-199 Messer model kit.
Yoav Efrati – 20 October 2014
The color applied to the Avia S-199 has eluded modelers since KP first issued a model of this Czechoslovakian manufactured airplane nearly 30 years ago. Post World War II black and white photographs of the S-199 in Czechoslovakian service, show light and dark colored airframes next to each other, which have been interpreted to be differing shades of a locally manufactured color MNO 2036 smalt 02 - similar or the same as RLM 02 or RLM 02 + a bit RLM 83 Dark Green.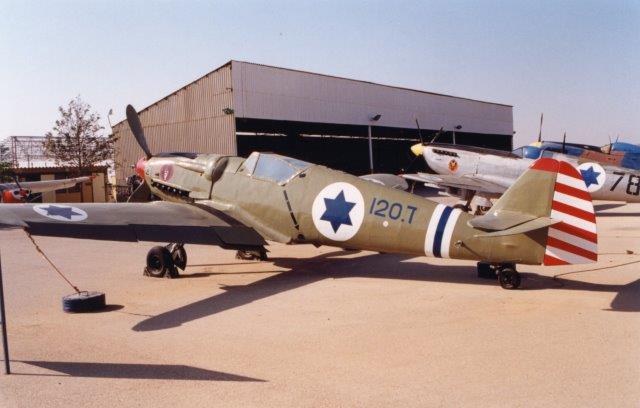 In a mid-1994 visit to the Israel Air Force museum by former "Messer" pilot, president Ezer Weismann, he insisted that the gray painted S-199 on display was painted the wrong color. On 02 January 1995 I met with president Weismann, who pointed to the RLM68 color chip in my Official Monogram Painting Guide to German aircraft 1935-1945, further stating that the color was more of a khaki color, "as seen on soldiers uniforms".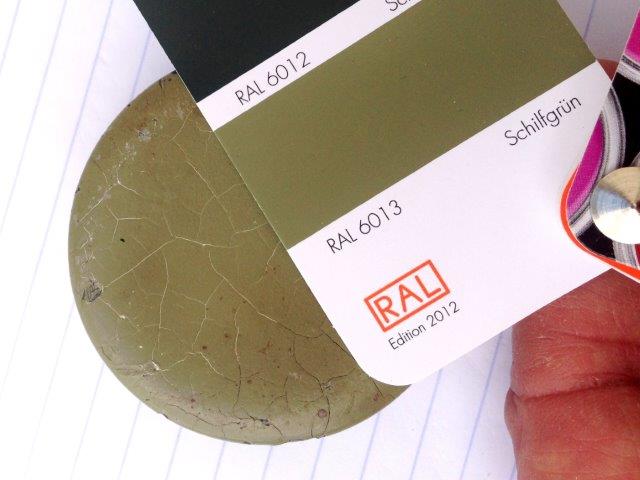 Less than a year later, IAF museum curator, Avi Moshe Segal was presented an original painted S-199 fuel cap by retired IAF maintenance officer, Shabtai Katz. The color of the cap was compared to Tambor paints RAL standard color catalog by my friend Ra'anan Weiss and was found matching RAL6013 "Reed Green". By September of 1996 the S-199 airframe in the IAF museum was painted to match the color of the fuel cap, with markings of "Messer" number D-120. With no clear UV coating applied to the newly painted airframe, D-120 faded to an overall gray color in less than a year.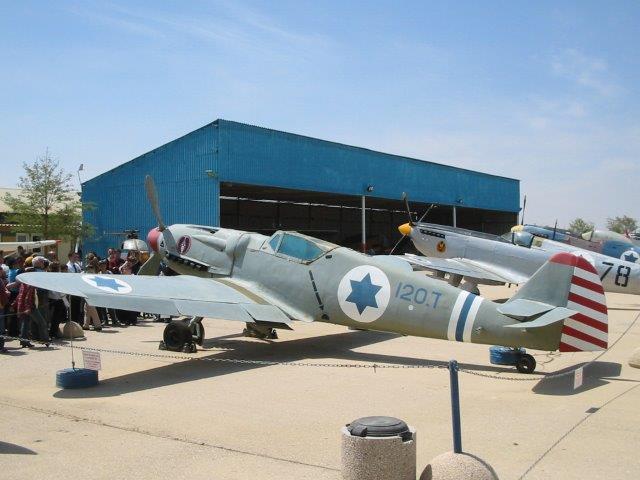 The recent new tooled KP release of the Avia S-199 "Messer" renewed speculation as to its actual color, with Humbrol 31 quoted in the new kit's painting instructions. With my name credited for the markings provided in the Israeli boxing of the S-199, I had to see the originally painted fuel cap with my own eyes. On October 12, 2014 I visited the IAF museum where curator Avi Moshe presented me the key to his vault where the original Avia painted S-199 fuel cap was kept. With Tambor German RAL, United States FS595b, British Standard BS381c/1964 and Humbrol color catalogs at hand, I compared the color of the S-199 fuel cap in direct and indirect sun light. The fuel cap's khaki color was a direct match to RAL6013, it was slightly darker than FS595b-14257, and had no equivalent BS381c and Humbrol color. Fortunately for us model builders RAL6013 is available in the Revell enamel range of paints as SM362.
---
Model, Images and Text Copyright © 2015 by Yoav Efrati
Page Created 16 June, 2015
Last Updated 16 June, 2015
Back to HyperScale Main Page