Bristol Beaufighter TF.X
New Tool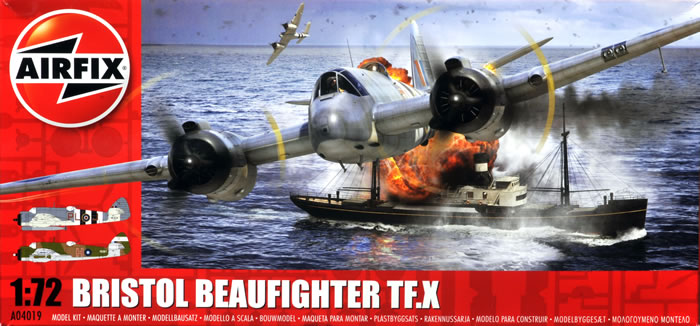 Airfix 1/72 scale
S u m m a r y

Description and Catalogue Number:

Airfix Kit No. A04019 Beaufighter TF.X

Scale:
1/72
Contents and Media:

A very sturdy top opening box with dramatic artwork on top, 4 light grey sprues with 118 cleanly moulded plastic parts, 1 clear sprue with 12 very clear and very thin clear parts, 1 decal sheet with markings for two aircraft plus stencils for one, and a 12 page instruction booklet with history, 51 build diagrams, 2 four view colour and decal pages for the two aircraft represented in the kit, but no parts plan which is now normal for Airfix

Price:

£12.49 (Export Price) or £14.99 (EU Price) plus shipping available online from Hannants

Review Type:
FirstLook
Advantages:

A big improvement over earlier examples of this model especially in the areas of the interior detail at a very good price.

Disadvantages:

As good as the interior is, it could have been so much better compared to some of Airfix's recent releases, especially their Luftwaffe examples.

Conclusion:

The above whinge notwith tanding, this is by far the best Beaufighter on the market and I don't think we will see a better example for a long time
Reviewed by Glen Porter
The Beaufighter was a twin engined heavy fighter developed from the Beaufort Bomber by using the Beaufort's wings and developing a new slimmer and smaller fuselage.
It tended to suffer a similar fate as the Luftwaffe's Messerwchmitt Bf 110s in that while being fast, they were not maneuverable enough to take on single seat fighters in their own right.
However, in areas where there was no threat from those single engined fighters, such as escorting Sunderlands in the Bay of Biscay, they were superb and with rockets, bombs and torpedoes they excelled as anti shipping strike fighters.
1/72nd scale has been fairly well served with Beaufighters with three being produced by Airfix, Frog and Matchbox many years ago but if they can be found today, they lack detail and in some cases have shape problems.
Then there is the short run series from Highplanes, very accurate in detail and shape but because of the short run nature, quite hard to build.
Hasagawa, bless their cotton sox, came out with a very nicely moulded series in our scale but as is often the case with Hasagawa, they totally lacked any interior and are now becoming very hard to find not to mention very expensive.
Airfix to the rescue, again. They seem to be doing a lot of that lately, thank goodness.
The Beaufighter being one of my favourites, I've been hanging out for this kit from when Airfix started their revival so on its arrival I'm both very pleased and very slightly disappointed. Pleased because its interior is a definite improvement over the otherwise very good Hasagawa kit while keeping the price to a minimum but slightly disappointed because the interior detail could have been so much better when compared with recent Airfix Luftwaffe kits.
Sprue 'A' consists of interior floor, lower fuselage, 2 seven part engines, Tail fin, separate tyres and hubs, rocket projectiles and other small external parts.
Sprue 'B' has the two fuselage halves, rocket rails, gear doors (closed and open), two crew figures, rudder, ailerons, torpedo air fin, rocket blast plates and a couple of U/C parts.
Sprue 'C' contains two types of tail plane ( both dihedraled), five torpedo parts, two wing spars, both seats, two props, tail wheel both retracted and lowered, short and long intakes plus many other interior and exterior parts.
Last but not least, sprue 'D' carries the four main wing halves plus the four bits that go into the two tail planes.
The clear sprue, 'F', has the main canopy, D/F blister, optional plain and gun mounted observer canopies, twin landing light cover and late war single type and wing tip nav. lights including optional late war formation light.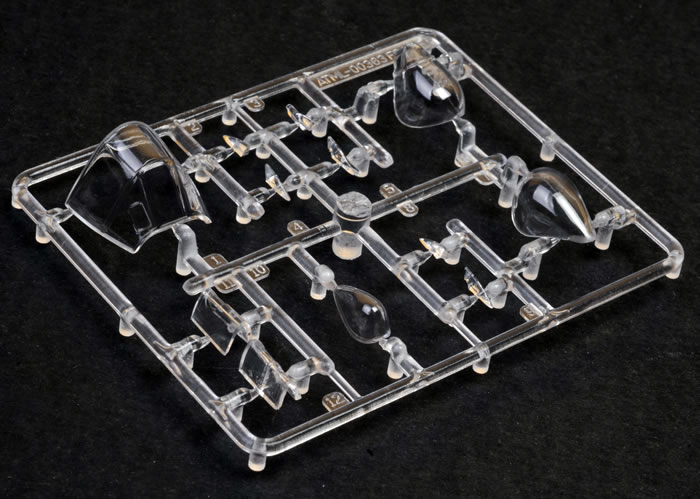 So, let's look at some of the good and bad bits of the kit. As mentioned above, the interior could have been so much better, but that does not mean it is bad, just incomplete.
The most obvious omission is the prominent heater tube that runs from the pilot's to the navigator's cockpit positions.
The fuselage interior, from nose to tail, has the vertical ribbing which mean no matter what you add, you will not have to worry about this and what is there is quite accurate so it's a good basis to build on.
The wheel wells are on a par with Hasagawa's which says they could have had a little more detail but aren't bad.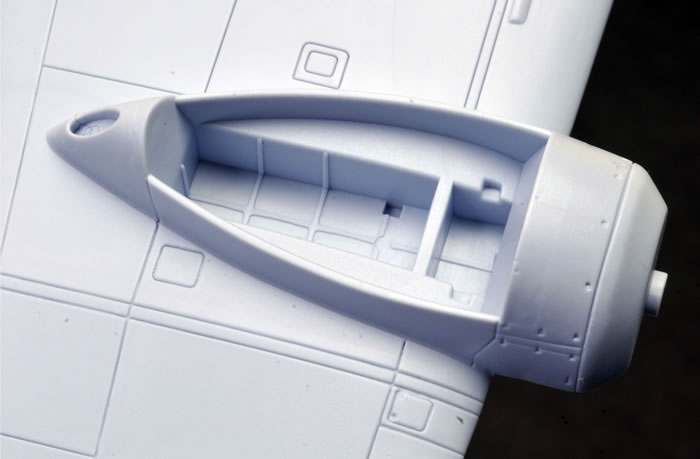 Similarly, the engines and cowlings aren't bad for the scale.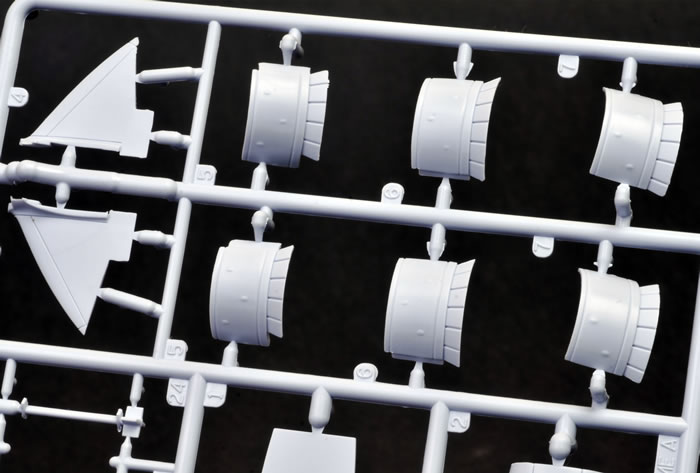 Then there are those tail planes. Both are dihedraled and the only difference I can see is one has a larger elevator. This is not mentioned in any of my references although it is shown in plans and would appear to be a late war modification. The SEAC aircraft in the kit has the larger tail plane fitted. Just why Airfix have engineered the inserts for the two tail planes is a bit of a mystery but maybe it's just to keep the parts slim enough to avoid sinkholes through shrinkage.
The kit supplies a comprehensive torpedo along with eight rockets on rails but note that the aircraft did not fly carrying both at the same time.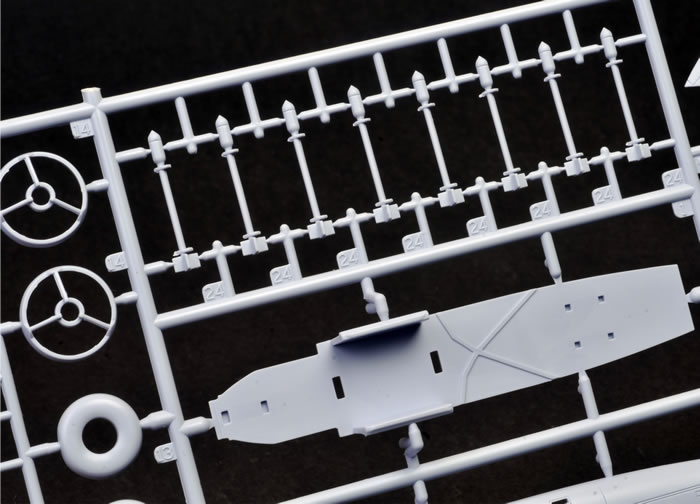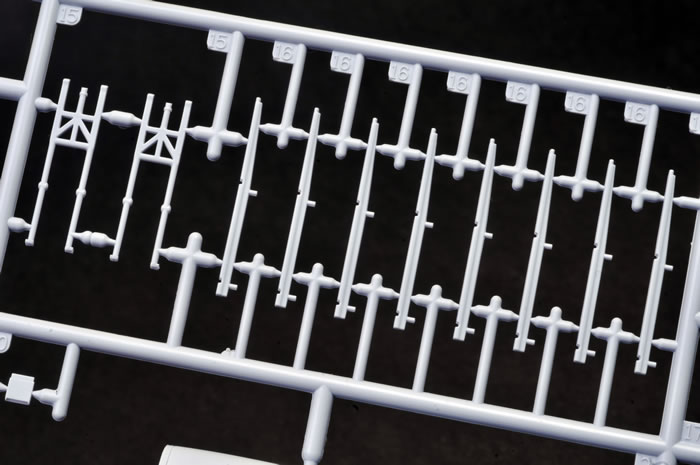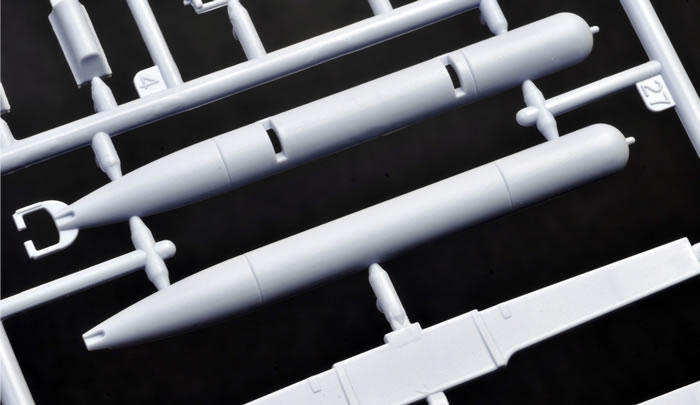 On the inner top wing surface there is a blister which Airfix ask us to remove for scheme "A" but not for scheme "B". This is also not mentioned in any of my references but I am told it's to do with the fuel system and only fitted to late war aircraft.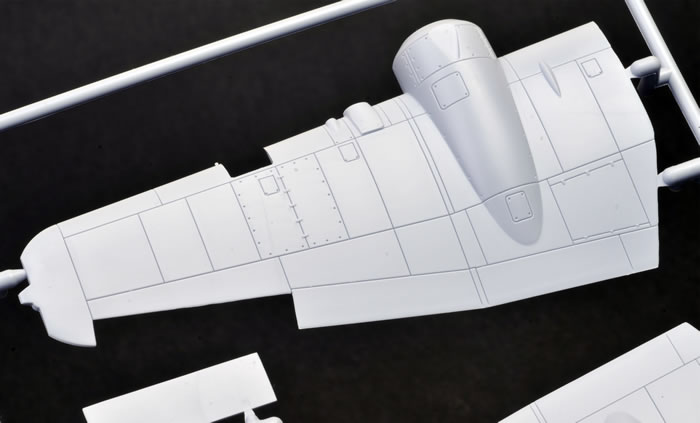 Not included in this box are the long fin strake seen on some TF.Xs, nor the Sperry Autopilot bulge found on Australian Mk.21s.
So, what do the sprues show we may get in the future?
There is nothing to indicate a Mk.I/early Mk.VI but they would only have to add a flat tail plane and open exhaust, the rest is there. The mid/late Mk.VI is externally identical to a Mk.X so all they would have to do there is change the decals
The inside of the wings show holes can be drilled out for bomb crutches so a bomb carrying aircraft may come our way.
The engines, cowlings and nacelles on the Mk.II I am led to believe are direct from the outer wings of a Lancaster so we could even see one of them.
Whether Airfix will give us a Mk.21 us Australians can only hope but both Frog and Hasagawa did one so you never know.
---
Marking Options
The decals, printed by Cartograph cover two aircraft, both TF.Xs, one, NE829 coded PL-J from 144 Squadron RAF, Scotland, 1944, in Extra Dark Sea Grey over Sky with D-Day stripes on the fuselage only.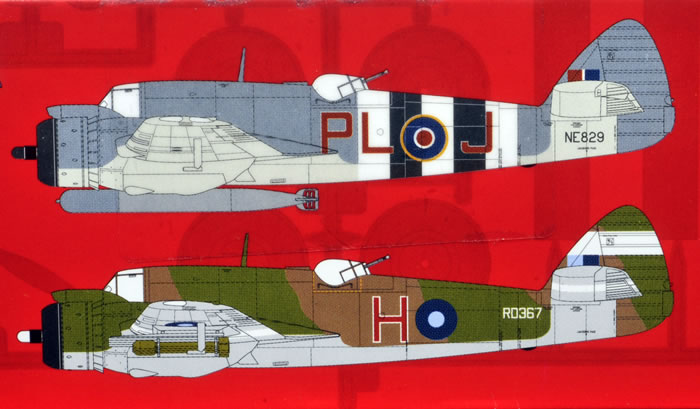 The other is RD367, H from 25 Squadron, Burma 1945 and is in Dark Green/ Dark Earth over Sea Grey Medium with white SEAC stripes on wings, tail plane, fin and rudder. This aircraft has the late war light and dark blue national marking of the times.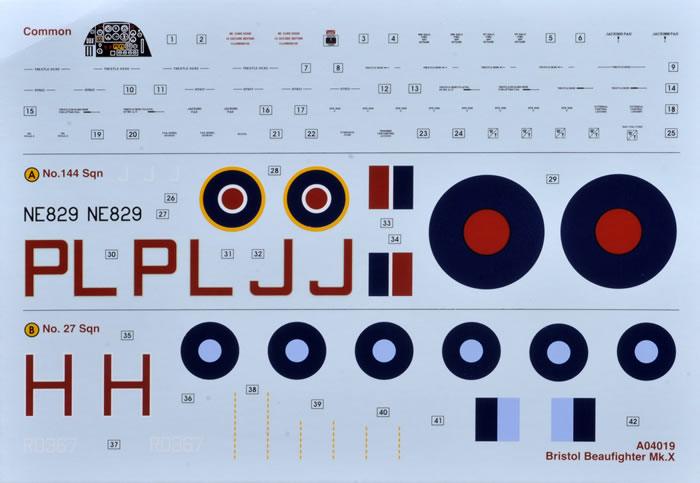 Comprehensive stencils are supplied for one model.
Even with the above criticisms I'm impressed and I don't think we will see a better example in my life time. Yes, it could have been better but what is there is accurate and will lend itself to those who want to improve it. And who could argue with the price.
Thank you Airfix.
Purchased by reviewer from Hannants.
---
Text Copyright © 2015 by Glen Porter
Images Copyright © 2015 by Brett Green
Page Created 7 September, 2015
Last updated 7 September, 2015
Back to HyperScale Main Page