Sukhoi Su-11 (LK)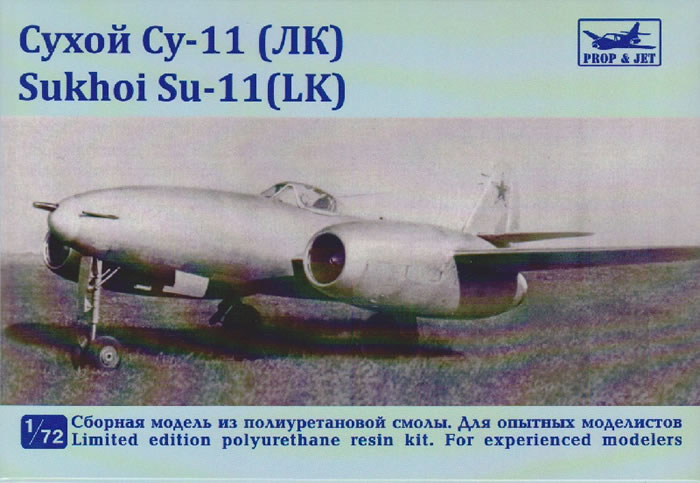 Prop & Jet, 1/72 scale
S u m m a r y :

Catalogue Number:

Prop & Jet Kit No. 72220 -Sukhoi Su-11 (LK)

Scale:

1/72

Contents & Media

45 light-grey resin parts, two vac-form canopies, and decals for one option.

Price:

Online stockists

(I could only find one stockist with a clear system for ordering (ModelsUA), but have listed Linden Hill as they carry several Prop & Jet products, and the IRA as it lists prices but does not appear to have an obvious ordering mechanism).

Review Type:

First Look

Advantages:

Excellent quality, nice detail, simple assembly; the reinforced undercarriage is a real plus.

Disadvantages:

None noted.

Conclusions:

This is a very good kit indeed, with excellent quality parts, good decals and clear instructions. It has very nice surface and interior detail, fine small parts, and its reinforced undercarriage is a nice touch. I highly recommend this kit, and encourage readers to check out Prop & Jets other offerings as well.
Reviewed by

Mark Davies

Sword's 1/72 scale scale Gannet AEW.3 is available online from Squadron.com
Not to be confused with the later supersonic Su-11 "Fishpot-C" that first flew in 1961, this Su-11 (KL) dates from 14 years earlier.
The Sukhoi Su-9, or Samolyet K (Aircraft K), was an early jet fighter built in the Soviet Union shortly after World War II. The design began in 1944 and was intended to use Soviet-designed turbojet engines. The design was heavily influenced by captured German jet fighters and it was subsequently redesigned to use a Soviet copy of a German turbojet. The Su-9 was slower than competing Soviet aircraft and it was cancelled as a result.
Another prototype was begun in 1946, but this aircraft was intended to use the Yakovlev-designed version of the afterburning RD-10F engine. Before the prototype was finished, Sukhoi was ordered to use the Lyulka TR-1 turbojets originally intended for the Su-9. This aircraft was designated the Su-11 and was called Samolyet KL by the OKB. Each TR-1 developed only 2,865-lb thrust each, rather than the 3,300-lb required.
The aircraft made its first flight on 28 May 1947 and also participated in the fly-past at Tushino in August. It had a maximum speed of 580 mph at sea level, but flight testing revealed that it lacked longitudinal stability at high speeds. Modifications of the wing/nacelle fillets and lengthening the engine nacelles failed to cure these problems. Coupled with the unavailability of mature TR-1 engines, these problems caused the program to be cancelled.
The Su-13 (Samolyet KT) was a proposal to re-engine the aircraft with Soviet copies of the Rolls-Royce Derwent turbojet as well as to modify it for night fighting, but neither proposal was accepted.
Source: Wikipedia
---
Previous 1/72 Scale Su-11 (LK) Kits
I am not aware of any previous Su-11 (KL) kits in 'The One True Scale'; therefore, Prop & Jet's kit clearly fills an important gap for fans of Soviet prototypes and early jets in general.*
* There have been four Su-9 (K) kits however, vac-forms by MPM and VP Canada with injected and resin parts respectively, and in resin by Prop & Jet (in 2002 and new tooling in 2015).
---
The Company
Prop & Jet is a Russian company I had little knowledge of until I took a first look at the Su-9 (K) here on HyperScale in January this year. My first impressions of that kit were very positive, and so they are for the Su-11 (KL) reviewed here.
Prop & Jet is based in Nalchik, capital the Russian Caucasus Republic of Kabardino-Balkaria. It offers a range of very interesting kits, that is if you like rare Soviet subjects and prototypes. Prop & Jet's website does not give too much away, in English at least, as I could not get it to translate very well. However it does feature many useful images of the kits the company produces. Fortunately, their range is listed in some detail in English here on the International Resin Modellers Association website. I recommend checking out the other subjects Prop & Jet has released (be sure to scroll down the linked page to see their range of kits).
Contents
The contents come in a small but adequately sized top-opening box made of glossy card with a good photo image of the real aircraft on the lid. The resin parts are packaged in several heat-sealed plastic bags, and are further protected by a bubble-wrap envelope, whilst the decals and colour-printed instructions are loose in the box.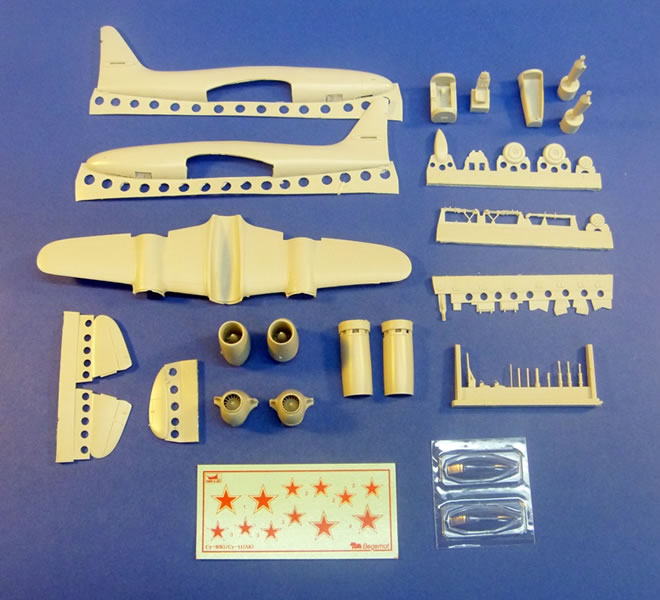 The instructions are predominantly in Russian, but include clear English translations with the assembly diagrams where necessary. They include a parts map, use well-drawn diagrams that appear easy to follow, and include a hard to miss note on the need for 10g of nose ballast. A colour printed painting and markings diagram covers off the simple single decal option using profile and plan views. Paint call-outs are generic for the bare metal finish.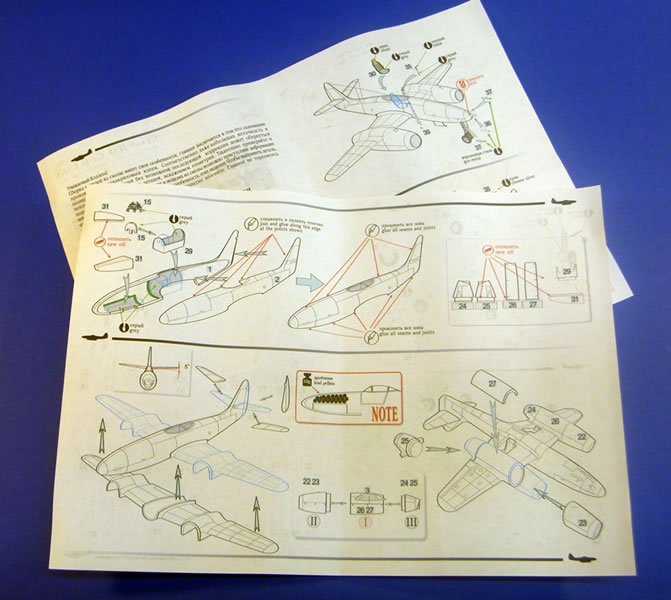 The light grey resin parts are cast beautifully, and were it not for their casting blocks you could almost mistake them for being made of styrene. The attachment points to the casting blocks are thin and should be easy to remove and clean up. There was a very slight twist (warp seems too harsh a word) to the fuselage where it tapers towards the tail on my sample. I think bringing the two halves together will straighten this out, but if not some judicious straightening in warm water may be all that is needed.
Surface detail is very delicately done, as are some small detail parts. The undercarriage legs are very fine too, but have metal wire running through their cores for the necessary reinforcement of these slender parts.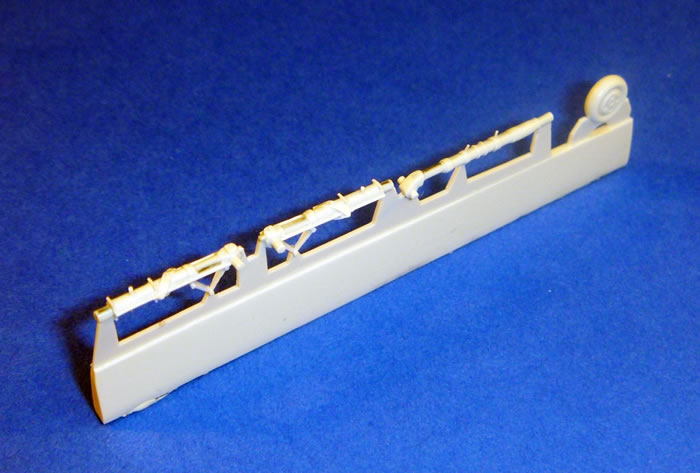 Special mention needs to be made of the exhausts and the gorgeous turbine faces buried within, as well as the deep inlets with integral compressor faces. These are stunning, although potentially tricky to paint neatly.
The vac-form canopy appears flawless, and thankfully, two copies are provided.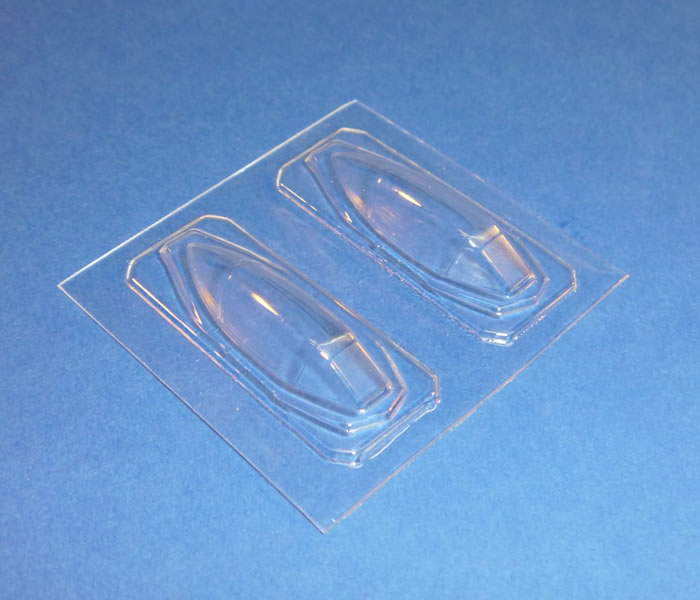 The parts map includes two rocket assisted take-off bottles, but these are not mentioned in the instructions.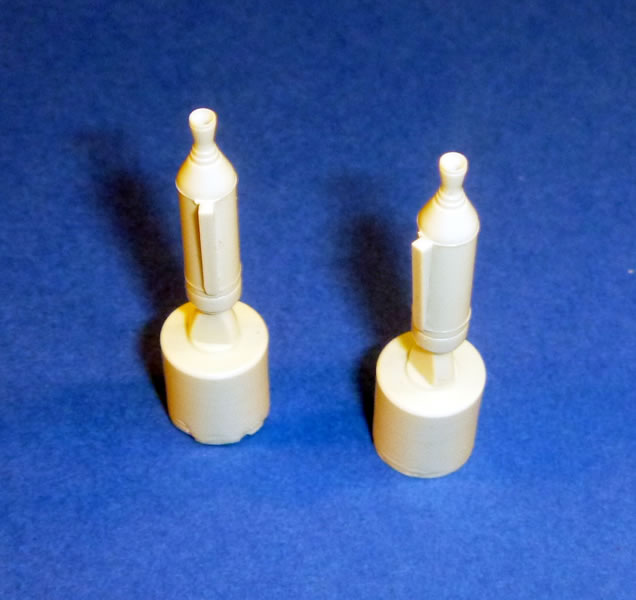 Construction is quite conventional for the type. Cockpit and wheel-well detail is generally simple but perfectly adequate for the scale and small opening.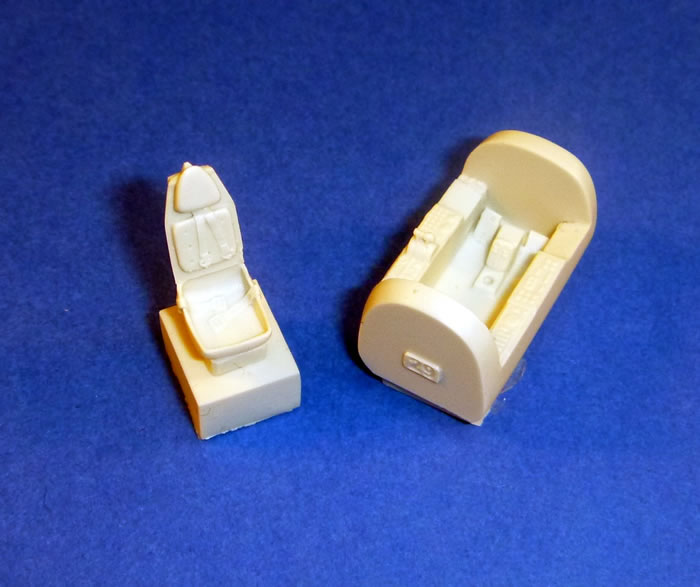 I would expect assembly to be very straightforward from looking at the quality of the parts.
---
Colours and Markings
The prototype's bare-metal scheme is all that can be offered.
The decals are by Begemont and look to be very good.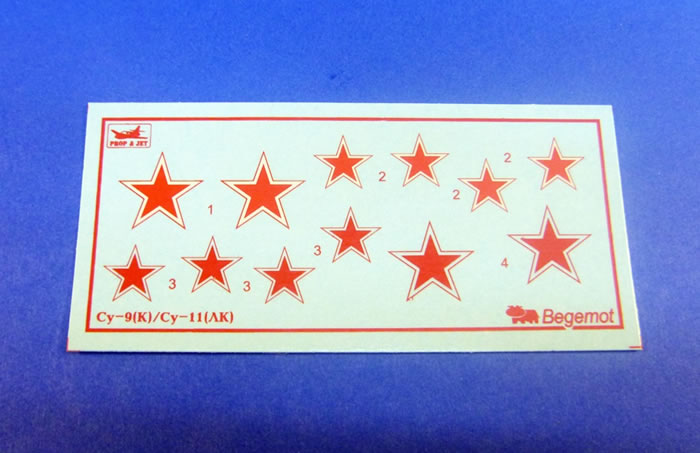 he sheet offers more Soviet stars than are needed in two styles and sizes; the additional ones are included because the sheet is shared with Prop& Jet's kit of the Su-9 (K).
This is a very good kit indeed, with excellent quality parts, good decals and clear instructions. It has very nice surface and interior detail, fine small parts, and its reinforced undercarriage is a nice touch.
I highly recommend this kit, and encourage readers to check out Prop & Jets other offerings as well.
Thanks to Prop & Jet for the review sample.
---
Review Text & Blue Background Images Copyright © 2015 by Mark Davies
Page Created 1 September, 2015
Last updated 1 September, 2015
Back to HyperScale Main Page