Gloster Meteor F.8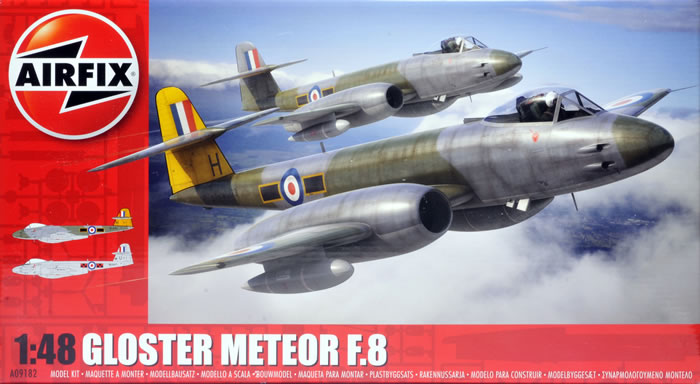 Airfix 1/48 scale
S u m m a r y

Description and Catalogue Number:

Airfix Kit No. A09182 – Gloster Meteor F.8

Scale:
1/48
Contents and Media:

156 parts in grey injection moulded plastic; 11 parts in clear plastic; markings for two aircraft

Price:
Review Type:
FirstLook
Advantages:

Excellent surface textures, high level of detail; many useful options including engine and gun bays on display; separate control surfaces; wing and conformal tanks included.

Disadvantages:

Nothing worth mentioning.

Conclusion:

This 1/48 scale Meteor continues Airfix's run of great kits. World-class surface textures, high level of detail, many useful options (both documented and undocumented) and an important but relatively neglected subject all combine to make this a very appealing package.

Highly Recommended.
Reviewed by Brett Green


Airfix's 1/48 scale Meteor F.8 will be available online from Squadron.com
The MiG 15 was designed as a modern jet fighter from inception. Its swept wings and stubby fuselage built around its powerful single Klimov engine (ironically, a copy of the Rolls-Royce Nene) was the most advanced design of its time.
The "Meatbox" looked old-fashioned by comparison. Its straight wings, conventional fuselage, and twin nacelle-mounted engines betrayed its World War Two design origins. The nimble MiG could out-climb, out-turn, out-run and, with its 37mm cannon, out-gun the Meteor. Nevertheless, in Korea, pilots from 77 Squadron RAAF managed three victories over MiG 15s.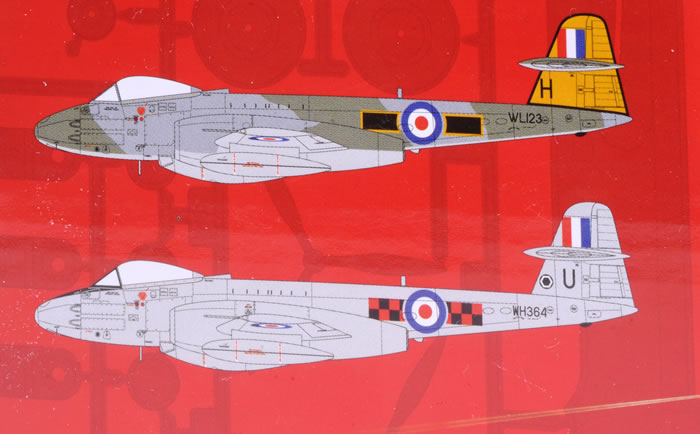 The real forte of the Meatbox, however, lay in its ground attack capabilities. The Meteor's solid design offered a stable platform for bombs and up to 16 rockets. The nose mounted 20mm cannon were also well suited to strafing attacks.
---
The Meteor F.8 in 1/48 scale
Considering its significance as an important bridge between WWII fighters and modern jet combat aircraft, it is surprising that we have not yet seen a mainstream Meteor F.8 in 1/48 scale.
Yes, Tamiya released the Mk.1 and the Mk.3, but their Meteor family stopped abruptly there.
During the 1990s, Aeroclub released a multimedia 1/48 scale Meteor F.8 that comprised mainly vacform parts with low-pressure injection plastic and white metal detail parts. I built one of these in 1999 and was very pleased with the result, but there is undoubtedly an intimidation factor when it comes to vacform kits.
Next up to bat was Classic Airframes with their 2003 1/48 scale Meteor F.8 release. This was well detailed with resin parts for the cockpit, engine and undercarriage. The kit was pretty typical fare for Classic Airframes at the time. With patience and time, an excellent result could be achieved, but there were some construction challenges, especially around the fit of the intake parts. And, of course, the kit is now long out of production.
So we come to 2016 and the iconic British brand Airfix takes its turn with this classic British jet.
The brand new 1/48 scale Gloster Meteor F.8 is packed into a stout top-opening box. Inside are a modest 156 parts in pale grey plastic and 11 parts in clear.
Surface textures are beautifully done with fine, crisply recessed panel lines, raised panels and other structural features where appropriate. The metal control surfaces feature incredibly fine raised rivets.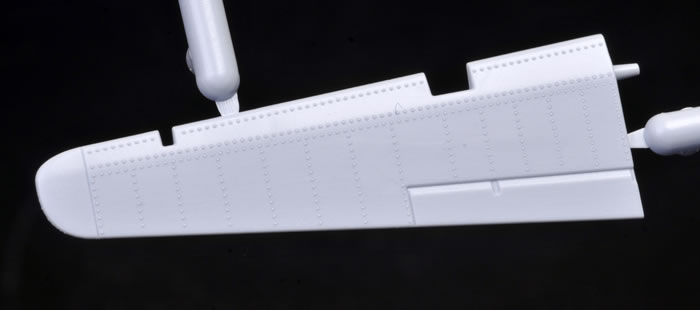 Most ambitious of all is the "oilcanning" effect on the forward gun panels. We first saw Airfix achieve this authentic metal rippling on their 1/24 Typhoon, but it somehow seems ever more impressive in this familiar scale. It is hard to make out in the bright light of the photograph, but it looks great in real life.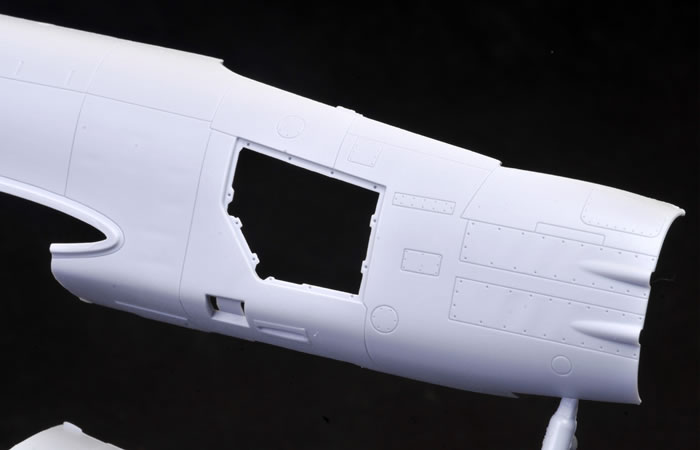 Construction begins in the cockpit with nicely detailed sidewalls. Features are moulded in place, and this seems to me to be a good compromise between detail and ease of construction, particularly as the front office is painted black and you won't see much anyway.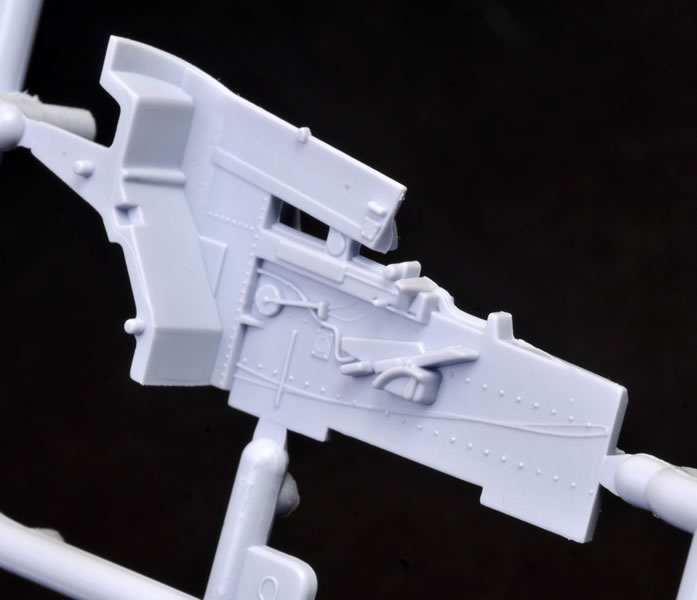 The cockpit is built in conjunction with the fuselage cannon bays and the forward undercarriage bay. These separate parts are simply glued to the outside of the tub.
Basic cannon, ammo drums and feeds are provided if you want to display the gun bays open.
The Martin Baker Mk.2 ejection seat is made up from six pieces and gets a resounding "passable" from me. Alternative parts are provided for the front of the seat – one with harness straps moulded in place and one without. There are several resin 1/48 scale aftermarket MB.2 seats available and I think a replacement would be worthwhile.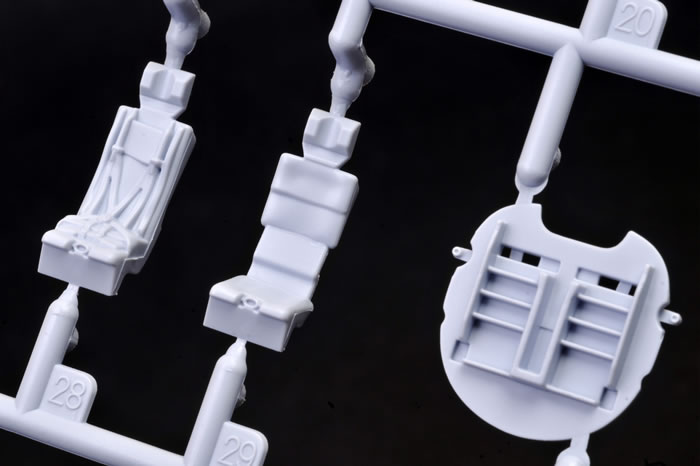 The instrument panel features raised dial and switch detail. This should look good after careful painting and subtle dry brushing. Airfix also supplies a decal to lay over the raised detail if you prefer.
Optional undercarriage doors are fitted from the inside of the wing if you are building your Meteor wheels-up.
The undercarriage bay front and rear walls and the engine mounts are moulded as part of main wing spars. The main undercarriage sidewalls are slotted over the spars for a rigid fit. Once the separate roof is in place, the undercarriage bays really look great.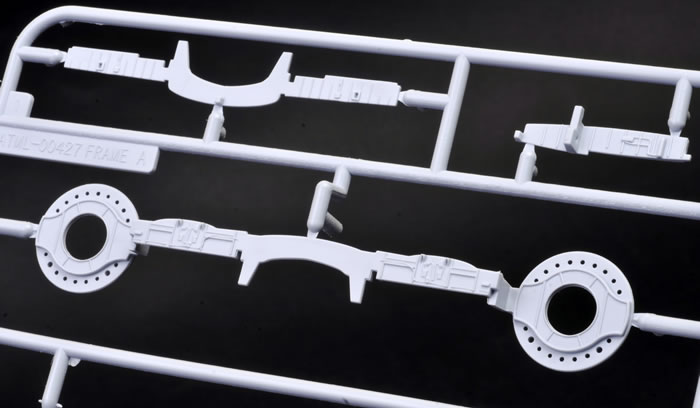 The nose gear leg and retraction mechanism are attached to the front of the cockpit tub, ten covered by the nose cone.
Wheels are bulged (slightly) and flattened (noticeably). Detail looks good. Shouldn't need any replacements for these.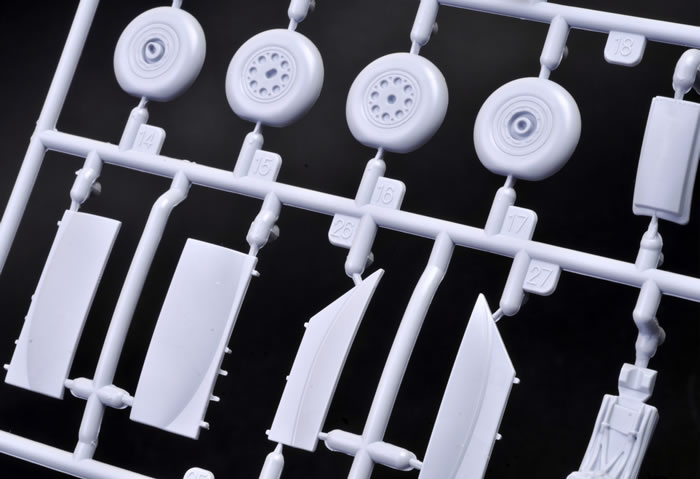 The rudder, elevators and ailerons are all separate parts and may be posed to taste.
Speed brakes are separate parts too, and may be glued open or closed.
The engines feature full-length exhaust tubes. The Rolls-Royce Derwent engines themselves are quite well detailed, but the mesh sections are moulded in solid plastic. They should still come up well after careful painting and an oil wash though. The modeller is offered the choice of displaying the engines in the aircraft, displaying one engine separately on a supplied dolly, or just sealing up the top engine cover.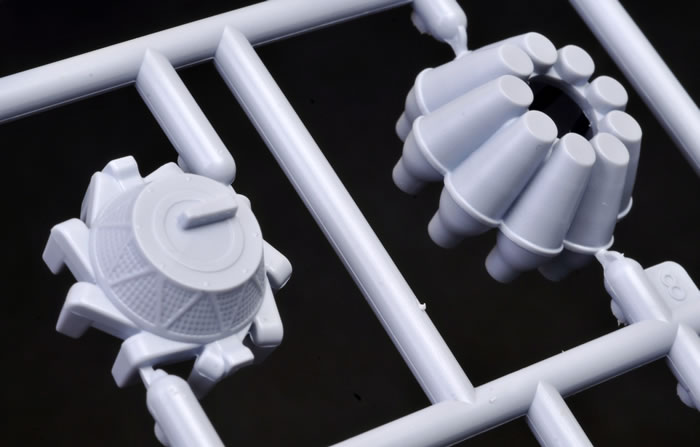 More options are offered for the intakes too. Airfix supplies both the small diameter intakes as well as the large (cut back) intakes.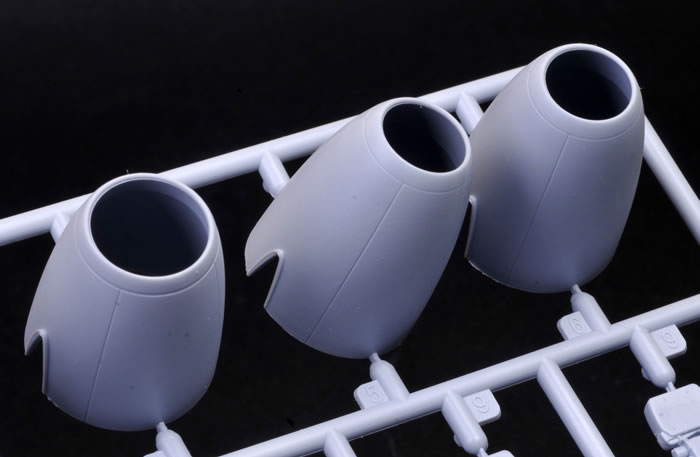 Wing tanks and a conformal belly tank are also provided.
Boarding step and the shell ejection fairings are supplied as separate parts.
The clear sprue contains the windscreen, sliding canopy and landing light. Wing tip navigation lights are moulded solid with the wings.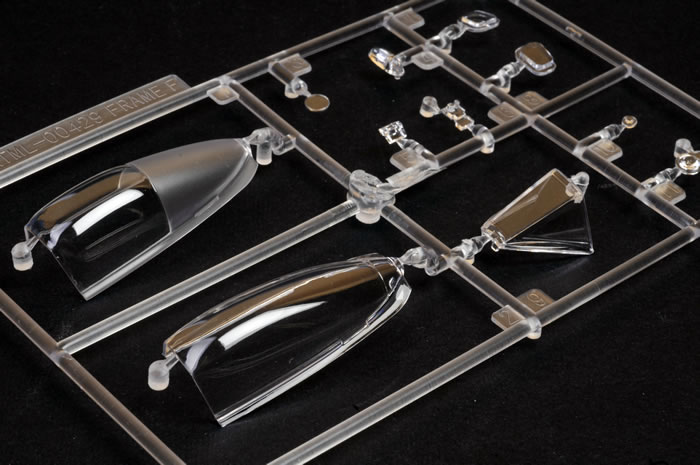 Although not mentioned in the instructions, the clear sprue also includes the early-style canopy with the fairing covering the rear, plus the Australian ADF fairing (sits on the spine aft of the canopy), and what appear to be the clear nose camera windows for an FR.9 or PR.10.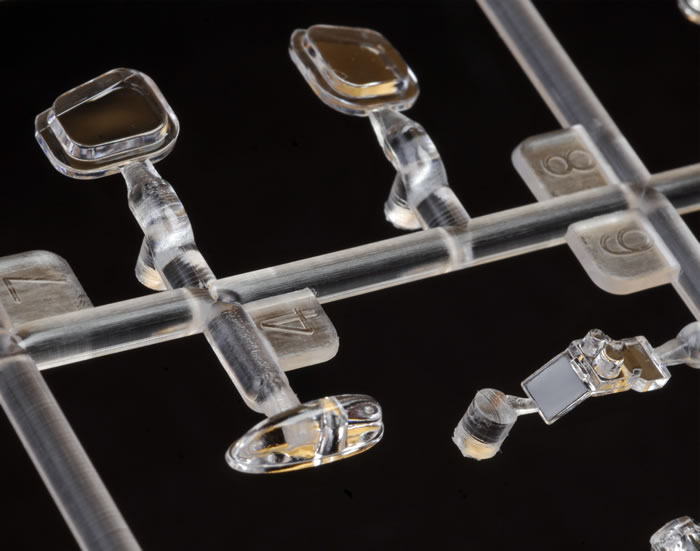 We don't get rockets or rails, but there are flashed over holes for these on the inside of the lower wing halves.
Instructions are called out in 98 illustrated steps in a 16 page stapled A4 booklet. A foldout A3 sheet is provided for the markings, and another is included for the many tiny stencils.
---
Markings
Markings are supplied for the following Meteor F.8s:
No.85 Squadron RAF Binbrook, Lincolnshire, England 1968. This aircraft is finished in overall High Speed Silver (paint, not bare metal).
No.111 Squadron RAF North Weald, Essex, England, 1954. This aircraft is finished in Dark Green and Dark Sea Grey over High Speed Silver. The fin and rudder are painted yellow with a black border.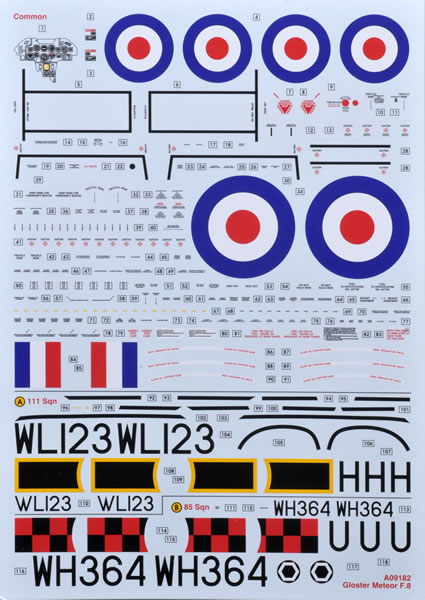 Decals are well printed, in perfect register with rich colours and a fairly matte finish.
This 1/48 scale Meteor continues Airfix's run of great kits. World-class surface textures, high level of detail, many useful options (both documented and undocumented) and an important but relatively neglected subject all combine to make this a very appealing package.
I wish Airfix all the best – long may they keep pumping out kits like this!
Thanks to Hobbymania for the sample
---
Text and Images Copyright © 2016 by Brett Green
Page Created 26 April, 2016
Last updated 27 April, 2016
Back to HyperScale Main Page