SAAB J29F Tunnan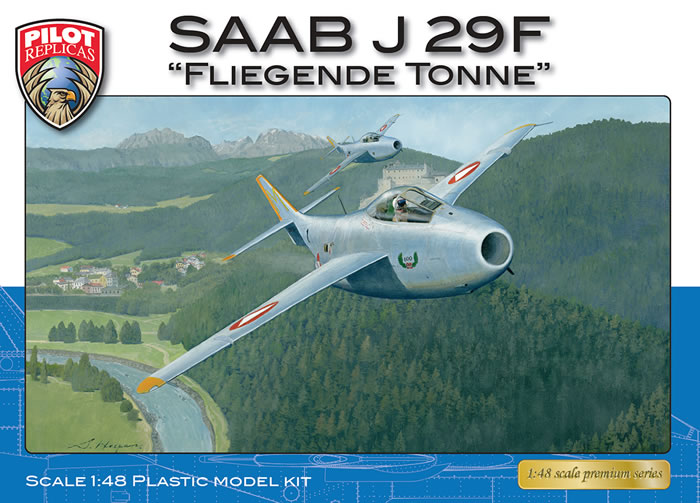 Pilot Replicas, 1/48 scale
S u m m a r y :

Catalogue Number:

Pilot Replicas Kit No. 48-A-002 - SAAB J29F Tunnan

Scale:

1/48

Contents & Media:

Plastic and mutimedia parts. See body text for full details.

Price:

Available from Pilot Replicas for around 599.00kr (around £50 at time of writing)

Review Type:

First Look

Advantages:

Excellent moulding; high level of detail; accurate; great subject.

Disadvantages:

None noted.

Conclusion:

Highly Recommended.

Reviewed by James Hatch


Kitty Hawk's 1/32 scale OS2U Kingfisher will be available online from Squadron.com

It was generally known as the 'Flying Barrel', and it's not hard to fathom out why, with it's rotund fuselage and excessive girth, in comparison to the rest of the airframe. Looks can be deceptive though, as the J29 was an agile operator that meant it was used in both fighter and fighter-bomber roles. If the design looks rather 'Luft'46', that's because it well could be. Comparisons have been drawn with some of the designs that graced Kurt Tank's offices in 1944, especially the proposed Ta 183.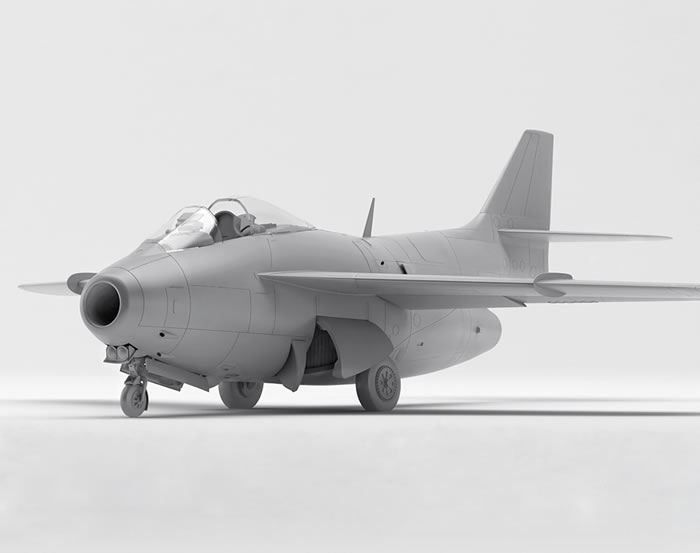 It's no secret that the Swedes had access to secret Luftwaffe papers, and that these may well have had an impact on the design of their second-generation fighter aircraft. First flown in 1948 by an English test-pilot, the J29 was a swept wing, transonic aircraft that was powered by a scaled-up version of the De Havilland Goblin engine, known as the Svenska Flygmotor RM 2B turbojet. After initial experiences with crash landings and a general inexperience of flying swept wing jet aircraft, the J29 went onto become an effective machine, whose pilots trained using dual control DH Vampire aircraft due to a lack of two seat Tunnan. Over 660 were built between 1950 and 1976, and whilst flying primarily with the Swedish Air Force, it also operated with Austria, and the United Nations in the Congo (ONUC). The J29F, which is the subject of this kit release, featured an afterburner and a dogtooth leading edge wing design that increased its critical mach number, increasing typical wing airflow speed to a point not exceeding Mach 1.
This is my first brush with Pilot Replicas, being until recently, a company I'd never heard of. After contacting Claes Wahlund, they agreed to send two of their kits to us, as well as some supporting aftermarket upgrades. Today, I'll be looking at the more recent SAAB J29F 'Tunnan'. I've had a fascination with this aircraft for a number of years, partially because of its status as an early jet fighter, and also because I once built the multi-coloured 1:72 Matchbox release in the 1980's. Face it, the Tunnan has a great shape. It looks like I feel after a twelve-course Indian banquet. They say first impressions last, and my first impression of this kit is very good. A gorgeous, rigid and glossy box that has a top opening flap and full length locking tab, with a nice little Pilot Replicas seal that you need to break/cut in order to get into the goodies. Box artwork is very attractive yet quite simple, and the three schemes supplied are also shown. Inside, there are FIVE light grey sprues, all individually packed into re-sealable clear sleeves, and a single clear sprue, housed it its own ziplock wallet. Root down a little further, and you'll find two super-glossy publications for the instructions and painting guide, plus two decal sheets and a small PE fret. As a nice little bonus, I have also been given a set of decals from the NEXT release of this kit, depicting Austrian machines.
---
Sprue A
These sprues aren't actually given an identifying letter, so I have done this simply to split them up for this article. For this one, I'm looking at the fuselage sprue. This has been broken down into quarters, with the front and rear sections both being supplied as halves.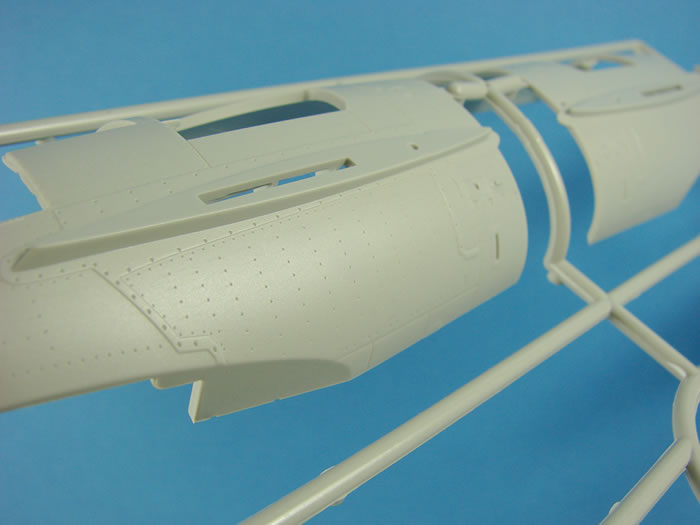 External detail is excellent with perhaps some of the finest panel lines I've seen, next to those of Eduard's latest generation 1:48 releases, and the same applies to access panel and cover detail. Finely raised panel fillet detail is neatly represented, as are the numerous, small recessed areas. The model is indeed riveted, but not in a manic, machine gun style. Different size fasteners are moulded, in both tight and loose rivet formation, and really do look great. The rudder is moulded in situ on this model, but for a jet fighter, I can't see this being an issue.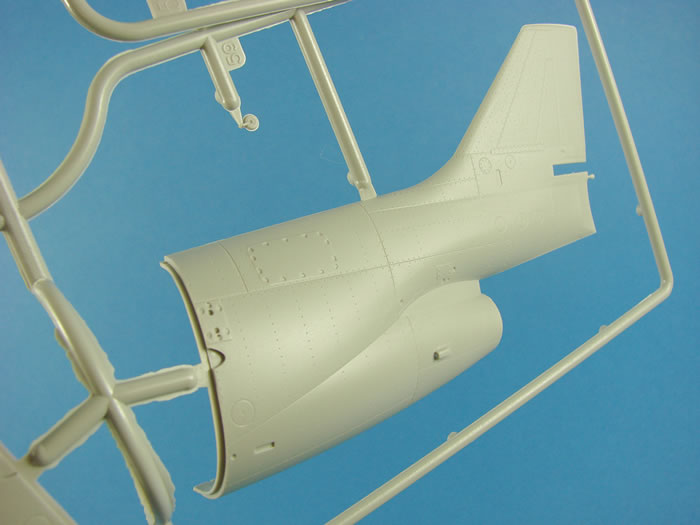 Wings will be inserted in the traditional tab method, but extra internal ribbing means that the wings have extra support when attached. Also moulded as separate parts are the two underside nose sections, incorporating the gun fairings and openings. These are moulded hollow, and despite the tooling moulding the holes as vertical through the part, the exterior looks very good. Numerous fasteners adorn these panels. For general alignment, all parts have pins and sockets. No flash can be seen anywhere on the parts, with only the sprues themselves sporting flash. There is no internal detail within the fuselage, as this is added from the separate cockpit tub and wheel bays.
Other parts on this sprue include a two-part tail pipe insert, and the tiny tail trundle wheel that protects the rear fuselage from hitting the ground on landing.
---
Sprue B
The wing panels are moulded as traditional upper and lower halves for both port and starboard. Detail is amazingly refined, with those same delicate panel lines and rows of very understated riveting, along with larger fasteners and some port access detail.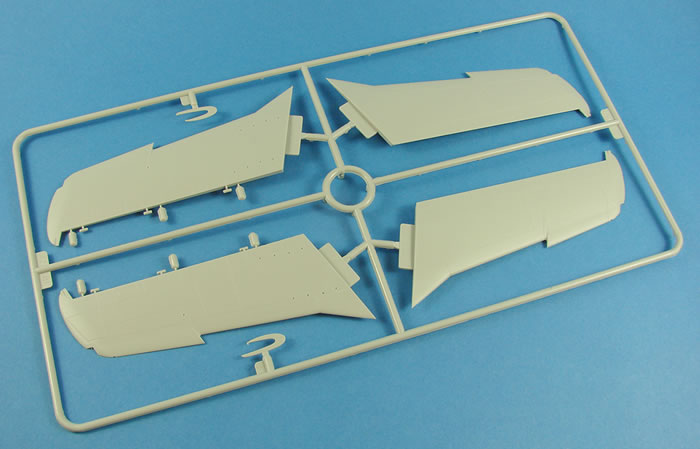 Leading edge fences are moulded separately, and locate with a single pin position at the point where the wing is dog-toothed. Flaps and ailerons are moulded separately, and of course can be posed if necessary. These locate to fork handles that protrude from the flat trailing edge wing section, for positive and accurate placement.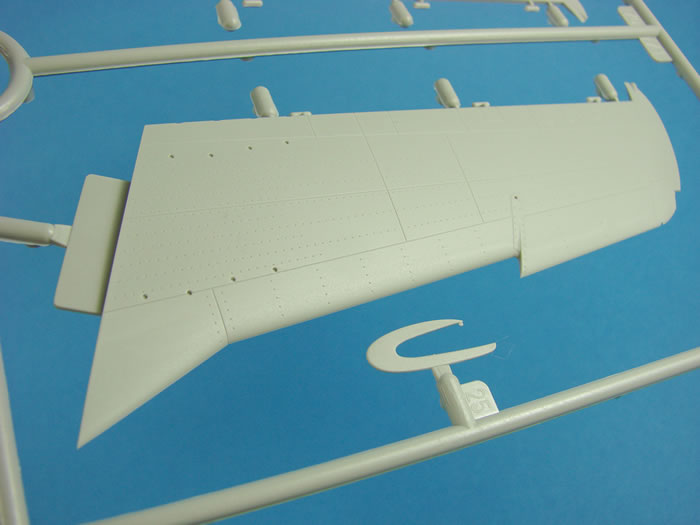 A nice touch is that the only sprue gate attachment is at the wing tap, and only a few ejector pin nodes need to be removed from the trailing edge area that will be hidden by the flaps and elevators. If you want to fit any external stores, you will need to drill out the pylon locating holes in the lower wing, before assembly.
---
Sprue C
This primarily concerns the various flying and control surfaces of the Tunnan.
Here, you will find the landing flaps and ailerons that are split into halves, allowing their capture on the wing locating forks, plus also a single piece stabiliser with integral elevators. The stabiliser is designed to simply slot into the gap in the rear of the vertical fin.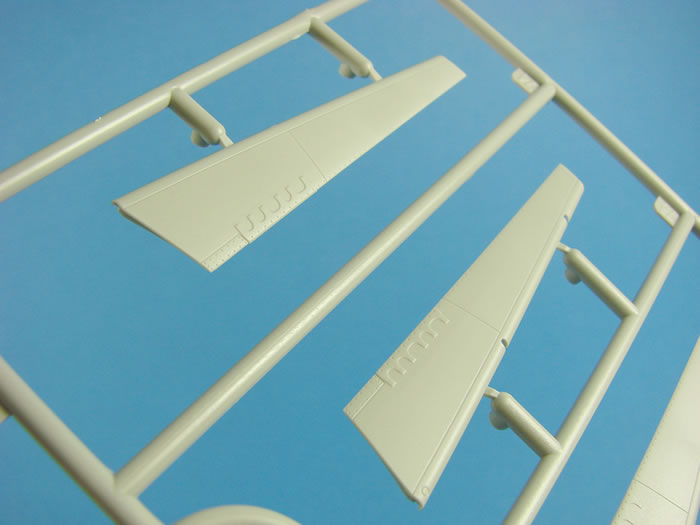 Also included here are panels for the starboard forward fuselage, possibly indicating that we might see other versions of this in future?
---
Sprues D & E
The reason for writing these sprues together is that a good number of key parts, of which there are two, are split amongst the other various remaining parts. For those that like interior detail, I think a very reasonable effort has been made of the cockpit, built onto a broad tub base that is added onto with the rudder pedals module and sidewall parts/consoles. Detail is really very, very good with finesse being something that tends to spring to mind. Nothing looks clunky in here, and the seat itself is suitably simple with its ejector ram unit. Seatbelts are supplied as photo-etch parts. Other cockpit details, such as the instrument panel and coaming, flight stick and turtle-deck detail are also commensurate with the standard of cockpit detail. The gun sight is supplied as a clear part, for which detail detail is separate. This also applies to decals for the instrument panel itself. This is moulded with blank instrument faces, which is what I prefer for extra detailing.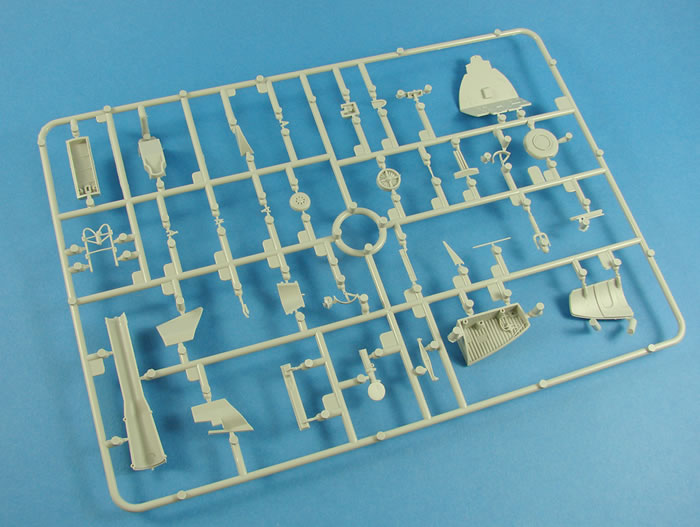 The main gear bays are nicely rendered, with rib, valve and pipe detail, and these just glue internally into the fuselage. Gear bay doors perhaps need a few rivets externally, but internally, they are indeed moulded with detail.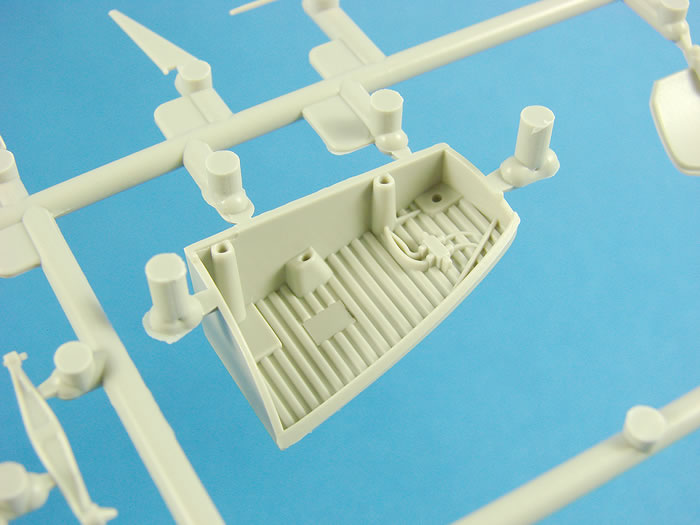 Undercarriage struts themselves are delicately detailed and will just require some minimal seam removal, and care should be taken with the nose gear wheel guards. These look very fragile, but are moulded with some real care. For some of these smaller parts, I'd look at using a fine razor saw for removal.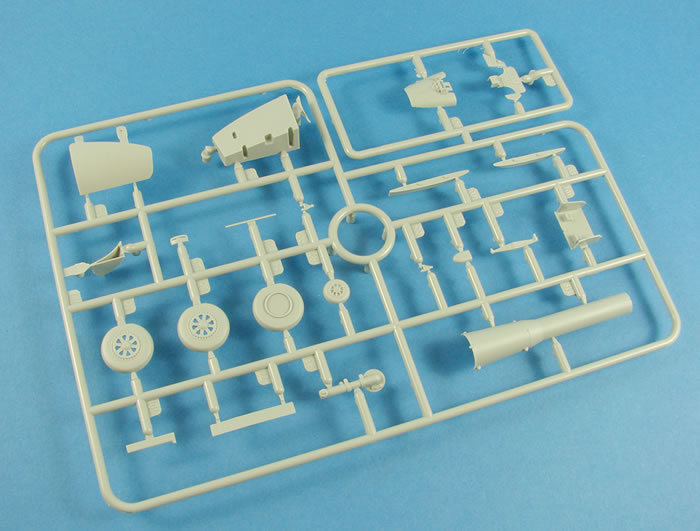 Weighted wheels are included too, so no need to start filing plastic away. Be careful that you orientate these properly when gluing, as there is no locator pip, and lack of attention will mean that the flat section won't lie on the ground. Tip: fit these last using something like Revell Contacta cement, which allows for a little more time in tweaking than with Tamiya Thin Cement.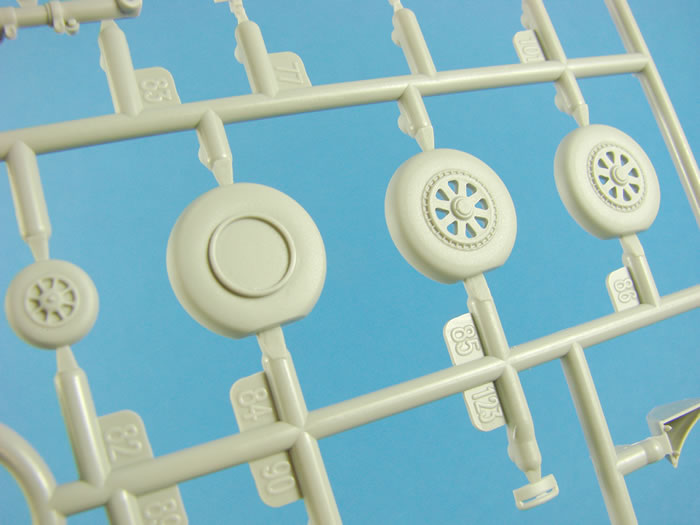 An intake pipe is included, moulded as halves and with an impellor fan at the far end. A little flash can be seen on some of the more delicate parts, but this is very minimal and will be easily removed in a few seconds. With this kit, you'll tend to find it's only the sprues that are flashy. The parts themselves are extremely clean, and very reminiscent of mainstream, high quality tooled parts.
---
Clear Sprue
Of course, you can probably judge a model kit like this from the clarity of the canopy parts, and here, they are crystal clear, and distortion-free, inasmuch as a curved canopy can be.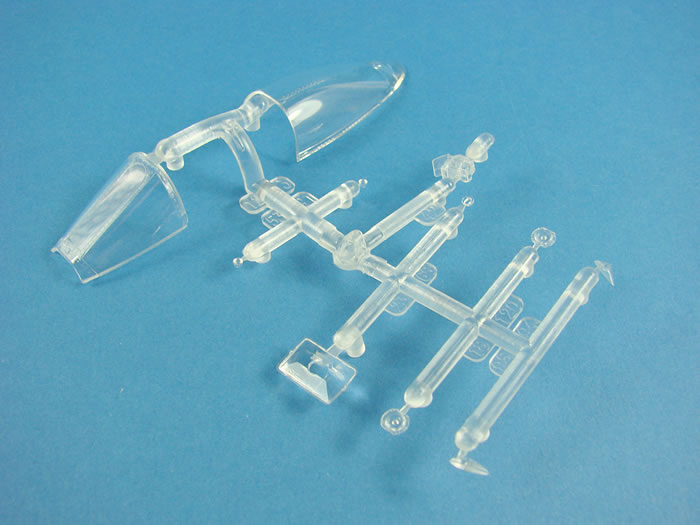 Canopy frame lines are well-defined and should be easy to mask, and the parts are flash-free. As the canopy parts are nice and thin, I would use a razor saw to remove them from the sprue, due to the elongated sprue gate connection. Other clear parts include the gun sight, wingtip lights, landing lights that are seen when they are deployed, and a clear panel that sits to the rear of the nose-gear.
---
Photo-Etched Parts
A set of seatbelts is included on this small fret, along with some PE handles for the canopy, and a securing strap for the seatbelts.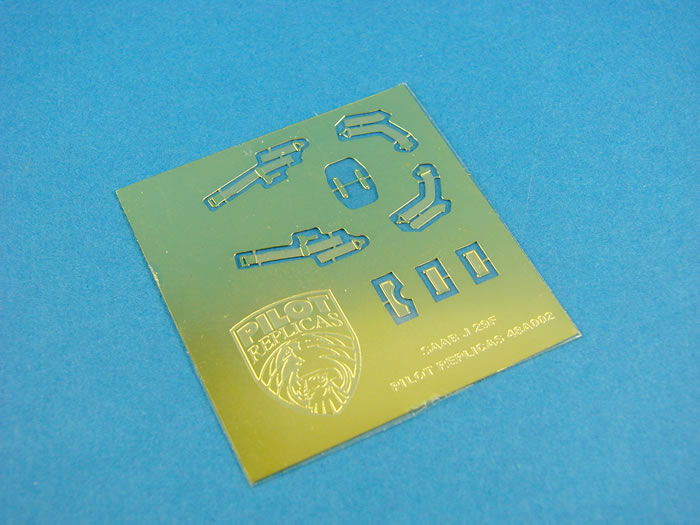 Production is good, and the parts are protected by a covering of peelable clear film.
---
Decals and Schemes
This release contains three scheme options, and to illustrate these, a super-glossy A4 pull-out is included, that opens to A3 in size. On the first page, the Tunnan's stencil placements are given, along with an indicator of the real aircraft being finished in unpolished aluminium.
For this, it is recommended that Vallejo 77.716 is used, although I don't doubt you'll find a suitable paint from either the Mr. Paint range, or from the AK-Interative Xtreme range. The remaining pages show the three schemes and their decal placements.
The included schemes are:
SAAB J29F, 29547, 1st Squadron at F3 wing, Malmen/Linköping, September 1956

SAAB J29F, 29621, Swedish Air Force Academy, F20 wing, Uppsala, summer 1956

SAAB J29F, 29422, 3rd Squadron, F15 wing, Söderhamn, spring 1959
The decals themselves are supplied on two sheets. The first sheet contains the national markings and stencils, as well as the instrument/cockpit decals.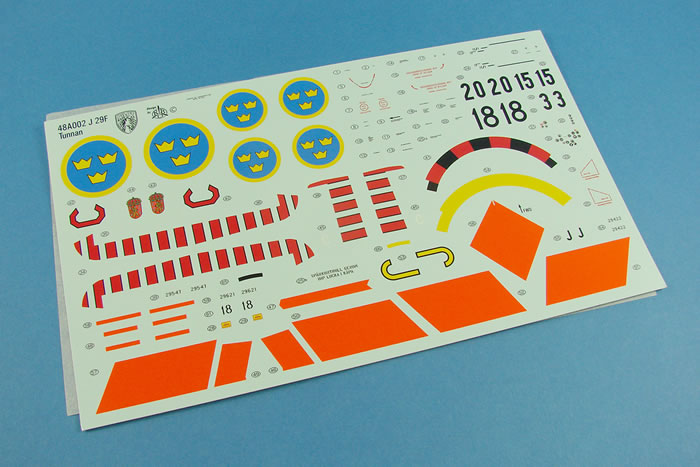 Also note that various coloured panels are given for various wing and fuselage areas, as well as for the nose intake ring area. I'm not a massive fan of panels that fit over compound curves, but you could use these as reference for painting your own panels. The second sheet contains nothing but black panels.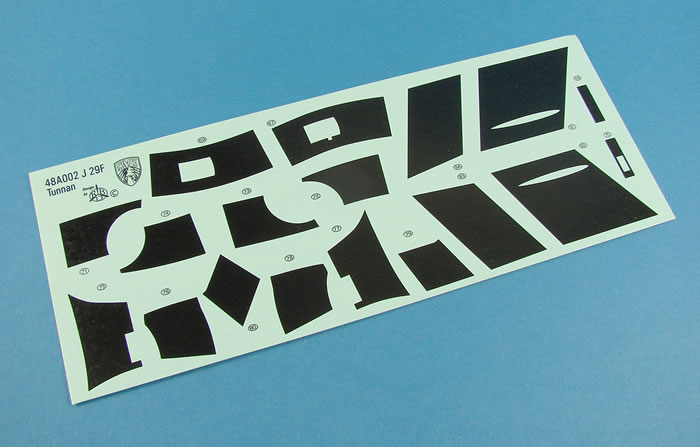 Again, if you don't want to use these, you can utilise them to help you with masking those areas yourself. Decals are printed by Cartograph, and as well as being thin, and in perfect register, carrier film is also minimal.
---
A Preview
In a week's time, this kit will be released in another incarnation that depicts Austrian machines.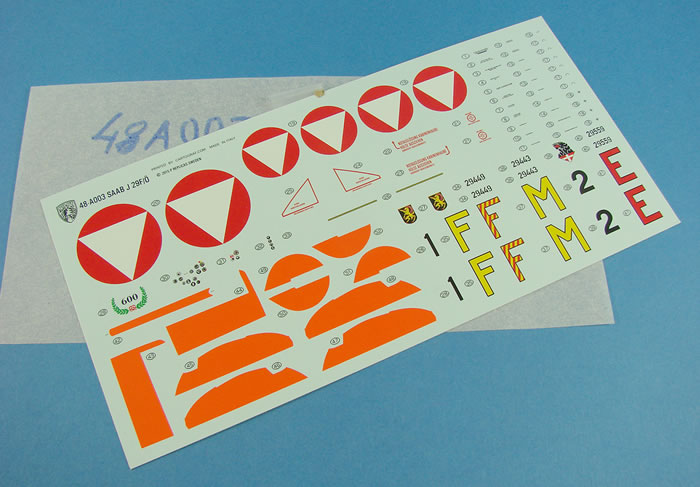 Here is the decal sheet that will be supplied, containing national markings, stencils, instruments and Day-glo panels.
---
Instructions
As with the schemes sheet, this is also a super-gloss A4 publication that opens out to A3 in size.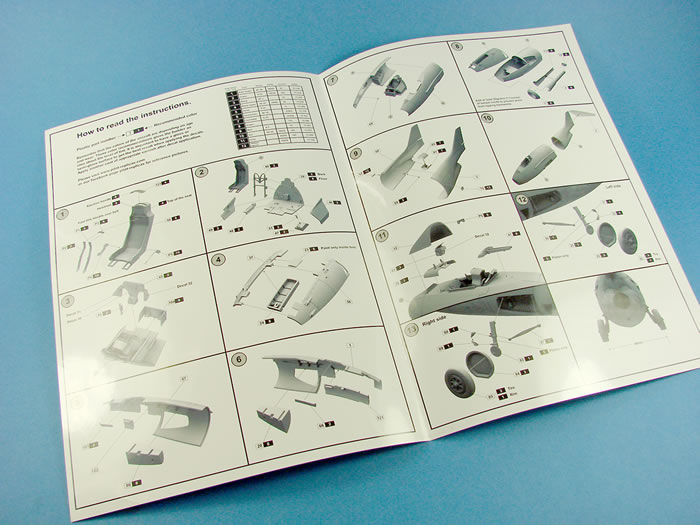 The cover tells the history of the Tunnan, and the 29 construction steps are shown over the next 3 pages, in shaded CAD illustration style. Decal and PE placement is clearly seen, and the model looks straightforward to build. Colour codes are supplied in painting, referencing Tamiya, FS, Humbrol and Vallejo paints.
Well, we've not exactly been inundated with nice kits of this gorgeous aircraft, and where we have, they have left a little to be desired. Here though, it looks like we finally have a 1:48 Tunnan that we can be proud of, and produced with the sort of finesse that we expect from a modern tooling. The kit is pretty straightforward to build, but doesn't compromise on detail,. I really can't wait to start test fitting this one and getting a feel for it. I know that my friend Kamil Felix Sztarba?a is building this for Military Illustrated Modeller, so please watch out for it, and other builds that will doubtless emerge online.
---
SAAB J29 Pilot
Code 48-P-014
Price: 59.00kr (around £5)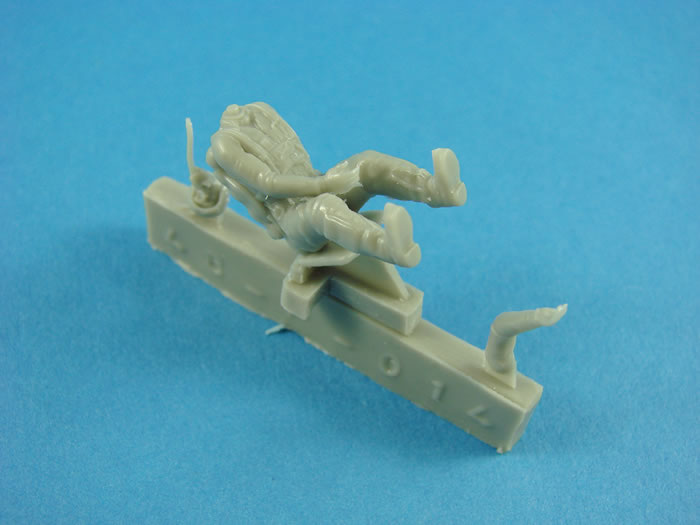 Pilot-Replicas have released this natty little pilot figure to specifically fit the J29 kit. He is case on a single block, in three pieces; the main figure, head and oxygen pipe, and left arm. Detail is really very good, and shouldn't take too long to paint and assemble. The figure is packed into a rigid, clear envelope, with a single sheet telling you what glue to use. No colour information is given, so you will need to source this yourself.
---
SAAB J29 Droptanks Type 1 or 2(?)
Code 48-R-007
Price: 120.00kr (around £10)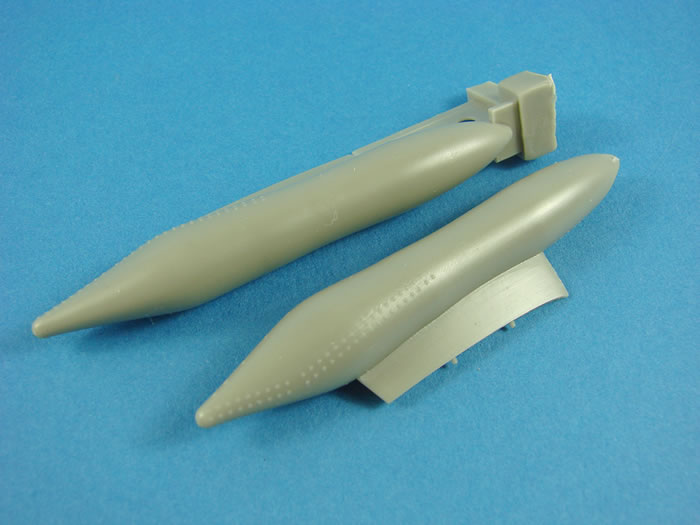 The reason for the lack of knowing about the tanks type number is that two sets of tanks are listed on the Pilot Replicas site; one with rear fin, and one without. Both are shown as type 2, but I don't know if that is correct. The instructions sheet still states these are type 2 and they are without the fin. This set is supplied in a ziplock wallet, with an indication as to which tank is for port and starboard. The two parts are cast in medium grey resin, and one tank has a casting block, whereas the other doesn't. It appears to have been removed already. Detail is very nice, and the casting flawless. The tank and pylon are integrally cast, meaning you just need to plug them to your model.
My sincere thanks to Pilot Replicas for the samples.
---
Review Text Copyright © 2016 by James Hatch
Page Created 29 March, 2016
Last updated 29 March, 2016
Back to HyperScale Main Page
Back to Reviews Page