Spitfire Mk.IXc Late Version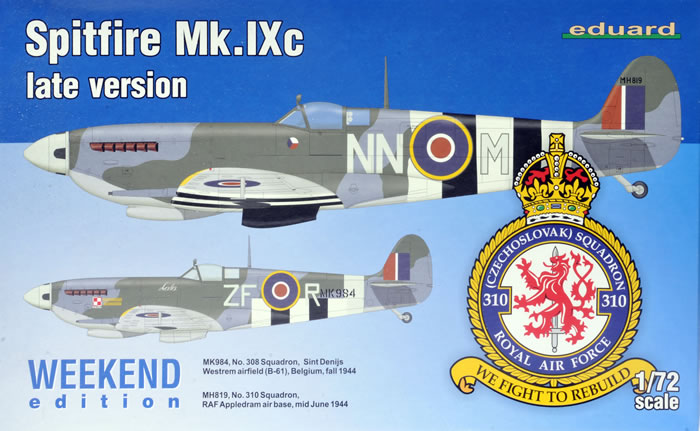 Weekend Edition, 1/72 scale
S u m m a r y

Catalogue Number:
Eduard Kit No. 7431 - Spitfire Mk.IXc Late Version Weekend Edition
Scale:
1/72
Contents and Media:
165 parts in grey coloured plastic (many alternate parts not used); 15 parts in clear; markings for two aircraft
Price:

USD$14.41 plus shipping, available online from Eduard

USD$13.99 plus shipping available online from Squadron

GBP£10.99 (Export Price £9.16) plus shipping online from Hannants

Review Type:
FirstLook
Advantages:
Accurate; high level of detail even with the plastic parts only; fine surface features including crisply recessed panels and subtle rivet lines where appropriate;separate parts for closed and open canopy; many options including kinked/straight metal/fabric elevators, two styles of gear doors, three different upper engine cowlings, clipped, pointy HF or full-length wing tips, two styles of slipper tank, cylindrical drop tank, three types of wheel hubs (three spoke, four spoke, five spoke and covered), bombs and pointed/rounded rudder.
Disadvantages:
None noted.
Conclusion:
Eduard has repeated its 1/48 scale triumph with their 1/72 scale Spitfire family - accurate dimension, impressive detail and many options. If you're not a fan of photo-etched parts, or if you are on a tight modelling budget, or if you just love a bargain, this Weekend Edition version of the Spitfire MkIXc is for you! Highly Recommended.

Reviewed by Brett Green

Eduard's 1/72 scale Spitfire Mk.IXc Late Version Weekend Edition
is available online from Squadron.com
The Focke-Wulf Fw 190 asserted its authority as soon as it appeared over the Channel Front in September 1941. It was so clearly superior to the Spitfire Mk.V that RAF Fighter Command curtailed operations twice - from November 1941 to March 1942, and again from 13 June 1942 - due to unacceptably high losses against the Luftwaffe's "Butcher Bird".
The Rolls-Royce Merlin 60 series engines would offer the Spitfire the essential edge it needed to balance the scales against this new foe, but the high altitude Spitfire Mk.VII and the unpressurised Mk.VIII were still many months away from production.
An interim proposal was therefore made to provide a suitable solution in a more timely fashion. The Merlin 61 engine would be fitted to the existing Spitfire Mk.V airframe, matching the Fw 190s performance at medium and high altitudes. This aircraft was known as the Spitfire F.Mk.IX, Type No.361.

The resulting Spitfire retained the clean lines of the earlier Mks. I, II and V, but featured a longer and modified fuselage to accommodate the bigger engine, revised intakes, radiators and oil coolers, and a four-bladed propeller to absorb the greater power.
Although initially conceived as a stop-gap measure, the Spitfire Mk.IX and the essentially similar Mk.XVI (powered by a Packard Merlin engine) eventually became the most numerous of all Spitfire variants with more than 7,000 delivered to the RAF, the VVS and other Allied air forces.
The initial production version of the Spitfire Mk.IXc could be distinguished by a small carburettor intake below and behind the nose, elevators with diagonal mass balances and wide blisters on top of the wings covering both cannon bays.
Typical external characteristics of the later Spitfire Mk.IXc included narrow wing blisters over the inboard cannon bay only, new kinked mass balances on the elevators and a wider, longer carburettor intake. Some Mk.IXcs were also fitted with the tall pointed rudder from the Mks.VII and VIII.
The Spitfire Mk.IX continued in front line service until the end of the Second World War and beyond.
---
The Spitfire Mk.IX in 1/72 scale
There has been no shortage of Spitfire Mk.IXs in 1/72 scale over the decades.
Many of these are just plain old, with basic details and raised panel lines.
Of the more recent crop, the Hasegawa kit, originally released in 1996, was a favourite for many years, but it suffers from a slightly short fuselage, questionable upper engine cowl shape and basic interior detail.
The Airfix Spitfire Mk.IXc released in 2010 was a disappointment with its wide, soft surface detail, featureless wheel wells, an inconsistent mix of features and some accuracy issues. In summary, this model is not to the same standard as the latest Airfix releases.
Perhaps the most accurate of all the injection moulded Spitfires was the Ventura (currently reboxed as Jays Model Kits) 1/72 scale late Merlin Spitfire series. Ventura offered a Mk.VII, Mk.VIII, Mk.IXc, Mk.XI and several related Seafire variants. These, however, are unashamedly short run, low pressure injection moulded kits and feature some of the heaviest, thickest mould channels, flash and sprue attachments that you will find. They also have no interior detail to speak of, and even some exterior details have to be built from scratch. Although the kits can look terrifying on the sprues, surface detail was crisp and fine, and once the major parts were cleaned up fit was generally good. Even so, in today's environment this is one for the die-hards.
Both A.Z. Model and Sword released a family of 1/72 scale late-Merlin Spitfire kits starting in 2012. Both are limited run kits but the quality of moulding is very good and surface detail nicely done. The level of detail, including the cockpits, is good too.
Last year, however, Eduard changed the game with their fabulous new 1/72 scale Spitfire Mk.IXc and left the others in its wake.
Eduard released their 1/48 scale Spitfire Mk.IXc in 2013 to a tsunami of well-deserved praise. The kit was then, and remains today, easily the best Spitfire in 1/48 scale. They released their brand new 1/72 scale Spitfire Mk.IX last year, and it was just as impressive in terms of accuracy, detail and fit.
Eduard has now released a Weekend Edition of their 1/72 scale Spitfire Mk.IXc Late Version. Weekend Edition kits are provided with plastic parts and decals for either one or two options, minus photo-etch and masks, but at a lower price.
Eduard's 1/72 scale Spitfire Mk.IXc Late Version Weeekend Edition comprises 165 parts in grey plastic, 15 parts in clear, and markings for two options.
Of these parts, 62 are marked not for use and quite a few more are optional.
Surface Texture
If you have have admired the surface detail on any of Eduard's recent 1/72 scale releases, you won't be disappointed with this one.
Panel lines are crisp, even and quite fine. They are proportionally wider than the 1/48 scale Spitfire (unavoidably), but they will look great under a coat of paint on the finished model. Lines of rivets are present. They are very subtle - at least the equal of those found on Eduard's exquisite 1/72 scale Wurgers.
The rivet lines seem to accurately follow the pattern applied to the full-sized aircraft too.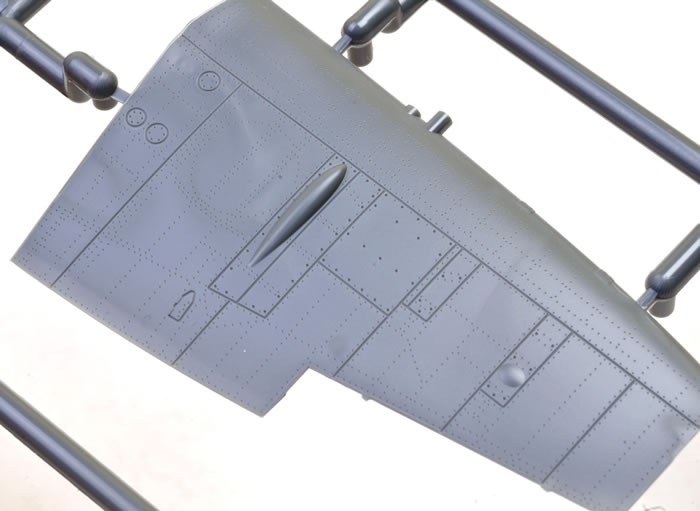 It is difficult to fairly portray the panel lines and rivets in photographs, as studio lights tend to overemphasise them, especially on the bare plastic.
The rivets are visible on the real aircraft too, but the degree of prominence will depend on a number of factors - the gloss level of the paint, lighting, weathering, the angle and distance of the observer and more.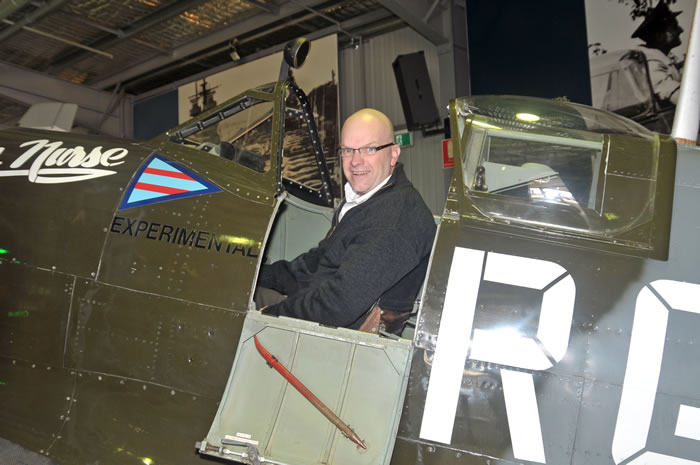 These photos show the airworthy Spitfire Mk.VIII at the Temora Aviation Museum taken during a visit in 2009. Granted, this example is glossy and restored but the rivet patterns are very obvious when viewed close-up.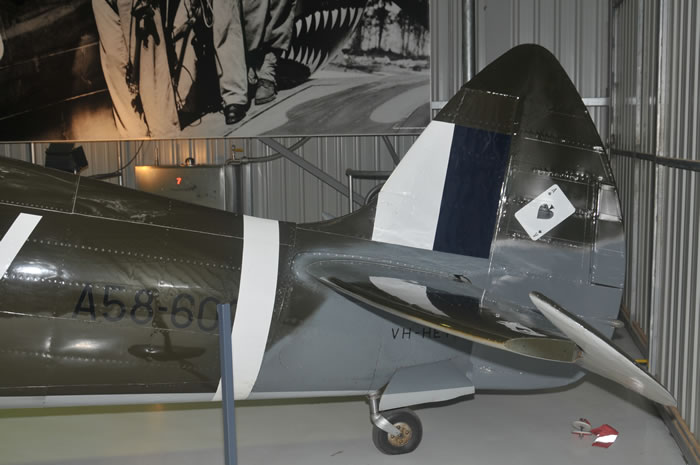 Just like on the real aircraft, after a coat of matt paint and putting a little distance between the observer and the model, the rivet detail will be very subtle (unless you decide to emphasise it with washes and other weathering techniques, but that is entirely your prerogative!)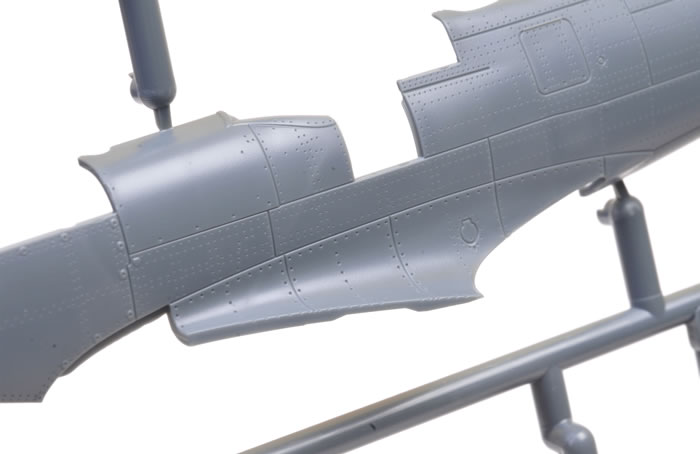 There are some raised details too, including the cowl fasteners and patches over the wing machine gun ports. In my opinion, these are reasonably restrained (once again, looking exaggerated in this photo under the studio lights) and I will probably leave them all in place.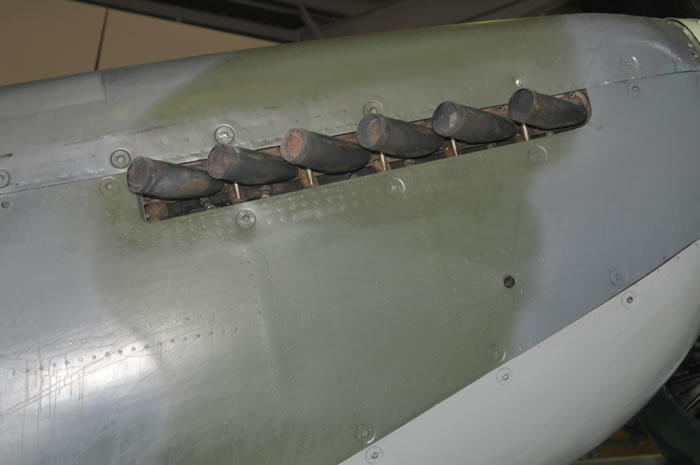 The fasteners are visible on the real aircraft (this time Temora's Mk.XVI, which features flatter paintwork) but if the raised version on the kit are not to your taste it will be a simple matter to sand them down.
Fabric detail is impressive too, with raised rib strips depicted on the control surfaces.
---
Detail
The wheel wells and undercarriage parts are well detailed.
The wheel well openings are slightly oval in shape. This corresponds with the shape shown in the plans in Robert Bracken's book, "Spitfire - The Canadians" (Volume One).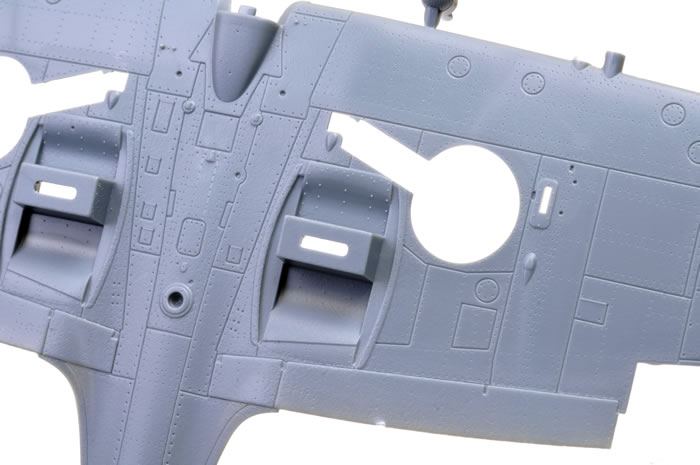 Fishtail and straight pipe exhausts are included. They are supplied in one piece for each side but in this very small size the stacks are understandably not hollowed out at the end.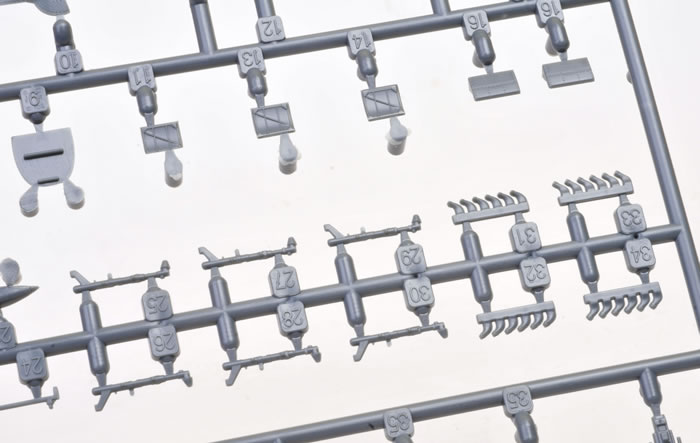 ---
Engineering and Options
The kit is broken down conventionally. The fuselage is full-length with the only insert being the forward wing root (one part with a blister fairing and one without). The top engine cowling is split lengthwise into two pieces and three combinations are possible, although only two are applicable for this kit. The instructions advise which version applies to what marking option.
The lower cowl is separate too. The late and early versions are included, but the early version cannot be used yet as the back half of the big late-version carburettor intake is moulded in place on the lower mid wing.
The wings are also moulded without inserts. The narrow C wing bulges are moulded in place over the inboard cannon bay.
Ailerons and the rudder are separate, while the flaps are moulded closed. This is another sensible decision, as the flaps were rarely seen dropped at any time other than on final approach to landing.
The early elevators with the straight diagonal mass balance are provided as well as the late kinked version. Two late options are offered, with the choice of metal or fabric covered surfaces.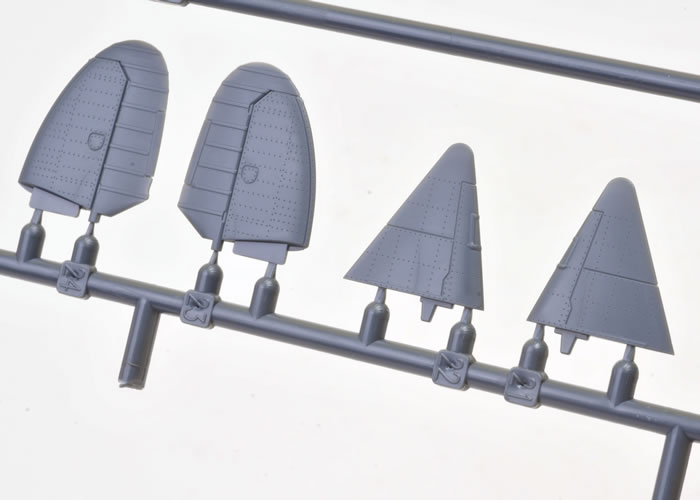 The elevators are moulded neutral as part of the horizontal stabilisers. Early and late separate ailerons are included too.
The early rounded and later tall pointed rudder are also included.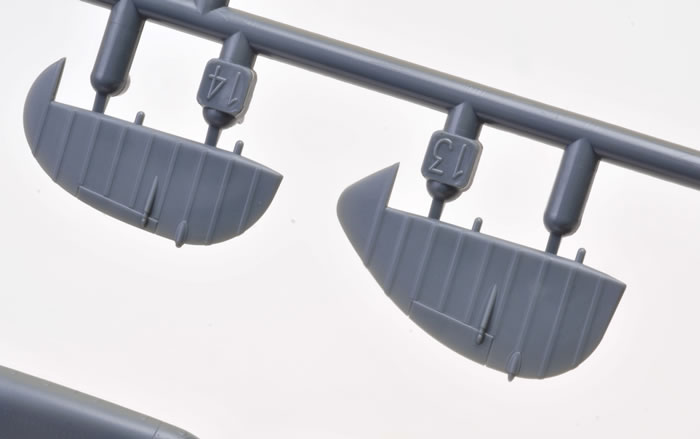 Other options include a choice of wheel hubs (three spoke, four spoke, five spoke and covered, with photo-etched covers supplementing the plastic parts); two styles of gear doors; two sizes of under-fuselage slipper tanks; one cylindrical drop tank; two 250 lb British bombs and racks; plus standard, HF or clipped wing tips.
In fact, the modeller is offered two options for the clipped wing tips - one set is clear and the other moulded in grey plastic.
The canopy side door is a separate part too, with the option of posing the door open or closed. Three different parts are supplied depending on whether the door is open or closed, and whether the canopy is slid back.
The clear parts are free from distortion and thin. A number of parts here are destined for future releases, including the bubble top canopy.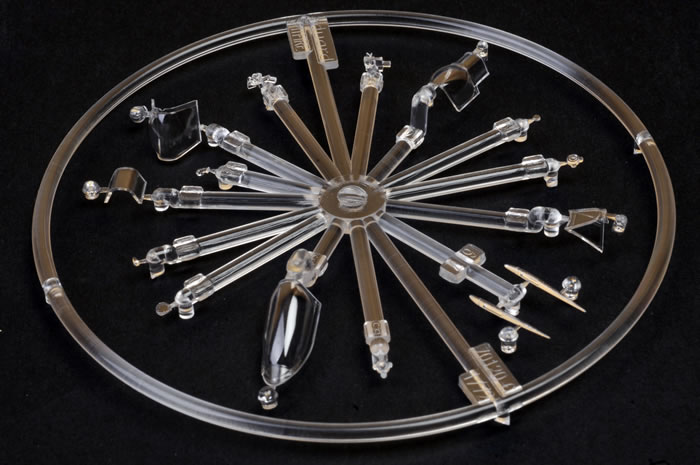 The closed canopy option comprises a combined sliding section and rear section, while the open canopy supplies a separate sliding section to sit over the rear clear part.
---
Markings
As is common for Weekend Edition kits these days, markings are supplied for two aircraft:
MH819, 310 Squadron, RAF Appledram, mid-June 1944

MK984, 308 Squadron, Sint Denijs Westrem airfield, Belgium, late 1944
Both aircraft are finished in the Day Fighter Scheme of Dark Green and Ocean Grey over Medium Sea Grey with Sky coloured spinners. One aircraft wears full invasion stripes while the other has stripes on the lower fuselage only.
Everything is in register on my sample.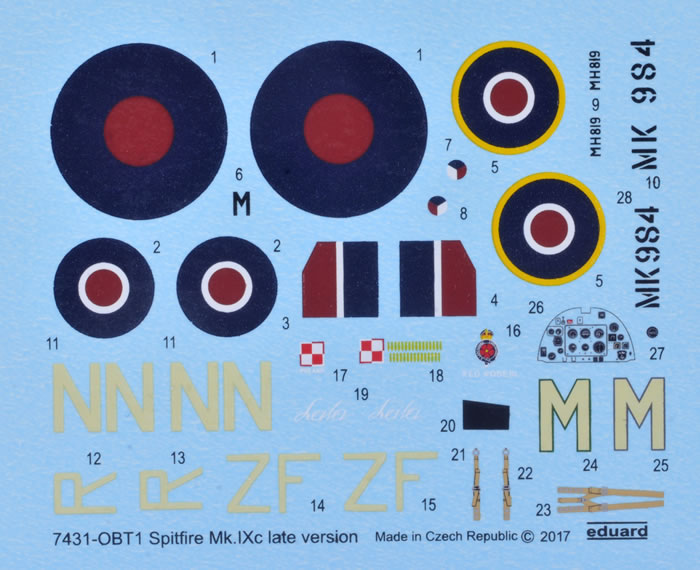 The colours and registration look good.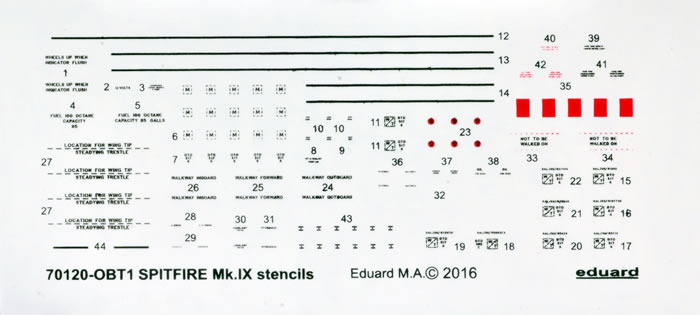 Stencils are provided on a small second sheet.
Eduard has repeated its 1/48 scale triumph with their 1/72 scale Spitfire family - accurate dimension, impressive detail and many options.
If you're not a fan of photo-etched parts, or if you are on a tight modelling budget, or if you simply love a bargain, this Weekend Edition version of the Spitfire MkIXc is for you!
Highly Recommended.
Thanks to Eduard for the sample
---
Review Text Copyright © 2017 by Brett Green
Page Created 1 August, 2017
Last updated 1 August, 2017
Back to HyperScale Main Page
Back to Reviews Page