Messerschmitt Bf 109 G-2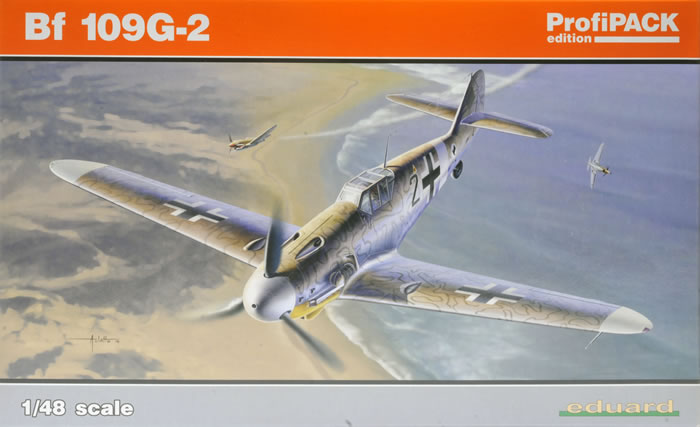 Eduard ProfiPACK, 1/48 scale
S u m m a r y

Catalogue Number:
Eduard Kit No. 82116 - Messerschmitt Bf 109 G-2 ProfiPACK
Scale:
1/48
Contents and Media:
186 parts in grey coloured plastic (including 98 marked not for use); 14 parts in clear (8 not used); colour photo-etched fret; self-adhesive die-cut masking sheet; markings for six aircraft
Price:

USD$49.95 plus shipping, available online now from Eduard

GBP£32.60 (£27.17 Export Price) plus shipping available from Hannants

Review Type:
FirstLook
Advantages:
Accurate; high level of detail; outstanding surface features including crisply recessed panels and subtle rivet lines where appropriate; includes colour photo-etched parts; separate control surfaces; many useful options including alterative propeller blades, wheels, oil cooler housings, bomb racks, trop filter and supercharger intakes (some parts not applicable for this kit); high quality decals; includes die-cut canopy masks.
Disadvantages:
Toothy exhaust stacks; paper cover stuck to decal sheet on my sample.
Conclusion:

This is the first time that Eduard has released a Messerschmitt Bf 109 G-2 as a standalone kit.

Eduard's 1/48 scale Bf 109 G-2 kit is accurate, well detailed and boasts surface textures as good as anything currently available. The addition of coloured photo-etched parts plus an excellent decal sheet with six varied options is a real bonus.

I have already built three of Eduard's 1/48 scale Bf 109 G kits and they were a joy to work on - straightforward engineering, brilliant fit and a gorgeous result once they're finished. I have no reason to expect that this kit will be any different.

Highly Recommended.

Reviewed by Brett Green

Eduard's 1/48 scale Messerschmitt Bf 109 F-4 ProfiPACK will be available online from Squadron.com
The Bf 109 G-series was developed from the largely identical F-series airframe, although there were detail differences. Modifications included a reinforced wing structure, an internal bullet-proof windscreen, the use of heavier, welded framing for the cockpit transparencies, and additional light-alloy armour for the fuel tank. It was originally intended that the wheel wells would incorporate small doors to cover the outer portion of the wheels when retracted. To incorporate these the outer wheel bays were squared off. Two small inlet scoops for additional cooling of the spark plugs were added on both sides of the forward engine cowlings. A less obvious difference was the omission of the boundary layer bypass outlets, which had been a feature of the F-series, on the upper radiator flaps.
Like most German aircraft produced in World War II, the Bf 109 G-series was designed to adapt to different operational tasks with greater versatility; larger modifications to fulfil a specific mission task, such as long-range reconnaissance or long-range fighter-bomber, were with "Rüststand" and given a "/R" suffix, smaller modifications on the production line or during overhaul, such as equipment changes, were made with kits of pre-packaged parts known as Umrüst-Bausätze, usually contracted to Umbau and given a "/U" suffix. Field kits known as Rüstsätze were also available but those did not change the aircraft designation. Special high-altitude interceptors with GM-1 nitrous oxide injection high-altitude boost and pressurized cockpits were also produced.
The newly fitted Daimler-Benz DB 605A engine was a development of the DB 601E engine utilised by the preceding Bf 109 F-4; displacement and compression ratio were increased as well as other detail improvements to ease large-scale mass production. Takeoff and emergency power of 1,475 PS (1,455 hp, 1,085 kW) was achieved with 1.42 atm (42.5 inches/6.17 lbs) of boost at 2,800 rpm. The DB 605 suffered from reliability problems during the first year of operation, and this output was initially banned by VT-Anw.Nr.2206, forcing Luftwaffe units to limit maximum power output to 1,310 PS (1,292 hp, 964 kW) at 2,600 rpm and 1.3 atm manifold pressure (38.9 inches/4.4 lbs). The full output was not reinstated until 8 June 1943 when Daimler-Benz issued a technical directive. Up to 1944, the G-series was powered by the 1,475 PS Daimler-Benz DB 605 driving a three-blade VDM 9-12087A variable-pitch propeller with a diameter of 3 m (9.8 ft) with even broader blades than used on the F-series. Pitch control, as on the 109F, was either electro-mechanical (automatic) or manual-electric using a thumb-switch on the throttle lever.[61] From 1944 a new high-altitude propeller with broader blades was introduced, designated VDM 9-12159, and was fitted to high-altitude variants with the DB 605AS or D-series engines.
The early versions of the Bf 109G closely resembled the Bf 109 F-4 and carried the same basic armament; however, as the basic airframe was modified to keep pace with different operational requirements, the basically clean design began to change.
---
Bf 109 G-1 and G-2
The G-1, produced from February 1942, was the first production version of the G-series and the first production Bf 109 with a pressurized cockpit. It could be identified by the small, horn-shaped air intake for the cockpit compressor just above the supercharger intake, on the left upper cowling. In addition, the angled armour plate for the pilot's head was replaced by a vertical piece which sealed-off the rear of the side-hinged cockpit canopy. Small, triangular armour-glass panels were fitted into the upper corners of this armour, although there were aircraft in which the plate was solid steel. Silica gel capsules were placed in each pane of the windscreen and opening canopy to absorb any moisture which may have been trapped in the double glazing. The last 80 G-1s built were lightweight G-1/R2. In these GM-1 nitrous oxide 'boost' was used, and the pilot's back armour was removed, as were all fittings for the long-range drop tank. A few G-1 flown by I./JG 1 are known to have carried the underwing 20 mm MG 151/20 cannon gondolas.

The Bf 109 G-2, which started production in May 1942, lacked the cabin pressurization and GM-1 installation. Performance-wise it was identical to the G-1. The canopy reverted to one layer of glazing and incorporated the angled head armour used on the F-4, although several G-2 had the vertical type as fitted to the G-1. Several Rüstsätze could be fitted, although installing these did not change the designation of the aircraft. Instead the "/R" suffix referred to the G-2's Rüstzustand or equipment condition of the airframe, which was assigned at the factory rather than in the field. There were two Rüstzustand[citation needed] planned for G-2s:
G-2/R1: Long-range fighter-bomber. It carried a bomb up to 500 kg (1,100 lb) under the fuselage and had a modified fuel system with underwing fittings for a 300 L (80 US gal) drop tank. As a standard Bf 109G had not enough ground clearance to carry a 500 kg bomb, a jettisonable auxiliary undercarriage was added just aft of the cockpit. The prototype was the FiSk 199. No production known

G-2/R2: a reconnaissance aircraft with GM-1 and camera equipment. The rack and internal fuel lines for carrying a 300 L (80 US gal) under-fuselage drop-tank were widely used on G-2s, as were the underwing 20 mm MG 151/20 cannon gondolas. Several G-2s were fitted with the ETC 500 bomb rack, capable of carrying one 250 kg (550 lb) bomb. The final G-2 production batches built by Erla and Messerschmitt Regensburg were equipped as tropical aircraft (often referred to as G-2 trop), equipped with a sand-filter on the front of the supercharger intake and two small, teardrop-shaped metal brackets on the left side of the fuselage, below the cockpit sill. These were used as mounts for specially designed sun umbrellas (called Sonderwerkzeug or Special tool), which were used to shade the cockpit.
A total of 167 G-1s were built between February and June 1942,[67] 1,586 G-2s between May 1942 and February 1943, and one further G-2 was built in Gy?r, Hungary, in 1943. Maximum speed of the G-2 was 537 km/h (334 mph) at sea level and 660 km/h (410 mph) at 7,000 m (22,970 ft) rated altitude with the initial reduced 1.3 atm rating. Performance of the G-1 was similar, but above rated altitude the GM-1 system it was equipped with could be used to provide an additional 350 horsepower.[69] With his G-1/R2, pilot R. Klein achieved 660 km/h (420 mph) at 12,000 m (39,370 ft), and a ceiling of 13,800 m (45,275 ft).
The following variants of the G-1 and G-2 were produced:
G-0 (Pre-production aircraft, powered by a DB 601E engine)

G-1 (Pressurized fighter, powered by a DB 605A engine)

G-1/R2 (Reconnaissance fighter)

G-1/U2 (High-altitude fighter with GM-1)

G-2 (Light fighter)

G-2/R1 (Long-range Fighter-bomber or JaboRei, with 2 × 300 L/80 US gal underwing drop tanks, 500 kg/1,100 lb bomb under fuselage, extended second tail wheel, only prototype)

G-2/R2 (Reconnaissance fighter)

G-2 trop (Tropicalized fighter) *
* Historical summary courtesy of Wikipedia
This is the first time that Eduard has released a 1/48 scale Messerschmitt Bf 109 G-2 on its own. Eduard offered a Messerschmitt Bf 109 G-2 in their 2014 Royal Class Bf 109 G release, but this is the debut release of the standalone kit.
Also note that the 2014 Royal Class kit was the original tooling, whereas this G-2 is based on the new and improved tooling that appeared in 2016.
Eduard's new 1/48 scale Bf 109 G-2 ProfiPACK comprises 186 parts in grey plastic, although there are 98 marked "not for use", bringing the total actually used to 88. There are also 14 parts in clear (8 not used), a coloured photo-etched fret, a brass photo-etched fret, self-adhesive canopy masks and markings for six aircraft.
I think that we have seen all of these plastic sprues before in either Eduard's Bf 109 F or G-6 kits, but this is the first time in this particular combination.
The fuselage is presented as a full-length side per half, including the fin moulded in place, so there should not be any dramas with aligning multiple parts. The upper cowl is moulded to each fuselage half too, with inserts provided for the gun troughs.
In 2013, Eduard's Spitfire family set a new benchmark for 1/48 scale surface detail, and this new Bf 109 G-2 is equally impressive in this regard. Panel lines are very crisp, fine and even. Lines of rivets are present, but they are very subtle.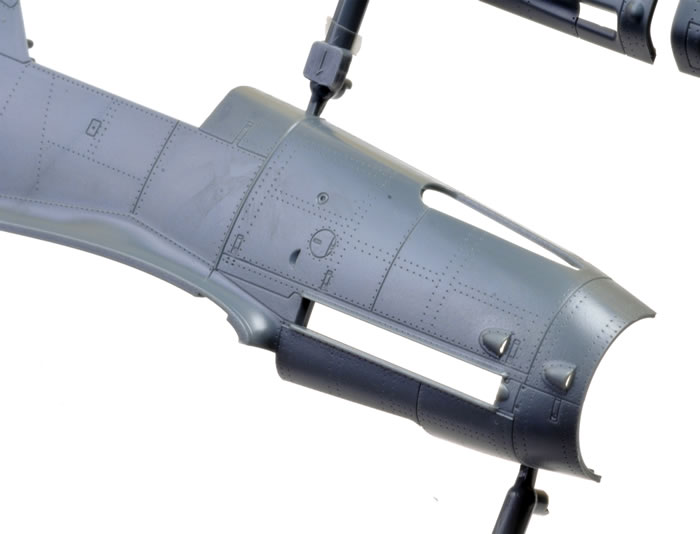 Fabric matches this high standard, with strip and stitching texture beautifully presented on the control surfaces. If you look closely enough, you will even see the zig-zag pinking edges on the fabric strips.
Eduard combines plastic and colour photo-etched parts in their ProfiPACK, resulting in a very high level of detail straight from the box. The cockpit benefits most from the dedicated Bf 109 G-2 coloured photo-etch with a nice multi-layered instrument panel, harness straps and other coloured details. Half-tones and shading seem to have taken a great leap forward on this photo-etched fret, especially the harness straps.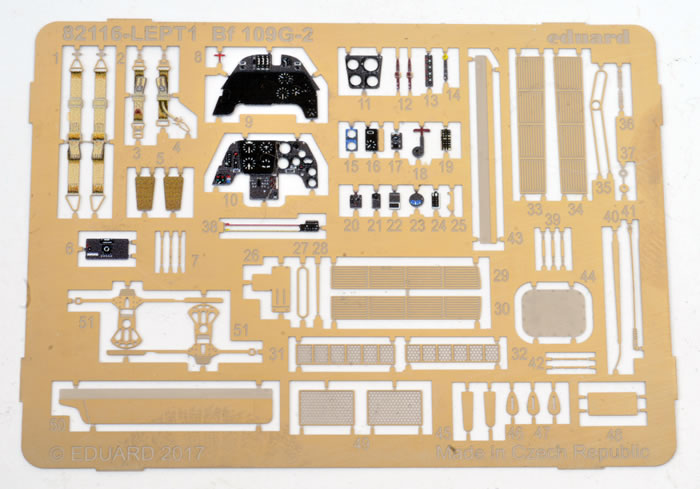 A second brass photo-etched fret supplies more detail for the exterior.
The cockpit is fitted with the pan G-style seat
The canopy is offered in three pieces with the windscreen, fixed rear section and poseable centre. The inclusion of the clear fuel line is a welcome touch. The inspection tube may be masked so that it remains clear after painting.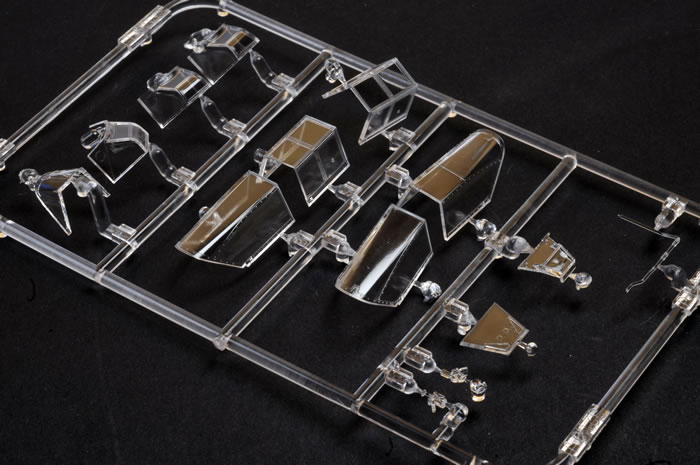 The circular wheel wells are nicely detailed. Eduard depicts the wheel well sidewalls with the zippered canvas covers at the front and rear. The fabric texture looks good, and the zipper is represented by a raised line.
The exhausts are supplied in one piece for each side with an optional moulded-on shroud. The centreline weld beads are present, and each of the stacks are hollowed out at the end.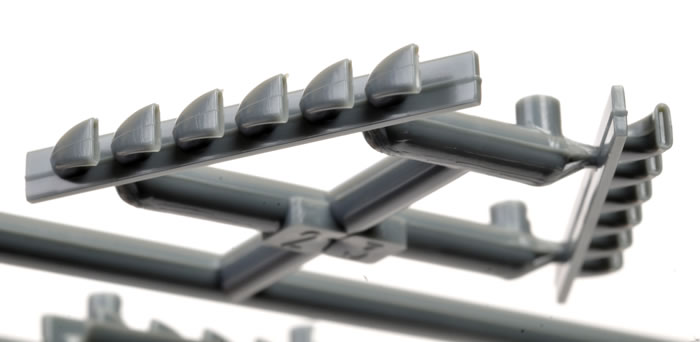 Three propeller assembly options are supplied with nice pitch collar and hub detail.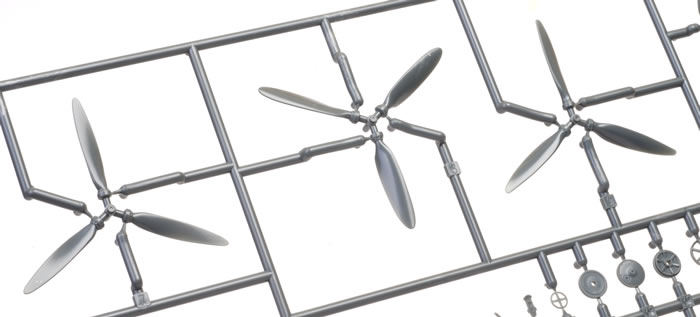 Two styles apply to earlier versions, while the third is appropriate for the Bf 109 G-2.
---
Engineering and Options
The model may be built as a standard G-2, or a G-2/Trop, or an R6 gunboat.
Other options are also available on the sprues although not necessarily mentioned in the instructions.
The kit is broken down conventionally. The fuselage is full-length with no structural inserts. The two deep pressed gun troughs are separate parts.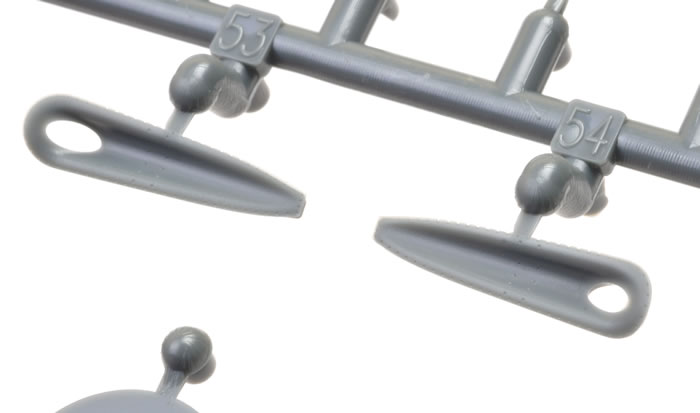 The upper and lower cowls are moulded as part of the fuselage sides.
Two full sets of wings are included - one with the wheel bulges on the upper wings and one without.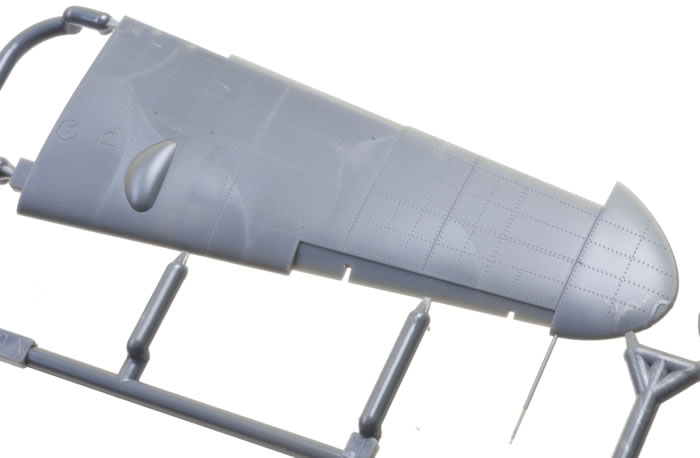 Check your references carefully as it would appear that the wider wheels and the bulges were introduced during the production run.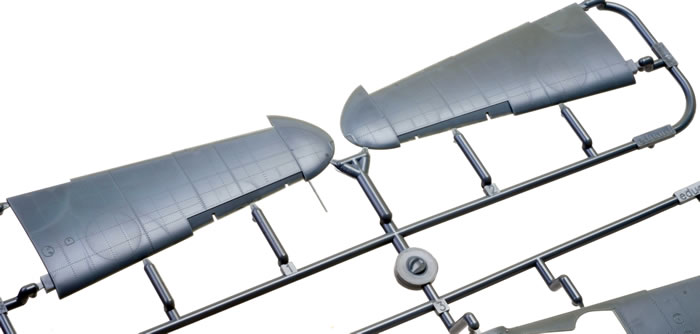 There are a quite a number of options on the sprues that apply to earlier or later versions, so pay attention to the instructions.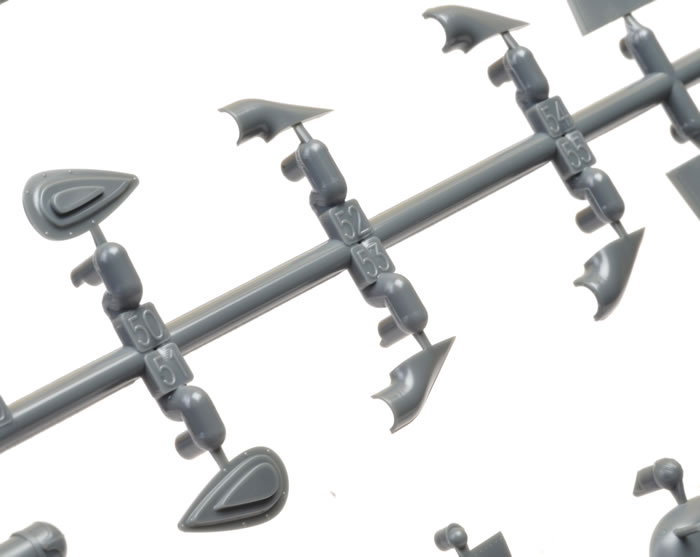 Your spares box will enjoy a boost!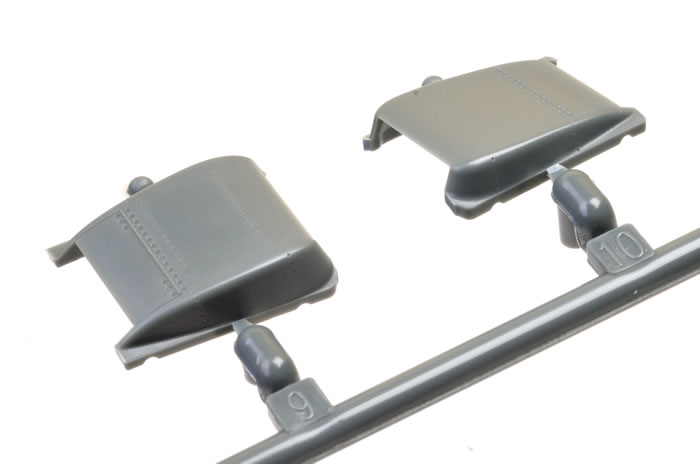 The wing tips are moulded as part of the upper wing halves with solid navigation lights and the pitot tube moulded in place.
All control surfaces are separate, including leading edge slats, ailerons, flaps, elevators and rudder. The ramps at the leading edges of the radiator housings and the cooling flaps at the back of the oil coolers are moulded shut. All the radiator faces are supplied as photo-etched parts.
Many options are offered on the sprues including a drop tank, bombs, bomb racks and different styles of wheel hubs. Some of these relate to earlier and later Bf 109 G or F versions and do not apply, but others – even though they are marked "not for use" – might come in handy for the enterprising modeller.
Check your references to see which of these features is present on your preferred subject – a number of different combinations are possible.
---
Markings
Markings are supplied for five varied Messerschmitt Bf 109 G-2s.
Bf 109 G-2/trop, 2./ JG 77, Matmata, Tunisia, early 1943. Finished in desert colours of RLM 78 and 79 with a squiggly green pattern over the upper surfaces.

Bf 109 G-2/R-6/trop, W. Nr. 13916, Fw. Hans Döbrich, 6./ JG 5, Alakurtti, Finland, February 1943with winter whitewash.

Bf 109 G-2/R6, Lt. Walter Krupinski, 6./ JG 52, Maykop, Soviet Union, October 1942 in classic mid-war greys, RLM 74, 75, 76, and yellow Eastern Front theatre markings.

Bf 109 G-2/R6 W. Nr. 13949, Mjr. Hans Hahn, II./ JG 54, Rjelbitzy, Soviet Union, January 1943 in winter whitewash.

Bf 109G-2/R6, W. Nr. 13633, Hptm. Wolf-Dieter Huy, 7./ JG 77, Tanyet Harun, Egypt, October 1942 wearing an interesting non-standard two-colour upper surface.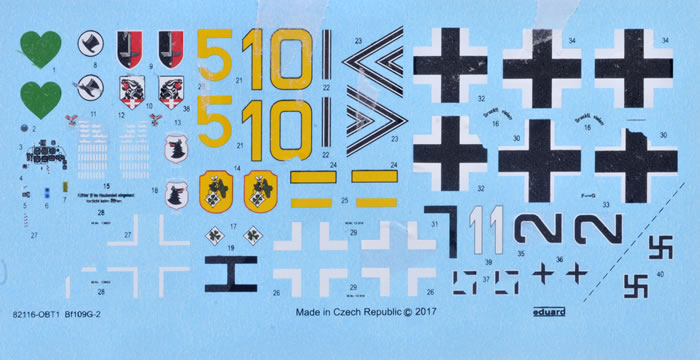 The two decal sheets are perfectly printed in the Czech Republic. One sheet carries the national markings and unique numbers, chevrons, Gruppe markings, unit insignia and kill markings; while the other has a wide selection of generic Bf 109 stencil markings.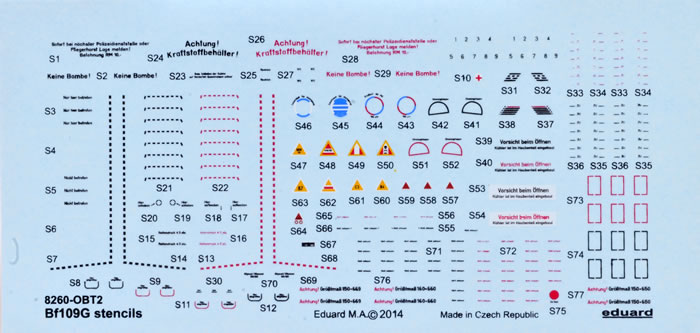 Printing, colours and registration is perfect on my sample, however, the wax paper cover had stuck to some of the decals on my sheet, lifting them when I removed it.
This is the first time that Eduard has released a 1/48 scale Messerschmitt Bf 109 G-2 as a standalone kit.
The model is accurate, well detailed and boasts surface textures as good as anything currently available. The addition of coloured photo-etched parts plus an excellent decal sheet with six varied options is a real bonus.
I have built three of Eduard's 1/48 scale Bf 109 G kits and they were a joy to work on - straightforward engineering, brilliant fit and a gorgeous result once they're finished. I have no reason to expect that this kit will be any different.
I'll be building this one too!
Highly Recommended.
Purchased by reviewer.
---
Review Text Copyright © 2017 by Brett Green
Page Created 29 March, 2017
Last updated 30 March, 2017
Back to HyperScale Main Page
Back to Reviews Page