Delta Civilian Version
Delta Over Spain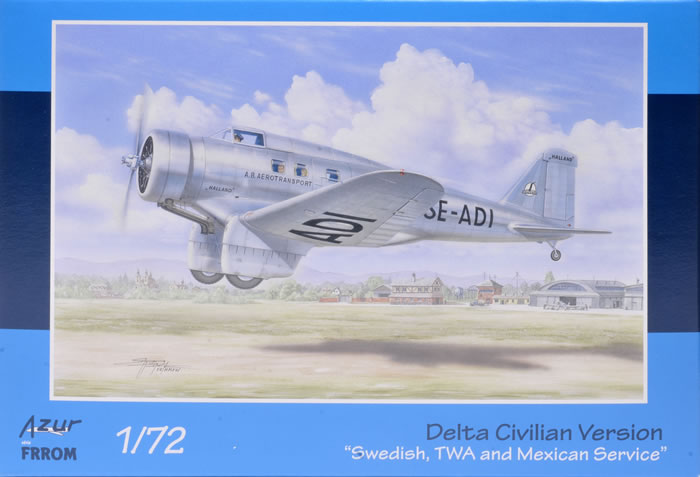 Azur serie FRROM, 1/72 scale
S u m m a r y :

Catalogue Number:

Azur FRROM Kit Nos.:

FR0032 Delta Civilian Version

FR0033 Delta "Over Spain"

Scale:

1/72

Contents & Media:

Common to both kits, with some surplus parts in both cases. 15 clear and 77 grey styrene parts of which 30 are surplus to both models. 3 decals options are supplied for either boxing.

Price:

Review Type:

First Look.

Advantages:

Lovely kits of a subject seldom presented in model form.

Disadvantages:

Side windows may be quite hard to fit without damage.

Conclusion:

These are two lovely kits of an interesting and unusual pre-war aircraft never-before offered in injection moulded form. There is plenty of scope to produce an interesting and colourful model.

Reviewed by Phill Weston


Eduard's 1/48 scale Bf 108 is available online from Squadron.com for only USD$23.07!

In 1932 a joint venture with the Douglas Aircraft Company resulted in Jack Northrop designing two closely related single engine aircraft; the Gamma as record-breaker and mail plane, and the Delta as a passenger transport (Could it be that the tail and rudder of the Delta look suspiciously like scaled-down versions of DC-2 equipment?). Both aircraft were low winged monoplanes of all-metal stressed skin construction with streamlined spats covering the fixed undercarriage legs. Both aircraft shared common wings whilst the Delta had a wider fuselage to accommodate a pilot and eight passengers. Eight passengers and a pilot in an aircraft of similar dimensions to a P-47 Thunderbolt or a Hawker Tempest must have made for fairly cosy travel!
The Delta first flew in 1933 and was granted a CoA in August of that year.
A change of air transport regulations in 1934 prohibited the flying of single engine aircraft carrying passengers at night or over rough terrain and this effectively halted the market for single engine airliners in the United States. Only three Deltas, ordered before the passing of the new regulations, were completed as passenger aircraft.
One aircraft was built for the United States Coast Guard. Designated the Northrop RT-1, this was used as the personal transport of Henry Morgenthau, Jr., the Secretary of the Treasury and as a staff transport. Seven more aircraft were built as executive transports for private owners. Of these, three were purchased by the Spanish Republicans for use in the Spanish Civil War. Two of these aircraft were captured by the Nationalists when the ship carrying them (along with four Vultee V-1s, a Fairchild 91 and a Lockheed Electra) was captured at sea. These two Deltas were used as Transports by Franco's forces, while the third Delta was used by the Republican airline Lineas Aéreas Postales Españolas (LAPE) until the end of the civil war when it was handed over to Franco's air force.
In 1935 Canada selected the Delta for use as a photographic survey aircraft for use by the Royal Canadian Air Force (RCAF) to be built by Canadian Vickers under license. One aircraft, the last Delta built by Northrop, was supplied as a part assembled pattern to Canadian Vickers, first flying on 16 August 1936 and being delivered to the RCAF on 1 September that year. It was followed by a further 19 aircraft built wholly by Canadian Vickers, production continuing until October 1940; it was the first all-metal, stressed-skin aircraft built in Canada.
The Royal Australian Air Force (RAAF) operated one impressed Delta from 1942 until 1943. The Delta had a length of 10.08 m (33 ft) and a wingspan of 14.55 m (47.7 ft). Power was provided by a single Wright SR-1820-F2 nine cylinder air-cooled radial of 548 kW (735 hp) giving a typical performance of 330 km/h (200 mph) at 1900 m (6300 ft) over a range of 2655 km (1650 mi) .
Source: Wikipedia.
---

Previous 1/72 Delta Kits
Prior to the release of these kits (and as far as I know) the closest thing to a 1/72 Northrop Delta was the Williams Bros Northrop Gamma kit. Esoteric Models produced a conversion from Gamma to Delta under the "Bodyjob" label (BJ-3) containing vac-formed components and decals. Long out of production, the conversion set is occasionally available on eBay but, like most Esoteric products, commands premium prices still. There was also, apparently, a Dekno resin kit of the later version of the Delta, but this was not widely available.
The parts breakdown of both kits is identical, differing only in colour and decal choice and comments are applicable to either. The "Civilian Version" allows the building of any of the first three Deltas and the "Spanish Version" depicts the aircraft sold in 1937 to the Spanish Republic, and then captured by the Nationalists and used until 1945.
They each come packed in a top opening box with attractive artwork on the lid.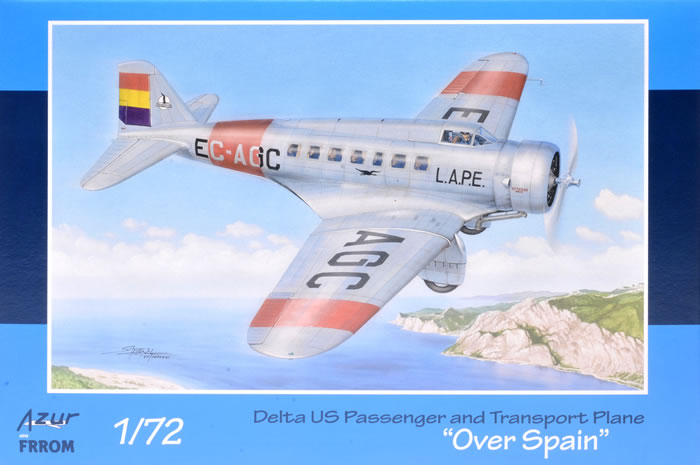 I have to admit that I am a fan of this type of robust packaging that can also be used as part of the building process. The main frames are in the largest re-sealable bag, with the clear frame and decals further enclosed in their own, smaller, re-sealable plastic bags. The decal sheet is also separately bagged.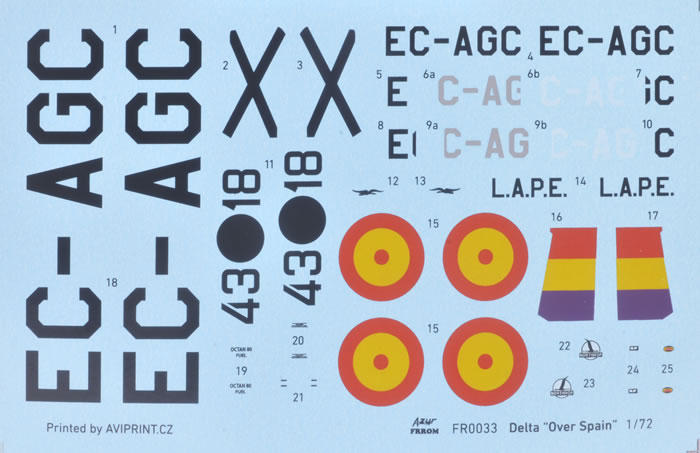 The instructions are A5 format booklets printed in colour on glossy paper with a brief aircraft history in French and English. They include a parts map that identifies surplus parts and use diagrammatic assembly stages that are clear and easy to follow.
Individual parts painting is indicated by letters keyed to a table of colours at the bottom of each instructional stage. Four-view colours and markings diagrams are provided within the instructions. These are highlighted in colour, with generic colour names in English and French. Gunze paint names and numbers, only, are used and some conversion will have to be done by the modeller if this brand is not available to them.
The first three Deltas had a narrow cockpit top allowing only one pilot, but later aircraft were fitted with a larger top and cockpit for two pilots. The Swedish version of the Delta had an enlarged port side door, making it a unique aircraft. FRROM has provided an additional instruction sheet and mask to allow the building of this version.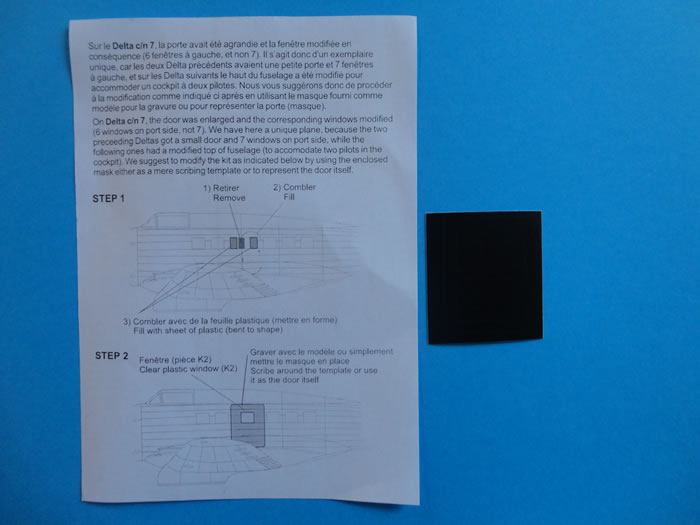 ---
The Kits
Both kits contain the same single clear and four grey parts trees.
The major airframe mouldings are nice and crisp with delicate and but clearly defined surface detail. Injection gates are fine and ejector pins thoughtfully placed. Small details are also quite adequately catered for and no resin or PE parts are included. The transparencies are crisp, with clear and acceptably thin canopy and windows. I am not sure how the cabin windows can be fixed without spoiling their clarity since there is no lip on which to locate them. This is obviously good for accuracy, but not so good for a clumsy modeller like me!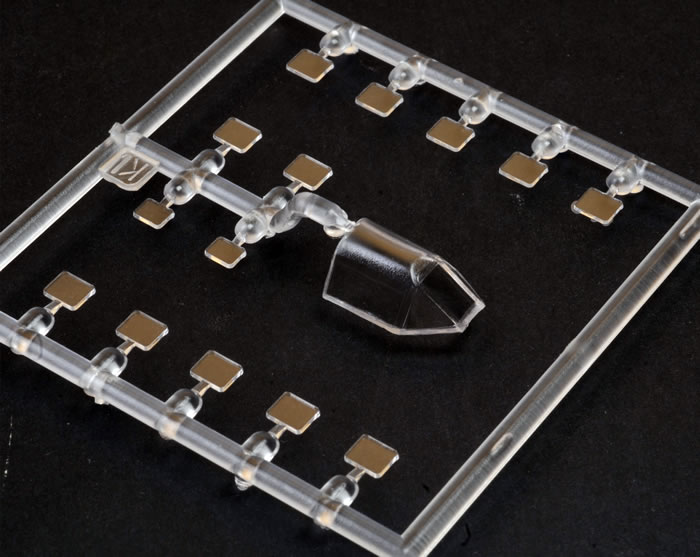 Cockpit detail is good for the scale and more than adequately represents the quite small flight deck. No seatbelts are supplied for either the pilot or the passenger seats and these will have to be independently sourced to give the cabin its best appearance.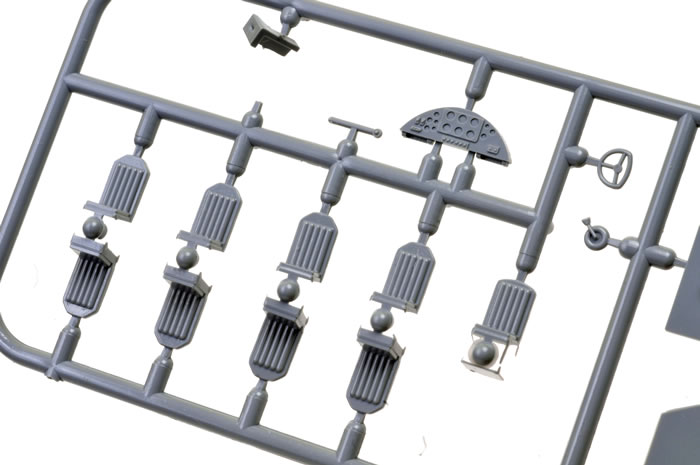 The wings should present no problems since the dihedral angle is set by the lower wing surface. Tail planes have small locating tabs to assist in their location.
The prominently visible Wright 1820 engine is nicely moulded and should look really effective when painted and enclosed within the cowling.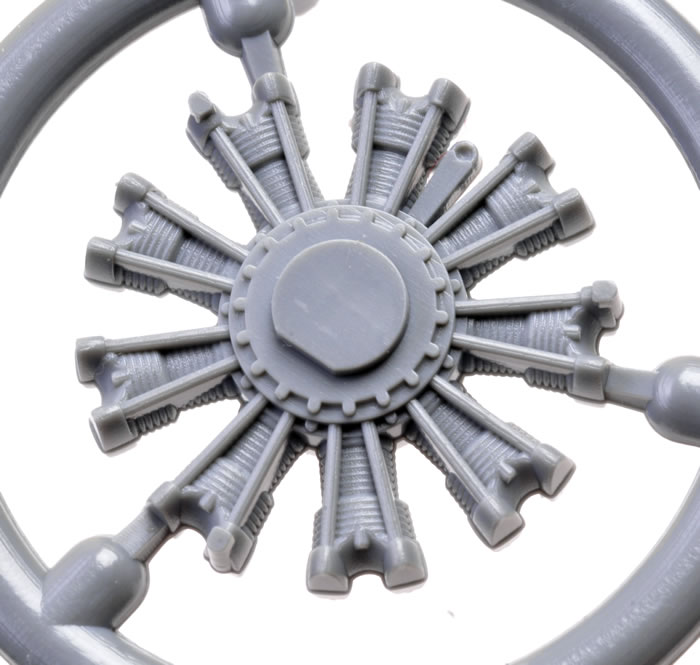 This is a lovely kit with straightforward engineering that should present no problems in its construction. Despite the small size of the model there is much worthwhile detail.
---

Markings
For each of the two models there are three different colour schemes and decal sets supplied.
Delta "Over Spain" (FR0033):
Scheme A: EC-AGC of L.A.P.E. airline Spanish Republic 1937-1938
Scheme B: EC-AGC of L.A.P.E. airline Spanish Republic 1938-1939
Scheme C: ex EC-AGC of L.A.P.E. of Spanish Airforce 1939-1945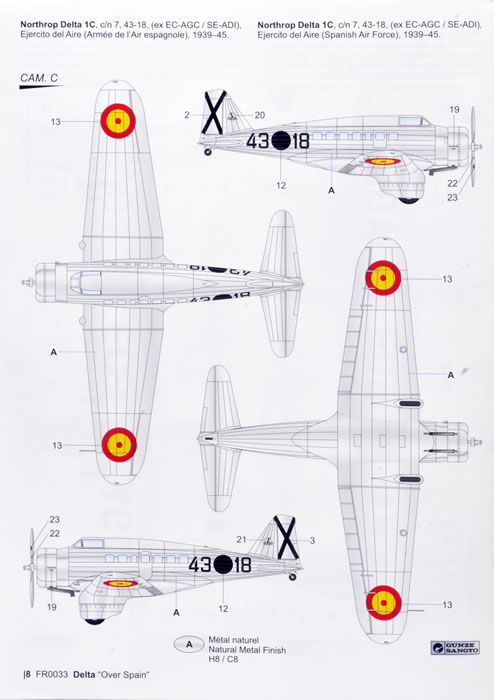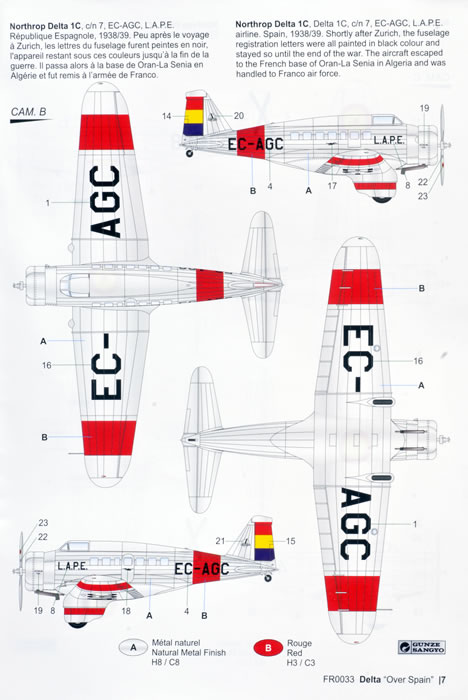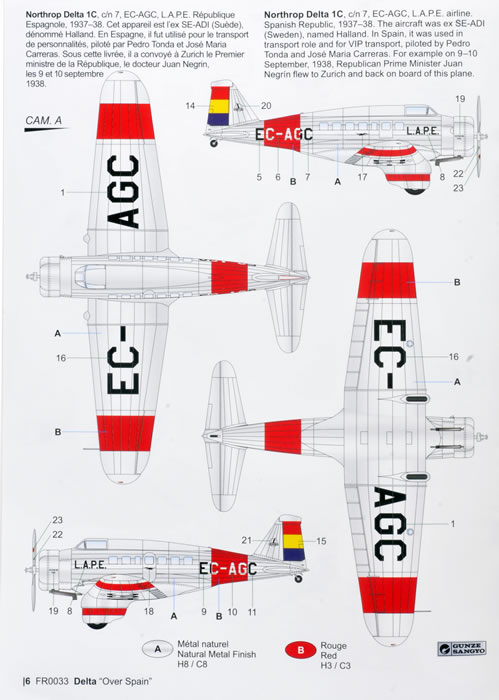 Delta "Civilian Version" (FR0032):
Scheme A: SE-ADI of A.B. Aerotransport airline Sweden April 1934 to May 1937
Scheme B: X12292 TWA – Trans World Airline August to November 1933
Scheme C: X-ABED Aerovias Centrales S.A. airline, Mexico August 1933 to May 1934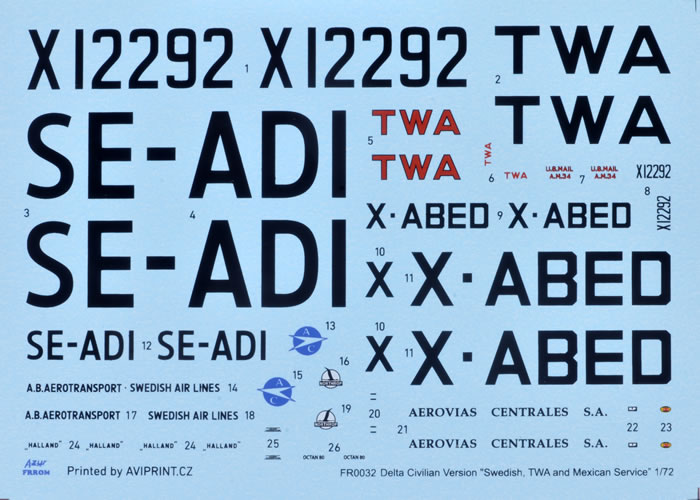 The decals are top notch in all respects, the Spanish schemes being particularly colourful and quite appealing to modellers interested in Spanish Civil War aircraft.
---
Azur serie FRROM Stockists
Azur serie FRROM is a niche line of kits produced under the umbrella of the Azur label, which is an MPM-group brand. FRROM stands for France & Romania, and refers to the types of subjects originally envisaged for this series; although it has quickly expanded beyond subjects from these two nations.
I have noticed is that various on-line shops list Azur serie FRROM either under Azur, or separately as FRROM or FRROM-Azur. Also, established Azur stockists do not necessarily carry Azur serie FRROM because of their different distribution channels. So if you are looking to buy FRROM kits be sure to check out all combinations of the brand name, and also suppliers you might not normally associate with Azur or other MPM-group products.
If in doubt contact FRROM and ask for details of your nearest stockist.
These are two lovely kits of an interesting and unusual pre-war aircraft never-before offered in injection moulded form. There is plenty of scope to produce an interesting and colourful model
Thanks to FRROM for the sample kits.
---
Review Text Copyright © 2016 by Phill Weston
Page Created 26 April, 2017
Last updated 28 April, 2017
Back to HyperScale Main Page
Back to Reviews Page