Craft Tools Rack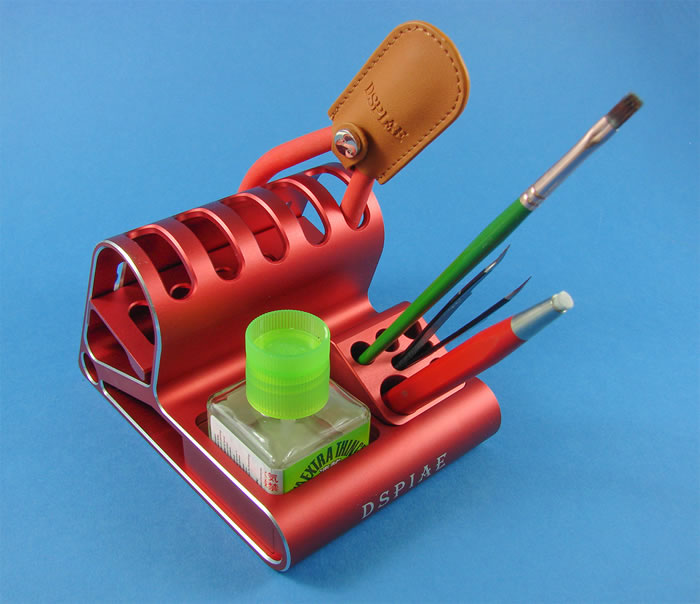 Breveco Modelling
S u m m a r y

Catalogue Number, Descriotion and Price:

Craft Tools Rack
DSPIAE
Catalogue # AT-R
Available from Breveco Modelling for €44,50




Contents and Media:
See description and images below.
Review Type:
FirstLook
Advantages:
Sturdy construction; simple idea; very useful addition to any modeller's bench.
Disadvantages:
Conclusion:
This is a quality tool, and that is reflected in the price, which I still think is very, very reasonable for a chunk of heavy, precisely machined metal and the other included parts.

Reviewed by James Hatch

HyperScale is proudly supported by Squadron.com

My workbench is always a clutter, despite it being fitted with a whole array of HobbyZone modules that store paint, brushes, tools etc.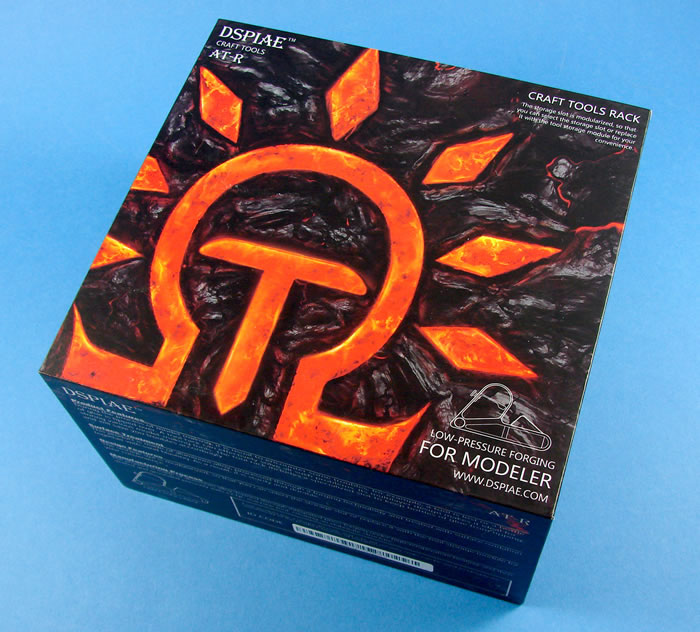 As modellers, we always tend to pull the same small number of key tools and things back to our bench as soon as we start work on our next project, or after a well-needed mid-project tidy. I'd been after a small tool rack so that I could keep just a few regular bits and pieces together. My good friends at Breveco Modelling told me that they had such an item in stock, from DSPIAE. This is the same company whose Stepless Adjustment Circular Cutter and Single Blade Nipper, that I recently reviewed here on Hyperscale. As luck would have it, Breveco were visiting Scale Model World 2017 at Telford, so I took the opportunity to pick one up from them in person.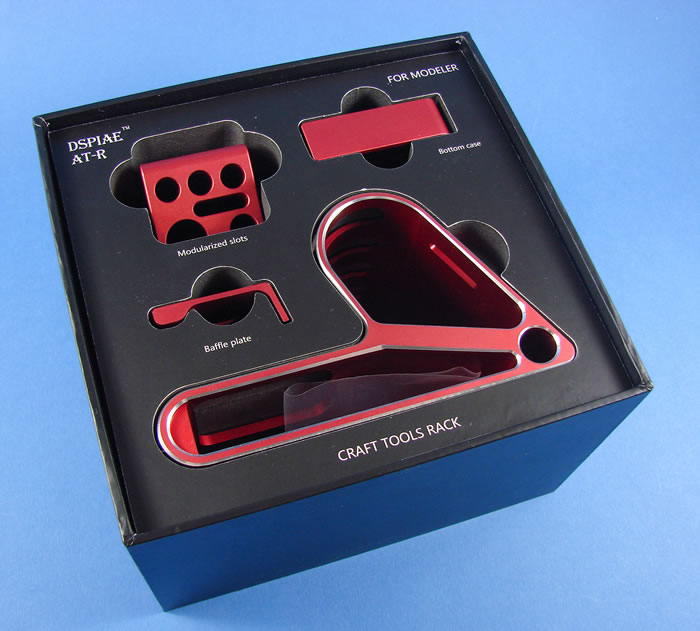 Now, this is no flimsy or lightweight box. This little package is actually quite heavy, and the box is built to withstand a nuclear blast, or so it would seem. The same high-quality presentation has gone into this product as it did with the others. Box art is a little unusual from the lid, with only a small number of words, and a side drawing of the rack is present. The box sides do give a little more away, with photos and some explanation of the product itself. The extremely robust lid took some effort to remove from the tray, such is the airtight fit of this. Underneath this lies a removable panel which shows the various parts within, and instructions on assembly of the tools rack (not that it's too difficult to fathom yourself!).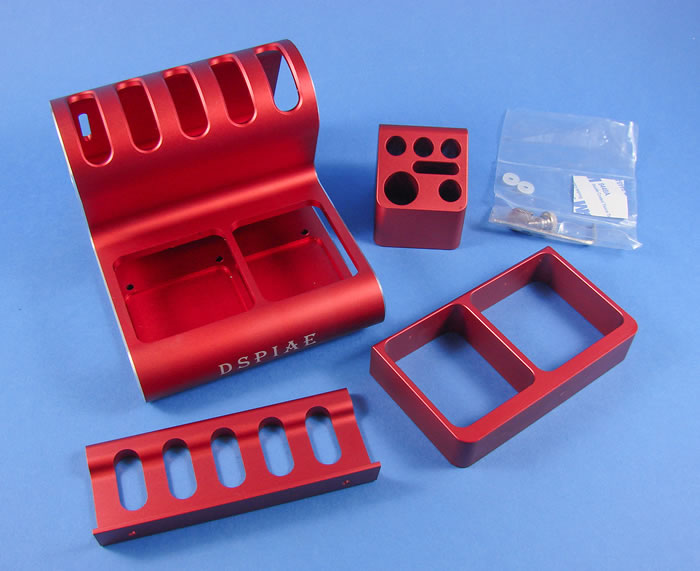 Lifting out the foam backed panel reveals a precisely cut foam block into which the various components are inserted, and each is named, just in case you had become confused at some point. All along, there's no doubt at the level of quality that DSPIAE has employed here, but does that carry over onto the tool rack itself? Well, the answer is a resounding YES! Each part is now lifted carefully from the box, including a small wallet with a number of screws, sticky feet and a hex-key. All of the main components of the rack have a super smooth finish and a red-anodising to them, creating a striking appearance. For an extra touch, the outer edges of the main rack are bevelled, removing the anodising, and allowing the shine of the aluminium to come through.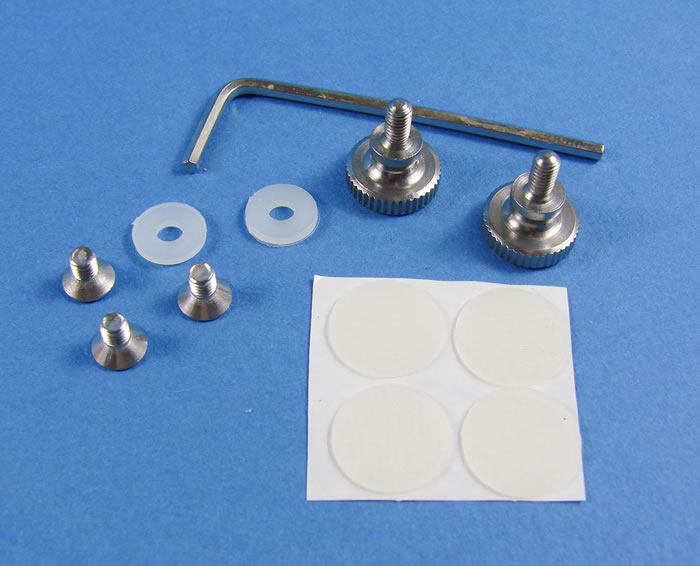 Assembly is very straightforward. I start by taking the baffle plate, and slotting this inside the rear part of the main rack. Two knurled screws now hold this in place from the rear of the rack, with two plastic washers to protect the red anodised finish of the parts. This baffle can be moved up and down within the stand, due to the slotted nature of the fixing point. This can be suited to fit your own particular tools.
The two large openings in the front part of the rack now need to be tackled. A tool tray (bottom case) slots into the open side of the rack, and this is secured from underneath with three countersunk screws, tightened with the hex-key. Whilst I'm at this point, I also peel off the 3M sticky rubber feet and add these to the underside so that the rack isn't scratched by any workbench debris. I am pretty fussy about things like that, and want to maintain something in the best way possible, for as long as humanly possible.
Lastly, there is an optional module which can fit into the smaller of the two tray areas (well, it's designed for the smaller, but will fit the larger area if you wish), and this is the modularised slot block. This is designed to fit brushes etc. What I like about the areas at the front is that the larger one fits a bottle of Tamiya Extra Thin Cement perfectly, so you won't knock it over on your bench and melt your work in the process.
I've already got this stuffed with all manner of tools that I want to keep close at hand, including my razor saw, small brushes, sprue cutters etc. This takes the desk-tidy idea a step further and makes it both flexible and elegant. The weight of it, plus the rubber feet, means that it won't skirt and slip around your bench accidentally. It firmly stays put, which is also useful if you store your cement bottle in there too. Putting the lid back on and screwing tight whilst in the stand, is straightforward. This is a quality tool, and that is reflected in the price, which I still think is very, very reasonable for a chunk of heavy, precisely machined metal and the other included parts. These aren't something which I tend to see every day, but I'm sure if you drop Evert or Corien a message at Breveco Modelling, they'll be able to sort out your requirements.
My sincere thanks to Breveco Modelling for the sample seen here. This item isn't yet on the website, but please contact them to register your interest.
Thanks to Breveco Modelling for the sample
---
Page Created 15 November, 2017
Last updated 15 November, 2017
Back to HyperScale Main Page
Back to Reviews Page