Airfix 1/48 scale
Boulton Paul Defiant Mk.I
by David Couche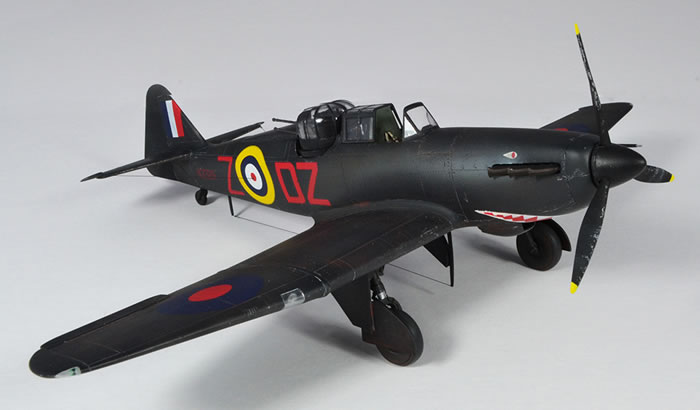 Boulton Paul Defiant Mk.I
DZ-Z/N3328
151 Squadron RAF
Wittering, Cambridgeshire England
February 1941

Airfix's 1/48 P-40B is available online from Squadron.com for just $22.99!
I have always longed to build a BP Defiant in the markings of the 151 Squadron aircraft with the tiger mouth, to add to my Tiger/tiger mouth collection. The only 1/48 kit until recently was the early versions of the Classic Airframes kit. So, I pulled it out determined to build it. Lo and behold, the fuselage halves were warped, the prop blades looked like it had belly landed and the vac-formed canopies, whilst being nicely moulded and clear were also a very nice shade of yellow. Did this put me off….no! I valiantly started to construct this kit and then in the early stages Airfix released their Defiant kit. Alleluia and bless Mr Airfix. Classic Airframe kit went straight back into the box and back into the stash.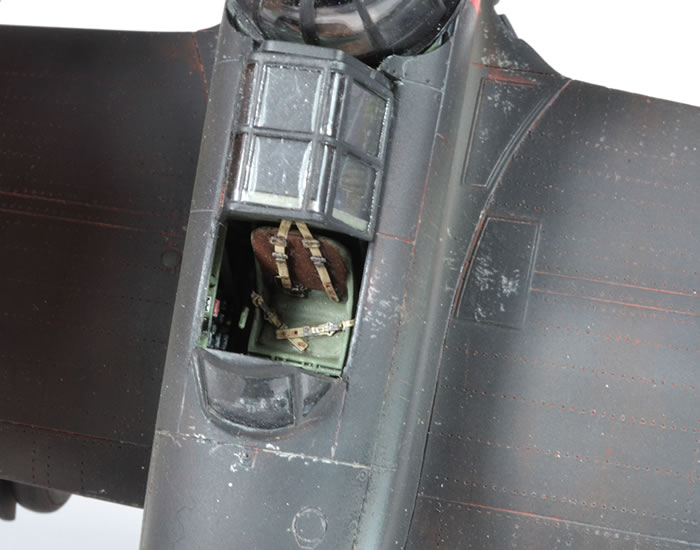 I managed to get a kit at the Melbourne swap meet before stores had it in Australia. Poor man ticked the wrong box from Hannants and had multiple kits which was my good fortune. So on to the build.
Having lately been to the RAF Museum at Hendon and longingly looking at their Defiant, along with many reference shots, I realised that, despite the amazing Airfix kit details and quality, the kit had one massive thing missing. The real aircraft is covered in a mass of very prominent rivets. Well, thankfully between my trusty copy of the Yellow Series Defiant book with excellent drawings with the rivet layout and a wealth of reference photos, I undertook the task of riveting the aircraft. Most of this was done prior to construction and took about a week of evenings of careful laying out and riveting with my trusty combination of Rosie the riveter and RB Productions Rivet-R – different pitches were used in different sections.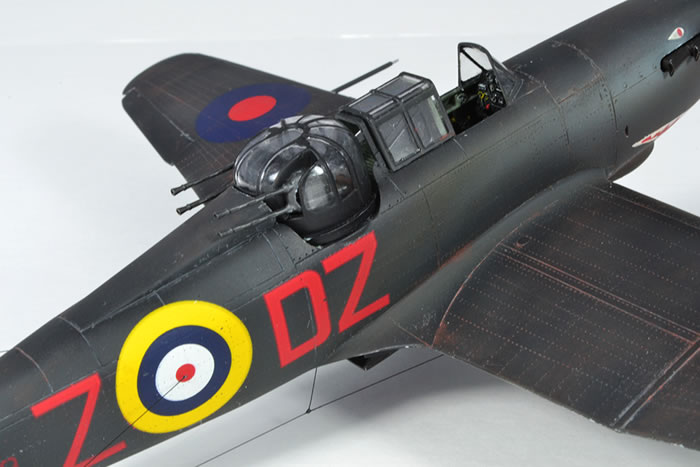 The kit built like a dream, the cockpit detail was close to resin quality when painted up and assembled. The turret is a kit in its own right. Very little filler was used as everything just fitted….nearly Tamiya like. Painting was next with me creating my own version of night black, as when you read about these aircraft, pilots and ground crew refer to the bluish tinge to the black, so I added a small amount of dark blue, from memory about 10% to change the hue. Used some well thinned straight black to create some tonal variation which is the hardest part of an all black aircraft.
The decals were from Print Scale as the kit only had day versions as its schemes. Being a new brand you feel a bit apprehensive about how they will be but they went down nicely and settled in well with Micro Set/Sol.
I am extremely pleased with the completed kit and look forward to making a day version as my kit, which I had ordered from my local modelling store finally got to me after I had completed this one.
---
Model and Text Copyright © 2018 by David Couche
Page Created 19 December, 2018
Last Updated 19 December, 2018
Back to HyperScale Main Page