Mersu
Bf 109 G in Finland
Limited Edition / Dual Combo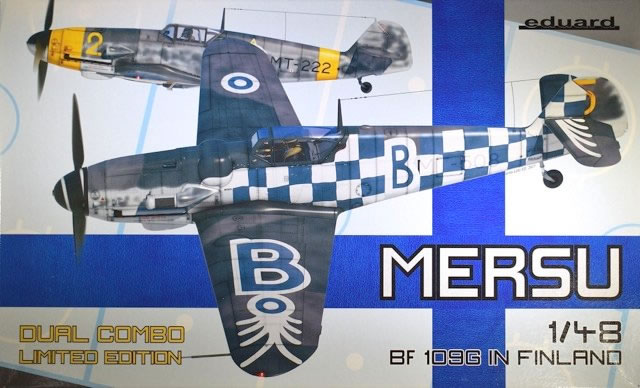 Eduard, 1/48 scale
S u m m a r y :

Description and Item No.:

Eduard Kit No. 11114 - Mersu Bf 109 G in Finland Limited Edition / Dual Combo

Contents and Media:

Parts for two complete kits (G-2 and G-6) are provided. This equates to ~217 parts in grey styrene (x2)(not all are used), 14 clear parts (x2), 2 color photo-etch frets, die-cut canopy masks (x2), markings for 9 aircraft, and airframe stencil data in German and Finnish.

Price:

£58.20 plus shipping available online from Hannants

USD$71.99 plus shipping available online from Sprue Brothers Models

Scale:

1/48

Review Type:

First Look

Advantages:

Beautifully rendered surface details, accurate, scale-appropriate inscribing, subtle rivet lines, and crisp, recessed panels; separate leading edge slats, control surfaces, and multiple canopy options all with poseable center sections.; numerous optional/unused parts including propellers, bomb racks, underwing gun gondolas, and drop tanks provided; beautifully printed decals for 9 schemes and airframe stencils in German and Finnish.

Disadvantages:

None noted.

Recommendation:

This is another awesome dual combo offering from Eduard that combines two complete, top-notch kits (Bf 109G-2 and G-6) with color photo-etch, and a beautifully printed decal sheet with markings for 9 eye-catching schemes.
Reviewed by John Miller


Hobby Boss' 1/72 P-61A Black Widow is available online from Squadron.com
The Finnish Air Force received its first Bf 109s on March 13th, 1943. Of the 162 Gustavs purchased 159 aircraft were taken into service after two G-6s and one G-8 were destroyed en route to Finland. Of these 159 airframes, 48 were G-2s, 109 were G-6s and two were G-8s. The last of the purchased aircraft arrived in Finland on August 20th 1944, just before the armistice with the Soviet Union.
The Finnish nicknamed the aircraft Mersu after the same nickname used for Mercedes-Benz cars whose parent company, Daimler-Benz, produced the Bf 109 engine. All Finnish 109's carried the designation "MT" followed by a 3-digit identification number.
With the arrival of the 109s the Finns had a fighter that could better counter the latest Soviet fighters. During the Continuation War, Bf 109s were in service with fighter squadrons 24, 28, 30 and 34.
The Finns scored 667 confirmed victories with the type, losing 34 Bf 109s to enemy fighters or anti-aircraft fire. A further 16 were lost in accidents and eight aircraft were destroyed on the ground. A total of twenty-three Finnish Bf 109 pilots were killed in action.

A surprisingly large number of Finnish 109s (102 airframes) survived the war. Despite the aircraft's expected short lifespan (built as a wartime aircraft with an estimated 100–200 flight hours) the type continued in service until the spring of 1954 when the Finnish Air Force entered the jet age. The last flight of a Finnish Bf 109 was on March 13th 1954 by Major Erkki Heinilä in aircraft MT-507.
Several Bf 109s are preserved in Finland including MT-452 (on display at the airfield in Utti) and MT-507, the last flying Bf 109 of the Finnish Air Force displayed in the Central Finland Aviation Museum.
The Finnish aviation company Valtion Lentokonetehdas manufactured the VL Pyörremyrsky, an aircraft whose appearance greatly resembled the Bf 109 but featured significant improvements including easier handling, different wing construction, and a re-designed landing gear. The single example produced before the end of the war is displayed at the Central Finland Aviation Museum.
(Edited from Wikipedia)
Introduction
In the interest of fairness I have to say upfront than I am an unabashed fan of Eduard model kits. In fact an entire wall of my shop is "insulated" by stacks of kits from this Czech manufacturer and I keep making room for more. Moreover, I've long been fascinated with the many variants of the Bf 109 and use of the type by Finland during WWII is a fascinating piece of aviation history. Needless to say, I rushed to my favorite local hobby shop to pick up this new dual combo kit and I am immensely pleased with the contents.
Upon opening the box you're presented with multiple individually bagged sprues of grey and clear styrene, 2 color photo-etch frets, a large sheet of die-cut canopy masks, and a large colorful decal sheet.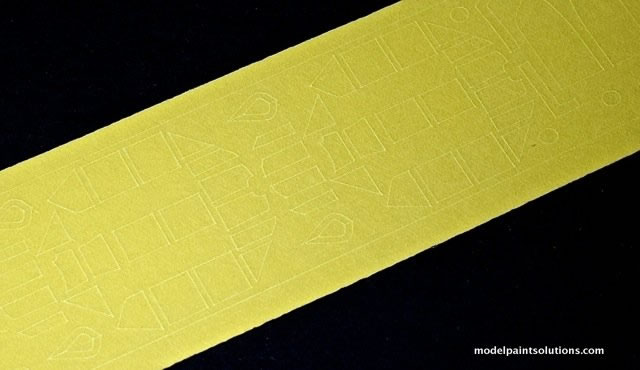 Sufficient parts are provided to assemble two complete models: a Bf 109 G-2 and G-6.
---
Bf 109 G-2
The Eduard Bf 109G-2 has been previously released and reviewed in detail here. The G-2 features full-length fuselage halves complete with integral vertical stabilizer. There will be no need to fit and align a separate vertical stabilizer assembly as there is with the G-6 (below).
Similarly, the upper cowl sections are integral with the fuselage halves with the gun troughs provided as separate parts. The inscribed details are simply beautiful and wonderfully scale appropriate. The rivet lines are convincingly rendered being subtle and perfectly straight. This is a beautifully engineered model.
The cockpit features the G style seat and is augmented with crisply printed color photo-etch parts for the instrument panel, seat harness, rudder pedals, and assorted side panels. The fuel line is provided in clear styrene allowing you to mask the section that represents the clear "glass" fuel flow indicator window.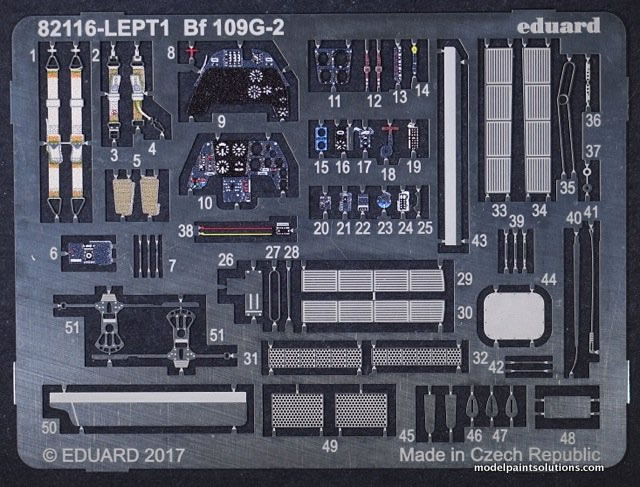 The fabric stitching on all the poseable control surfaces is beautifully rendered and will look great under a thin coat of paint and panel wash to bring out the details.
Two complete sets of wings are provided for the G-2. One set without upper wing wheel bulges (used for Schemes A and D) and one with the bulges (Schemes B and C).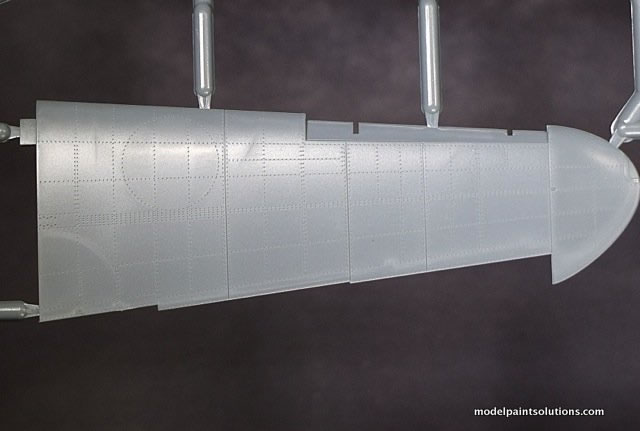 The wing surfaces feature beautifully rendered scale appropriate rivet lines that will benefit from a little pre-shading prior to coverage with the first coat of paint.
The wheel wells are beautifully detailed and include the zippered canvas covers for the front and rear sections. Likewise the gear legs are well detailed with multiple versions of both tires and wheel hubs provided. Be sure to check the instructions and references for which set would be appropriate for the airframe you're building.
The selection of canopy parts is one of the many areas where the Eduard family of 1/48 Bf109's really shines. All the canopy parts are crisply molded and crystal clear. The fourteen-part clear sprue provides three different Erla-style canopies, three front windscreen variations, head armor for pressurized aircraft, two styles of framed center sections, one rear section, and two gunsights.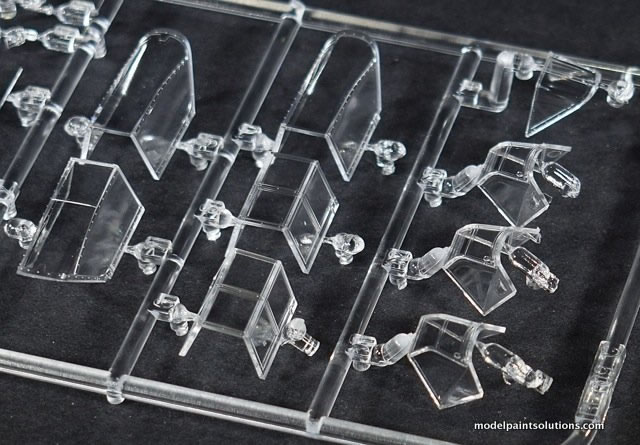 This kit builds into a simply beautiful Bf 109 G-2 and will leave the builder with a bevy of extra parts for the spares box. Nice.
---
Bf 109 G-6
The re-tooled Eduard 1/48 Bf 109G-6 was released in 2016 and has been previously reviewed in detail here. This kit builds into a stunningly detailed model and is regarded by many (this reviewer included) as the best Bf109G-6 in this scale. Many of the sprues are shared with the G-2 (described above).
What's not shared, of course, in the G-6 fuselage halves which lack the vertical stabilizer permitting the builder to choose between three different variations: standard, metal tall tail, and wooden tall tail. The standard sized tail will be used for schemes F, H, I, and J whereas the tall metal vertical will be used for schemes E and G. Likewise, both short and tall tail wheels as well as three different types of rudders are provided along with instructions describing which part should be used for each particular airframe.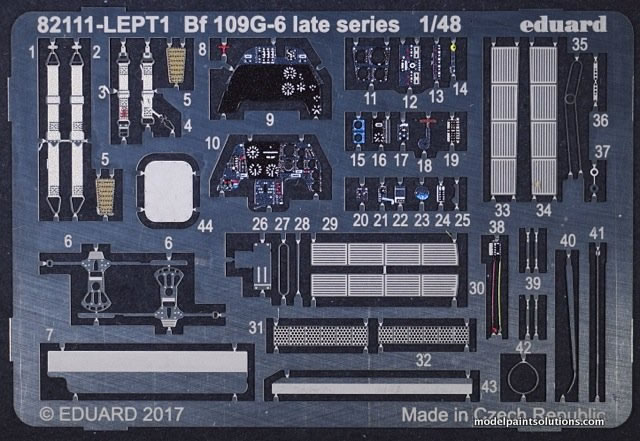 Two upper cowl parts are provided: with and without the rectangular gun trough inserts.
What's particularly nice is the selection of gun cowl bulges that are provided. Both standard and Erla-style bulges, with the additional compressor bump, are included giving you the option of building an Erla-produced G5, G6, or G14: Very nice.
---
Markings
Many of the airframes covered on the decal sheet have schemes that were derived from the original Luftwaffe production schemes. This equates to RLM-76 lowers with uppers in RLM-74/75 and mottling with -74/75 on the fuselage sides. Schemes C and D represent aircraft with non-standard schemes that utilized mostly RLM-74 and black/olive respectively. Chin cowls, lower wing tips, and cowl/waist bands are in RLM-04 Yellow. Spinners are mostly thirded RLM 70 / White except scheme J, which had a white spiral on black.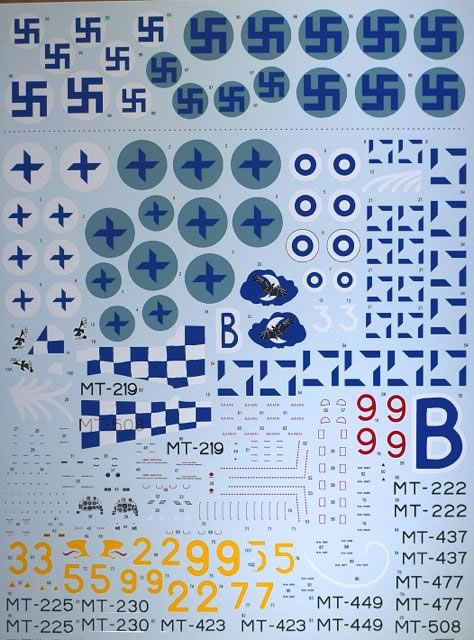 The beautiful decal sheet is printed by Cartograf and has perfect registration and scale-appropriate color and hue. Airframe stencil data is provided in both German and Finnish: very nice.
Bf 109 G-2, MT-219, flow by lentomestari (Warrant Officer) Yrjö Turkka, 1/LeLv 34, Utti, Finland, June 1943.

Bf 109 G-2, MT-222, flow by lentomestari (Warrant Officer) Ilmari Juutilainen, 1/LeLv 34, Malmi, Finland, May 1943.

Bf 109 G-2, MT-225, flow by luutnantti (lieutenant) Lauri Nissinen, 1/HLeLv 24, Suulajärvi, Finland, April 1944.

Bf 109 G-2, MT-230, flow by kapteeni (Captain) Jaako Poulakkainen, 2/HLeLv 28, Värtsilä, Finland, August 1944.

Bf 109 G-6, MT-423, flow by ylikersantti (Staff Sergeant) Hemmo Leino, 1/HLeLv 34, Kymi, Finland, June 1944.

Bf 109 G-6, MT-437, flow by ylikersantti (Staff Sergeant) Leo Ahokas, 3/HLeLv 24, Lappeenranta, Finland, June 1944.

Bf 109 G-6, MT-449, flow by luutnantti (lieutenant) Olavi Puro, 2/HLeLv 24, Lappeenranta, Finland, June 1944.

Bf 109 G-6, MT-477, flow by luutnantti (lieutenant) Miko Paila, 1/HLeLv 24, Utti, Finland, September 1944.

Bf 109 G-6, MT-477, HLeLv 31, Utti, Finland, summer 1948.

Bf 109 G-6, MT-508, flow by luutnantti (lieutenant) Arvo Arima, HLeLv 31, Air Race, Utti Finland, June 1950.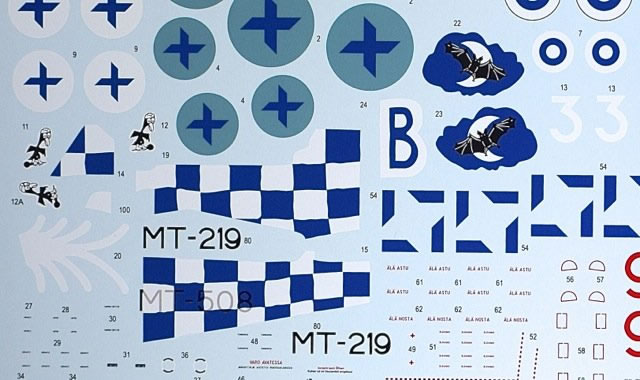 This is another beautiful dual kit from Eduard that lives up to the high standards set and consistently maintained by this manufacturer. In one box you receive two beautifully detailed complete kits (G-2 and G-6), color PE for both, masks, and a perfectly executed decal sheet that provides markings for 9 eye-catching airframes. What's not to like? I'll be starting my Mersu G-6 in short order so stay tuned.
For more on this review visit Modelpaintsolutions.com.
Kit purchased by the reviewer
---
Review Text and Images Copyright © 2018 by John Miller
Page Created 15 March, 2018
Last updated 16 March, 2018
Back to HyperScale Main Page
Back to Reviews Page