Junkers Ju 88 C-6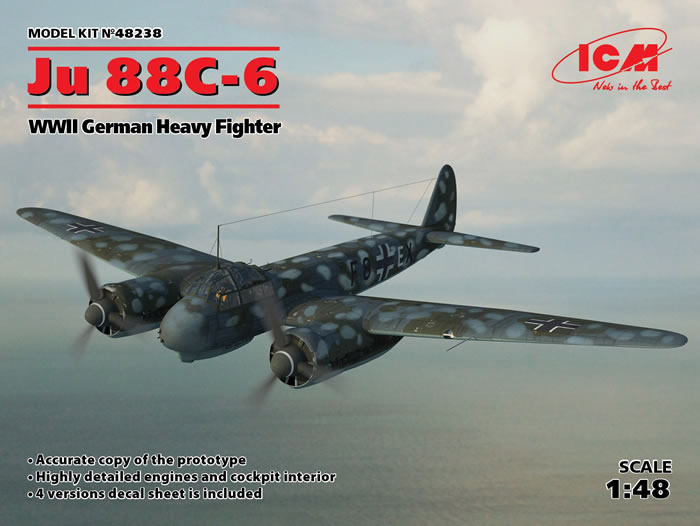 ICM, 1/48 scale
S u m m a r y :

Catalogue Number:

ICM Kit No. 48238 - Junkers Ju 88 C-6

Scale:

1/48

Contents & Media

Around 250 plastic parts made up from eight sprues of grey plastic and two sprues of clear plastic; markings for four aircraft.

Price:

Available online from these stockists:

Click here for currency conversion

Review Type:

First Look.

Advantages:

High quality plastic parts; high level of detail; crisp and fine surface textures; comprehensive instructions.

Disadvantages:

Conclusion:

Another excellent Ju 88 release from ICM.

Reviewed by James Hatch

ICM's 1/48 scale Ju 88 A-4/Torpis available online from Squadron.com
The Junkers Ju 88 was a German World War II Luftwaffe twin-engine multirole combat aircraft. Junkers Flugzeug- und Motorenwerke (JFM) designed the plane in the mid-1930s as a so-called Schnellbomber ("fast bomber") that would be too fast for fighters of its era to intercept. It suffered from a number of technical problems during later stages of its development and early operational roles but became one of the most versatile combat aircraft of the war. Like several other Luftwaffe bombers, it served as a bomber, dive bomber, night fighter, torpedo bomber, reconnaissance aircraft, heavy fighter and, during the closing stages of the conflict in Europe, as a flying bomb. Despite its protracted development, the aircraft became one of the Luftwaffe's most important assets. The assembly line ran constantly from 1936 to 1945 and more than 16,000 Ju 88s were built in dozens of variants, more than any other twin-engine German aircraft of the period. Throughout production the basic structure of the aircraft remained unchanged.
Without a doubt, the Junkers Ju 88 was one of the most versatile and adaptable aircraft to have been used during WW2. Entering service as the war was literally starting (on the day of the Polish attack), the Ju 88 became successful for its numerous famous and infamous roles, starting out as a light bomber/dive bomber, and when losses started to mount around the time of the Battle of Britain, it was moved into other theatres of war, such as North Africa, and against shipping in the Mediterranean with a torpedo-carrying variant. Where it is perhaps best known are for its roles as both a heavy fighter and night-fighter, in which it excelled. The Ju 88C series of standard fighter-bomber versions from the C-2 onwards culminated in the Ju 88 C-6, applying experience acquired with the A-4 bomber, equipped with the same Jumo 211J engines but replacing the "beetle's eye" nose glazing with a smoothly curved all-metal nose, pierced only by the barrels of its forward-firing offensive armament. The C-6 was used mostly as fighter-bomber and therefore assigned to bomber units. As a reaction to the increasing number of attacks on German shipping, especially on U-boats in the Bay of Biscay, from July 1942 it started flying anti-shipping patrols and escort missions from bases in France. V./Kampfgeschwader 40 being formed to operate the C-6.
Courtesy of Wikipedia.
There has certainly been some mileage seen in the moulds for ICM's rather sweet Ju 88 kit, with there now being TWELVE incarnations that have been released across the ICM, Hasegawa, Special Hobby and Revell labels. This particular Ju 88C-6 version was released about a month ago from the date of this review, and of course sees the original manufacturer's progression through some of the key Ju 88 versions.
I certainly wouldn't be surprised to see more incarnations of this kit in future, hopefully covering a number of the other exotic machines that were derived from the base Ju 88 airframe. There is of course a reason why we are seeing this kit being given multiple releases and that is simply because it is the definitive tooling of this important aircraft that is currently available, and with so many Ju 88 versions that existed, modellers are going to want to build the one that is specific to their interests, such as the heavy fighter, torpedo aircraft etc.
Packaged into ICM's very sturdy, full corrugated cardboard box, with a colourful and glossy product lid that depicts a low flying C-6, possibly over the Bay of Biscay, this kit consists of a single clear sleeve that holds all NINE medium-grey sprues and two clear ones. A total of about 250 parts makes up this release. Thankfully, the clear sprues are separately bagged within the main sleeve and all of the others are tightly packed up against each other, so no space for them to jiggle and rub against each other. A 24-page A4 manual is included, and a single decal sheet finalises the contents. This release sees the addition of three new sprues, catering to the change in nose, equipment and canopy.
I know that some modellers can be driven to frustration by the engineering choices that some companies make, but with this kit, ICM has boxed clever. As we know, it has been designed to accommodate other versions so as to maximise the tooling, but none of this is done to the disadvantage of the modeller. Some very intelligent design work can be seen here, such as the fuselage halves being full length, so no need to graft on different nose versions. The fin is also separate, indicating something from the 88G family, maybe. Wing root fairings are moulded to the fuselage and are tabbed, meaning that the upper wing panels can easily sit on these and provide a positive location point.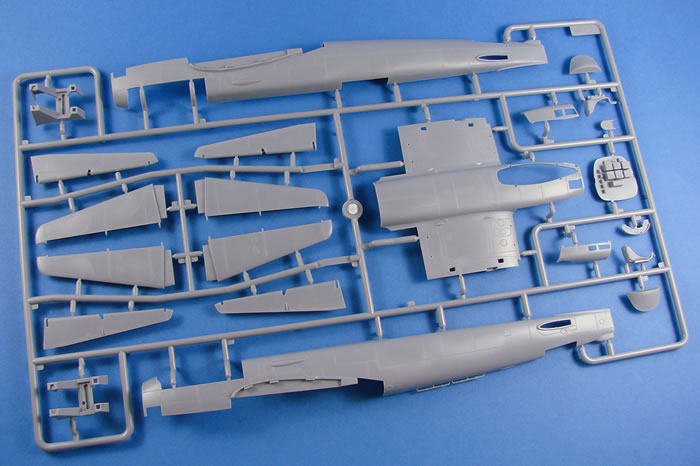 Another touch of genius is a single piece lower fuse and inboard wing panel section. When this is fitted to the fuselage, and then the wing panels added, the lower seam will be totally hidden under the broad nacelle structure. The nacelles themselves will then locate into the undersides via tabs. If you've ever seen the Revell 1/32 kit, you'll know that there is a sturdy structure within the nacelle that the undercarriage is mounted to. Looking at this model, I think that whilst you may need to fit that mounting structure prior to the nacelle, it appears that you can probably fit the landing gear later, after painting. All control surfaces on this model can be posed, with the rear of the nacelles being separate for this purpose. You may need to fiddle things with this, and I can't comment further without test fitting this one.
Two detailed Jumo211 engines are included in this kit, with the provision to display one/either of them. These really do look very good, with each unit containing around 15 parts per engine, including the firewall and associated plumbing. The engines must be installed within the nacelle before the whole assembly is offered to the wing. You'll need to make sure your painting and masking regime is good here. Cowl radiator flaps are presented as open only, so to pose these in the more aesthetically pleasing closed position, you will need to do a little surgery. Propellers are supplied as single piece units, and the spinner comprises of the typical back-plate and front section.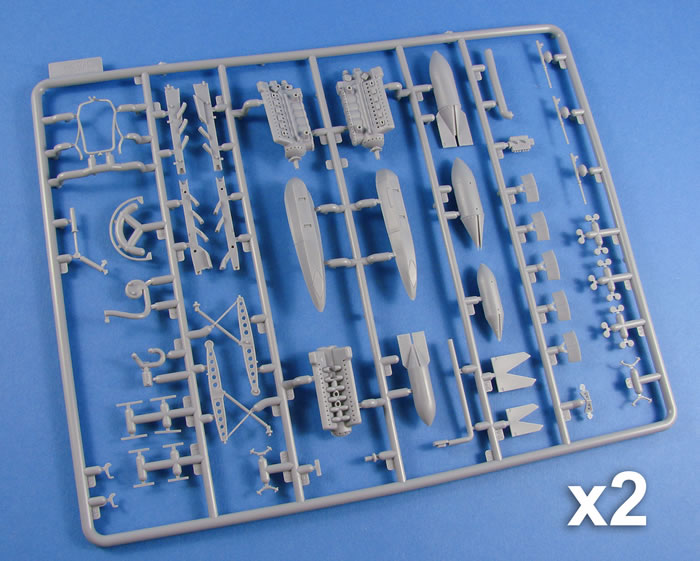 If you expect a lot from the cockpit area, in terms of detail, then this won't disappoint. Whilst there is no specific Eduard sets for this release at the time of writing, some areas could still use some of the sets designed for the ICM release. As no seatbelts are included in this kit, you will definitely need to sort out that omission. The office area is very well-appointed, with nicely moulded fuselage sidewall details, superbly equipped radio rear bulkhead, ammunition racks and drums, detailed instrument panel, side consoles with delicately rendered instruments, two-piece control column, rudder pedal assemblies, seats with intricate mounting points etc. I don't really think there would be much to add in here, with the exception of some colour PE, perhaps. When assembled the cockpit will most certainly be a very busy and visual area. The bola gondola is well-appointed too, and this area is moulded separately to the underside fuselage and can be fitted later in assembly.
Surface detail is everything you would expect from a modern-tooled model, with finely engraved panel lines and port details. There are also no rivets at all, so if you do want them, then you'll have to get out Rosie. Plastic quality here is excellent with no flaws or obtrusive ejector pin marks. Clear plastic parts, both ICM and Special Hobby, are superb, with excellent clarity and nicely defined frame details.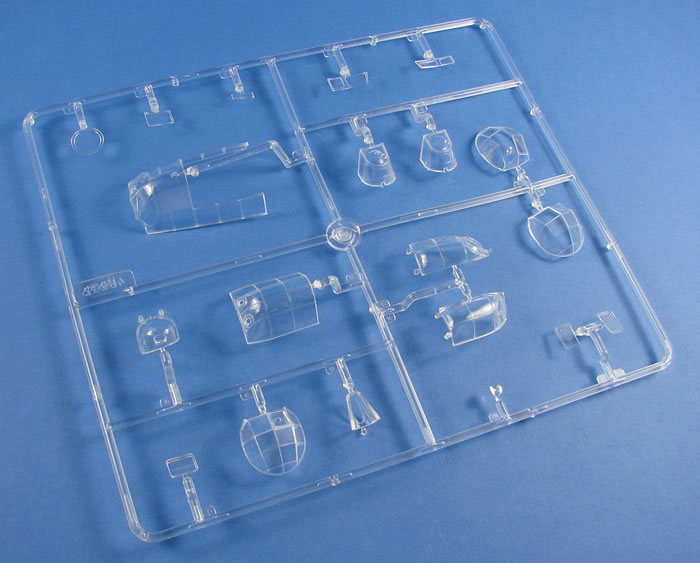 Of course, this particular kit does vary in a number of aspects, from previous releases, and looking through the parts maps does indicate a large number of parts that should NOT be used with this particular release. In fact, the original Sprue C has been supplemented with Sprue C1. This contains whole new engine nacelles, propellers, spinners, annular radiator intakes, tabbed fin and rudder, fuselage spine section with dipole etc. Parts not to be used are clearly defined on the parts map by being shaded in pink.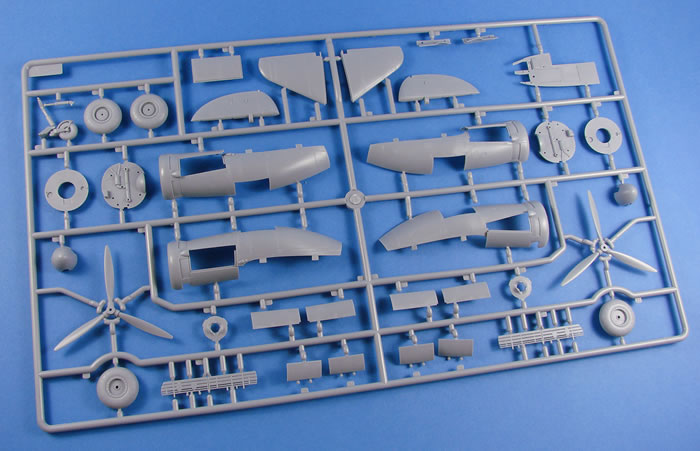 Another sprue that takes a major hit on unused parts is the engine sprue. Here, you can discount all of the bomb parts, and guns/ammo drums etc.
There are THREE new sprues in this particular torpedo bomber version, and it will come as no surprise to find out that two of these, H & H1, contain the reworked gondola with fixed rear facing guns, solid nose with gun apertures, forward fuselage window blanking plates, machine guns, ammunition containers for forward guns, optional exhaust shrouds, etc.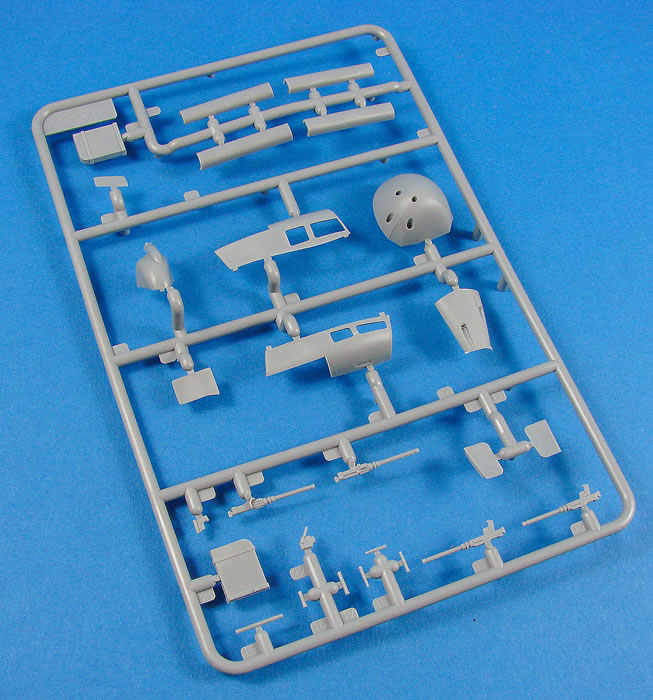 Whilst I note that a single MG has been provided for the lowermost nose gun position, the others are simply represented as stubs which fit into the nose apertures. The savvy modeller could possibly work out the remaining details and install them too. One of the new sprues (H) has only one part for use with this release, with the other solid noses and nightfighter aerial arrays being scheduled for a later release.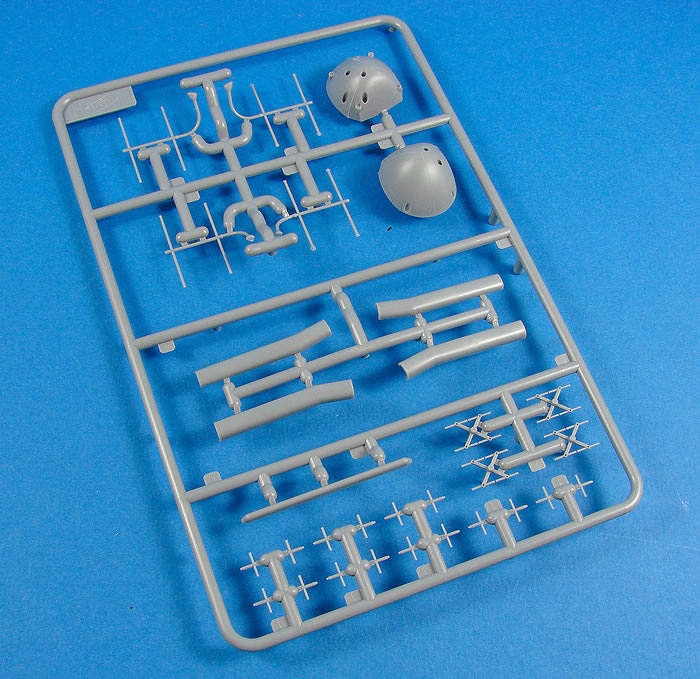 The new clear sprue contains the main canopy area, minus the upper, rear glazed sections which are supplied on the original sprue. Again, clarity and framing definition is excellent.
---
Marking Options and Decals
An ICM-printed decal sheet contains markings for FOUR marking schemes, with all printing being in solid, authentic colour, with minimal carrier film and also being both nice and thin. Registration is perfect too. As well as markings, a full suite of stencils are included as are instrument decals. The instruments are probably better punched out from the decal and applied individually, so you don't have to attempt to get the decal to conform to the raised panel details.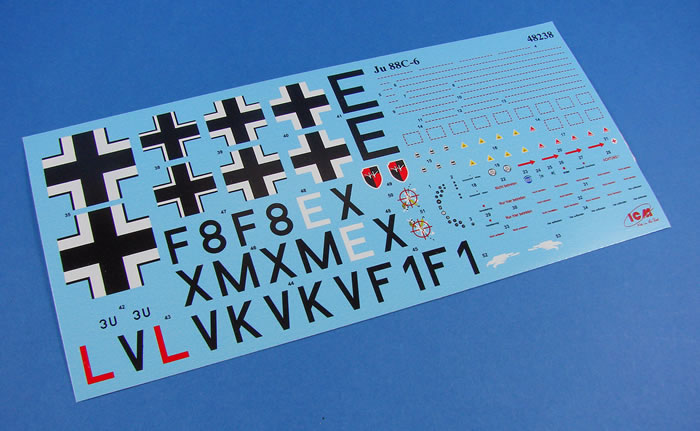 No swastikas are supplied.
The four schemes in this release are:
Ju 88C-6, 11./ZG.26, Mediterranean, Summer 1943

Ju 88C-6, 11./ZG.26, Mediterranean, 1943

Ju 88C-6, 13./KG.40, Lorient, France, November 1943

Ju 88C-6, 4./KG.76, Taganrog, Russia, Fall of 1942
---
Instructions

ICM's instruction manuals are very attractive and easy to follow, with 96 easy-to-follow stages that shouldn't present any issues with assembly. The first part of the manual highlights the colours needed for completing this model (Revell and Tamiya paints), as well as parts maps of the sprues. The rear of the manual has two pages for the four schemes, printed in colour and with good decal placement notes, plus a page denoting stencil placement etc.

This is another excellent Ju 88 release.

This kit currently retails for around £30 or less in the UK, and I think that relates to excellent value for money when you look at the detail levels that are provided here. The C-6, for me, is one of the more attractive versions of this aircraft and certainly paved the way for the later BMW-powered G versions with their nightfighter prowess. This kit doesn't have any PE parts, so for at least the seatbelts, you might want to consider some of Eduard's aftermarket sets for the other ICM/Revell variants. Most parts will be completely usable in this release.

Of course, this is an in-box review, and I've not looked at the fit of this. I have seen a small number of Ju 88 kits built though, and spoken to modellers who have built others, and they claim no real problems in construction. ICM's engineering seems to be logical and sensible, and without the annoyances of the earlier, unrelated Dragon releases.

Thanks to ICM for the review sample.
---
Review Text and Images Copyright © 2018 by James Hatch
Page Created 29 August, 2018
Last updated 29 August, 2018
Back to HyperScale Main Page
Back to Reviews Page