Hawker Tempest Mk.VI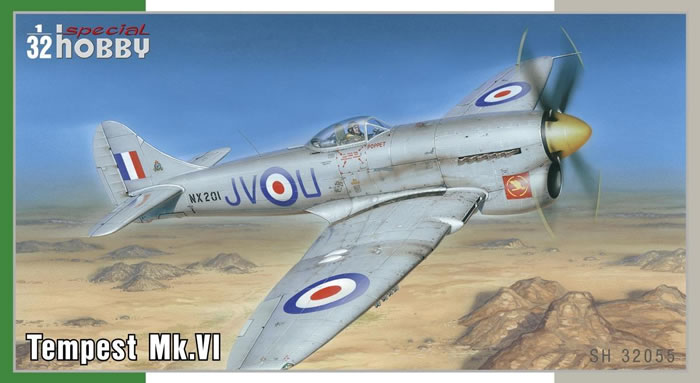 Special Hobby, 1/32 scale
S u m m a r y :

Catalogue Number:

Special Hobby Kit No. SH32055 - Hawker Tempest Mk.VI

Scale:

1/32

Contents & Media:

120 parts in grey plastic; decals for four options.

Price:

Review Type:

First Look

Advantages:

Excellent moulding; crisp surface textures; high level of detail; long-desired subject.

Disadvantages:

None noted.

Conclusion:

The ability to now build three different versions of this iconic brute of a fighter and display them together, really is fantastic! The base kit, even without any resin or PE embellishment, has excellent detail..

Reviewed by James Hatch


Kitty Hawk's 1/32 scale OS2U Kingfisher will be available online from Squadron.com

Unlike Spitfire development, where even major airframe revisions saw the type keep its original name, Hawker's Typhoon project was different.
The Typhoon wasn't without its problems, such as a seemingly unstoppable leaking of carbon monoxide gas into the cockpit, and of course the tail unit that had broken away completely on some aircraft, ending with a series of reinforcement straps that were designed as a simple fix for this.
Like the Hurricane, the Typhoon also had a thick wing section that provided the machine with enough space for heavy armament, fuel tanks and resulted in a steady gun platform that could be used for low-level operations. Unfortunately, the thick wing was responsible for high levels of drag that slowed the aircraft at certain altitudes, and affected climb rates. To fix these problems needed a number of radical solutions which resulted in Sydney Camm and his team taking the Typhoon literally back to the drawing board. The resulting aircraft was sufficiently different enough to the Typhoon, as to eventually merit a name change, and in keeping with Hawker's use of severe storm condition names for its range of fighters, 'Tempest' was chosen. Originally, the type was to have been called Typhoon II.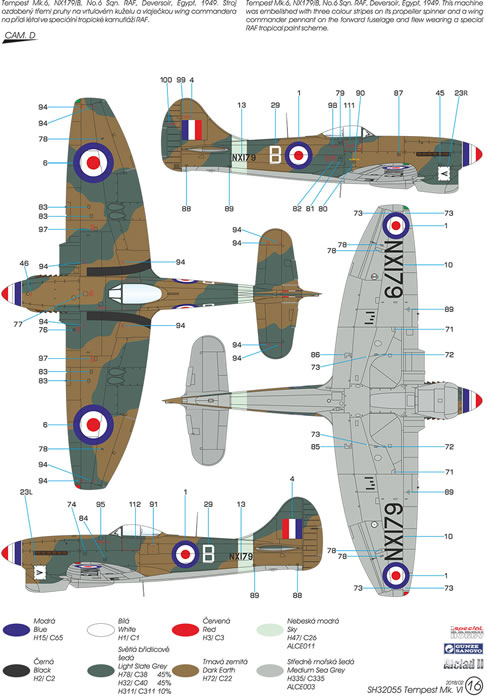 Six prototypes were built, using different engines, resulting in not just the large-intake Typhoon style machine being built, but also a radial machine and a sleek-cowl Griffon-engine Tempest. Other variables including bubble canopy and car-door style canopy (á la early Typhoon), were included. The small tail fin surface of the prototype machines was eventually enlarged too, and the recognisable filleted fin introduced into production machines, as well as the wider span horizontal tail-plane that was seen on later versions of the Typhoon. A wider track landing gear helped with higher landing speeds. What made the Tempest radically different to the Typhoon was the design of a sleeker, laminar flow wing that was designed by NACA in the USA, and implemented on the new Mustang design. The Tempest Mk.V, which is the subject of this kit release, was fitted with a Napier Sabre IIa/b liquid-cooled H-24 sleeve-valve engine, and had wingspan of 41ft, length of 33ft 8in, and a maximum speed of between 432 and 435mph at 19,000ft. Armament was typically Mk.II/V Hispano cannon (x4), and rockets and bombs could be carried externally, as could droptanks for increased range/operational time.
The Tempest went through various incarnations, and the later Sea Fury was a development of this, through the Tempest II family, retaining the later Bristol Centaurus engine.
It's hard to believe that this is now the fifth incarnation of Special Hobby's Hawker Tempest kit since it was initially released as a new-tool in 2016. In that time, we have seen three Mk.V kits (Hi-TECH #1, Hi-TECH #2 with resin engine), standard Mk.V, and also a standard Mk.II with the Centaurus engine. We knew a while ago that the Mk.VI would be making an appearance eventually, and here it finally is. One thing we have learned about the previous Sabre-engine variants is that there were a few shape issues with the nose, although I do struggle to really see them, they are there. This release has a newly-tooled sprue with a slightly different layout that caters specifically to the Mk.VI with its leading-edge intakes. I know for certainty that Special Hobby haven't re-tooled the nose for shape, and this remains identical to the Mk.V release. If it really concerns you, then Barracuda have their resin nose replacement.
Special Hobby's Tempest kit is packed into quite a large, standard type box with a removable lid, and adorned with a superb artwork of a high-speed silver Tempest over the sands of Egypt. This is one of the four scheme options provided. As with the other Tempest kits, the lid is difficult due to the tight fit, but once off, you'll see nine sprues of medium grey styrene, packed into two clear sleeves, one sprue of clear parts that is packed into a separate sleeve and a set of decals. The new Mk.VI parts are bagged separately to the legacy parts. A large colour-printed instruction manual sits on top of all of the parts. Being a standard release, this kit contains no photo-etch or resin parts.
---
SPRUE A
Only two parts here, but pretty key ones; both fuselage halves.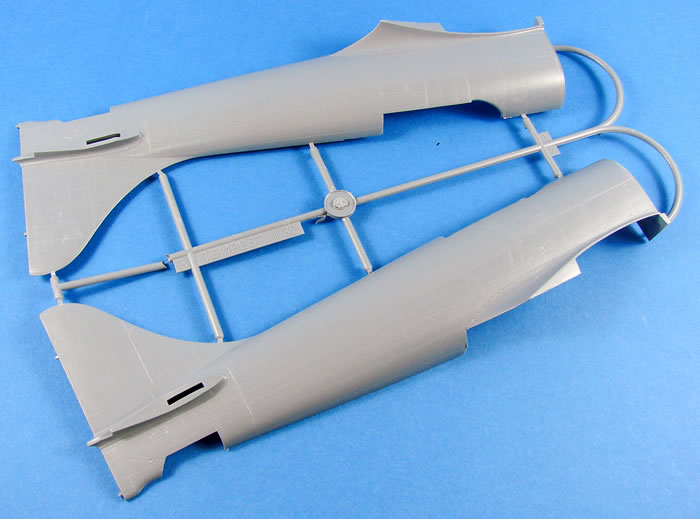 The nose is moulded separately, allowing this tooling to be good for all versions. The kit shows just how far this company have come in the last years, with regards to both moulding, tooling and detailing. You would be hard pressed to differentiate the Tempest from a kit made by a whole multitude of more mainstream manufacturers out there, such as Hasegawa, Revell, Airfix etc. Surface detailing is excellent, with restrained, even rows of rivets, and lots of extremely fine panel lining and port/panel access plates. Edges are sharp where the wing will meet the fuselage etc. and the parts have a nicely polished finish to them that wouldn't look out of place on a Tamiya release. The rudder is separately moulded, and where the nose cowl parts will fit, the forward fuselage has a moulded bulkhead that will provide rigidity to the proceedings.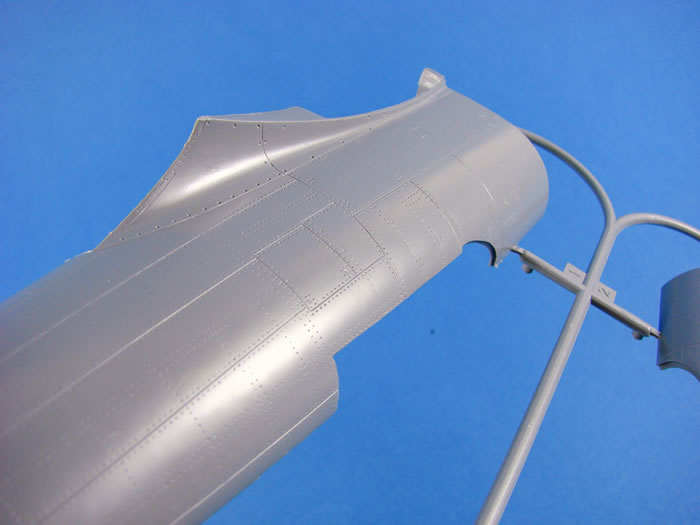 Internally, those high standards of detail are also evident, with stringer and former representation being both refined and sharp, and with associated rivet detail included. Only one ejector pin mark exists in this area, and this is on the area adjacent to the instrument panel. As no other detail is in the vicinity, removing this will be easy.
Some detail is also included around the area of the retractable tail wheel, using the same level of refinement seen in the cockpit area. Note also that this model has locating pins too, unlike some of the other less mainstream model kits. I have to say here too that Special Hobby is NOT a Limited-Run company, but fully mainstream.
---
SPRUE B
Simply put, here be wings! These are supplied as a single span lower part, and upper port and starboard panels. Note that the inboard leading edge is a separate part to accommodate the various versions of this kit. I have to say that each time I take a look at this kit, I like it more and more. Surface detail is commensurate with that of the fuselage, incorporating full rivet detail (plus double rows, where applicable), finely engraved panel lines, fastener detail, access panels and nicely shaped cannon blisters. All control surfaces are integrally moulded, so can't be posed without taking a saw to the model. Ailerons are moulded along with very fine actuator arms that really do look very good. Cannon shell ejection chutes are also finely moulded.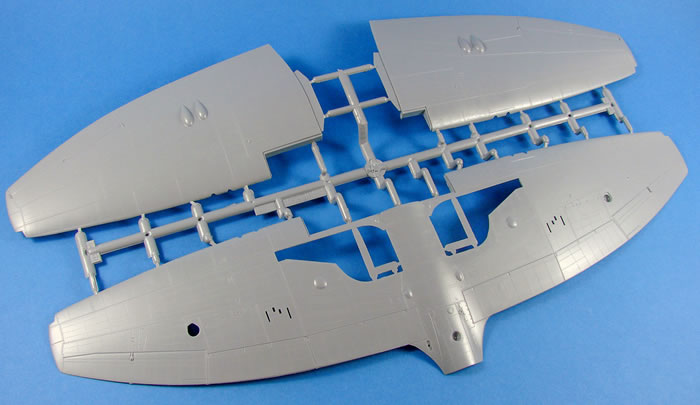 One thing I like here are the tabs that protrude from the upper panels and provide a support for the wing to fuselage connection. Actually, there is another purpose for those tabs. If you flip the wing parts over, you will see they form the roof of the main gear wells. These areas contain rib and stringer detail, along with rivets, and this will be detailed further with various rods, pistons etc. All of this will be framed by the gear bay walls that are supplied as separate parts that will be fitted into the recessed area in the upper wing panel. Cannon fairings are separate parts too, and the wing has a small bulkhead within that stops them from being inserted too far within.
---
SPRUE C
You will be able to pose the elevators dynamically, as these are moulded separately to the stabilisers. All parts here are the traditional upper and lower halves, and external detail is of the same high standard that we have seen so far, including rivet and fastener detail and trim tab actuators/actuator fairings.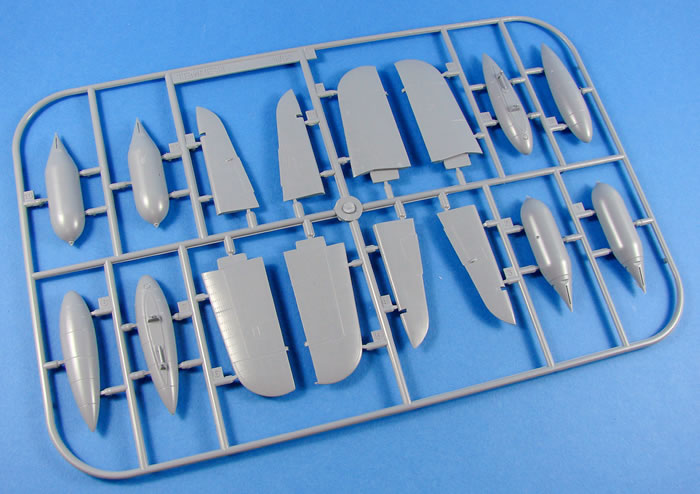 Other parts included here are for external drop-tanks and bomb bodies. Bomb fins are separately moulded. Bombs and tanks are moulded as halves also, and with the latter, you will of course need to reinstate any panel line detail that may be lost from seam eradication. The fuel filler cap is nicely engraved, but I think the detail to the rear of this is supposed to represent a pipe and is instead moulded as a fillet. If this is the case, cut away and replace with a little length of bent, rigid wire.
---
SPRUE D
This sprue looks very Eduard-ish in design, with its large radius corners. Here we have the fabric covered rudder, complete with its rib tape detail and metal trim tab. This is the only fabric covered area on the Tempest, and I do like the representation here. The multiple undercarriage door parts are just beautiful…both inside and out, with some great detail there, and no pesky ejection pin marks to worry about. Only one set of these doors is for use with this Mk.VI release. Small tags have instead been placed externally to the main doors, and these just require snipping off, followed by a quick swipe of a sanding stick. Et voila!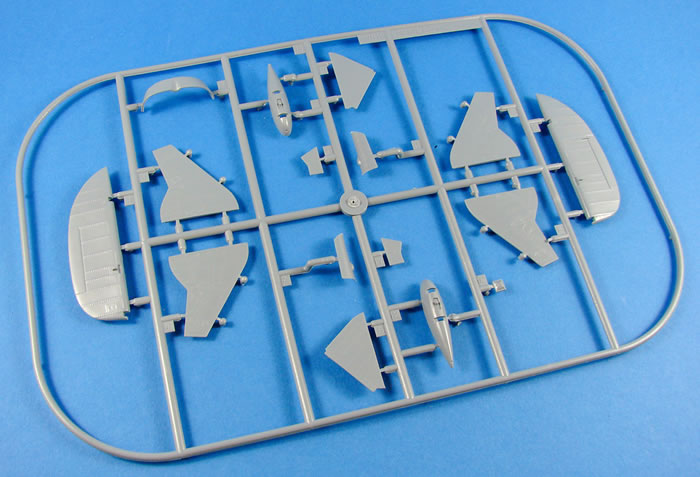 Other parts here include the upper, chin intake wall and the bomb release fairings.
---
SPRUE G
In previous Tempest releases, this particular sprue was labelled as Sprue E, but Special Hobby has now re-tooled this and provided new nomenclature to distinguish it from the previous kits. Unlike the other Mk.V kits tough, this sprue now contains parts for the wing leading edge intakes that pertained to the Mk.VI. You will also have seen these parts on the engine cowl sprue of the Centaurus radial engine version. Again, the instructions show parts here that won't be used on this build. Here, that is for a second set of propeller blades. Engine cowl halves are moulded here, as are a number of parts that form the flap section and intake outlet to the rear of the main intake. The exhaust attachment boxes can be found here, and these will just glue internally. A two-part spinner is included, with the back-plate including channels that will precisely angle the propeller blades. There is a little flash on the spinner, but nothing to be concerned about.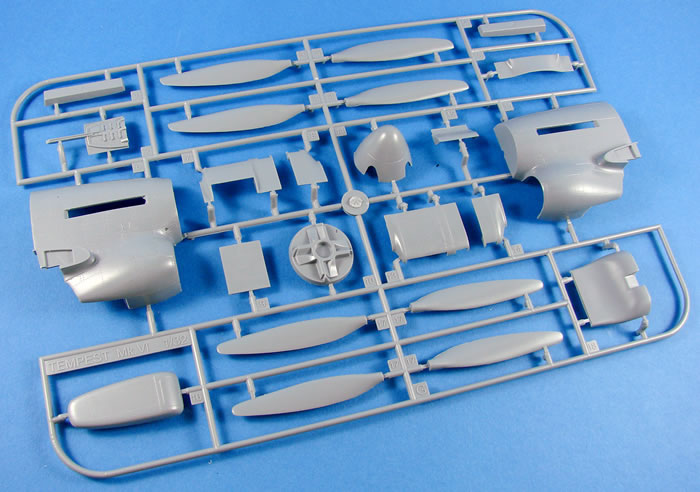 One thing to note is that the fuselage decking to the rear of the pilot, is included here as a separate part. That's a nice touch as there is a lot of detail in this area and removing a seam would have been a pain in the arse.
---
SPRUE H
Quite a few parts here are shown as not for use on this release. These include one set of balloon tyres and several intake parts for the earlier releases. What can be used here are the various undercarriage parts, including well detail, walls and the struts, pistons and rods themselves. Looking at how refined much of the detail is here, I'm going to stick my neck out and say it's Tamiya-esque. Simply gorgeous details that you'll bury away in those gear bays. Even the sprung-loaded rods look very authentic and filigree.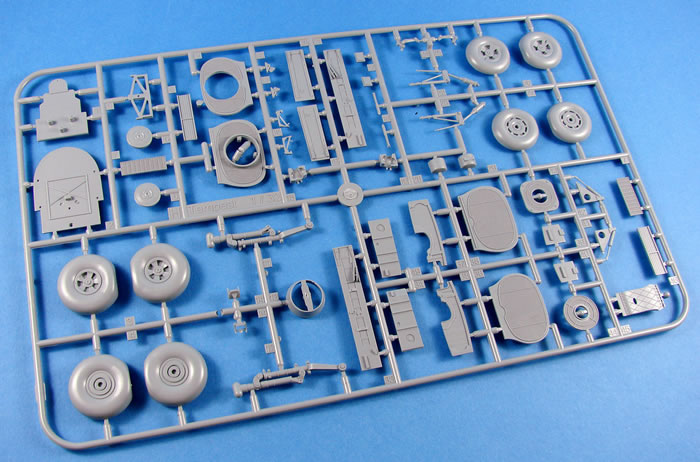 I am particularly impressed with the gear struts and the detail definition here. Please be careful with the removal of parts from this sprue, as so many of the landing gear parts have some very fine detail protrusions. If in doubt, use a razor saw.
Note also the forward cockpit bulkhead and the armoured frame onto which pilot's seat will fit.
---
SPRUE I
A small sprue, but one with perhaps more parts on it than any other. One area that features heavily here is the cockpit. For me, a nicely detailed cockpit is the very heart of a satisfying project, and this cockpit it certainly better than most I've seen in quite a long time. Two detailed tubular side frames are adorned with various fixing plates and panels and brackets, and there are numerous console parts, throttle, spacers, torsion rods and linkages etc. The main instrument panel is moulded in three parts; central panel and two angled panels that fit to its sides. Be careful here as there are two different sets of side panels. The instructions clearly show what you should not use. This also goes for one complete instrument panel, with there being sets for two on this sprue.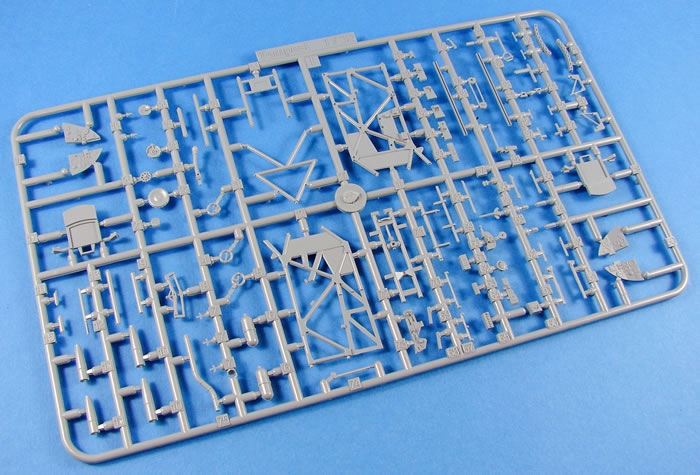 Here you will also find the canopy rails and three different types of joystick grip, although only one of these is shown as for use. Even if you don't wish to lavish any resin on this project, the plastic parts are actually still very nice and super with no softness to any of that all-important detail.
Again, watch out for the numerous parts that won't be used here, and there's a fair few of them, such as the protruding gun fairings.
---
SPRUE J
The last grey styrene sprue. Another bulkhead is supplied here, for the rear of the cockpit, and the exhausts are included as halves. I would still prefer the resin exhaust replacements though, as the plastic parts will take some careful seam removal work.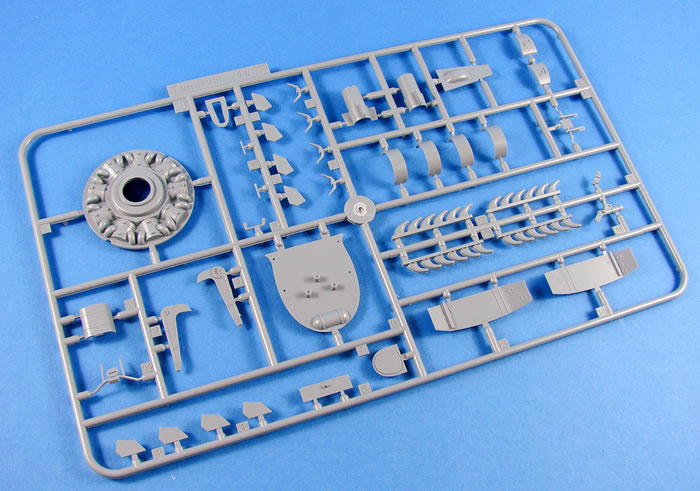 More wheel well parts are found here, as well as the three-part assembly for the tail wheel, again with some very nice structural detail included. Several intake parts are moulded here, as are the bomb sway braces and fins and tail wheel strut. The most obvious part though, the radial engine of the Centaurus Mk.II, is just there to tease us to buy that release too!
---
SPRUE K
This is the clear sprue. A number of other parts here are drop tank fairings that I think were made from clear acetate or similar. Nice to see these, and they'll certainly show off that wire modification I mentioned earlier, for the drop tank itself. Finally, note the various wingtip, fuselage, tail and wing-underside lenses for the various lights that were fitted to the Tempest.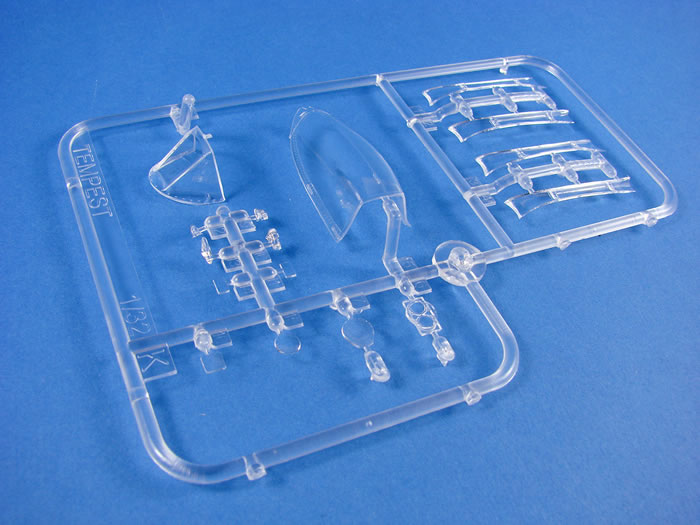 The windscreen in my sample has come adrift but is undamaged. A very slight scuff mark is also on the main hood, and this will need to be polished out. Clarity is very good, and the parts are suitably thin.
---
Plastic Summary
This kit is almost flash and seam free, with nice tight sprue gate points that are generally well placed so as not to cause problems. I can't see any sink marks either, except for a couple on the reverse of a part, so they don't count. Ejector pin marks; there's only two I can see that need removal, and that will take just a few minutes. Plastic quality is excellent, and the quality of the mouldings are very high quality.
---
Decals
Four sheets are supplied here, printed by Eduard. The largest contains roundels and fin flashes.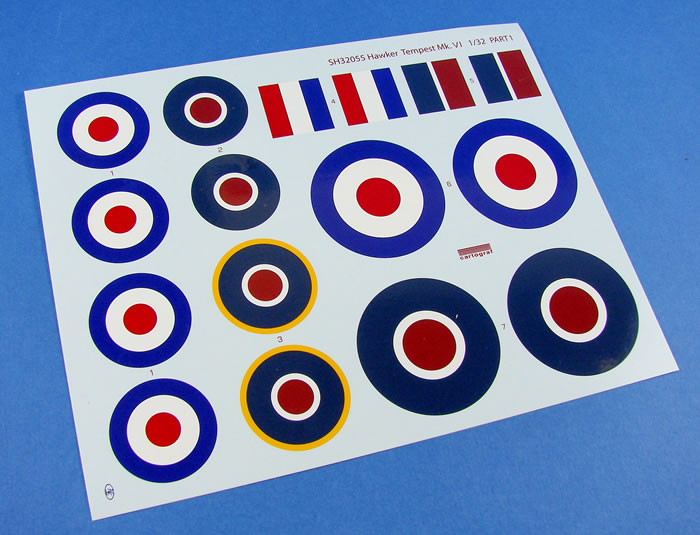 A slightly smaller sheet holds the various serials, codes, emblems, and instrument dials for the cockpit.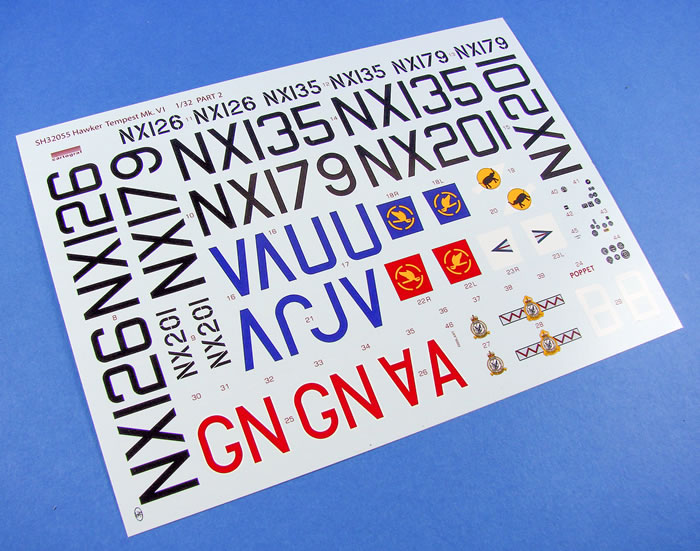 The latter is printed in banks of instruments, and I would be tempted to punch these out to remove their carrier film. Their definition is excellent, and they can certainly be used without having to resort to an aftermarket product.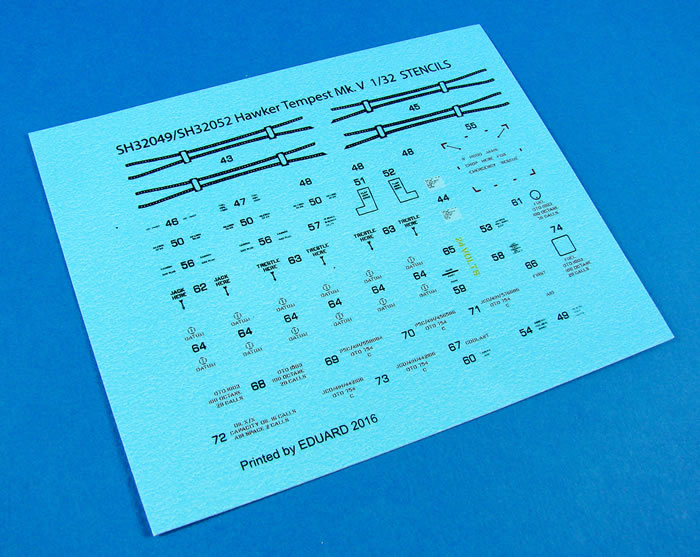 A stencils sheet is also included, also with decals for the acetate areas of the drop tanks.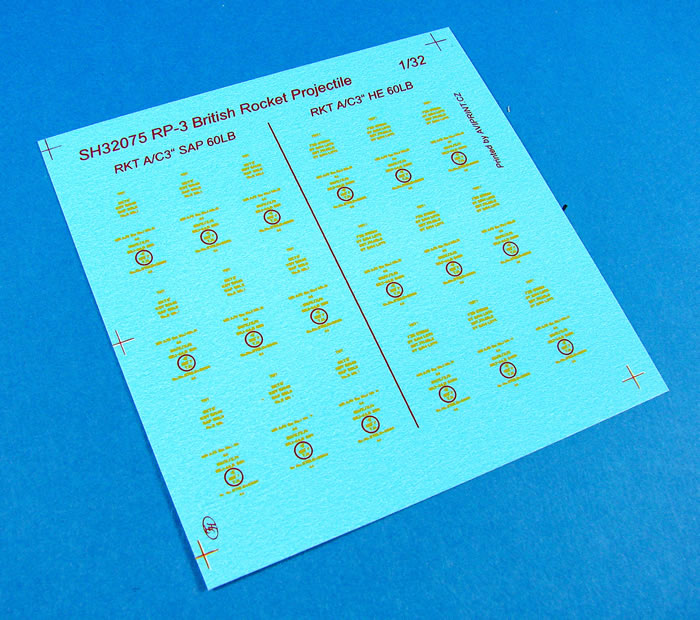 The last sheet concerns the rocket decals and is identical to the one they include in the separate rocket set. Printing is excellent throughout, with minimal carrier film, solid colour and perfect register. The schemes offered are:
Tempest Mk.VI, NX201/JV-U, 'Poppet', No.6 Sqn. RAF, Deversoir, Egypt, 1949

Tempest Mk.VI, NX126/GN-A, No. 249 Sqn. RAF, Habbaniya, Iraq, 1948

Tempest Mk.VI, NX135/V, No. 6 Sqn. RAF, Deversoir, Egypt, 1949

Tempest Mk.VI, NX179/B, No. 6 Sqn. RAF, Deversoir, Egypt, 1949
---
Instructions
This is printed in a glossy 16-page A-4 format, similar to that of Eduard, with a profile on the front page, and a history of the type given in both English and Czech. There are two pages dedicated to a parts map, which is useful for knowing the parts not to use, and then we are into the construction. A series of excellent line drawings are annotated with splashes of colour to signify paint and other nomenclature, such as drilling and mask use etc.
Illustrations are very clear and should present no problems. Colour call-outs are supplied throughout construction and refer to both Gunze and Alclad II paints, and the last pages of the manual are given over to the 4 schemes, with each being shown in all 4 planforms.
I really never tire of seeing new incarnations of this kit, and this is no exception. The ability to now build three different versions of this iconic brute of a fighter and display them together, really is fantastic! The base kit, even without any resin or PE embellishment, has excellent detail. The only thing it's missing is a set of seatbelts as the plastic parts have no moulded belt options. This doesn't even register as a blip on what is another fine release of the Tempest. If you do want to add lots of resin goodies etc. then check out our reviews on LSM and head over to the Special Hobby site to see what can be served up.
My sincere thanks to Special Hobby for the review sample
---
Review Text Copyright © 2016 by James Hatch
Page Created 7 May, 2018
Last updated 7 May, 2018
Back to HyperScale Main Page
Back to Reviews Page