AF-3S Guardian
"MAD Boom"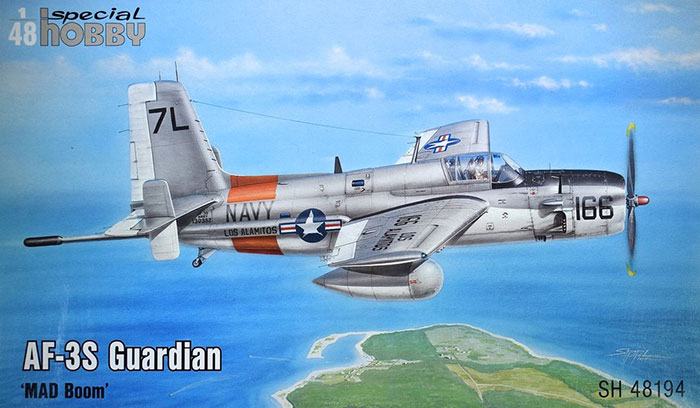 Special Hobby, 1/48 scale
S u m m a r y :

Catalogue Number:

Special Hobby Kit No. SH48194 - AF-3S Guardian "MAD Boom"

Scale:

1/48

Contents & Media:

12 parts in grey styrene, 11 clear parts, one PE fret with 19 parts, and 2 decal sheets with markings for 4 airframes.

Price:

£31.83 Plus Shipping at Hannants

Review Type:

First Look

Advantages:

The kit has crisp, inscribed panel lines and scale-appropriate surface detail. The cockpit, wheel wells, wheels, and landing gear are all nicely detailed. The resin R-2800 is beautifully cast and the canopy parts are crystal-clear.

Disadvantages:

No alignment pins and some clean up required.

Conclusion:

As is usual with the most recent generation of Special Hobby kits, the lack of alignment pins and a little flash are really the only indicators that this is a "Limited-run" kit. The detail is abundant and the kits engineering is straightforward with no apparent issues laying in wait. The result will be an impressive (and large) model that's not often seen..

Reviewed by John Miller


Kitty Hawk's 1/32 scale OS2U Kingfisher will be available online from Squadron.com

The Grumman AF Guardian was the first purpose-built anti-submarine warfare (ASW) carrier-based aircraft to enter service with the United States Navy. It consisted of two airframes, one with detection gear; the other with weapons. The Guardian remained in service until August 1955, when it was replaced by the twin-engined Grumman S-2 Tracker. The Guardian was the largest single-engine, piston-powered, carrier aircraft ever to see service.
---
History
The original design concept for the aircraft that would become the Guardian, the XTB2F of 1944, was for a twin-engined aircraft with a 3,600 lb (1,600 kg) warload and a range of 3,700 mi (5,950 km). This was considered to be too large for practical use from an Essex-class aircraft carrier, and was cancelled in 1945, but replaced by a modified Grumman F7F Tigercat, the XTSF-1.
This too was considered impractical, and another alternative, the internally developed Grumman Model G-70, was selected instead and given the Navy designation XTB3F-1. This was designed as mixed-power aircraft, with a Pratt & Whitney Double Wasp radial engine in the nose and a Westinghouse 19XB turbojet in the tail. Originally, the Westinghouse engine was to be the new X24C which was to emerge as the J34 series. When it became apparent the X24C delivery schedules would not meet the airframe schedule, the 19XB-2B was substituted.
This was found to be unsuitable, and the jet engine was removed without ever having been used in flight. The XTB3F-1S carried a crew of two seated side-by-side and an armament of two 20 mm cannon and 4,000 lb (1,814 kg) of bombs, torpedoes and/or rockets, and made its first flight on December 19, 1945.
On December 24, 1945, the Navy changed the role of the aircraft from torpedo-bomber to anti-submarine warfare. All the required equipment could not be fitted into a single aircraft, consequently two variants would be produced, one as a "guppy" (hunter) and another as a "scrapper" (killer). The hunter aircraft would not carry any armament, but instead two additional crew members and a ventral radome for APS-20 search "eyes" (radar) and Electronic Countermeasures (ECM) "ears", consisting of an APR-98 Countermeasures Receiver and AP-70 Bearing Indicator. This aircraft, the XTB3F-1S, first flew in November 1948. The "killer" deleted the cannon of the torpedo bomber, but retained the bomb bay, added a third crewmember, a searchlight, and short-range radar, and (as the XTB3F-2S) first flew in January 1949.
Redesignated as AF-2W (TB3F-1S) and AF-2S (TB3F-2S), the Guardian entered fleet service on 27 September 1950 with three aircraft delivered to VS-24 and full service introduction shortly after with VS-25. A total of 193 AF-2S Guardians were built. In 1952, the AF-3S (hunter) was introduced, fitting a magnetic anomaly detector (MAD) for the detection of submerged submarines; 40 of this variant were built. The last Guardian was delivered to the Navy in March 1953, with a total of 389 built.
The Guardian saw service in the maritime patrol role during the Korean War, however it proved unpopular with pilots, being underpowered and heavy on the controls. The aircraft suffered from a severely high accident rate. Shortly after the end of the war, it was replaced by the Grumman S2F Tracker, the U.S. Navy's first purpose-built ASW airplane to combine the hunter and killer roles in a single airframe. The last Guardian was retired from active service on August 31, 1955, but the type remained in service with the US Naval Air Reserve until 1957.
---
Variants
XTB3F-1 - Prototypes of two-seat torpedo bomber powered by one 2,300
hp R-2800-46 engine and a Westinghouse turbojet; three built.
XTB3F-1S & -2S - Two modified XTB3F-1 prototypes with turbojet removed and ventral radome, later redesignated as XAF-1.
AF-2S - Production variant with 2,400 hp R-2800-48 engine, 193 built.
AF-2W - Hunter variant with search radar in a ventral radome, 153 built.
AF-3S - Hunter/Killer variant similar to AF-2S with retractable MAD boom, 40 built.
Grumman Model G-90 - Proposed combined AF-2S/-2W version, cancelled.
---
Specifications (AF-2S Guardian)
General characteristics
Crew: three (four in AF-2W variant)
Length: 43 ft 4 in (13.21 m)
Wingspan: 60 ft 8 in (18.49 m) (about 25 ft-wings folded (7.62 m))
Height: 16 ft 2 in (5.08 m)
Wing area: 560 ft² (52.03 m²)
Empty weight: 14,580 lb (6,613 kg)
Max. take off weight: 22,640 lb (10,270 kg)
Powerplant: 1 × Pratt & Whitney R-2800-48W "Double Wasp" radial engine, 2,400 hp (1,790 kW
Performance
Maximum speed: 253 mph at full throttle not to exceed 30 minutes at 15,000 ft, gross weight 21,000 pounds (276 kn, 510 km/h)
Range: 1,500 mi (1,304 nmi, 2,415 km)
Service ceiling: 15,000 ft (4600 m)
Rate of climb: 1,850 ft/min (9.4 m/s)
Armament
Rockets: 6× 5 in (127 mm) unguided High velocity aircraft rocket (HVAR) rockets
Bombs: 4,000 lb (1,814 kg) of bombs, torpedoes, and depth charges
(Edited from Wikipedia)
The parts are molded in a light grey styrene that is mostly devoid of flash. I say "mostly" as there is a bit of flash on some of the smaller parts that will have to be cleaned up with an X-Acto and files.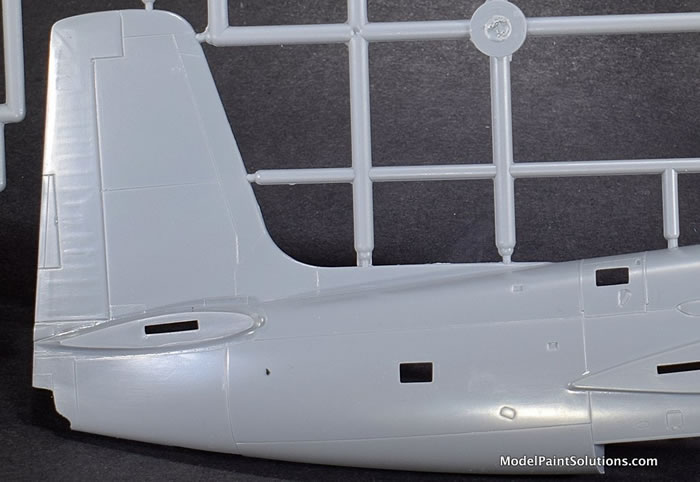 The kit engineering is straightforward and conventional.
Assembly begins with the very nicely detailed cockpit complete with a beautifully molded instrument panel and side consoles.
Crisply printed decals for both the panel and consoles are provided as well as nicely detailed PE fret with breaker panels and seat harnesses for the pilot's seat and both crew seats.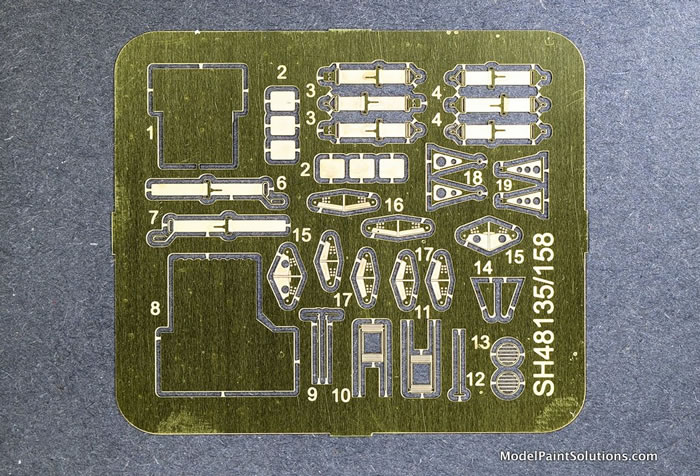 Next in sequence is the beautifully cast resin R2800 complete with separate cylinders, magnetos, and propeller governor. Instructions and measurements are provided for scratching push-rod tubes.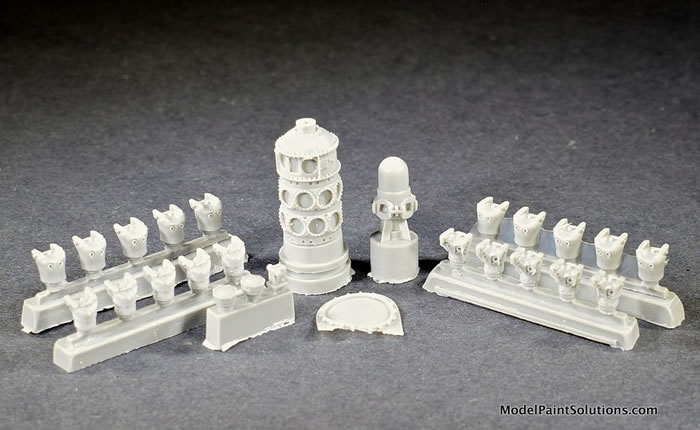 The assembled engine and cockpit components are then trapped between the fuselage halves, as is the tail wheel bay. The nose cowl, resin exhaust stubs, and intakes (left and right) are then added. With the addition of the horizontal stabilizers (comprised of upper and lower halves) and the one-piece closed bomb-bay door, the fuselage is largely complete.
The canopy parts are cleanly molded and crystal-clear with scale-appropriate framing. The large 2-piece canopy will allow the very nicely detailed cockpit to be easily seen. I suspect the large and prominent canopy with its underlying details will be a focal point of the assembled model.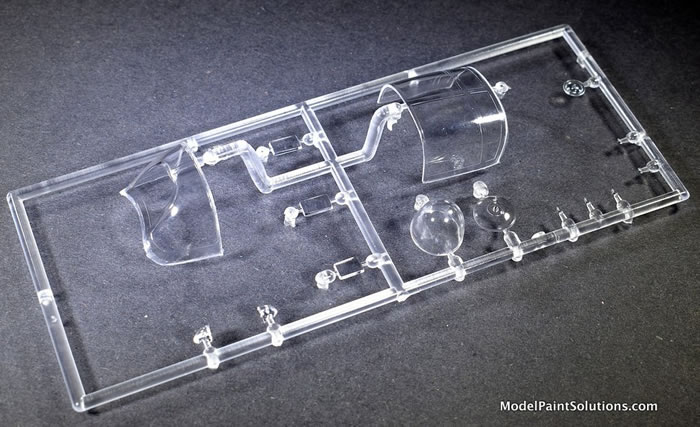 The wings are assembled next from upper and lower halves that trap nicely detailed wheel well assemblies and fixed leading edge slats.
The gear legs, wheels, and wheel hubs are beautifully molded. The hubs in particular are very nicely detailed and will look great after paint and an oil wash: good thing as well. The Guardian was a large airplane with a high stance so the gear legs are very visible.
Prior to assembling the underwing stores the surprisingly complicated the tail wheel is assembled comprised of 2-piece strut and dual wheels.
Special Hobby gives you a lot to hang under the wings of your Guardian including 6 rockets, radar pods, and a very nicely detailed, multi-part searchlight: cool.
The housing for the MAD boom positioned on the lower, rear, starboard fuselage is provided in nicely molded resin.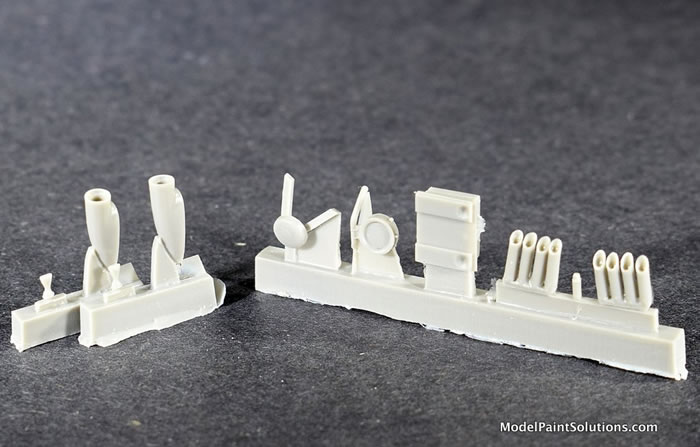 The boom can be built stowed or extended.
---
Colours and Markings
The decal sheets, printed by Special Hobby, are crisp with good color and registration.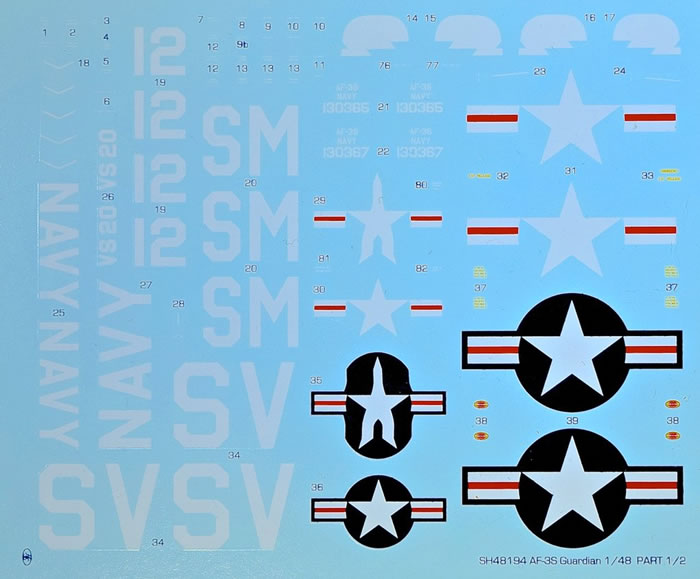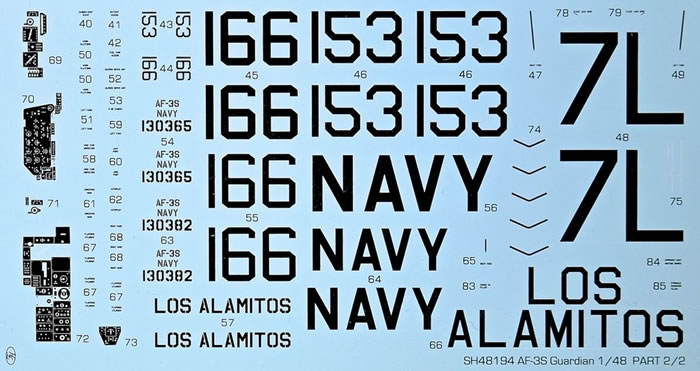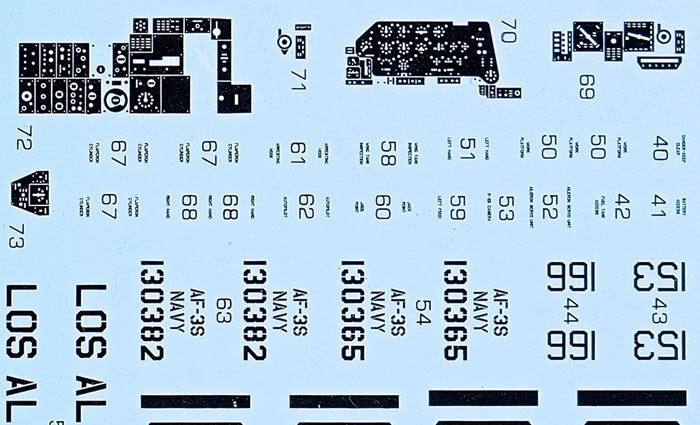 Markings and airframe stencil data are provided for 4 airframes as follows:
AF-3S Guardian, BuNo 130382, 16617L: Naval Air Reserve Training Unit (NARTU), NAS Los Alamitos, 1956.

AF-3S Guardian, BuNo 130365, 12/SV and VS-20: NAS Atsugi, Japan, Spring-Summer-1953. Operated from CVE-16, USS Badoeng Straight from August-October, 1953.

AF-3S Guardian, BuNo 130365, 153/7L: Naval Air Reserve Training Unit (NARTU), NAS Los Alamitos, 1956.

AF-3S Guardian, BuNo 130367, 12/SM, VS-27: Operated from CVE-36, USS Antietam, the Mediterranean, 1953.
This is a very nice kit with ample detail in all the right areas: cockpit, wheel wells, R-2800, and underwing stores. Much like the 1/1 Guardian, this will be a large model for a 1/48 scale propeller-driven aircraft. The correspondingly spacious and very clear canopy will invite closer examination of what is a very nicely detailed cockpit right out of the box. As a long-time modeler and certified wingoholic, I've long benefitted from Special Hobby's penchant for producing quality models of lesser-known aircraft. The Guardian has been on my list for a while and I'm quite satisfied with what's in this box. This kit will be a head-turner when assembled. Keep 'em coming Special Hobby!
Kit provided for review.
For more on this review visit Modelpaintsolutions.com.
---
Review Text Copyright © 2018 by John Miller
Page Created 20 September, 2018
Last updated 21 September, 2018
Back to HyperScale Main Page
Back to Reviews Page