Hawker Hurricane Mk.I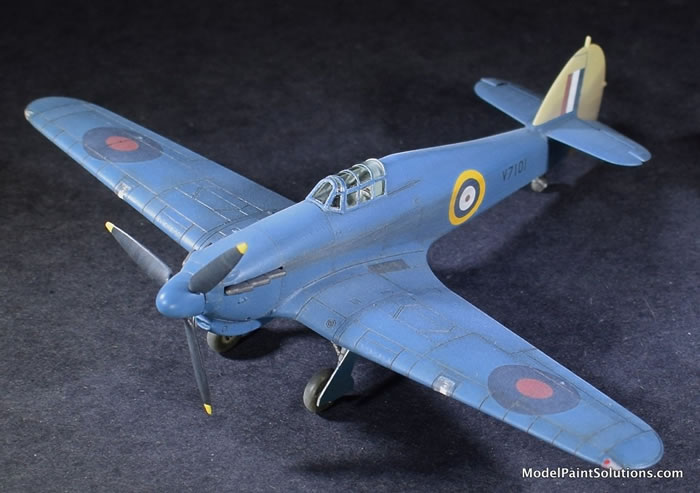 Arma Hobby Kit, 1/72 scale
S u m m a r y :

Description and Item No.:

Arma Hobby Kit No. 70019 - Hurricane Mk.I in Blue PR Scheme, Malta, 1941

Contents and Media:

57 parts in grey styrene, eight clear parts, one PE fret with 35 parts, and one decal sheet with markings for 4 aircraft.

Scale:

1/72

Review Type:

Build

Price and Availability:

£14.16 Plus Shipping at Hannants

Advantages:

Overall fit is excellent permitting a quick assembly that required very little putty. The details are abundant, scale-appropriate, and beautifully rendered.

Disadvantages:

The fit of the main gear retract arms is finicky.

Conclusion:

The Arma Hurricane is not without it's faults but with a little extra work it builds into a very nice looking model.
By John Miller


Hobby Boss' 1/72 P-61A Black Widow is available online from Squadron.com

I was so taken with the new Hurricane Mk.I from Arma Hobby (reviewed here) that plastic dust was flying and my compressor humming not long after I opened the box. This build was a joy but it's not without issues: more later. Bottom line: the Arma Hobby Hurricane builds up into a very nice model: possibly the best Hurricane in it's scale and well worth the extra elbow grease required to get the most out of the kit. I'll be building another.
---

Background:
The Hawker Hurricane is a British single-seat fighter of the 1930s–40s designed and predominantly built by Hawker Aircraft Ltd. for service with the Royal Air Force (RAF). The Hurricane was overshadowed in the public consciousness by the Spitfire's role during Battle of Britain despite the Hurricane having been responsible for ~60 percent of the losses sustained by the Luftwaffe in the engagement and went on to fight in all the major theatres of the Second World War.
The Hurricane developed through several versions, as bomber-interceptor, fighter-bomber, and ground support aircraft in addition to fighters. Versions designed for the Royal Navy were popularly known as the Sea Hurricane, with modifications enabling their operation from ships. Some were converted to be used as catapult-launched convoy escorts. By the end of production in July 1944, 14,487 Hurricanes had been completed in Britain and Canada.
There were many (many) marks of the Hurricane. The mark kitted by Arma is the revised Hurricane Mk I built with a de Havilland or Rotol constant speed metal propeller (from mid 1940), metal-covered wings, armour and other improvements. A total of 4,200 Mark I's were built, 1,924 by Hawker, 1,850 by Gloster Aircraft Company and 426 by Canadian Car and Foundry between December 1937 and July 1941. The Canadian Car and Foundry Hurricanes were shipped to England to be fitted with engines.
(Edited from Wikipedia)
---
Hawker Hurricane Mk.I / PR.1, V7101
Malta 1941: In the early days of the attempted siege of the island by Nazi Germany, it became increasingly dangerous for Martin Maryland's of the RAF to venture too far inland during photo-reconnaissance (PR) flights. The RAF responded by modifying a Mk.I (metal wing) Hawker Hurricane, V7101, for high-altitude PR work.
Under the guidance of S/Ldr Louks, the airframe underwent numerous alterations including the removal of all guns, armour, radio equipment, and radio mast. To increase it's range, a 150-gallon fuel tank salvaged from a crashed Wellington was installed. Additional modifications included an additional oil tank, a Rotol propeller, and F.24 cameras. V7101 was reported to be capable of reaching 35,000ft but it's normal operating altitude was closer to 30,000. The increased tankage permitted overflights of areas as far away as Naples. One pilot that flew V7101 reported it being prone to spinning due to an aft center of gravity.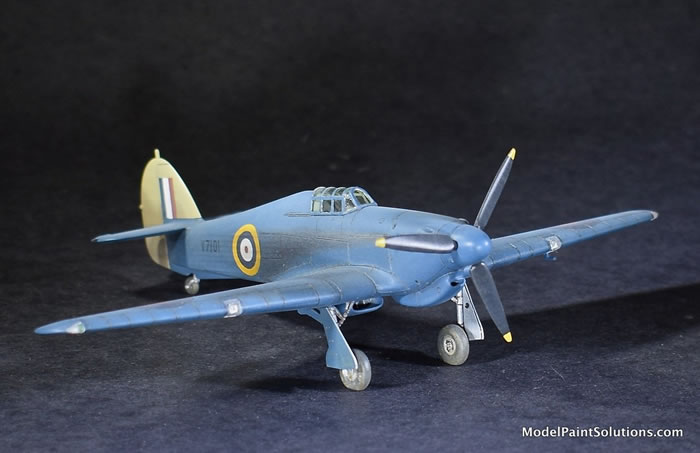 The most notable feature of the airframe is, of course, the overall blue. The proper blue paint was unavailable on Malta at the time so the blue was reported to have been made from "5 gallons of Deluxe Bosun Blue, seven pints of turpentine, 16lbs of Zinc powder, and 3lbs of De Lux Black" (Reference 1). The few photos taken of the aircraft indicate a fair amount of bleaching consistent with exposure to the sunlight of Malta.
Some sources (Reference 2) report that following damage, V7101 had it's vertical stabilizer and rudder replaced with those of a normally camouflaged Hurricane although this has not been confirmed.
---

References:
No Place for Beginners, Battle Over Malta: June 1940-September 1941 by Tony O'Toole. Dalrymple & Verdun Publishing, 2013 (ISBN 978-1-905414-18-5.

The Hawker Hurricane, Modelers Datafile by Richard A. Franks. SAM Publications (ISBN 0-9533465-1-X)
Parts were removed with God's Hand parts nippers and cleaned up with a new #11 blade, micro-files, and 600 grit Alpha Abrasive. The cockpit parts and inner fuselage halves were shot with Mission RAF Interior Green.
The fit of the fuselage halves is spot-on and required only scraping with a #11 blade and a little buffing with Micromesh 4,000 pads to blend the dorsal fuselage seam. This is fortunate as any filling here could alter the nice fabric-covered effect.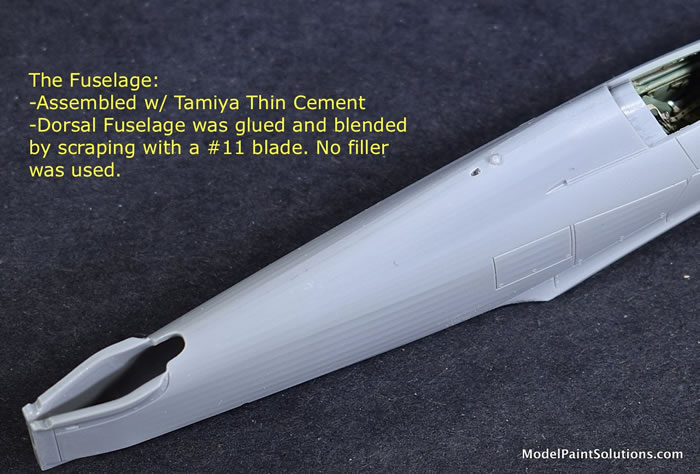 Per the kit instructions, the main gear was installed and the wing halves assembled prior to joining with the fuselage. Assembling the main gear retract arms under the up-lock supports posed the only real challenge of the build. The fit here is finicky.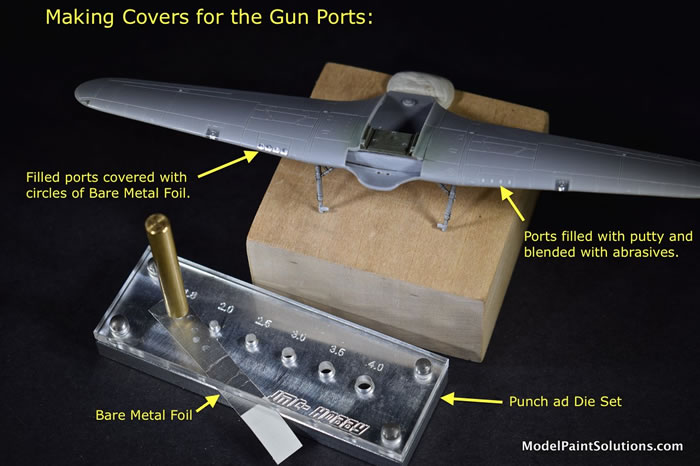 Once the main gear was installed, the wing halves were joined with Tamiya thin cement and the wing leading edge landing lights and navigation lights were glued in place with thick CA (Bob Smith Industries). The lights were blended in-place with a series of abrasives.
Prior to painting the overall colur, the canopy was masked and sprayed.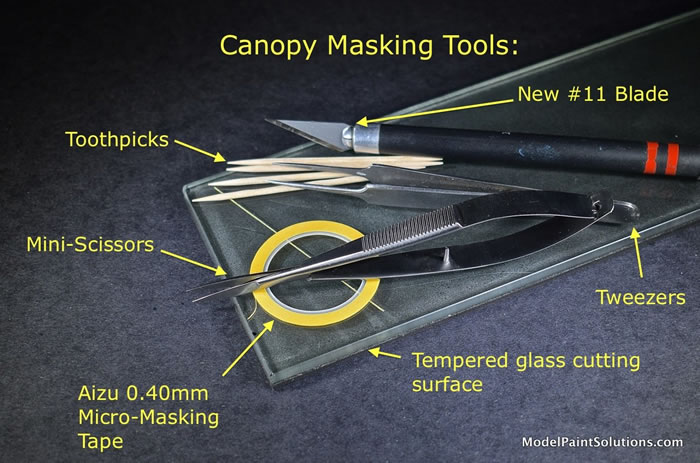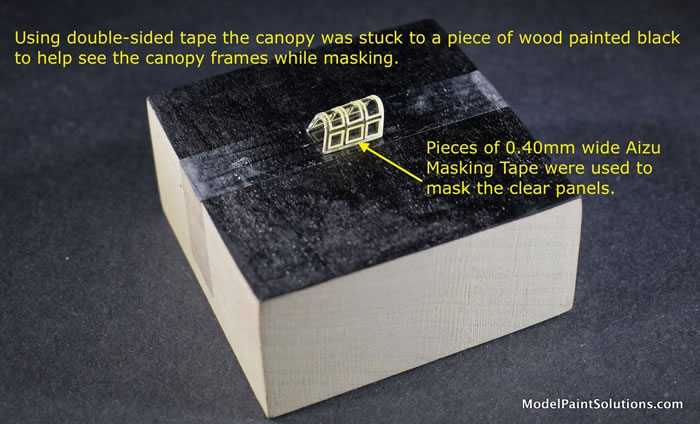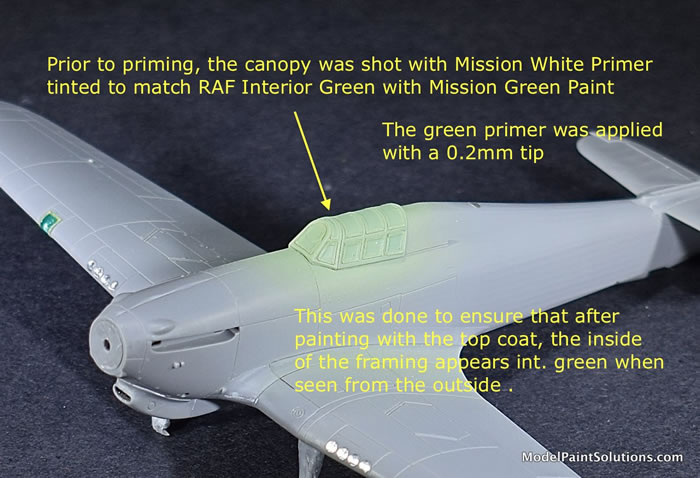 The model was also pre-shaded.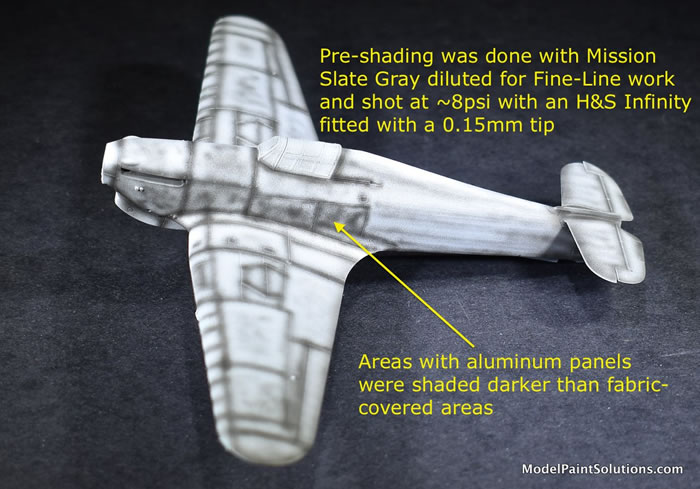 As mentioned earlier, the blue paint used on V7101 was made from materials on hand in war-stressed Malta. Briefly, Deluxe Bosun Blue, 16lbs of Zinc powder, and 3lbs of De Lux Black. Being plumb out of Zinc powder and Deluxe Bosun Blue, I opted to make a custom mix of Mission paints that would amount to my best guess. I was guided in this by some good advice from Hurricane guru Jim Bates. With his knowledge of V7101, he cautioned me to not mix the paint too light: good advice.
After a little trial and error the following recipe looked right to my eye: 60% Mission Blue, 30% Mission White, and 10% Mission Medium Gray.
After the blue was sprayed the model was post-shaded with the same blue lightened by 25% with Mission White. The appropriate decals were sourced from the spares box and applied using conventional methods and Micro-Set and -Sol.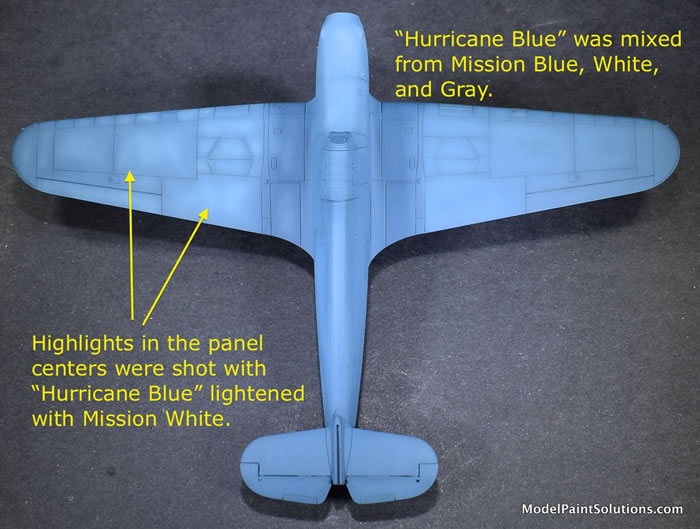 The two-tone, desert-tan scheme was applied to the vertical stabilizer and rudder using custom mixes of Mission Paints and an H&S Infinity with a 0.15mm Fine-Line tip.
Having read the excellent description of V7101 in "No Place for Beginners" I opted for a sun-beaten finish using mostly artists oils and some weathering powders. To prepare the finish for weathering, the model was first sprayed with Mission Semi-Gloss.
Dollops of White, Buff, Brown, and Grey artists oils (Abteilung) were placed on think cardboard for 1hr to allow the oils to leach from the pigments: a technique beautifully described by Mike Rinaldi in his "Tank Art" series of books. The rendered oils were then used for most of the weathering steps.
Various panels on the wings and fuselage were faded to differing degrees with an oil wash. The landing gear and wheels/tires were treated to a dusting with light tan and brown weathering powders and subsequently sealed with a coat of Mission Semi-Gloss.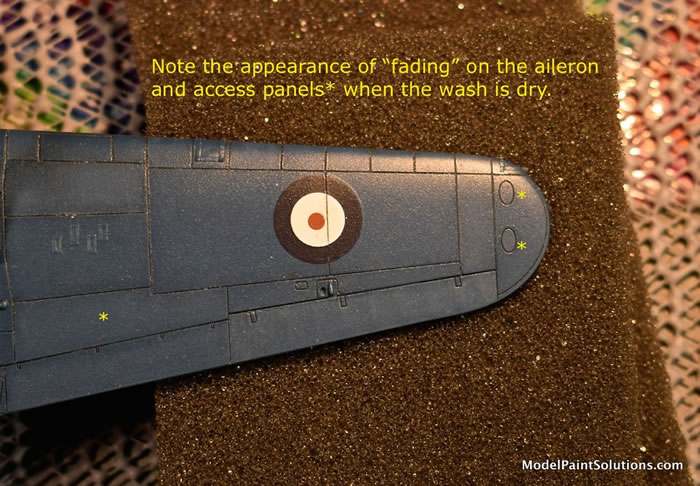 The final finish was achieved with of Mission Flat applied as multiple, light, dry coats.
This was a blast!
The Arma Hurricane is not without it's faults but with a little extra work it builds into a very nice looking model.
The one area to pay attention to is the installation of the main gear. The fit here is tight and a bit finicky but nothing that can't be handled with a little test fitting and patience. I have been impressed with all of the previous Arma kits but their Hurricane is really a cut above: Well done Arma. Highly Recommended!
Note: I'd like to send a special appreciation to Tony O'Toole for writing such a fantastic book on the siege of Malta: "No Place for Beginners." It's well worth the read.
For more on this build visit Modelpaintsolutions.com
---

Text and Images Copyright © 2019 by Model Paint Solutions
Page Created 30 April, 2019
Last updated 30 April, 2019
Back to HyperScale Main Page
Back to Reviews Page