FM-2 Wildcat
Model Kit Series
Arma Hobby, 1/72 scale
S u m m a r y :

Description and Item No.:

Arma Hobby Kit No. 70033 - FM-2 Wildcat Model Kit Series

Contents and Media:

71 parts in grey plastic; five parts in clear plastic; markings for two aircraft.

Price:

€14.50 plus shipping available online at Arma Hobby

£15.70 EU Price (£13.08 Export Price) Plus Shipping at Hannants

and hobby retailers worldwide

Scale:

1/72

Review Type:

First Look

Advantages:

High quality moulding; excellent surface textures and detail; high quality decals.

Disadvantages:

Flimsy end-opening box.

Recommendation:

Arma Hobby's 1/72 scale FM-2 Wildcat is a gorgeous little kit - crisp surface texture, high moulding quality, with great detail. It's still a great little package with the plastic parts alone, or you might choose to buy some alternative photo-etched upgrades from Eduard, as well as their masking set.
Reviewed by Brett Green

The Grumman F4F Wildcat is an American carrier-based fighter aircraft that began service in 1940 with the United States Navy, and the British Royal Navy where it was known as the Martlet.
First used by the British in the North Atlantic, the Wildcat was the only effective fighter available to the United States Navy and Marine Corps in the Pacific Theatre during the early part of the Second World War. The disappointing Brewster Buffalo was withdrawn in favour of the Wildcat and replaced as aircraft became available.
With a top speed of 318 mph, the Wildcat was outperformed by the faster 331 mph, more manoeuvrable, and longer-ranged Mitsubishi A6M Zero. However, the F4F's ruggedness, coupled with tactics such as the Thach Weave and hit-and-run manoeuvres using altitude advantage resulted in a claimed air combat kill-to-loss ratio of 5.9:1 in 1942 and 6.9:1 for the entire war.
Lessons learned from the Wildcat were later applied to the faster F6F Hellcat. While the Wildcat had better range and manoeuvrability at low speed, the Hellcat could rely on superior power and high speed performance to outperform the Zero.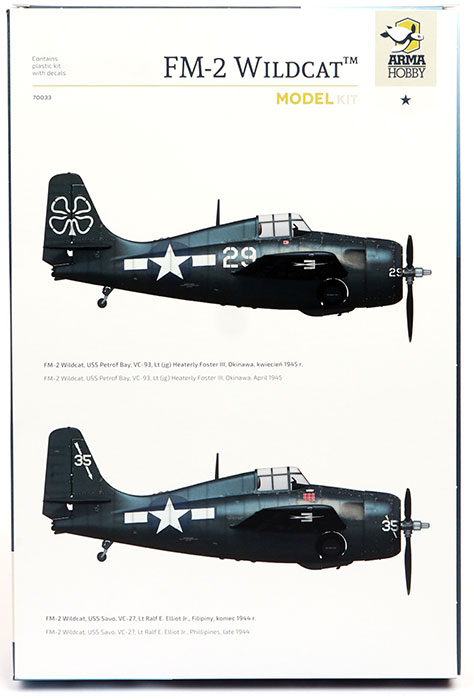 In addition to production by Grumman, General Motors / Eastern Aircraft produced 5,280 FM variants of the Wildcat.
Grumman's Wildcat production ceased in early 1943 to make way for the newer F6F Hellcat, but General Motors continued to produce Wildcats for both U.S. Navy and Fleet Air Arm use.
Even when the Wildcat was obsolescent as a front line fighter compared to the F6F Hellcat or the much faster F4U Corsair, it remained adequate for small escort carriers against submarine and shore threats. These relatively modest ships only carried two types of aircraft, the Wildcat and GM-built TBM Avenger. The Wildcat's lower landing speed and ability to take off without a catapult made it more suitable for shorter flight decks.
At first, GM produced the FM-1, identical to the F4F-4, but reduced the number of guns to four, and added wing racks for two 250 lb (110 kg) bombs or six rockets.
Production later switched to the improved FM-2 optimized for small-carrier operations, with a more powerful engine and a taller tail to cope with the torque.*
Arma Hobby released their 1/72 scale FM-2 Wildcat in March this year. The intial release was in the "Expert Set" series and included 20 photo-etched parts, self-adhesive canopy masks and six marking options. Of course, it also came with a higher price tag than an all-plastic kit.
Arma Hobby is now offering their 1/72 scale in their "Model Kit" series, stripped back to the plastic parts and two marking options and a lower price, a bit like Eduard's Weekend Edition kits.
In total, this one comprises 71 parts in grey plastic, five parts in clear plastic, and markings for two aircraft.
The grey plastic parts are delivered on one large and one smaller sprue. Moulding quality is excellent, with no flaws or visible moulding imperfections on my sample, only a little flash on some of the smaller parts. Arma's website advises that long-run metal moulds are used for their kit production, and it really does show.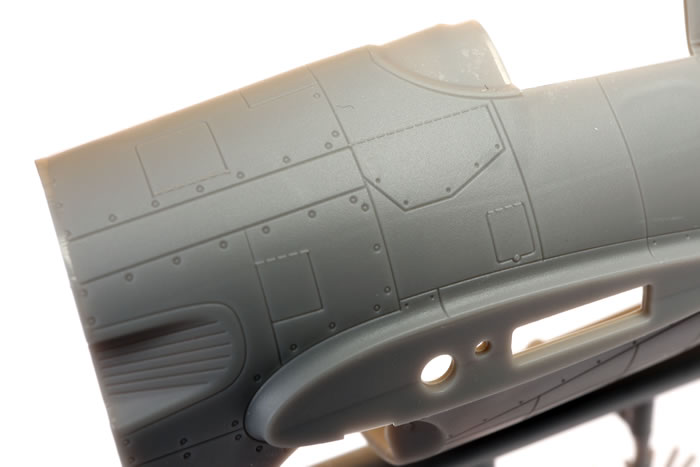 Being a long-run kit, the parts are moulded with all the alignment aids that you would expect including locating pins, holes and tabs.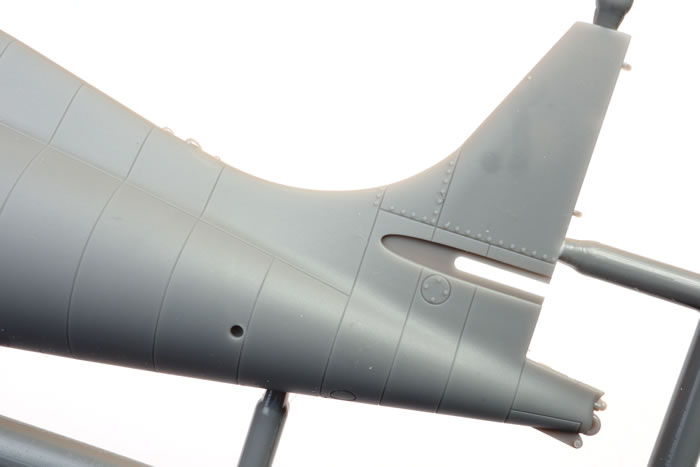 The larger parts are moulded with a satin finish. Surface textures are just gorgeous. Recessed panel lines, raised fastener heads, blister fairings and other structural details are very fine.
The fabric texture on the rudder, elevators and ailerons are represented by subtly raised rib tapes. The elevators are moulded as a pair so they may be posed to taste. The rudder is a separate part too.
The fuselage is supplied as left and right halves with the characteristic tall FM-2 fin moulded to the fuselage halves.
Some cockpit sidewall detail is moulded directly to the inside of the fuselage. These are supplemented by a plastic cockpit floor, front and rear bulkheads, side consoles, a moulded pair of rudder pedals that plug in behind the instrument panel, control column and more.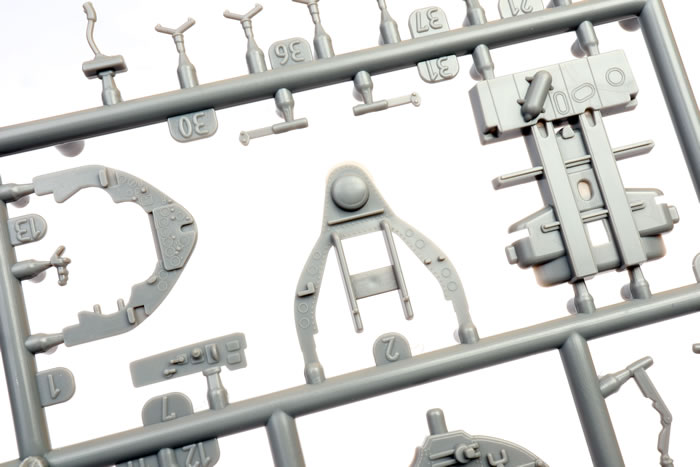 The instrument panel is moulded with raised bezels and switches. These should look good with a bit of careful painting and dry-brushing.
The decal sheet supplies two sets of harness straps and instrument panels.
Wheel wells are nicely detailed. The intricate landing gear is cleverly moulded in a minimum number of parts, although care will be required during alignment and assembly. Test fit thoroughly!
Two styles of main wheel are offered, as are two different tail wheel parts – covered and uncovered. The main wheels are subtly bulged and flattened.
The engine is very well done. The ring of cylinders is provided as one part with fine cooling fin detail. This is supplemented with pushrods and the crankcase cover also moulded as one part. Two different styles of spinner caps are offered.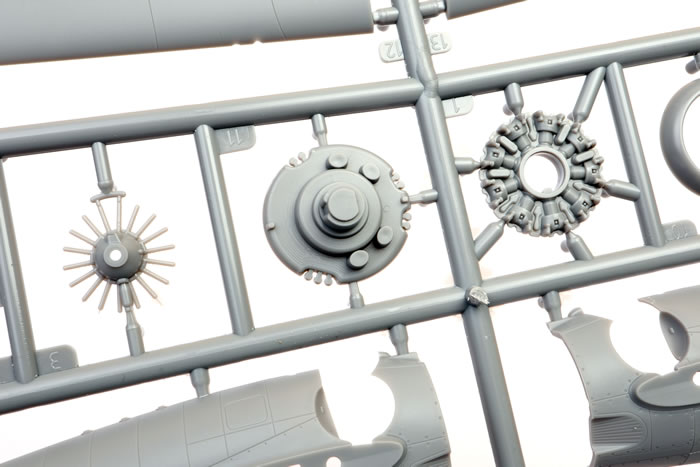 The wings are moulded in four parts with upper and lower, port and standard halves. Trailing edges are very thin – almost translucent.
Six rockets and two drop tanks wrap up the grey plastic parts.
The canopy parts are thin and clear and offer separate parts for the windscreen and the sliding section. The gunsight is a clear part too.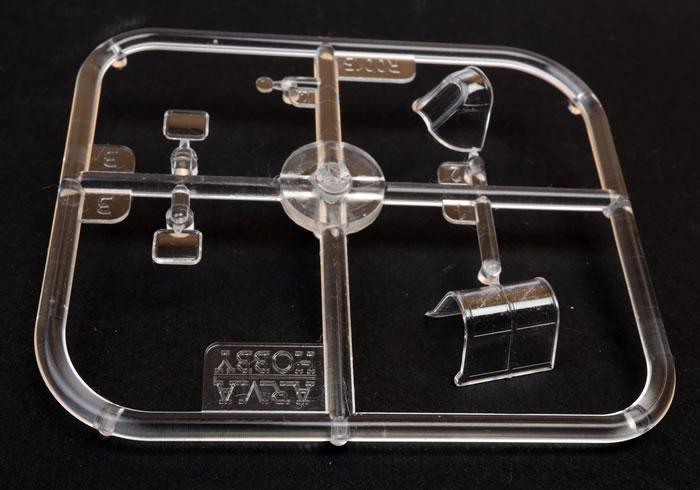 Wing tip navigation lights are moulded as part of the wings.
Although canopy masks are not included, Arma has printed templates on the front page of the instruction booklet to cut your own.
Instructions are supplied as a 12 page stapled A5-sized booklet. Assembly is described over 23 steps using sometimes small but clear diagrams.
The kit is packed into a end-opening cardboard box. I have to say that I have never been a fan of end-opening boxes - access to the parts is more difficult, loose parts can easily be lost while retrieving instructions or a larger sprue, and the format is less structurally rigid, inviting the contents to be crushed when the box is inevitably at the bottom of a pile of kits. I know it is a nit-pick but I would prefer to see future Arma Hobby releases in a lid-style of box.
---
Marking Options
Two US Navy marking options are offered. Both are finished in overall Gloss Sea Blue.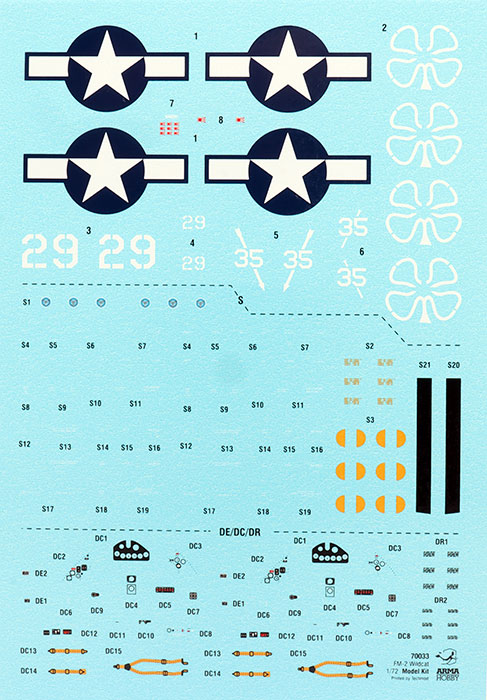 Stencil markings are included, as are black wing walkways, propeller logos, and six yellow propeller tip decals.
Colour callouts are provided for FS numbers and model paint numbers from a wide variety of companies – Hakata, AK, Lifecolor, AMMO, Humbrol, Vallejo and Tamiya.
Decals are printed by Techmod. They are glossy, colours are well saturated and everything is in perfect register.
Arma Hobby's 1:72 scale FM-2 Wildcat is a gorgeous little kit - crisp surface texture, high moulding quality, with great detail. It's still a great little package with the plastic parts alone, or you might choose to buy some alternative photo-etched upgrades from Eduard, as well as their masking set.
* Historical background adapted from Wikipedia
Thanks to Arma Hobby for the sample
---
Review Text and Images Copyright © 2020 by Brett Green
Page Created 7 December, 2020
Last updated 9 December, 2020
Back to HyperScale Main Page
Back to Reviews Page