Williams Brothers 1/72 scale
Curtiss C-46 Commando
by Tadeu Pinto Mendes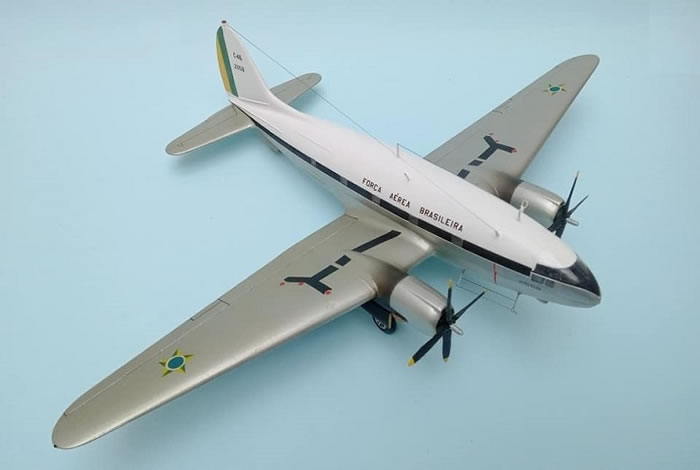 Curtiss C-46 Commando
With the success of the Douglas DC-2 and DC-3, Curtiss-Wright wanted to launch an even bigger and more performing competitor. This twin-engine was designated CW-20, which was pressurized and fuselage in the shape of a figure eight, and made its first flight in March 1940. With the outbreak of World War II, the US was looking for all types of aircraft that could serve. The CW-20 was one of them that had great potential as a freighter. In the USAAF it was the C-46 and they used a lot in Asia on the famous air bridge from India to China.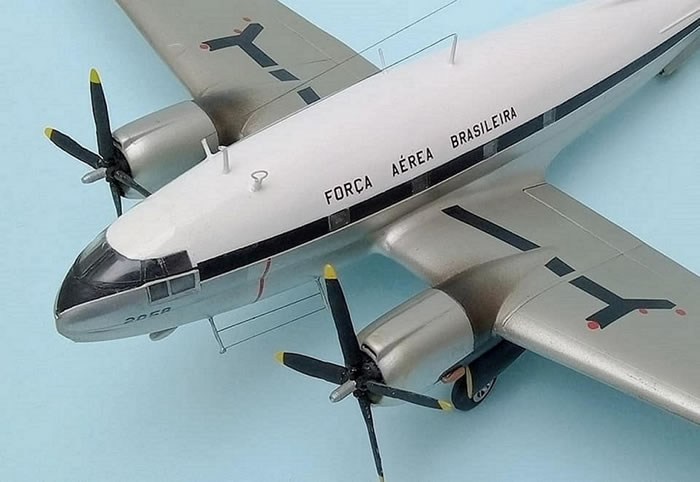 In Brazil, the CW-20 had an outstanding participation alongside the DC-3 in several airlines. As most were manufactured for military use, of which there were few windows, these purchased around the world, the missing windows were made to look like the commercial ones. Despite being a very capable aircraft, it had the disadvantage of being quite heavy and with a large side area and was the commercial in use in Brazil with the highest number of accidents, where more than 30 units were lost. In the Brazilian Air Force there were only 2 units that were acquired after the war in 1948. One of them fell the following year in Bolivia and the other remained until 1967. It is now preserved at the MUSAL in Rio. Another example that exists in the country was a former VARIG and is currently in the Bebedouro museum in a poor state of conservation.
This is an old model of the American brand Williams Bros on 1/72 that until today is the only injected model of the C-46.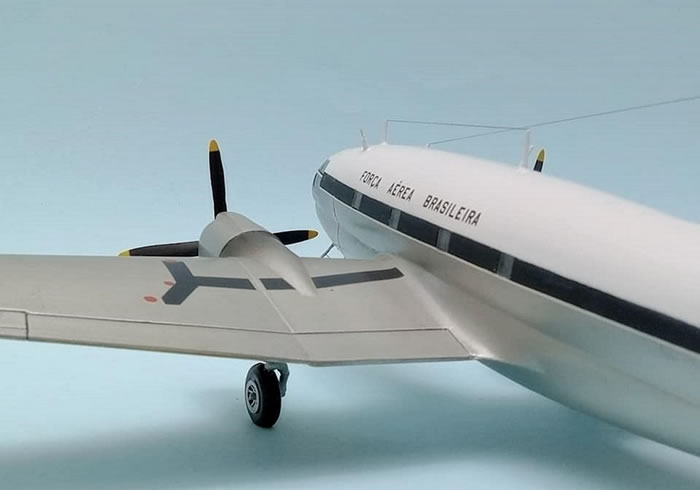 The model is very rudimentary, without further details and curiously came with rubber wheels. The decal is of good quality.

This model came to be made from the defunct American air freighter Flying Tigers, as well as the USAAF and the Chinese air force.
I ended up choosing to do the Brazilian Air Force as it had the same paint as the C-47, mostly in Aluminum - FS 17178, with the fuselage back in White - FS 17925 and strip on the windows and under engine nacelles in Black - FS 37048. Rudder in Green - FS 14062 and Yellow - FS 13538.
All painting was done with synthetic enamel paint
---
Model and Text Copyright © 2021 by Tadeu Pinto Mendes
Page Created 15 December, 2021
Last Updated 16 December, 2021
Back to HyperScale Main Page