Hispano HA-1112 K.1L
Tripala/Buchon Spanish Air Force Wing Cannon and Rocket Set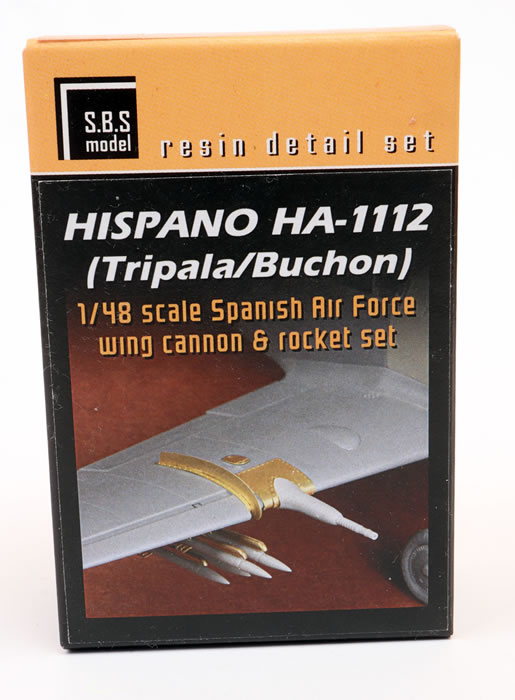 S.B.S. Model, 1/48 scale
S u m m a r y :

Catalogue Number, Description and Price:

Scale:

1/48

Contents & Media

30 parts in grey resin; four parts in cast brass; 46 photo-etched parts on two frets; instructions.

Review Type:

First Look.

Advantages:

Very high quality casting and crisp detail; essential accessories for some subjects.

Disadvantages:

Some experience with multimedia parts will be helpful.

Conclusions:

It is great to see this this accessory set that is essential to a number of Spanish Air Force Tripalas. This set will transform the wings of your Ha.1112.

Reviewed by Brett Green

The Hispano Aviación HA-1109 and HA-1112 were license-built versions of the Messerschmitt Bf 109 G developed in Spain during and after World War II.
In 1942, the Spanish government arranged a manufacturing licence with Messerschmitt AG to build the Bf 109 G-2, the DB 605A engines, propellers, instruments and weapons were to be supplied from Germany. This proved impossible as Germany was incapable of meeting its own needs let alone Spain's, and only twenty-five airframes (without their tails) and less than half the necessary drawings were actually delivered.
Consequently, Hispano Aviación replaced the DB 605A engine with the 1,600 hp HS 89-12Z and the project was renamed Me 109 J by Messerschmitt.
The HS 89-12Z engine performed a successful flight in a Bf 109 E used as flying testbed, in Barcelona in 1944 and the first HA-1109-J1L made its maiden flight on 2 March 1945 in Seville, using a VDM propeller and lash-up engine mounting.
The remaining twenty-four airframes were flown during 1947-49 with Escher-Wyss props, but never became operational.
In May 1951, a developed version, the HA-1112-K1L, improved the Hispano-Suiza, HS 17-12Z engine installation, carried either one or two 12.7mm Breda machineguns and Pilatus eight-packs of 80mm rockets and its three-bladed de Havilland Hydromatic propeller earned it the nickname Tripala ("three blades"). It first flew in 1951, and although 200 were planned only 65 were built.
The Hispano engine was an upright V12 instead of the inverted V12 Daimler-Benz DB 601 & 605 engines used in the Bf 109 but, being of compact design, it fitted the airframe of the Bf 109 well and was able to credibly represent the Bf 109 in the German 1957 film Der Stern von Afrika (The Star of Africa) about Luftwaffe ace Hans-Joachim Marseille.
The original design, starting with the Bf 109 F, had an asymmetrical tail-fin aerofoil with a left deflection to counteract the torque from the Daimler-Benz's counter-clockwise rotation. Because this was left unchanged in the Buchón despite the Hispano V12 having a clockwise rotation, the tail and the engine together induced a right swing on takeoff that was hard to counteract.*
S.B.S. Model released a 1/48 scale Hispano HA-1109/1112 K.1L Tripala conversion back in 2019.
The conversion was specifically designed for the new Tamiya Messerschmitt Bf 109 G-6 kit. This is a clever strategy as Tamiya's kit nose is already separate, so there would be minimal surgery required to the donor fuselage even though it is a pretty serious transformation. In fact, the only cutting of the kit required is the forward mount for the windscreen.
The only issue was that some Spanish Air Force Tripalas were fitted with cannon, rockets and wing fences, but the conversion did not supply these.
SBS Model has now addressed this with a new update set for the conversion that supplies all the wing armanent, panels and wing fences for the up-armed Tripala.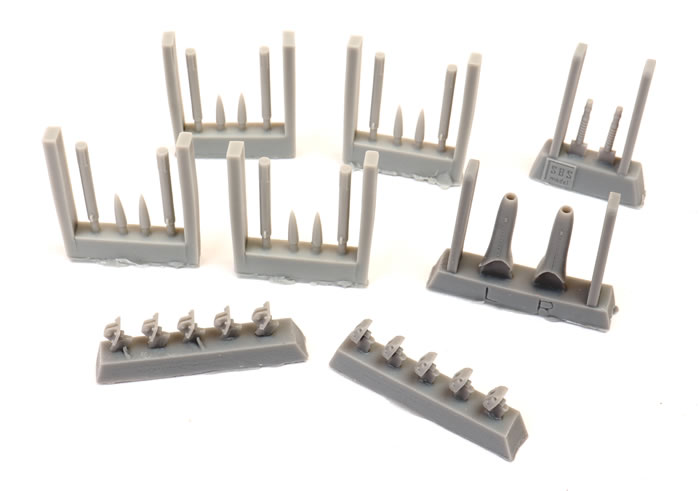 This is quite a comprehensive set with 30 parts in grey resin, four parts in cast brass, 46 photo-etched parts on two fret and instructions.
The resin parts are the wing cannon fairings, barrels, rocket bodies and separate warheads.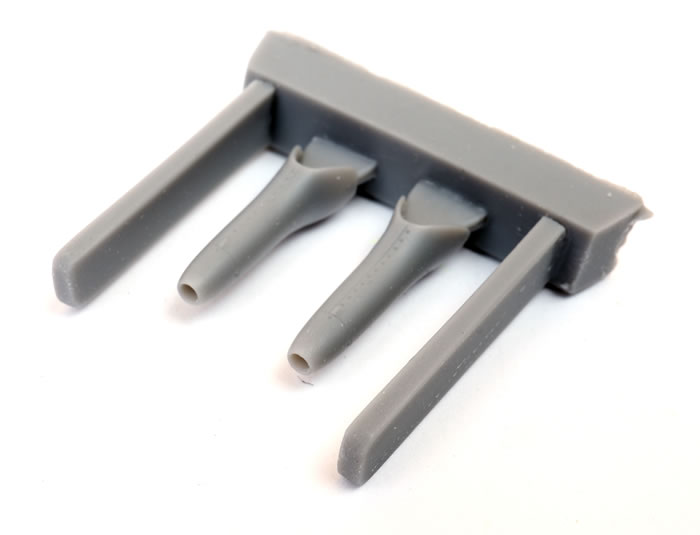 Casting quality is perfect.
The four rocket rails are supplied in cast brass. Each rail mounts two rockets. They rails are supplied in one piece each and will require minimal cleanup.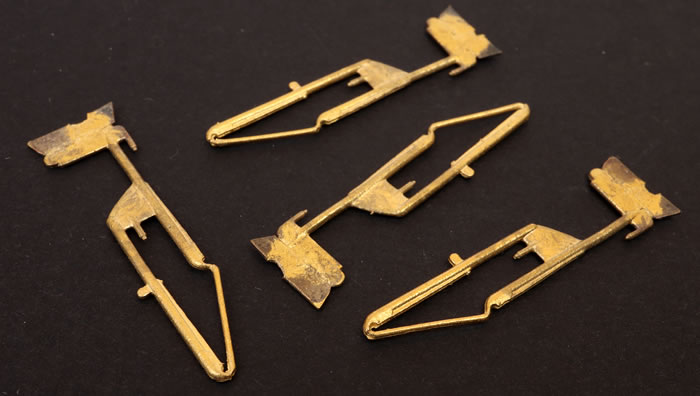 The small photo-etched fret supplies 32 perforated rocket fins for the eight rockets.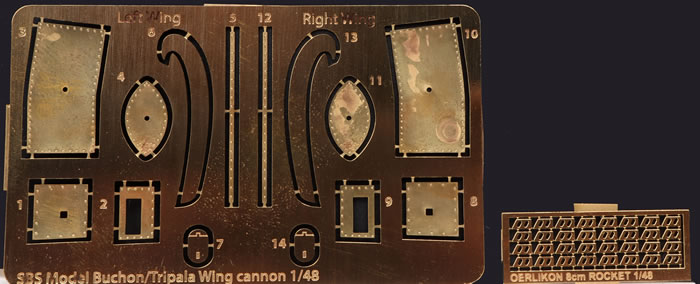 These are pretty small and there are no spares, so be careful when removing them from their fret and when handling.
The larger photo-etched fret offers the wing fence and various panels.
It is great to see this this accessory set that is essential to a number of Spanish Air Force Tripalas. This set is sessential for anyone wanting to build the up-armed version of the Ha.1112.
* Background information courtesy of Wikipedia
Purchased by the reviewer from SBS Model
---
Review Text and Images Copyright © 2021 by Brett Green
Page Created 8 September, 2021
Last updated 8 September, 2021
Back to HyperScale Main Page
Back to Reviews Page