S u m m a r y :

Catalogue Number, Description and ISBN:

MMP Books – White Series
Yugoslav Fighter Colours 1918-1941 Vol. 1
by Ognjan Petrovic & Djordie Nikolic

ISBN:

9788365958570

Contents & Media:

Hardback A4 format book; 192 pages in English; color profiles and photographs.

Price:

GBP£35.00 plus shipping available online from MMP Books

Review Type:

First Look

Advantages:

A very detailed look at Yugoslav fighter camouflage; great inspiration for modellers with colour profiles, wartime photos and more.

Disadvantages:

None.

Conclusion:

I warmly recommend this book and I am really looking forward to obtaining Vol.2!

Reviewed by Maciej Góralczyk

Being mainly interested in aircraft camouflage and markings from the World War II era, I'm always curious about the new additions to the Mushroom/Stratus' White (Rainbow) Series. That was also the case with the first volume of 'Yugoslav Fighter Colours 1918-1941' authored by Ognjan Petrovic and Djordje Nikolic, especially as both these names were already known to me: Mr. Petrovic had illustrated the truly excellent 'Messerschmitt Bf 109. The Yugoslav Story', whilst Mr. Nikolic co-authored valuable publications on the Dornier Do 22 and Rogozarski IK-3.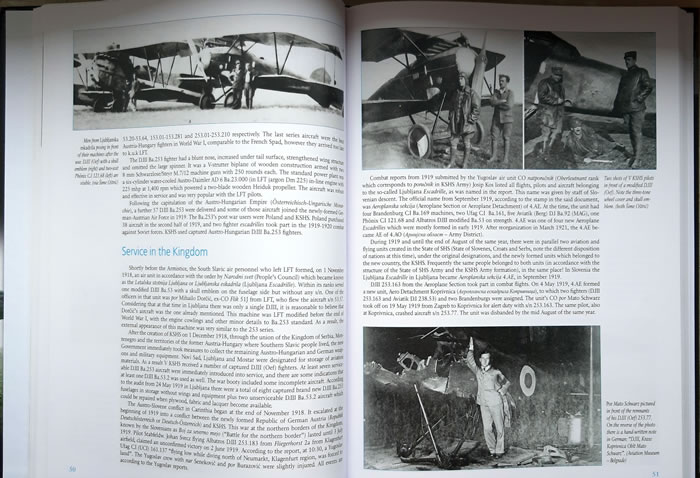 The result of their cooperation is also not disappointing: on 192 pages of Vol.1 we find a plethora of unique information which in most cases is likely available in English for the very first time, accompanied by dozens of photos (in large part of surprisingly good quality) and fairly nicely rendered colour profiles.
The aircraft covered in Vol.1 are Nieuport 24 & 27, Spad S.7 & S.13, Albatros D.III Ba.253 (Oef), Phönix D.I & D.II, Aviatik (Berg) D.I, Ansaldo SVA 5, Bristol F.2b Fighter, Dewoitine D.1, D.9 & D.27, Avia BH-33E and Potez 25 A2. In each case we are offered with a short story of the type and its use in the Kingdom of Yugoslavia, followed by the description of its camouflage & markings and tables of its basic characteristics.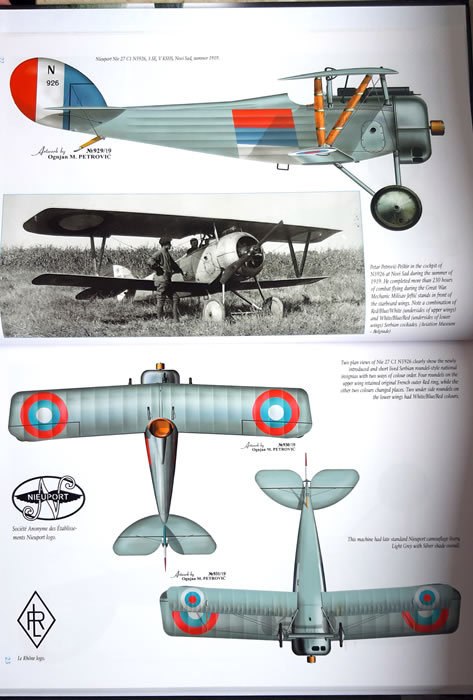 My only complaint would be that the colours are usually specified in a rather general manner, but then it is no surprise that it is very difficult, if not impossible, to determine the exact shades used in that early period of aviation – we can therefore agree with Mr. Petrovi?'s interpretations presented on the profiles or make own choices on the basis of the textual description.
Not to be forgotten are the Appendices, which deal with the evolution of markings & insignia in 1918-41 period (illustrated with a number of drawings from the era and several photos), camouflage and colours, unit structures, aviation ranks and abbreviations used.
Also included are a reproduction of a pre-war pilot map of the Kingdom and a listing of all fighter aircraft types used there. The latter allows to determine what types will be covered in Vol.2: Hawker Fury & Hurricane, Ikarus IK-2, Rogozarski IK-3, Messerschmitt Bf 109 E-3a & Bf 110 C-4, and Potez 630/631.
I warmly recommend this book and I am really looking forward to obtaining Vol.2!
Thanks to MMP Books for the sample.
---
All MMP Books are available direct from the publishers, who now accept credit cards (Visa, MC, Amex, Switch)
North American distributors are MMD, Australian distributors are Platypus Publications. In Europe, the books are available from any good bookshop (via our UK distributors, Orca). Contact MMP direct in case of difficulties.
Thanks to Roger at MMP Books for the sample.
---
Review Copyright © 2021by Maciej Góralczyk
This Page Created on 23 September, 2021
Last updated 23 September, 2021
Back to HyperScale Main Page
Back to Reviews Page