A6M2 Zero Type 21
TORA TORA TORA!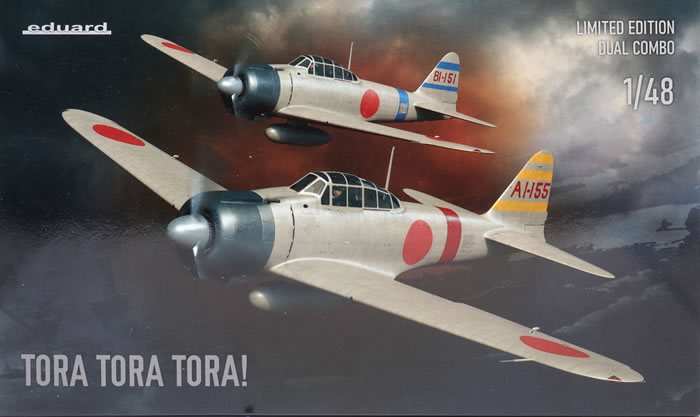 Eduard Limited Edition, Dual Combo
1/48 scale
S u m m a r y

Catalogue Number:
Eduard Kit No. 11155 - Tora Tora Tora! Limited Edition Dual Combo.
Scale:
1/48
Contents and Media:
Two complete models included. Total parts - 282 parts in grey coloured plastic (including 64 marked not for use); 46 parts in clear (20 not used); two colour photo-etched frets; self-adhesive die-cut masking sheet; markings for 12 aircraft
Price:

USD$97.95 plus shipping, available online now from Eduard

GBP£54.70 (£45.58 Export Price) plus shipping available from Hannants

Review Type:
FirstLook
Advantages:
Accurate; high level of detail; outstanding surface features including crisply recessed panels and subtle raised textures where appropriate; assembly jig for engine cowling; includes colour photo-etched parts; separate control surfaces; includes die-cut canopy masks.
Disadvantages:
None noted.
Conclusion:

Eduard's 1:48 scale A6M2 Zero Type 21 maintains the high standards of this prolific Czech company.

The cockpit is comprehensive, surface textures are second to none, and the inclusion of the cowling assembly jig is further evidence of Eduard's continuous innovation.

With its relatively modest parts count, it looks like it should be a fairly quick build too.

Oh Eduard, you've done it again!.

Reviewed by Brett Green

The Mitsubishi A6M "Zero" was a long-range carrier-based fighter aircraft manufactured by Mitsubishi Aircraft Company, a part of Mitsubishi Heavy Industries, and operated by the Imperial Japanese Navy from 1940 to 1945. The A6M was designated as the Mitsubishi Navy Type 0 carrier fighter, or the Mitsubishi A6M Rei-sen. The A6M was usually referred to by its pilots as the Reisen, "0" being the last digit of the imperial year 2600 (1940) when it entered service with the Imperial Navy. The official Allied reporting name was "Zeke", although the name "Zero" (from Type 0) was used colloquially by the Allies as well.
The Zero is considered to have been the most capable carrier-based fighter in the world when it was introduced early in World War II, combining excellent manoeuvrability and very long range. The Imperial Japanese Navy Air Service (IJNAS) also frequently used it as a land-based fighter.
At the time of the attack on Pearl Harbor, 521 Zeros were active in the Pacific, 328 in first-line units.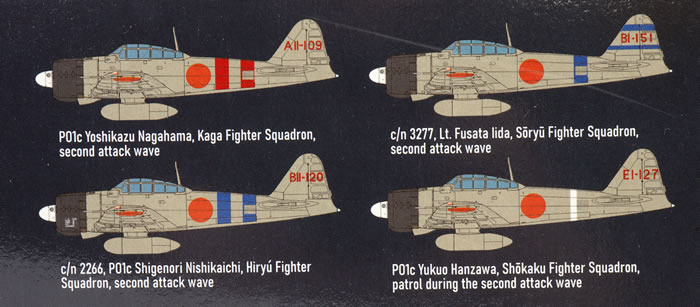 The carrier-borne Model 21 was the type encountered by the Americans. Its tremendous range of over 2,600 kilometres (1,600 mi) allowed it to range farther from its carrier than expected, appearing over distant battlefronts and giving Allied commanders the impression that there were several times as many Zeros as actually existed.
In early combat operations, the Zero gained a reputation as a dogfighter, achieving an outstanding kill ratio of 12 to 1, but by mid-1942 a combination of new tactics and the introduction of better equipment enabled Allied pilots to engage the Zero on generally equal terms.
By 1943, the Zero was less effective against newer Allied fighters due to design limitations. It lacked hydraulic boosting for its ailerons and rudder, rendering it extremely difficult to manoeuvre at high speeds.
By 1944, with Allied fighters approaching the A6M levels of manoeuvrability and consistently exceeding its firepower, armour, and speed, the A6M had largely become outdated as a fighter aircraft. However, as design delays and production difficulties hampered the introduction of newer Japanese aircraft models, the Zero continued to serve in a front-line role until the end of the war in the Pacific.

During the final phases, it was also adapted for use in kamikaze operations. Japan produced more Zeros than any other model of combat aircraft during the war.*
* Historical summary courtesy of Wikipedia
It is always a treat to welcome a brand new tooling from Eduard, and they have been running in overdrive lately with an eclectic mix of esoteric and famous subjects. Who would have ever expected that we would see a world-class 1:48 scale Czech Z-226MS Trenér and a 1:72 scale Zlin Z-37 Cmelak (Czech: "Bumblebee") crop duster released alongside Tempests, Focke-Wulf Fw 190s, Spifires and Bf 109s? Who knows - we may see a Fairey Fruitbat yet.
Eduard continues this ambitious release programme with another all-new kit in late 2021 - a 1:48 scale A6M2 Zero Type 21. This is the first in a family of Eduard Zeros.
Eduard has launched this family with a Limited Edition, Dual Combo boxing that includes two complete kits in the one box.
Eduard's Tora Tora Tora! boxing contains two full new-tool 1:48 scale A6M2 Zero Type 21, which are each made up from 141 parts in medium grey coloured plastic, 23 parts in clear, a colour photo-etched fret and a self-adhesive die-cut mask. 32 of the grey parts and ten of the clear are marked not for use, so the actual parts count is quite modest.
Instructions with a four page illustrated history section plus decals for 12 aircraft that participated in the Pear Harbor attack are also included.
Surface texture is everything we have come to expect from Eduard - just gorgeous. There are very fine and crisply recessed panel lines, rivets and fasteners.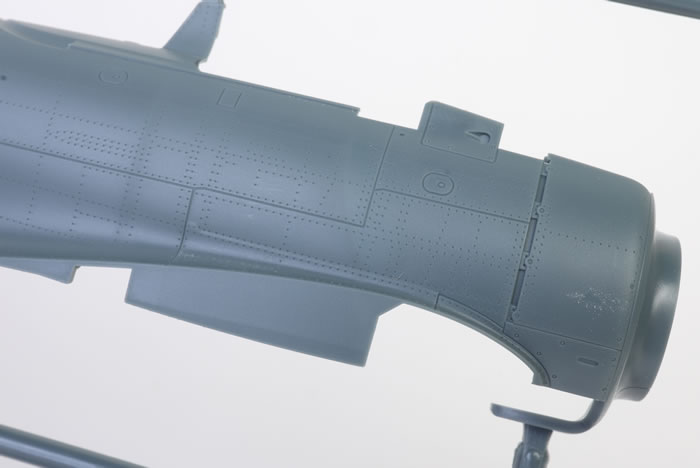 There are also rows of subtly raised rivets and weld beads on the drop tank, plus raised fabric rib stitching and wing panels. These really add to the effect and the closer you look, the better it gets! I can't see any moulding imperfections in my kit.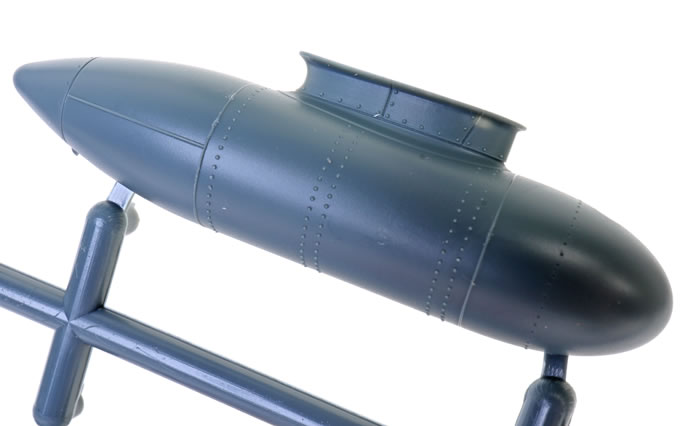 Assembly starts in the cockpit. Some structural detail is moulded onto the inside of the fuselage sides, and the front office is enhanced with Eduard's excellent colour photo-etched parts. Separate parts are supplied for the fuse box, throttle quadrant, radios, side console, bulkheads and more. These are built up in layers on the inside of the fuselage halves.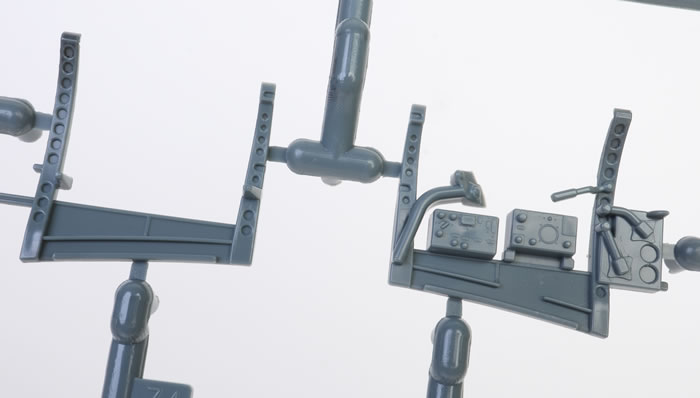 The instrument panel may be finished with either the supplied colour photo-etched parts or decals. If you prefer, you could paint the plastic parts yourself too – the choice is yours.

The one-piece seat is moulded with full perforations and it looks quite acceptably thin. If you want thinner still, Eduard is offering a 3D printed seat as an aftermarket option.
Colour photo-etched harness straps are also included.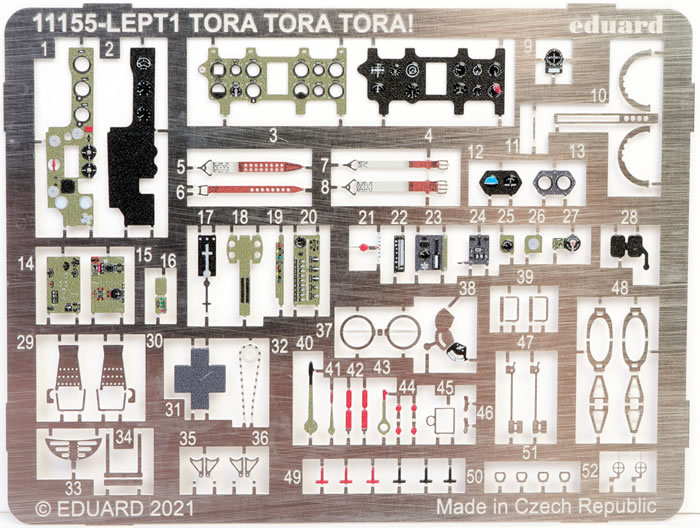 The cowl machine guns are also built into the front of the cockpit. The overall effect should look very busywhen this is all in place.
The engine is made up from just seven parts including the rear mount but detail is very crisp and fine. It should look very nice after careful painting and weathering.
Eduard supplies a cylindrical jig to help align the cowling parts during assembly. The cowl is made up from two sides, a top part with the gun troughs moulded in place and a separate intake duct for the bottom of the cowling. The jig is a great idea. It offers the best of both worlds – nice deep detail free from sink marks plus perfect alignment if the jig is used correctly.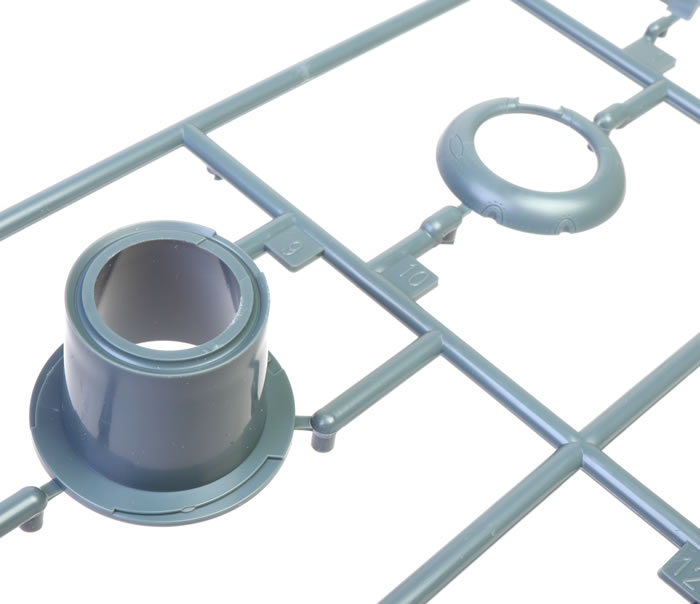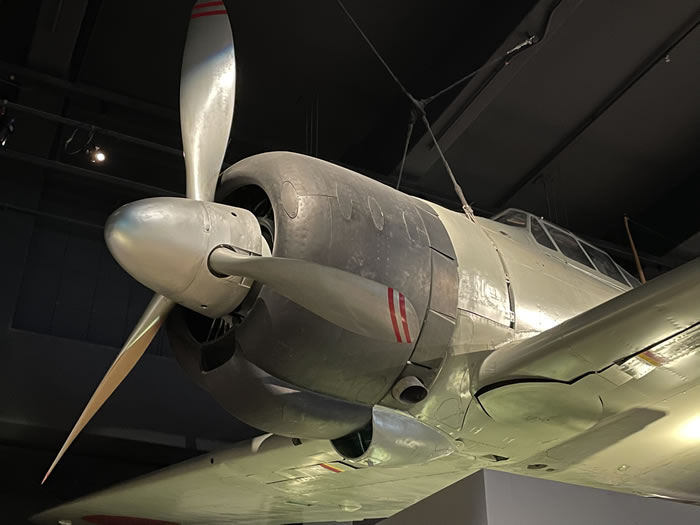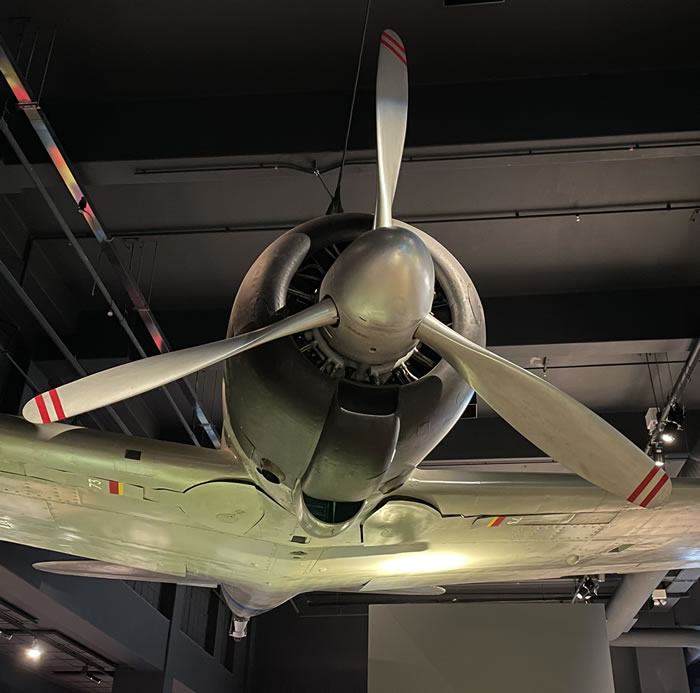 The wings are conventionally presented as a full-span lower section and separate upper halves. The wheel wells are built up from five separate parts that are glued to the inside of the lower wing halves. One of these parts acts as a nice rigid wing spar. Additional detail parts are also included for the wheel wells.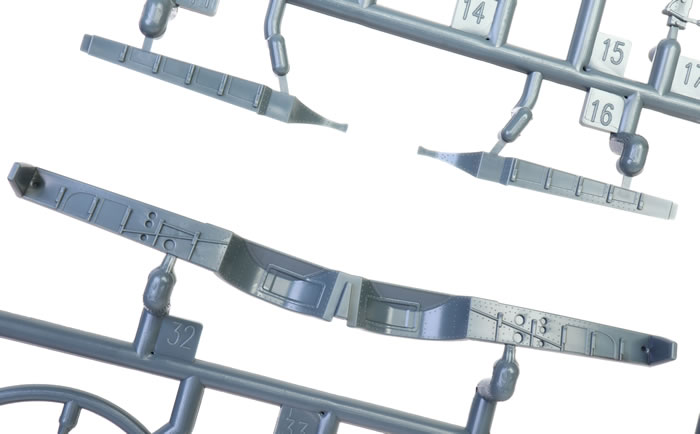 Ailerons, elevators and rudder are all separate parts. Flaps are moulded shut.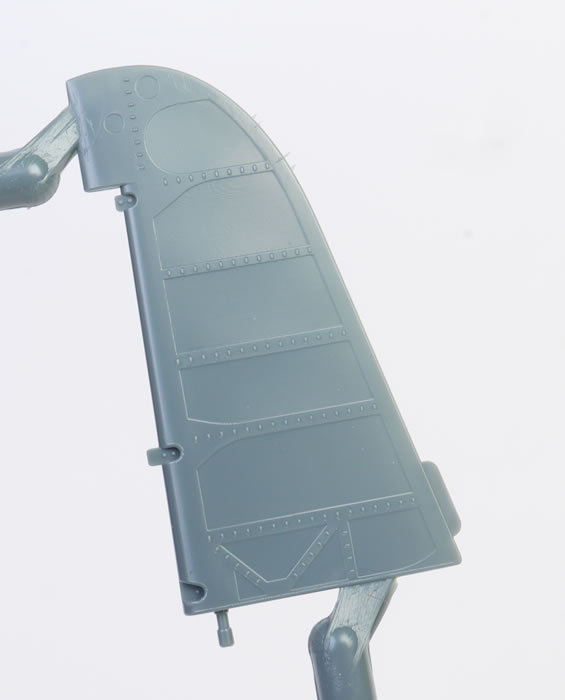 Wing tip navigation lights are supplied as clear parts.
The canopy parts are clear, thin and free from distortion. The canopy may be posed open or closed – one of the very few options in this kit. Alternative parts are offered for open or closed sliding section.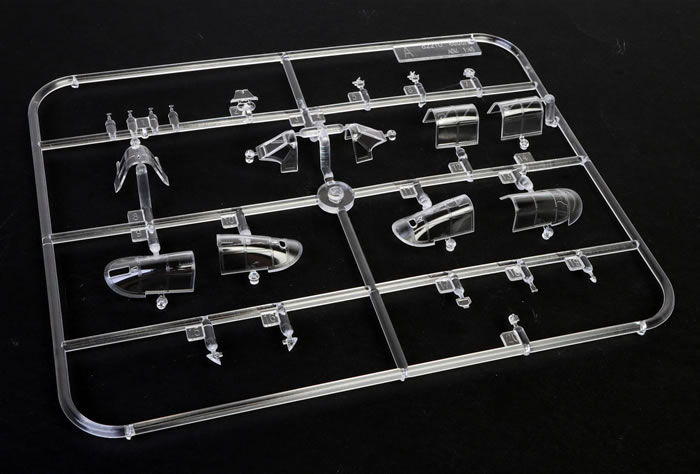 Self-adhesive die-cut masks are provided for the canopy and the main wheel hubs.
---
Markings
Markings are offered for 12 aircraft, all from either the first or second wave attacks on Pearl Harbor 80 years ago today.
The instructions offer four view colour illustrations for all 12 options, plus individual histories for each subject.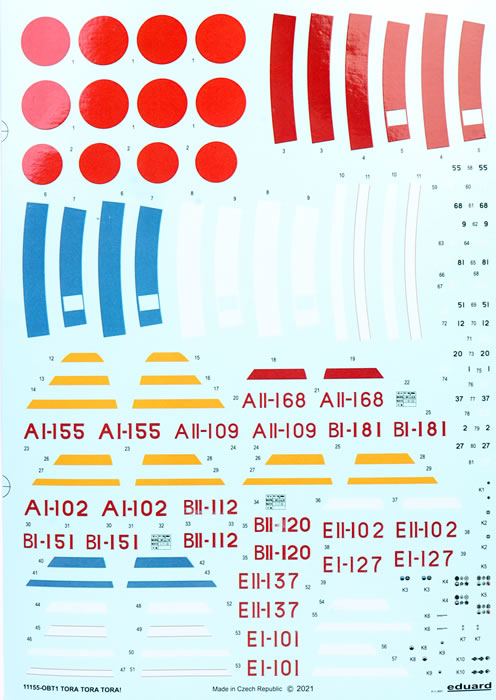 The decal sheet is printed by Eduard. Stencils are also included on two separate smaller sheets.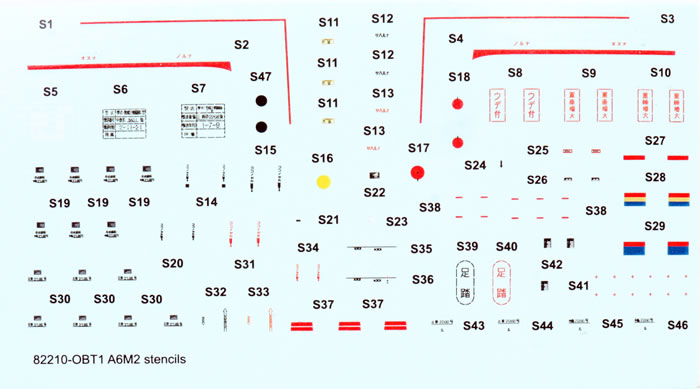 Printing and registration look good on my samples.
Eduard's 1:48 scale A6M2 Zero Type 21 maintains the high standards of this prolific Czech company.
The cockpit is comprehensive, surface textures are second to none, and the inclusion of the cowling assembly jig is further evidence of Eduard's continuous innovation.
With its relatively modest parts count, it looks like it should be a fairly quick build too.
Oh Eduard, you've done it again!
Thanks to Eduard for the sample.
---
Review Text Copyright © 2021 by Brett Green
Page Created 7 December, 2021
Last updated 8 December, 2021
Back to HyperScale Main Page
Back to Reviews Page