Messerschmitt
Bf 109 G-6/AS
Weekend Edition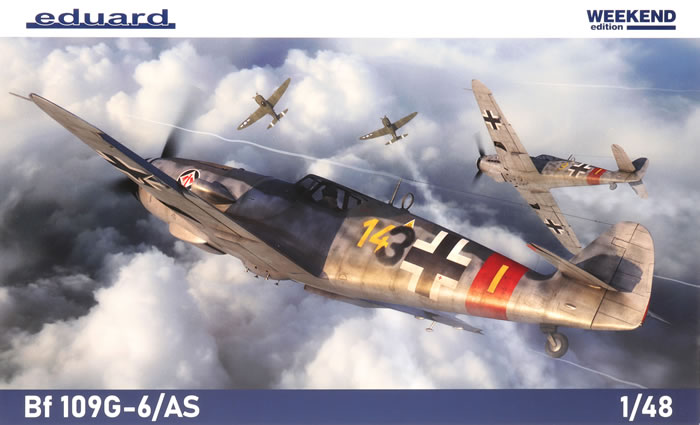 Eduard, 1/48 scale
S u m m a r y

Catalogue Number:
Eduard Kit No. 84169 - Bf 109 G-6/AS Weekend Edition
Scale:
1/48
Contents and Media:
188 parts in grey coloured plastic (including 99 parts marked not for use); 10 parts in clear (including four parts marked not for use); markings for five aircraft
Price:

USD$29.95 plus shipping, available online now from Eduard

GBP£26.46 (£22.05 Export Price) plus shipping available from Hannants

Review Type:
FirstLook
Advantages:
Dedicated G-6/AS fuselage; accurate; high level of detail; outstanding surface features including crisply recessed panels and subtle rivet lines where appropriate; separate control surfaces; many useful options; five marking options.
Disadvantages:
Somewhat overheight exhaust stacks.
Conclusion:

Eduard's 1/48 scale Messerchmitt Bf 109 G-6/AS is another very welcome addition to their lower-priced Weekend Edition family.

With five decal options, the Weekend Edition is no poor relation, but will be the logical choice for somone who prefers to work with plastic parts or is planning to use a BRASSIN replacement cockpit.

I hope that we'll see a cockpit detail set from Eduard's new Space series for their 1/48 scale Gustavs too.

Reviewed by Brett Green

In the never-ending effort to squeeze better performance out of Germany's most numerous fighter aircraft, the large supercharger of the DB 603 engine was combined with the standard powerplant of the Bf 109 G, the DB 605 A. The resulting engine was designated the DB 605 AS.
The installation of the more powerful engine required a redesigned engine cowling. The broad-chord VDM 9-12159 propeller blades were also fitted. In other respects, however, the Messerschmitt Bf 109 G-6/AS resembled a late-production Bf 109 G-6. These distinguishing features include Erla Haube clear vision hood; short strut tailwheel; and narrow main wheels with small upper wing bulges. Including conversions, nearly 700 Bf 109G-6/AS aircraft were delivered to the Luftwaffe.

The Bf 109 G-14/AS was built in greater numbers than the G-6/AS. The later aircraft was sometimes fitted with a deeper oil cooler cover, but many were externally identical to the G-6/AS. Approximately 1,000 Bf 109G-14/AS aircraft were produced.
Eduard released their ProfiPACK Edition 1/48 scale Messerschmitt Bf 109 G-6/AS in early 2020, adding a new fuselage with the revised nose to what was otherwise a late version Messerschmitt Bf 109 G-6.
As is their habit, Eduard is now offering a lower-priced Weekend Edition version of that kit. However, the Weekend Edition seems to be going through a bit of a transformation. Whereas the traditional Weekend Edition has featured its own simplified style of box art and a single marking option, this latest Weekend Edition kit boasts a classy painting on the box and three decal sheets with no fewer than five marking options.
In common with other Weekend Edition Edition kits, there are no photo-etched parts or self-adhesive masks, but the price saving is substantial - USD$29.99 for the Weekend Edition compared to USD$49.99 for the ProfiPACK.
It is also worth considering that anyone who prefers working with plastic parts, or who is planning to replace the cockpit with after market items, won't be requiring the photo-etched parts anyway. If you want to add masks, they're available separately for less than US$10.00 and you'll still pocket a handy $10.00 saving.
All this seems to suggest that the Weekend Edition is being repositioned from the poor relation to a better class of kit.
For the truly budget conscious, there is also still the very basic Overtrees option for just USD$19.95, which I think represents outstanding value. You don't get PE, masks, decals or even instructions with the Overtrees series, but the excellent Eduard plastic parts alone are well worth the price.
So the choice is yours!
Eduard's new Bf 109 G-6/AS Weekend Edition comprises 188 parts in grey plastic, 10 parts in clear, a coloured photo-etch fret, self-adhesive canopy masks and markings for four aircraft. More than 99 of the grey plastic parts are marked "not for use" and there are a few optional parts too, so the actual number of parts used is really quite modest.
You're not too far away from a Bf 109 G-14/AS either - its just a bit of hatch filling and scribing - but I am sure that Eduard will be releasing this as a dedicated kit soon enough (you can buy a Bf 109 G-14/AS Overtrees boxing and it was also included as an option in the 2019 Limited Edition "Bodenplatte" package, but the type has not appeared as a dedicated ProfiPACK or Weekend Edition release).
The fuselage halves were new with the 2020 Messerschmitt Bf 109 G-6/AS ProfiPACK kit.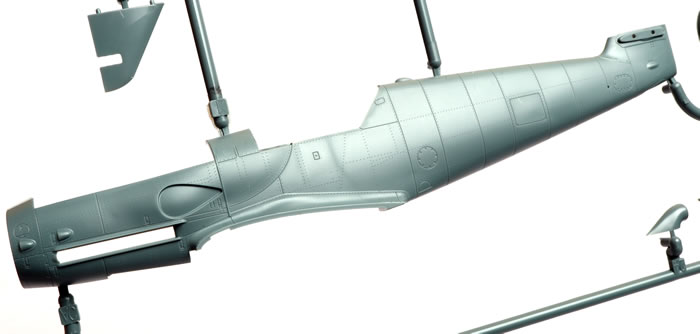 As usual with Eduard's Gustav family, the lower wing is full span and upper wings provided in port and starboard halves.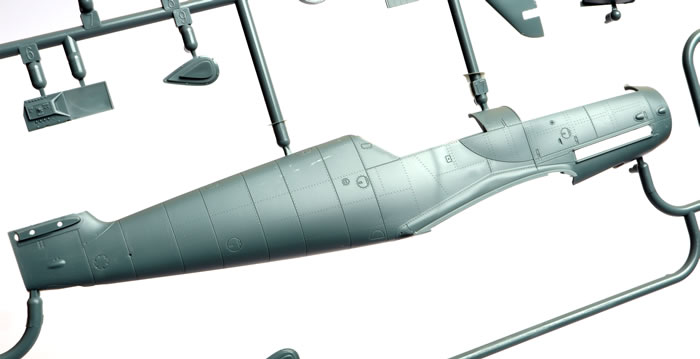 In the absence of photo-etched parts, the cockpit is all plastic. These parts have always been on the sprues and they look good when carefully painted up.
The decal sheet supplies an overlay for the instrument dials and a set of colour harness straps. If you plan to use the decal harness, I recommend that you apply the decals to a thin sheet of lead foil. This will allow you to naturally draps the straps over the seat.

Structural detail is moulded on the inside of the upper wing, which will be visible from below as the wheel well ceiling.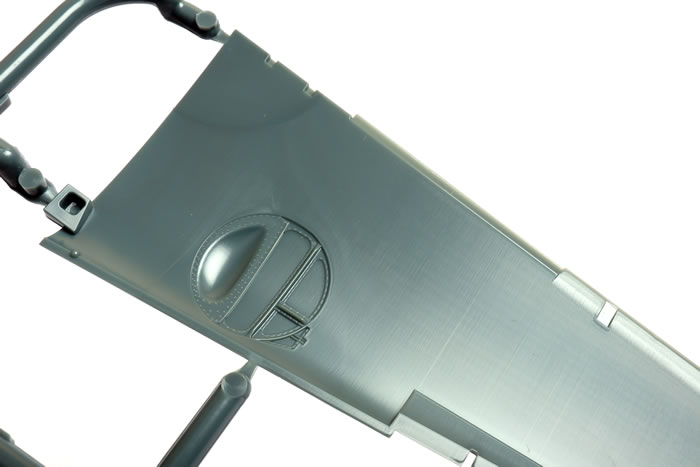 The fuselage is moulded with a separate fin, making it easy to cross-kit the tall and short vertical stabilisers.
The compound bulges of the streamlined engine cowling of the G-6/AS are subtle, especially the port side that accomodates the larger supercharger and modified engine mounts. I think Eduard has done a pretty good job here.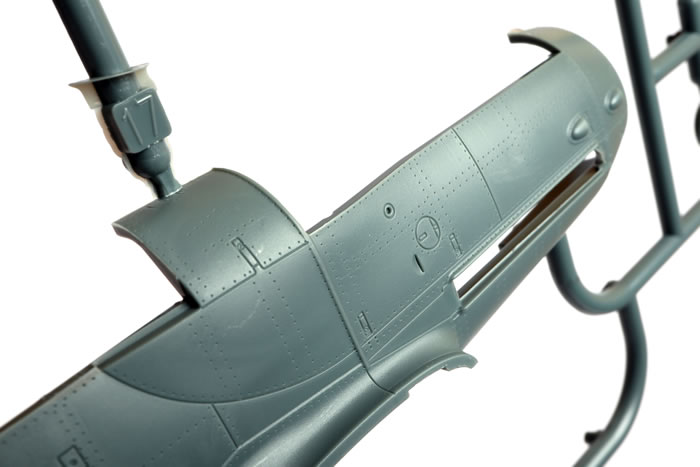 They have depicted the kinked bottom edge of the cowling and the compound bulge on the port side.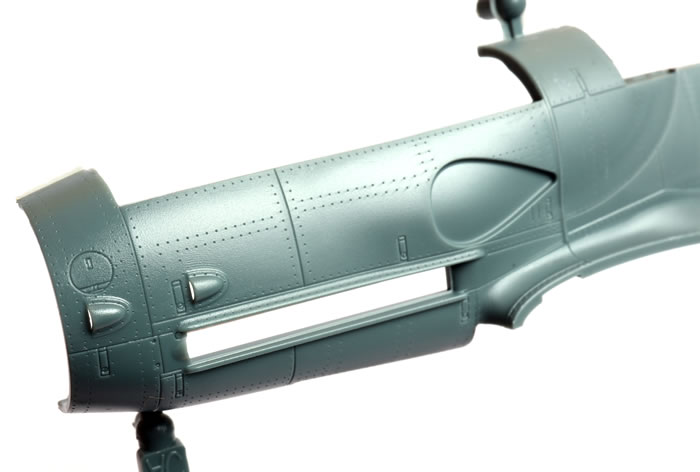 The fixed fairings that are typical of the DB 605 D powered G-10 and K-4 variants are not present on the G-6/AS. This is correctly depcited on the G-6/AS kit.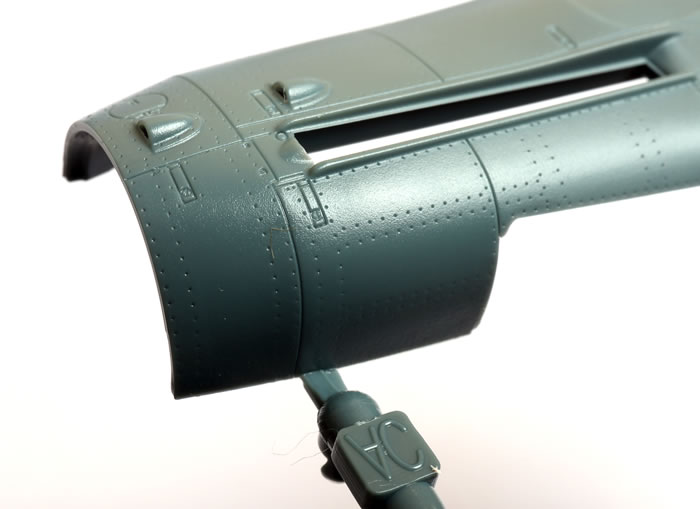 Specific nose scoops and filler caps are also correct for the Bf 109 G-6/AS.
The armoured glass "Galland Panzer" and several optional windscreens and canopies are provided on the clear sprue. The inclusion of the clear fuel line is a nice touch. The inspection tube may be masked so that it remains clear after painting.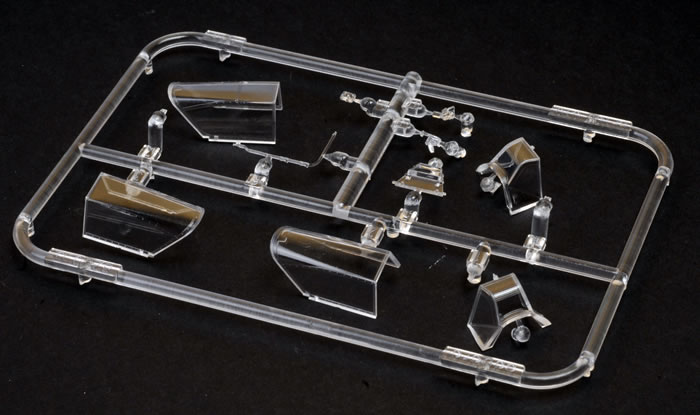 The other sprues are the same as Eduard's re-tooled Bf 109 G-6 kits. This is a good thing!
In 2013, Eduard's Spitfire family set a new benchmark for 1/48 scale surface detail, and this Bf 109 G-6/AS is equally impressive in this regard. Panel lines are very crisp, fine and even. Lines of rivets are present, but they are incredibly subtle. The rivet lines seem to accurately follow the pattern applied to the full-sized aircraft too.
I was impressed to see that the small scoops on the nose are actually hollowed out - nice! Other raised surface features include the sealing strip between the mid-fuselage and the rear of the engine cowling.
Fabric matches this high standard, with strip and stitching texture beautifully presented on the control surfaces. If you look closely enough, you will even see the zig-zag pinking edges on the fabric strips.
The wheel wells are nicely detailed and are correctly concave thanks to the bulges moulded to the top of the wings.
Eduard depicts the wheel well sidewalls with the zippered canvas covers at the rear. The fabric texture looks good, and the zipper is represented by a raised line.
The exhausts are supplied in one piece for each side. The centreline weld beads are present, and each of the stacks are hollowed out at the end. In common with the previous Eduard Bf 109 F/G family, the exhausts are slightly too tall. This is only really apparent on the starboard side as the port exhausts are partially covered by an extended fairing.
Propeller blades look to be a good shape, with nice pitch collar and hub detail.
---
Markings
Markings are supplied for five nicely varied Messerschmitt Bf 109 G-6/ASs:
9./JG 1, Paderborn, Germany, May 1944.

WNr. 412179, flown by Uffz. Horst Petzschler, 2./JG 3, Burg near Magdeburg, Germany,.

flown by Hptm. Friedrich-Karl Müller, CO of 1./NJGr. 10, Werneuchen, Germany, July 1944.

MT-463, flown by ylikersanti (Staff Sergeant) Tapio Järvi, 2/HLeLv 24, Lappeenranta,.

MT-463, HLeLv 31, Utti, Finland, Summer 1948.
All are finished in the standard mid-war colours of RLM 76 Light Blue lower surfaces with RLM 74 Grey Green and RLM 75 Grey Violet on the upper surfaces; expect Petzschler's Gustav, which is in overall RLM 76 Light Blue.
The three decal sheets are perfectly printed in the Czech Republic. Two sheets carry the national markings and unique numbers, chevrons, Gruppe markings, unit insignia and kill markings. The soft oversprayed "3" is particularly impressive.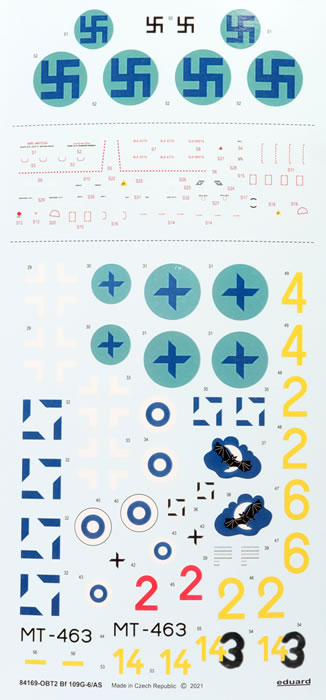 It would appear that the two decal sheets with the markings are the new style as seen in one of Eduard's recent Spitfire releases. These offer the option of peeling off the carrier film after the decals have been applied. I experimented with these a while ago and I will have another play on a painted scrap wing.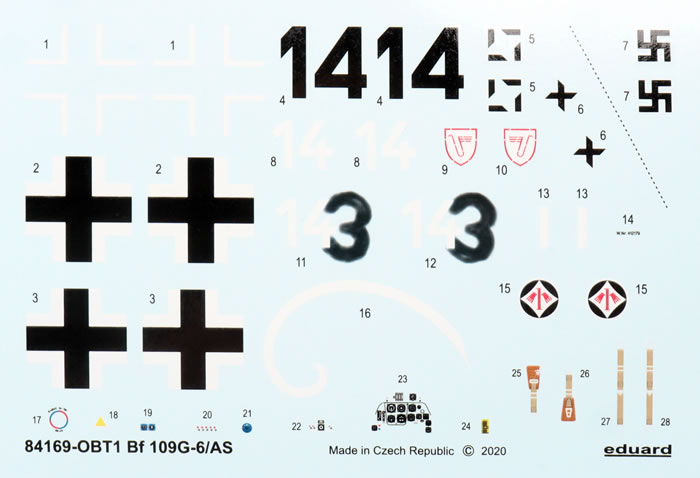 The third sheet has a wide selection of generic stencil markings that will be suitable for mid-war to late-war subjects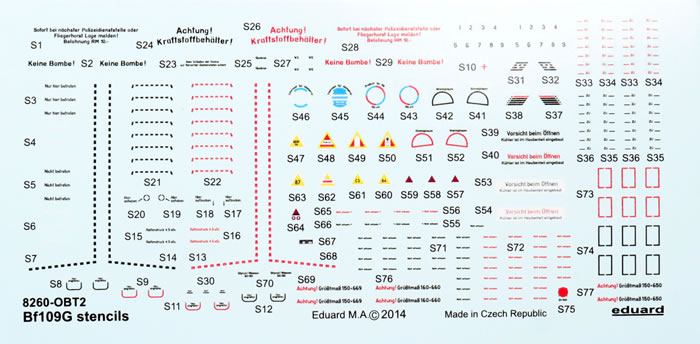 Printing, colours and registration is perfect on my sample.
Eduard's 1/48 scale Messerchmitt Bf 109 G-6/AS is another very welcome addition to their lower-priced Weekend Edition family.
With five decal options, the Weekend Edition is no poor relation, but will be the logical choice for somone who prefers to work with plastic parts or is planning to use a BRASSIN replacement cockpit.
I hope that we'll see a cockpit detail set from Eduard's new Space series for their 1/48 scale Gustavs too
Thanks to Eduard for the sample
---
Review Text and Model Images Copyright © 2021 by Brett Green
Page Created 18 February, 2021
Last updated 19 February, 2021
Back to HyperScale Main Page
Back to Reviews Page