Ilyushin Il-2 Shturmovik
Soviet Attack Aircraft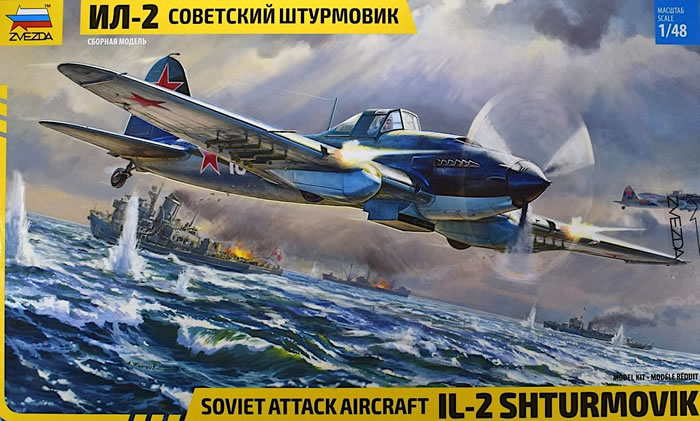 Zvezda, 1/48 scale
S u m m a r y :

Description and Item No.:

Zvezda Kit No. 4825 - Ilyushin Il-2 Shturmovik

Contents and Media:

115 parts in grey styrene (not all are used), six in clear, and one decal sheet with markings for three airframes.

Price:

Scale:

1/48

Review Type:

First Look

Advantages:

The kit features crisply moulded parts with little flash and scale appropriate surface details and inscribing. The canopy parts, in particular, are nicely done.

Disadvantages:

None noted.

Recommendation:

With practically no flash, crisp mouldings, and scale-appropriate inscribing this is a beautifully manufactured kit. The clear parts, in particular, are well done and will add to what will be a very convincing model when assembled. The simple layout and straightforward assembly should make for a very enjoyable build. Highly Recommended.
Reviewed by John Miller

The Ilyushin Il-2 Shturmovik was a ground-attack aircraft produced by the Soviet Union in large numbers during the Second World War. The Il-2 is a single-engine, propeller-driven, low-wing monoplane of mixed construction with a crew of two (one in early versions), specially designed for assault operations. Its most notable feature was the inclusion of armor in an airframe load-bearing scheme. Armor plates replaced the frame and paneling throughout the nacelle and middle part of the fuselage, and an armoured hull made of riveted homogeneous armour steel secured the aircraft's engine, cockpit, water radiator, oil radiator, and fuel tanks.

The Il-2 was never given an official name and 'Shturmovik' is the generic Russian word meaning ground attack aircraft. With 36,183 units of the Il-2 produced during the war, and in combination with its successor, the Ilyushin Il-10, a total of 42,330 were built. This makes the Il-2/10 the single most produced military aircraft design in aviation history.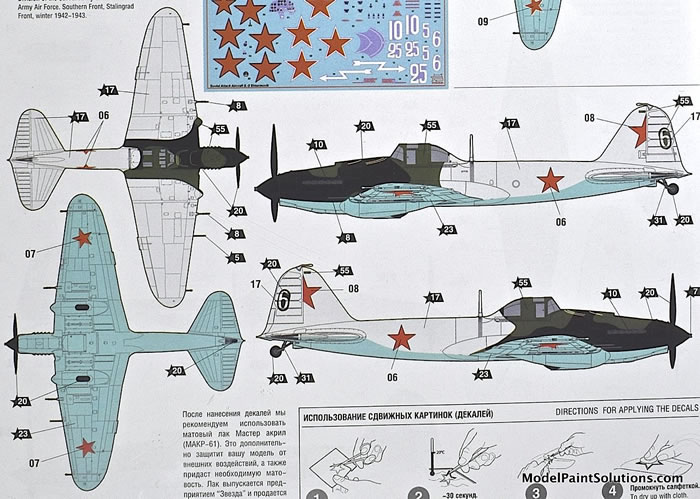 The first use in action of the Il-2 was with the 4th ShAP (Ground Attack Regiment) over the Berezina River just days after German invasion began. The aircraft was so new that the pilots had no training in flight characteristics or tactics, and the ground crew no training in servicing or re-arming. Tactics improved as Soviet aircrews became used to the Il-2's strengths. Instead of a low horizontal straight approach at 50 metres (160 ft) altitude, the target was usually kept to the pilot's left and a turn and shallow dive of 30 degrees was used, using an echeloned assault by four to twelve aircraft at a time.
Although the Il-2's RS-82 and RS-132 rockets could destroy armored vehicles with a single hit, they were so inaccurate that experienced Il-2 pilots mainly used the cannon. Another potent weapon of the Il-2s was the PTAB shaped charge bomblets (protivotankovaya aviabomba, "anti-tank aviation bomb"). They were designated PTAB-2.5-1.5, as they had a total weight of 2.5 kg (5.5 lb), and an explosive charge of 1.5 kg (3.3 lb). Up to 192 were carried in four external dispensers (cluster bombs) or up to 220 in the inner wing panels' internal ventral weapon bays. The HEAT charge could easily penetrate the relatively thin upper armor of all heavy German tanks. PTABs were first used on a large scale in the Battle of Kursk. The Il-2 was thereafter widely deployed on the Eastern Front.
One of the things I like about Zvezda kits are their double boxes. Within a a rather flimsy end-opening outer box is a cardboard box with a tabbed lid. This sturdy design makes storing Zvezda kits in ye olde stash much easier as the boxes aren't prone to crushing: very much appreciated by this modeler.
Once opened, the contents don't let you down. There's little-to-no flash and the surface details are crisply rendered and scale appropriate. The moulding of the canopy parts is particularly nice. Parts layout and engineering are conventional suggesting this will be a straightforward build.
Assembly begins with the Mikulin AM-38F liquid-cooled V12 engine. Composed of 24 separate, well-moulded parts, this is a nice model in and of itself that will look very convincing when assembled. Of note, the upper nose cowl and additional small covers/intakes can be left off to reveal parts of the underlying engine.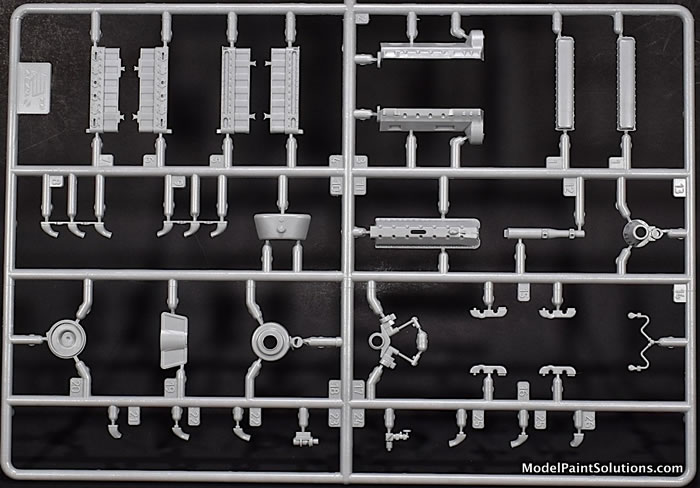 Next up is the nicely detailed cockpit that includes a separately moulded seat, side panels, spade grip, and rudder bar. The main instrument panel is provided as either a flat part with overlying decal or a crisply moulded version ready for painting and super-detailing.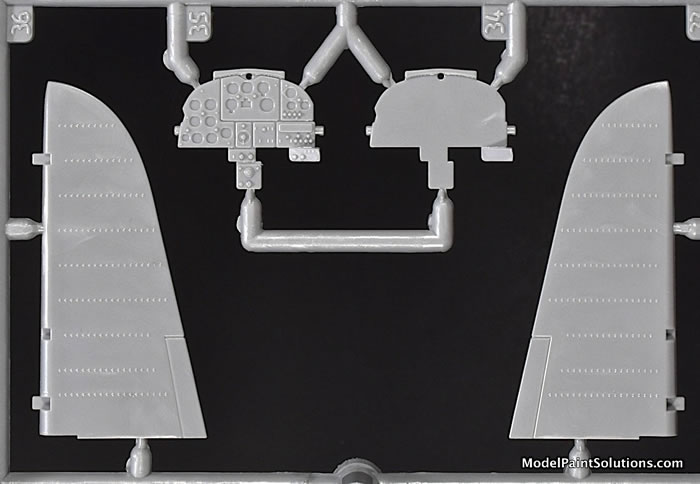 For those inclined to install flight crew in their models, a very nicely moulded pilot figure with poseable head and arms is provided.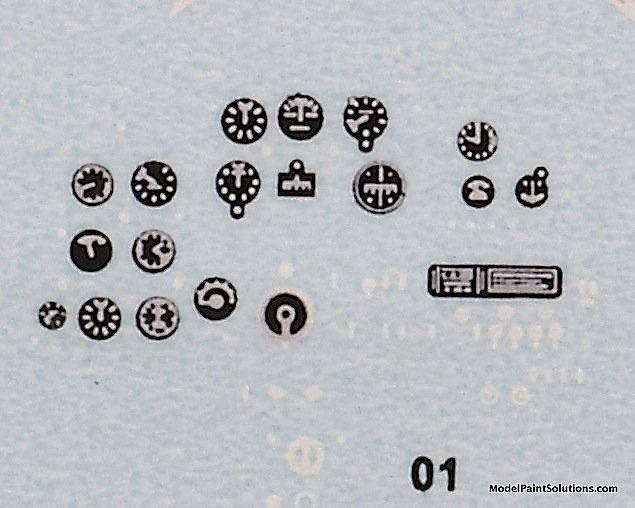 Once the engine and cockpit assemblies are trapped between the fuselage halves, the builder is directed to install two substantial wing spars that project out into the wing centre section. Like the 1/1 Il-2, this is going to be a sturdy model when assembled.
The bottom portion of the wing centre section in next added to the fuselage/wing spars assembly and, with this in place, bulkheads for the centre section bomb bays are installed. Addition of the left and right upper wing centre section parts completes the assembly.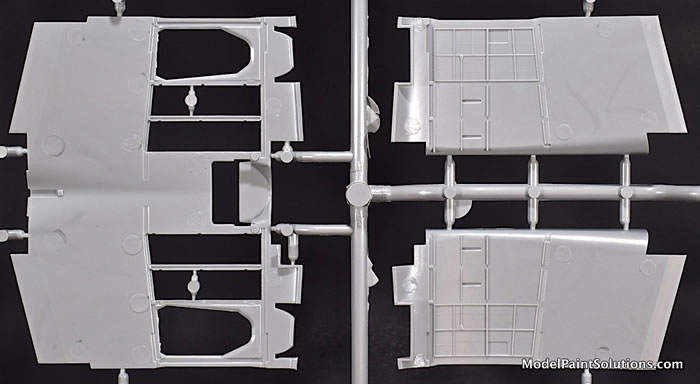 Next up is assembly of the halved horizontal stabilizers with single-piece elevator parts and single-piece rudder. This is followed by the halved outer wing sections complete with gun bay cover panels and single-piece ailerons.
ddition of the 6-piece tail wheel assembly, complete with single-piece wheel, largely completes the airframe.
The rather sturdy main gear of the Il-2 is nicely replicated with crisply moulded parts that include retraction struts, sway braces and halved main wheels/tires. For those who wish to use the included display stand and assemble their Shturmovic as in flight with the gear up, main gear inserts, complete with partially exposed main tires, are provided: very nice.
Armament includes both bombs and rockets however some of the ordinance is scheme-specific so refer to the instructions for details. In addition, the builder has the option of hanging ordinance from external hard points or installing it in the wing centre section bomb bays and leaving the doors open for viewing: very nice.
The fidelity of detail, scale-appropriate framing, clarity, and crisp moulding of the canopy parts are quite noteworthy.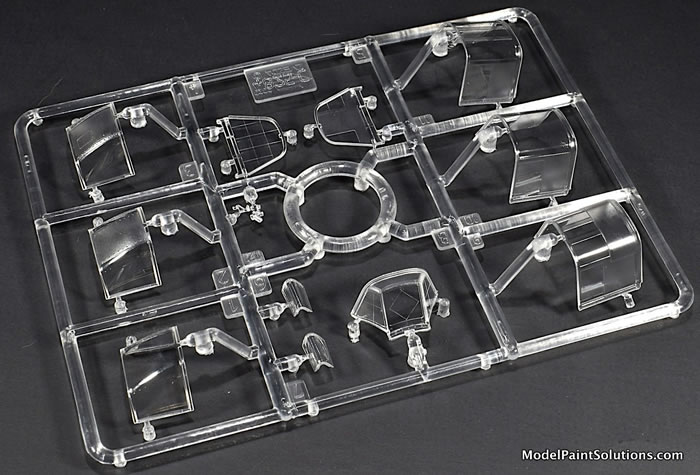 In particular are the nicely rendered etched lines in the clear panels of the windscreen (used for aiming and determining the angle of the aircraft relative to the horizon).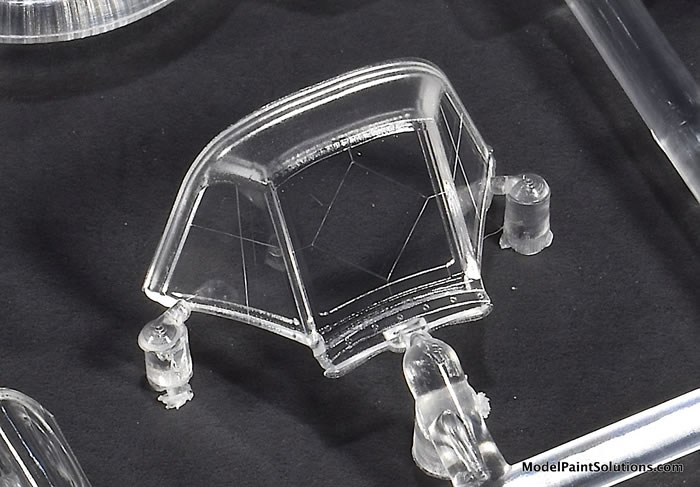 This canopy will look very convincing with carefully applied paint and a little weathering.
---
Markings:
The decals, by Zvezda, are well printed with good registration and colour density.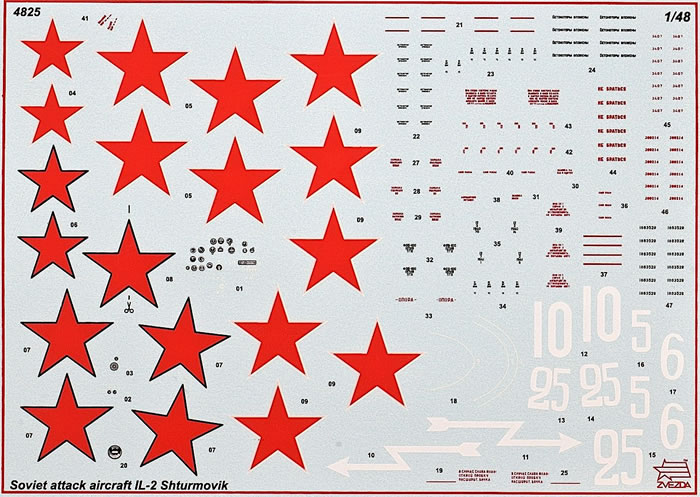 Airframe stencil data and markings for four airframes are provided as follows:
Il-2, No. 10, 57th Dive-Assault Aviation Regiment of the Navy, Leningrad, November, 1941.

Il-2, No. 6, 504th Assault Aviation Regiment, Red Army Air Force, Stalingrad, Winter, 1942-43.

Il-2, No. 25, 7th Guards Assault-Aviation Regiment, Red Army Air Force, Southern front, Shakhty airfield, June-July, 1942.

Il-2, No. 5, 800th Assault Aviation Regiment, Red Army Air, Andriapol airfield, November-December, 1942.
With practically no flash, crisp mouldings, and scale-appropriate inscribing this is a beautifully manufactured kit. The clear parts, in particular, are well done and will add to what will be a very convincing model when assembled. The simple layout and straightforward assembly should make for a very enjoyable build. Highly Recommended!
For more on this review visit Modelpaintsolutions.com.
Review kit provided by my retirement fund, again.
---
Review Text and Images Copyright © 2021 by John Miller
Page Created 21 Janury, 2021
Last updated 22 January, 2021
Back to HyperScale Main Page
Back to Reviews Page