Mottle Mania
Group Build and Contest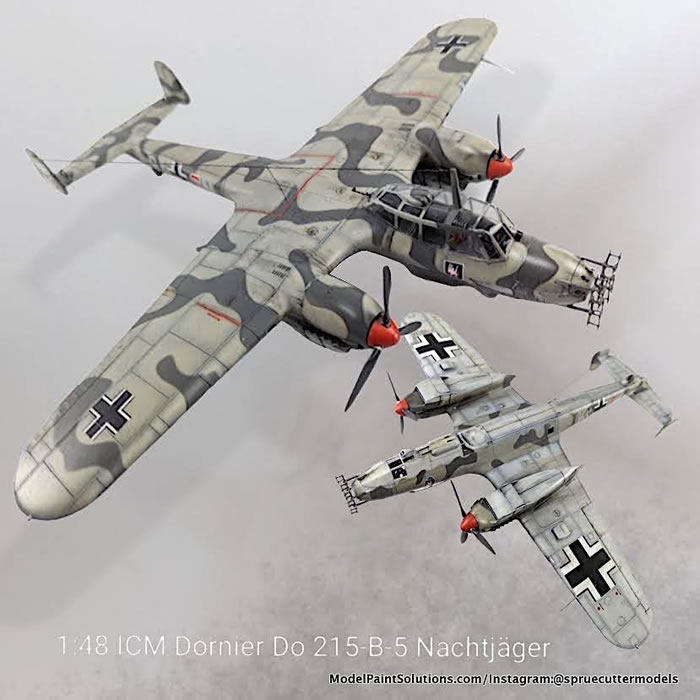 by Mat "Mottle Man" Mathis

Mottle:
Verb– to mark with smears or spots of color.

Noun– an arrangement of spots or patches of color.
Mottled patterns are commonly seen in nature on anything from animal fur to leaves to rock formations. In wartime, mottled patterns have been adopted as camouflage to help disguise equipment from the enemy. While this practice was adopted by many nations, it is prominently seen on many WWII Luftwaffe aircraft. Scale modelers and military historians alike are familiar with countless examples of mottled schemes applied to Bf-109s, FW-190s, and a host of additional aircraft.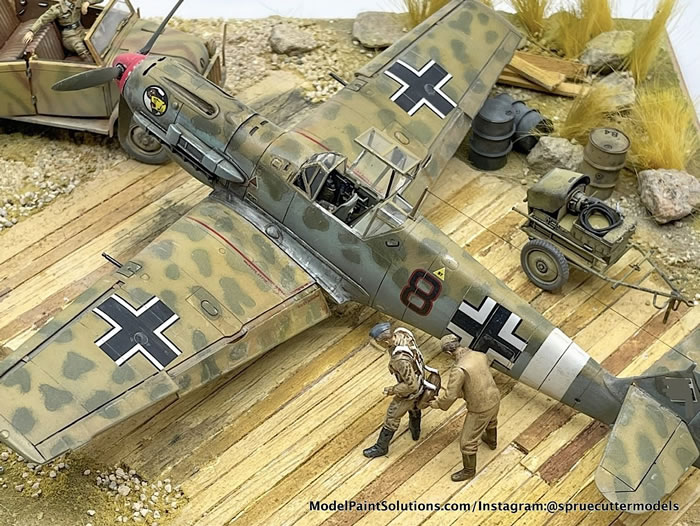 In scale modeling, mottling poses a very interesting challenge when it comes to painting. Mottling is best achieved using an airbrush (but can still be achieved with a paint brush). The best way to achieve a very fine mottle is to ensure that A) you're using the right equipment, B) you're using the proper dilutions of your paint, C) you're using an appropriate air pressure, and D) you are controlling your equipment effectively.

Because of the airbrushing challenge (and a suggestion from Dr. Strangebrush, himself), I decided it was a worthy topic for the next group build/contest on my Instagram page, @spruecuttermodels. There was only one stipulation for this group build/contest: the paint scheme had to feature mottling. Other than that, the topics were open to any kit, scale, topic, or what-if schemes. Most participants chose World War II era Luftwaffe planes, but I am very surprised with the creativity of the scale modeling community. Some of the submissions got creative-there was even a tank submitted.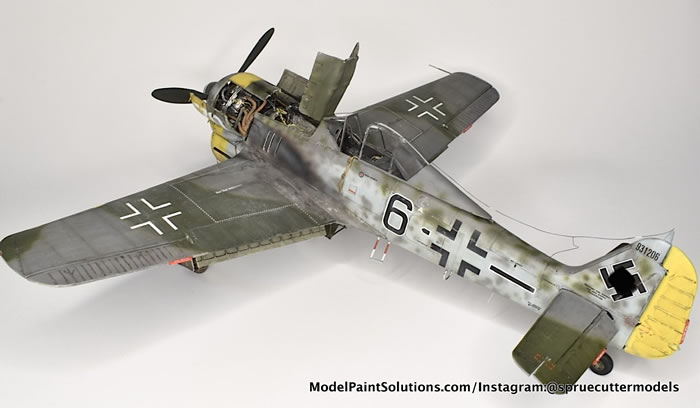 While I didn't participate in the contest portion, I still enjoyed building and mottling a 1/48 Hasegawa Macchi c.202. In terms of my mottling setup, I use a Harder and Steenbeck Infinity fitted with a 0.15mm nozzle/needle. The paint was diluted to 10-20% by volume with thinner and an air pressure of around 10psi was used. I controlled the air pressure with an H-S In-Line Air Valve. This setup, some proper control of the actuator on the airbrush, and some concentration made for an effective mottling session.

For the contest portion of the build, winners were decided by a open vote and some excellent prizes were donated by my title sponsor, Model Paint Solutions, as well as fellow Instagrammers and friends: @ace_of_spades_modelworks_, @fuzzysghostmodels, and @sour_kraut_models.
The Winners and Prizes are:
1st Place—@moixmodels
A Harder-Steenbeck Evolution Solo from Model Paint Solutions and a Tamiya He219A-7.

2nd Place—@modelcitizen7
A Model Paint Solutions Mix-a-Lot kit and a Tamiya Fi156C Storch.

3rd Place—@leos.modelbaustube
A Model Paint Solutions Mix-a-Little kit and a Tamiya Bf109G-6.

Best Weathering— @scalemodel_canuck
A Model Paint Solutions Mix-Kit-101 and a Dragon me262A1/U3.
A GIANT thank you to all the sponsors!
Without further delay, on to the pics! What follows is a selection entries compiled by Dr. Strangebrush and I that serve to illustrate the wide range of models and modelers that participated in the build. There are some excellent models here!
Congrats to all the builders and a special shout-out to the winners!
Cheers and we'll catch you on the next one!
Mat, @spruecuttermodels
For more on this review visit ModelPaintSolutions.com
---

Text and Images Copyright © 2021 by Model Paint Solutions
Page Created 7 January, 2022
Last updated 7 January, 2022
Back to HyperScale Main Page
Back to Reviews Page