Spitfire/Seafire Conversion and Accessory Sets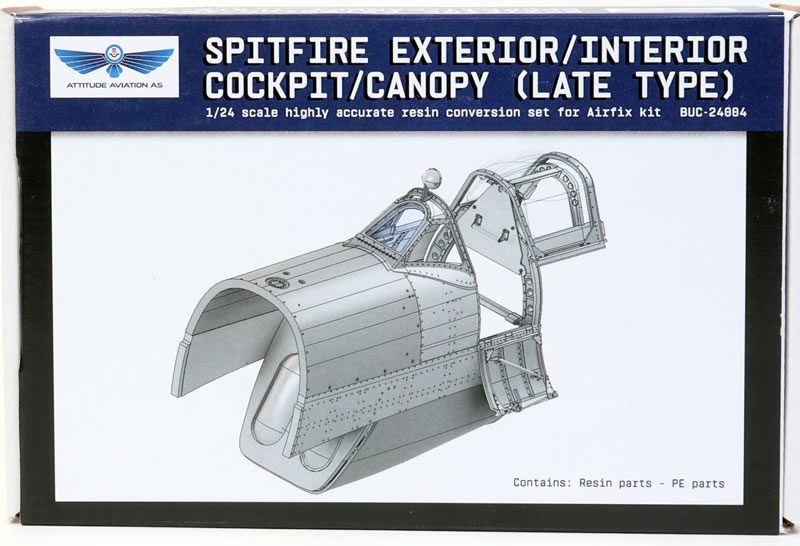 for Airfix Spitfire Mk.I & Mk.Vb
Attitude Aviation As, 1/24
S u m m a r y

Catalogue Number and Price:

Attitude Aviation As Spitfire/Seafire Conversion and Accessory Sets:

Scale:
1/24
Contents and Media:

See details below.

Review Type:
FirstLook
Advantages:

Beautifully detailed; flawless casting

Disadvantages:

Some DIY and experience required for conversions.

Conclusion:
Attitude Aviation AS has produced a range of high quality parts that, with some careful research, extra work and dab of inspiration, will deliver a major transformation to the classic Airfix 1/24 scale Spitfire Mk.I and Mk.Vb kits. The Spitfire boffins will love these.
Reviewed by Brett Green

Before Airfix announced their all-new 1/24 scale Spitfire Mk.IX, Attitude Aviation AS was already well advanced on their own 1/24 scale Spitfire Mk.IXe conversion designed for the Airfix Spitfire Mk.I or Mk.Vb kits.
Rather than defer to the new-tool Airfix kit, Attitude Aviation AS decided to press on with their conversion and a slew of accessories.
Please note that if you want to convert your old Airfix 1/24 scale Spitfire Mk.I or Mk.Vb, you will also need Attitude Aviation AS Item No. BUC24-003 1/24 Scale Spitfire Mk IX Conversion Kit. (No wing conversion). https://www.buchonscalemodels.com/products/1-24-supermarine-spitfire-mk-ix-resin-conversion-kit
This conversion was not sent for review.
However, even without the base conversion set, please note that some of these items will be appropriate for the Airfix 1/24 Spitfire Mk.Vc.
They may also be used as a partial conversion to a Seafire Mk.III, although the modeller will still have a bit of work to do on the wings and the tail hook, amongst other things.
So let's see what is in the goodie bag:
---
Item No. BUC-24004 – Spitfire Exterior/Interior Cockpit/Canopy (Late Type)
This is essentially the mid-upper fuselage section of a late Mk.V or a Mk.IX / XVI Spitfire.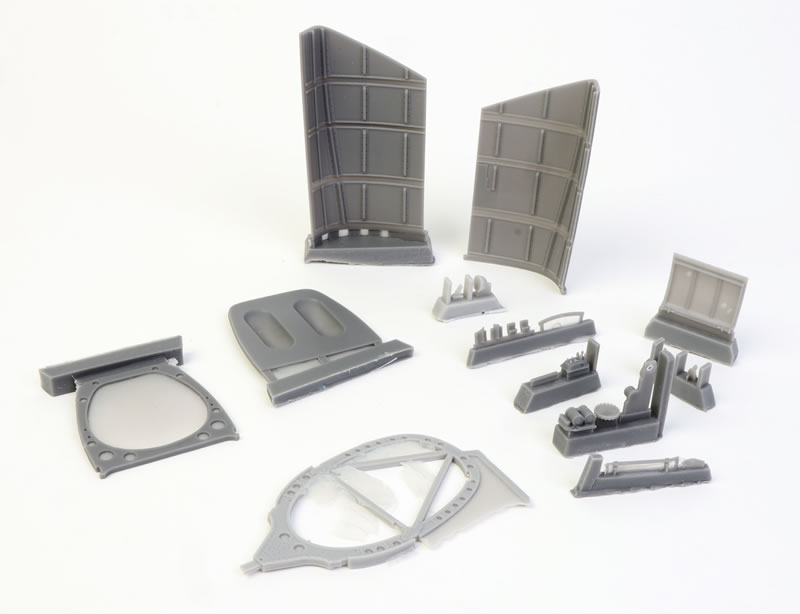 Quality of the casting and the surface textures are first class. They are a massive improvement compared to the old Airfix kit equivalent.
The basic interior structure of the cockpit is provided, although some sidewall details, the seat, throttle quadrant, instrument panel, floor, rudder pedals etc. are not supplied. You'll need to source your own cockpit interior depending on what variant you plan to build.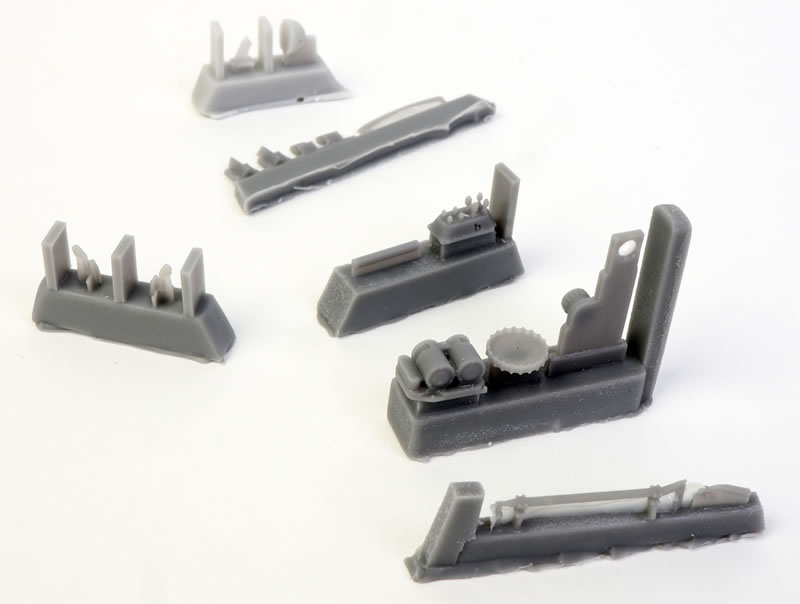 Trim wheel and a few other sidewall details are on the casting blocks. Bulkheads are there too, with lightening holes through the parts as appropriate.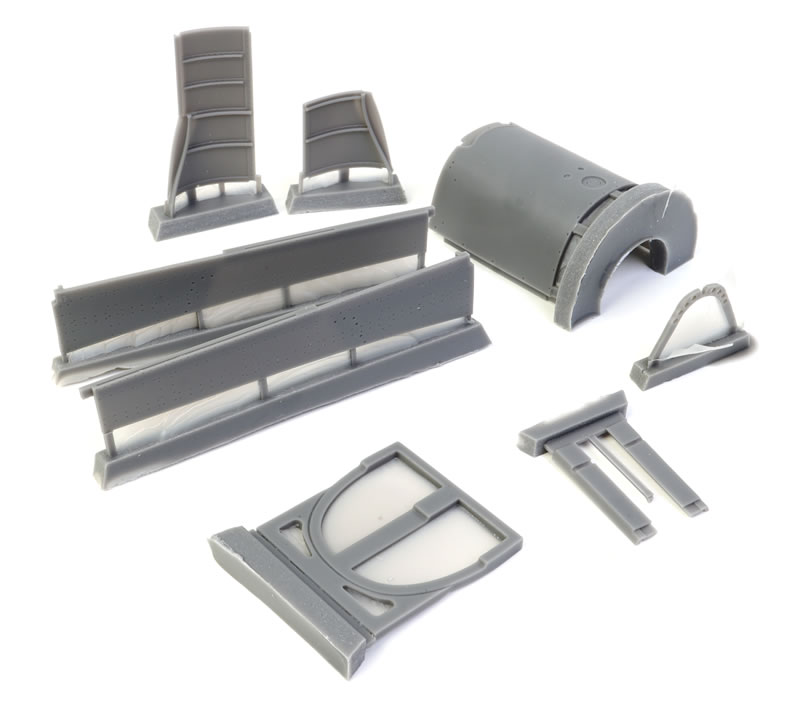 The pilot's entry door is included as a separate part that may be posed open or closed. A separate crowbar is also provided.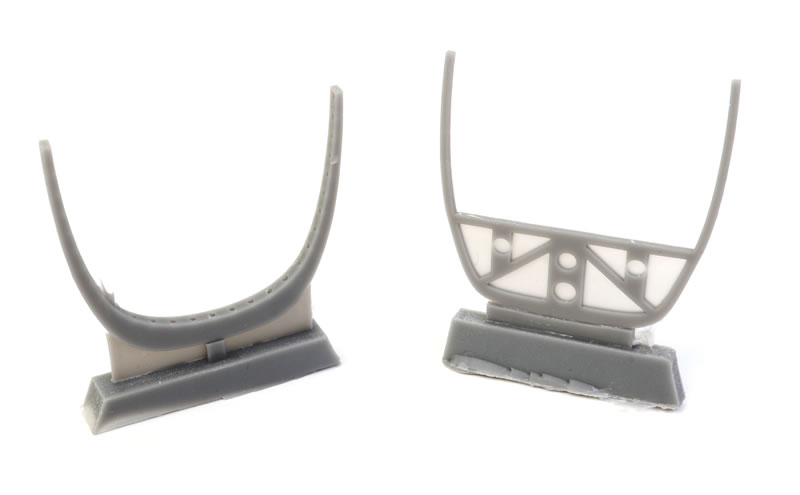 The full canopy is cast in four pieces in crystal clear resin – just gorgeous. The armoured glass is a separate part. The middle section should slide along the canopy rails when the model is complete.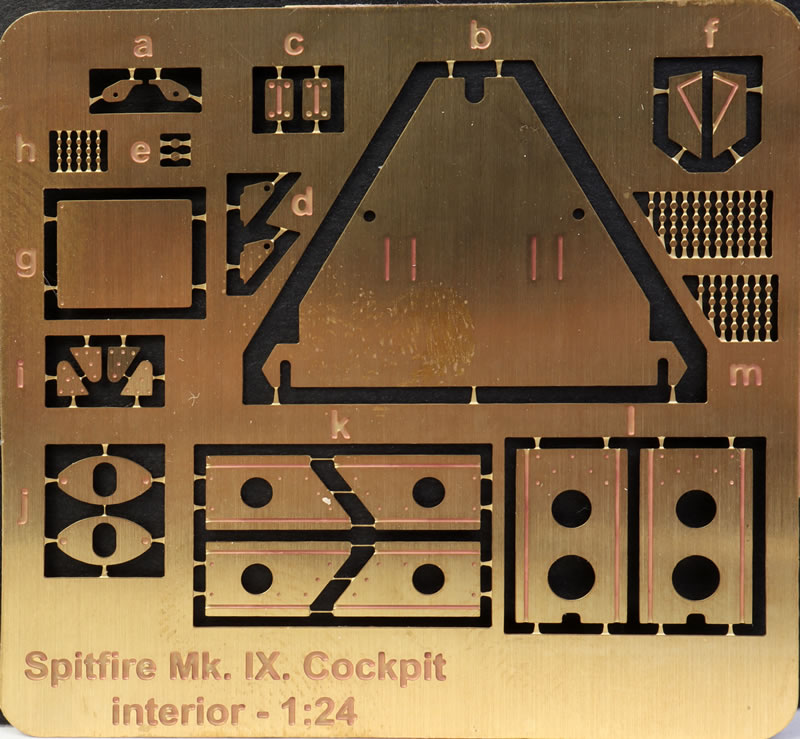 Two photo-etched frets round out the package.

These include pilot's head armour and detail parts.
---
Item No. BUC-24005 – Spitfire E Wing Configuration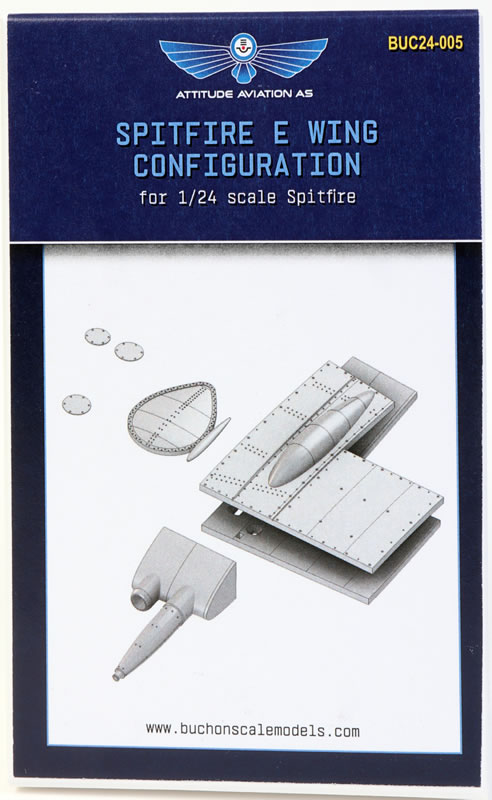 This wing conversion is designed to transform the Airfix A or B wing into the E Wing configuration.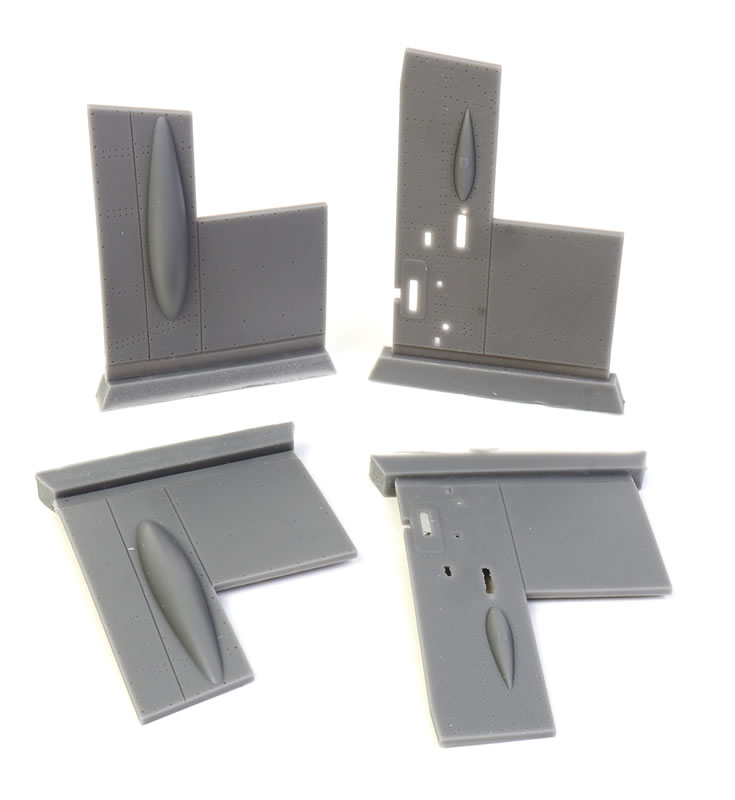 Upper and lower panels with the distinctive blisters cast in place, a wing leading edge insert for the cannon barrels, two 20mm barrels and two .50 cal stubs, the shallow upper wing bulge and a few small circular inspection panels.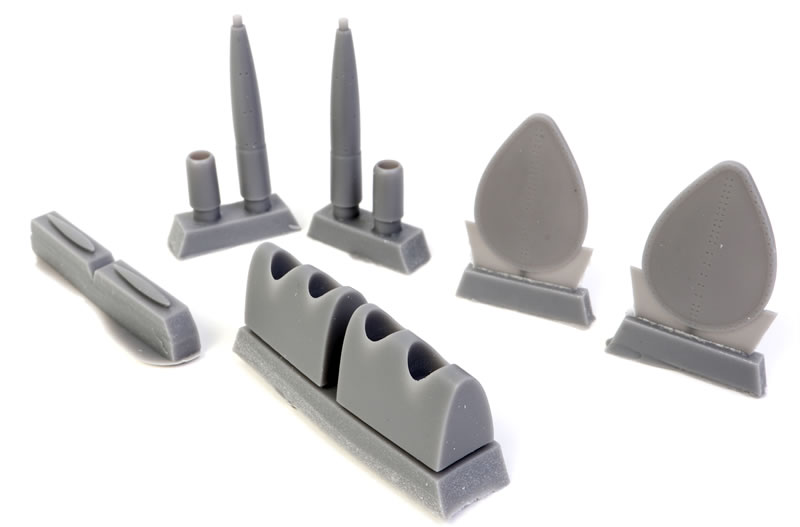 Shell ejectors are opened up and surface textures are crisply recessed, including panel lines.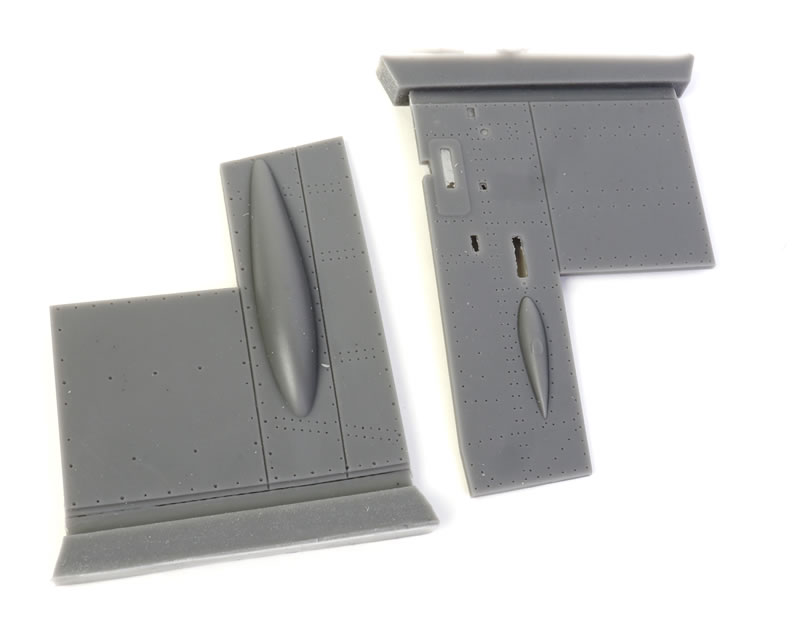 A bit of surgery will be required to cut out the counterpart panel on the donor kit's wings, so take your time, measure twice and cut once!
This will be suitable for any E Wing Spitfire, including the Mk.IXe, Mk.XVIe, Mk.18 and
---
Item No. BUC-24007 – Spitfire/Seafire Landing Gear (Late)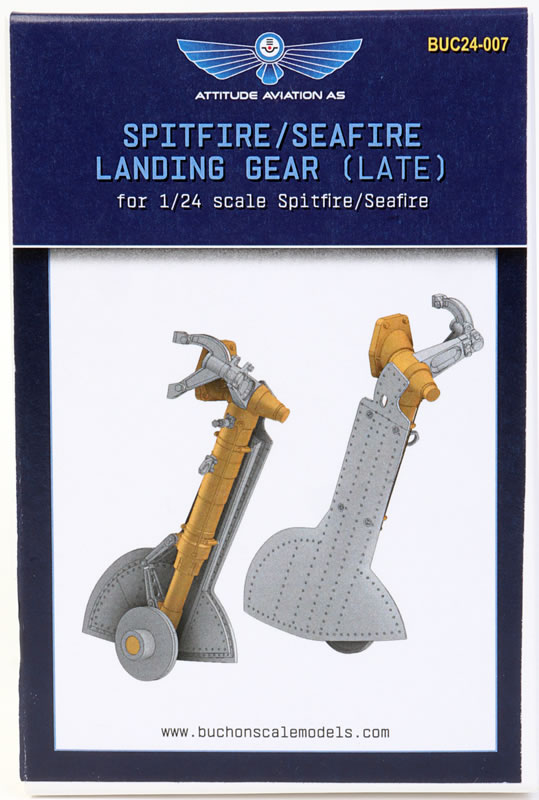 This landing gear set comes with 15 parts in grey conventionally cast resin and four and four parts in lost wax cast brass.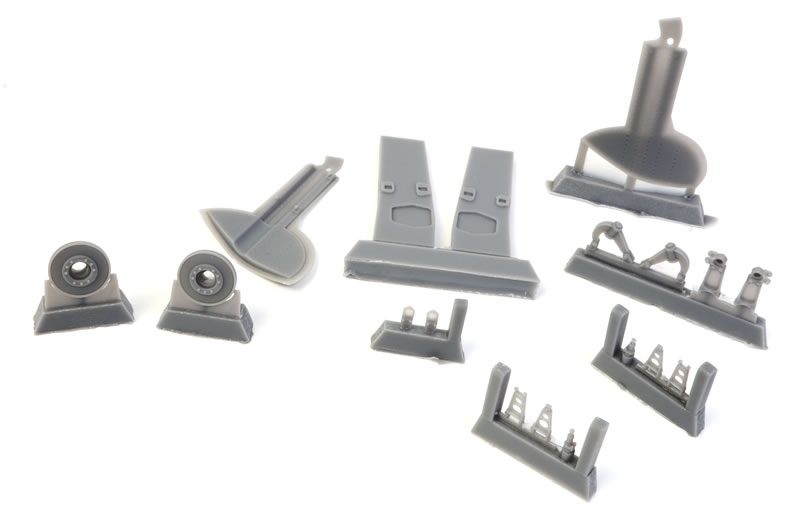 This should be suitable for the Spitfire Mk.IX and later.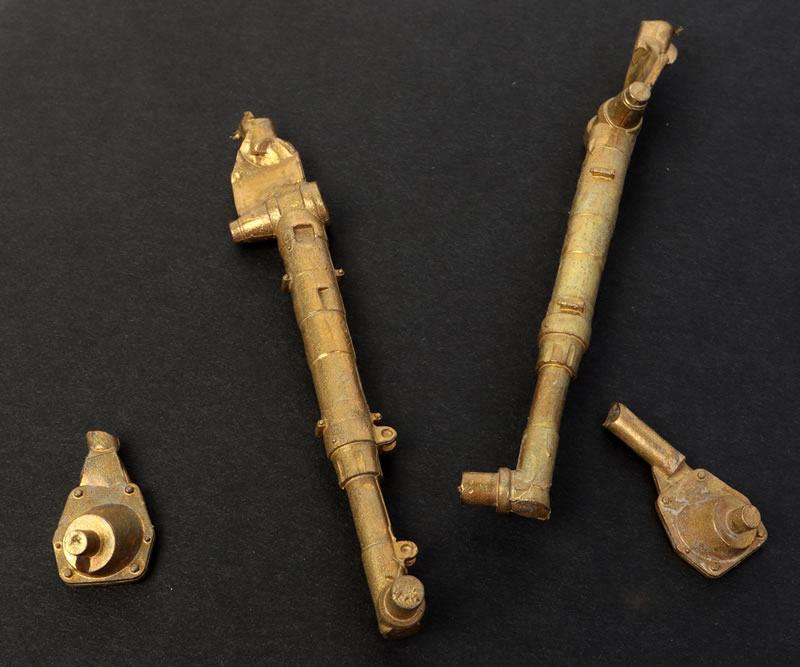 The landing gear legs look fantastic in brass – it's almost a shame to paint them - and they will add strength to support all the resin in your large scale Spitty!
---
Item No. BUC-24009 – Spitfire/Seafire Elevators (Modified)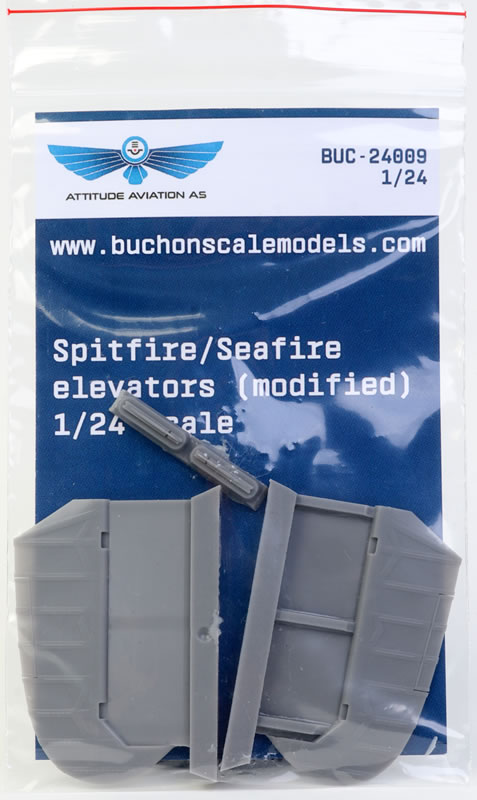 This is a simple but massive improvement to the Airfix elevators.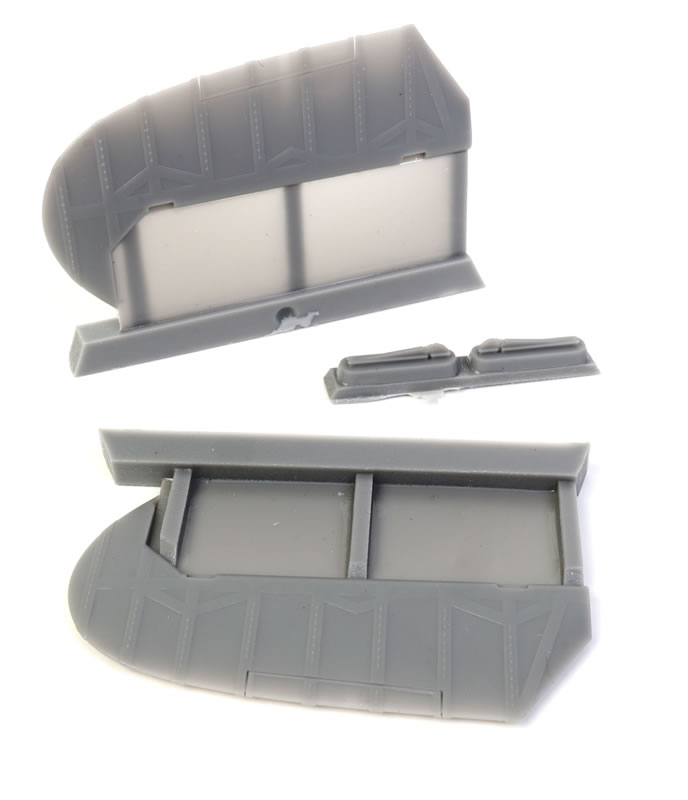 Once again, these are late-version parts. These kinked elevators were fitted to later model Mk.IX and Mk.XVI.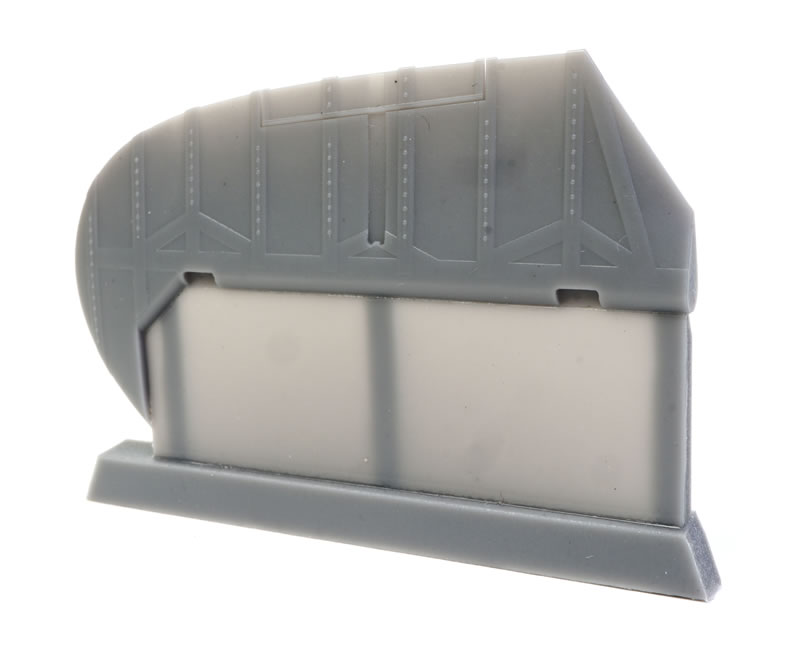 Fabric texture looks great, and rib tapes with raised stitching has been cast in place.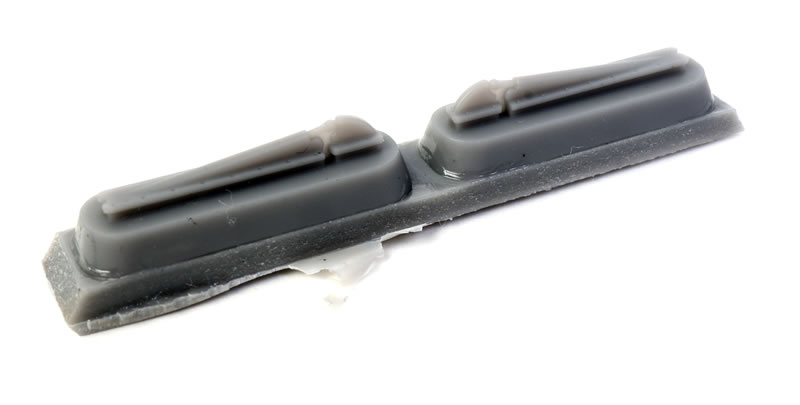 A pair of separate trim tab actuators are included too.
Lovely!
---
Item No. BUC-24011 – Spitfire/Seafire Rotol Propeller (4 Bladed)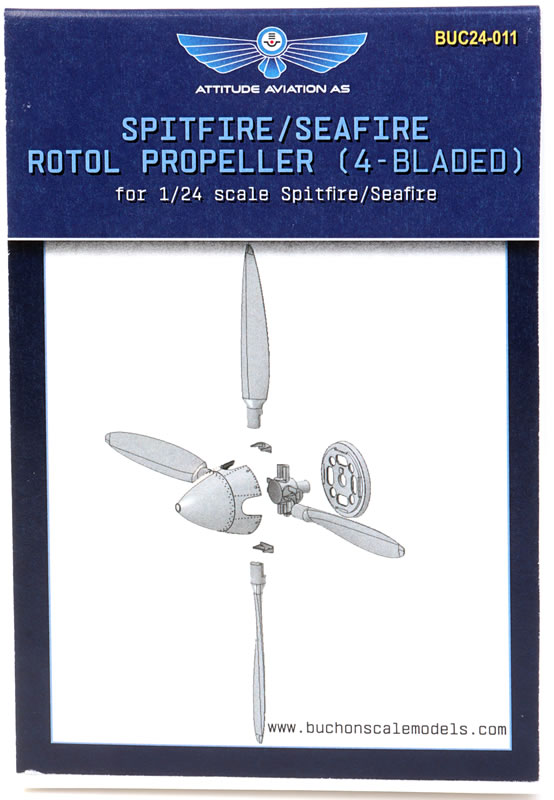 Not to be confused with the three-bladed Rotol propellers on earlier Spitfires marks, this is the four-bladed version seen on the Spitfire Mk.IX, Mk.XVI and Mk.18 as well as later Seafires.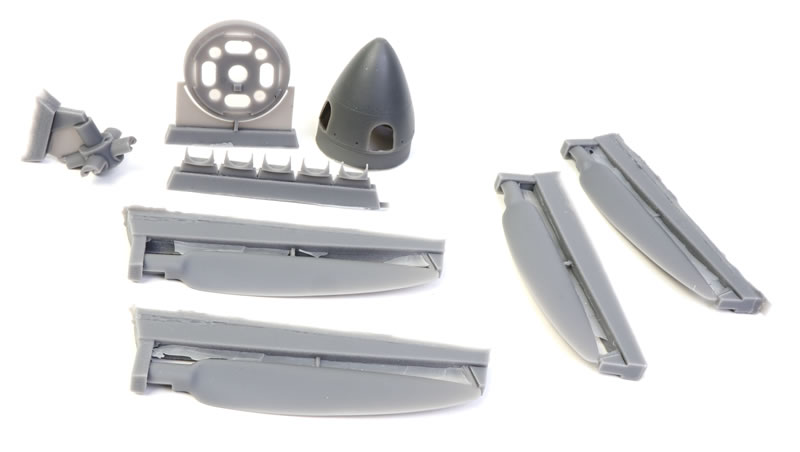 Beautifully presented in grey coloured resin, the propeller blades are all separate parts.
The propeller hub is cast with the bottom half of the propeller mounts in place. The other halves are cast onto the base of the propeller blades, ensuring correct pitch for all four.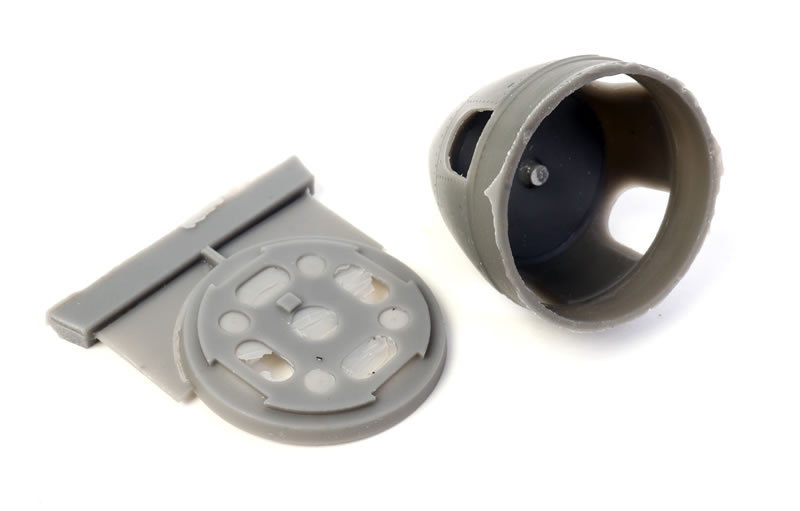 Small semi-circular fairings are supplied to blank off the space between the root of the propeller blade and the front of the spinner base.
The spinner base and cap are separate parts.
---
Item No. BUC-24015 – Spitfire/Seafire 5-Spoke Wheels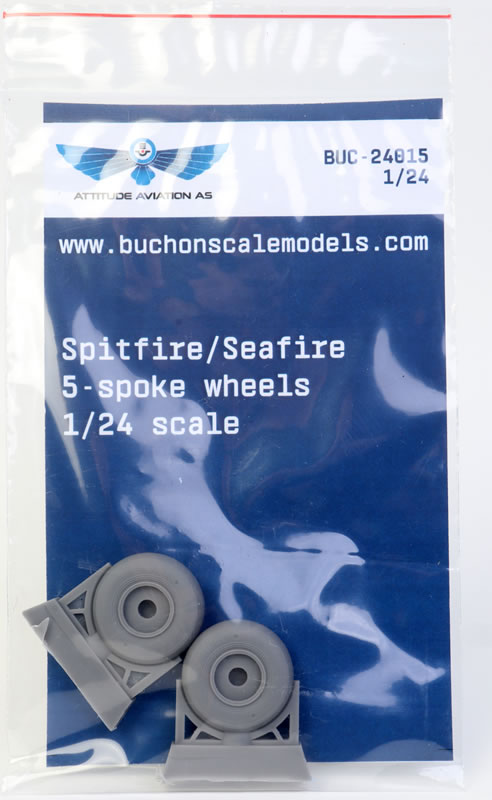 They don't come much easier than this!
These are a pair of 5-Spoke Wheels for Spitfires and Seafires.
The tread is smooth and the tyres are subtly bulged and flattened.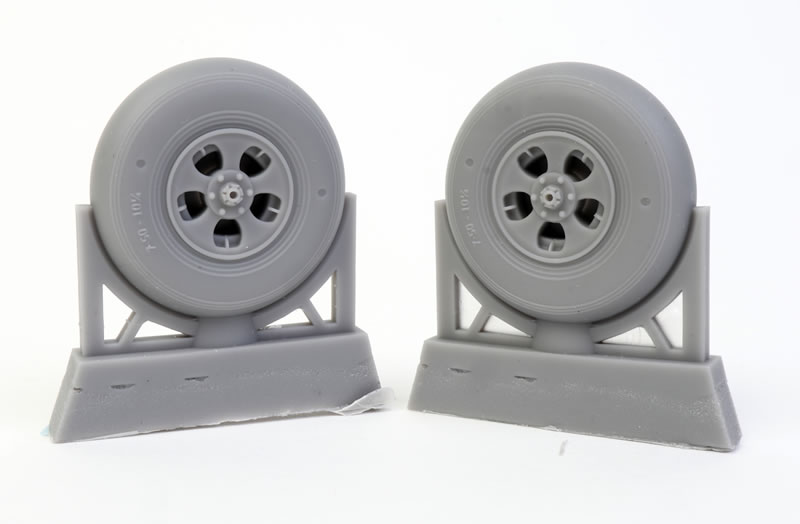 Raised data numbers and ribs are cast onto the sides of the tyres.
The five spoke hubs are truly gorgeous – deep and crisply detailed.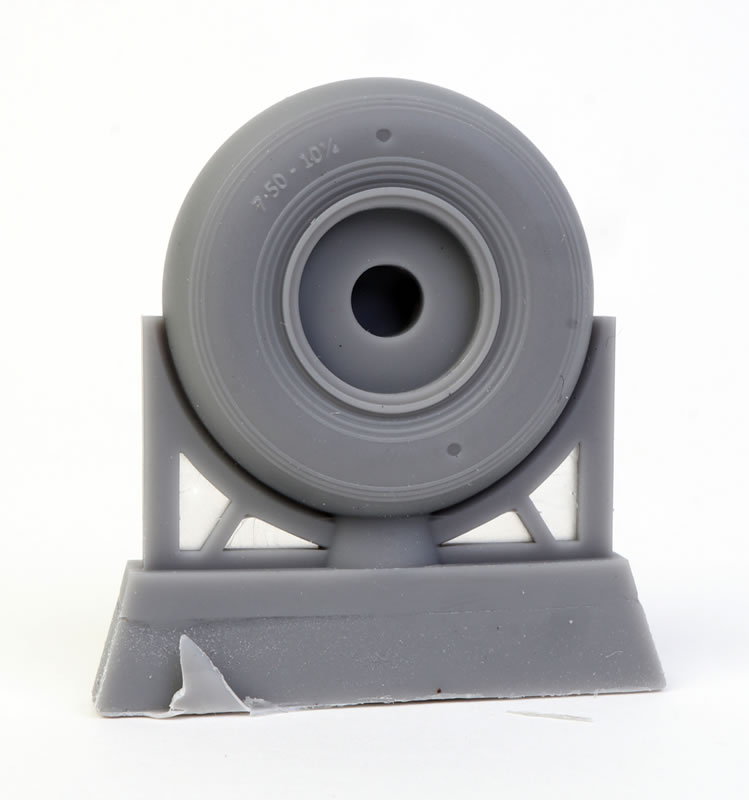 The five spoke wheel will be appropriate for Spitfires from Mk.I to Mk.IX as well as Seafires.
---
Item No. BUC-24016 – Spitfire/Seafire Exhaust Round Stacks with Shroud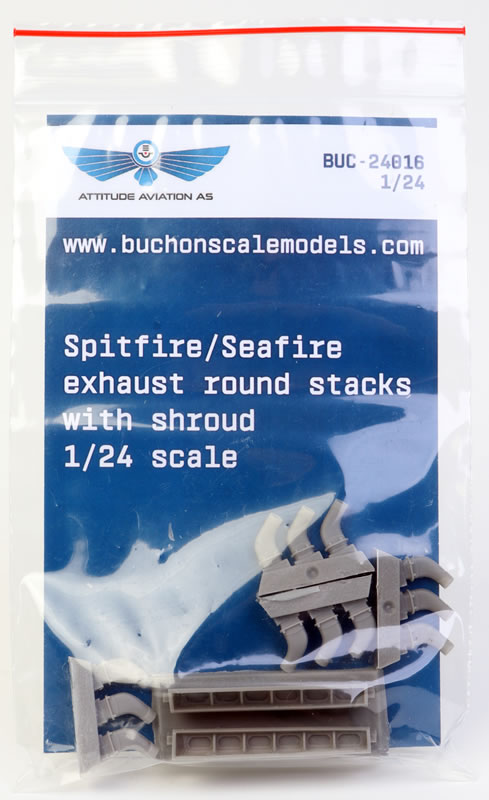 Attitude Aviation AS has produced a set of late style, six stack round exhausts.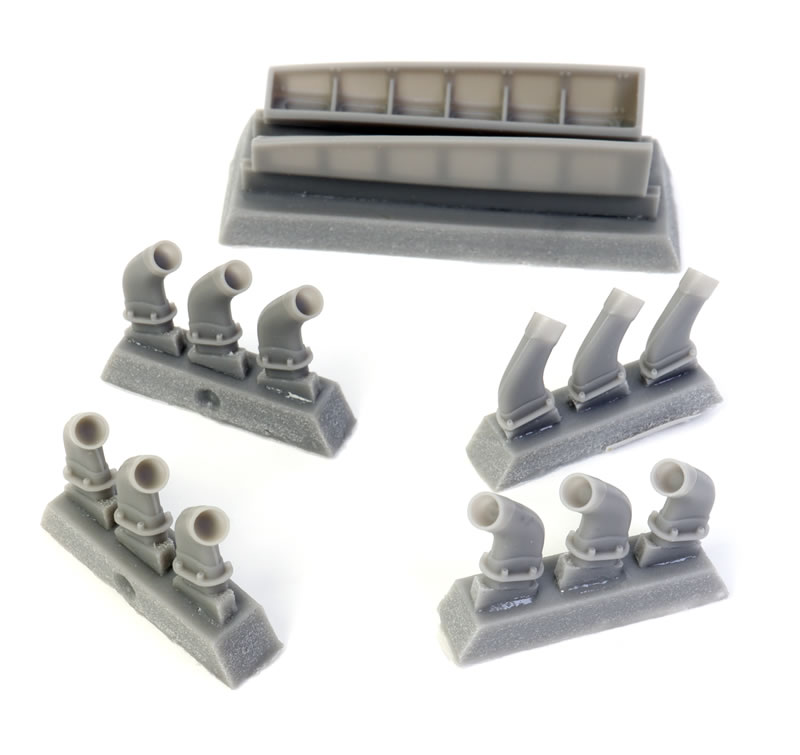 These will be suitable for Spitfire Mk.IX onwards, Seafire Mk.III and I believe some low altitude "clipped, cropped and clapped" late Mk.Vs.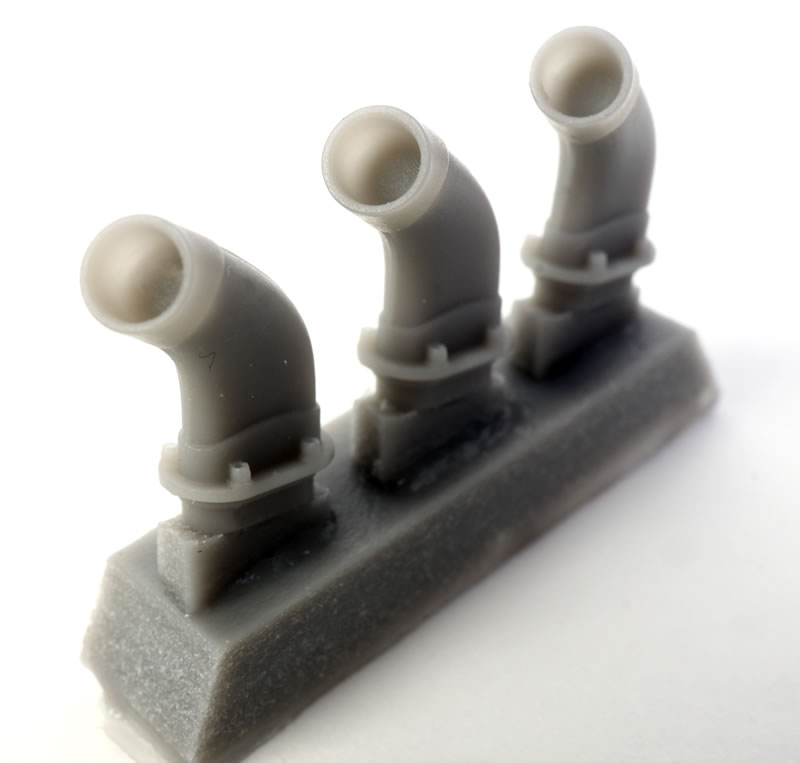 Each of the exhaust stacks are cast separately on their casting blocks.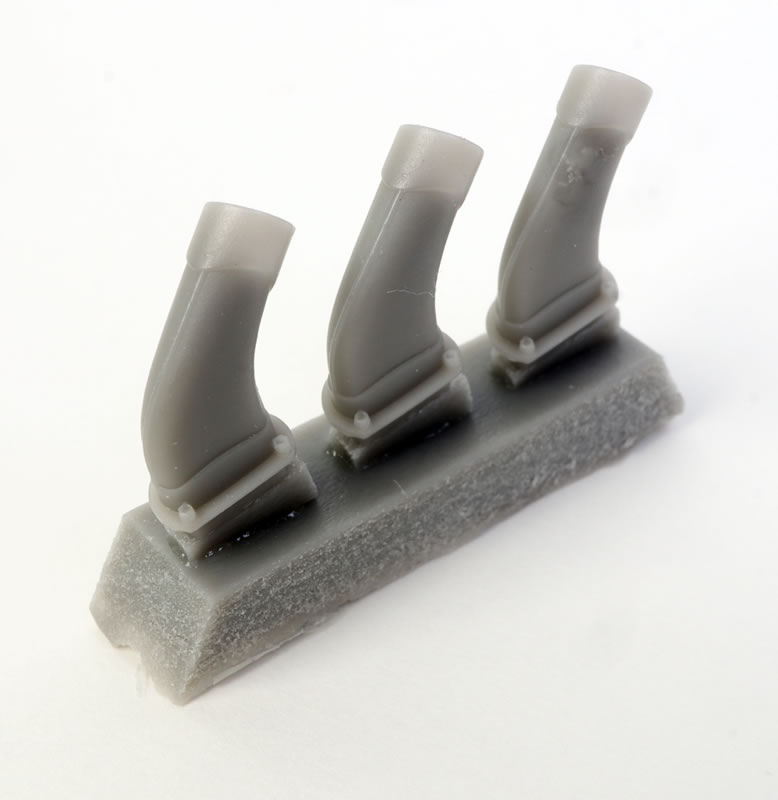 They are deeply hollowed out and feature clearly identifiable hex bolts on their bases as well as weld seams.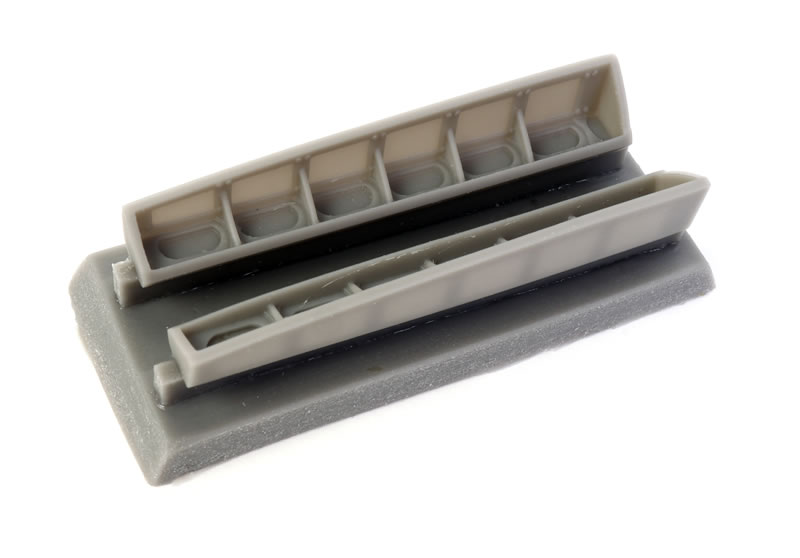 Two shrouds are also included for mounting the stacks.
These are truly luxurious.
---
Item No. BUC-24017 – Spitfire/Seafire Vokes Aero Vee Scoop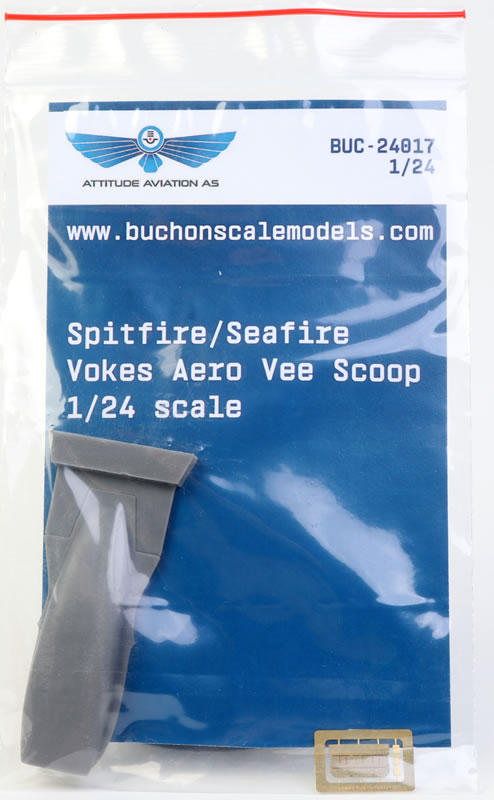 This is a 1/24 scale Vokes Aero Vee intake.
This is the deep, late style used on mid to late production Spitfire Mk.IX and Seafire Mk.III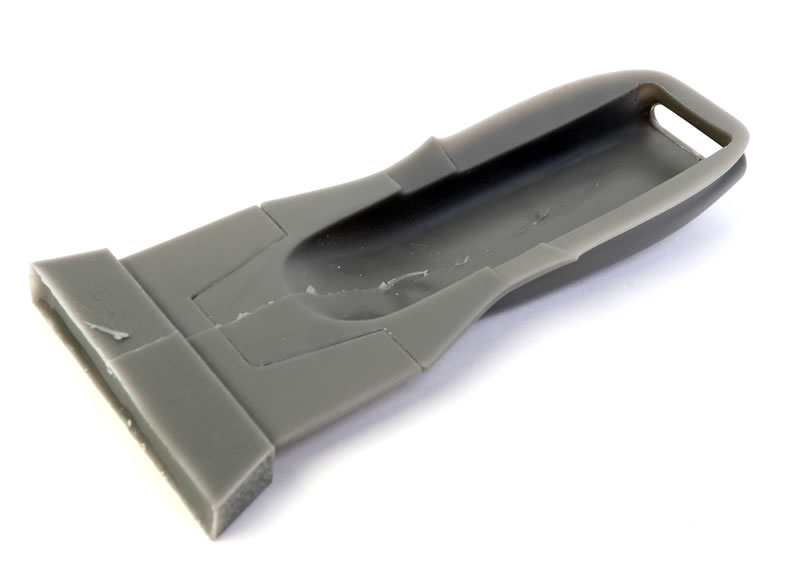 The intake louvre is presented as a single resin part.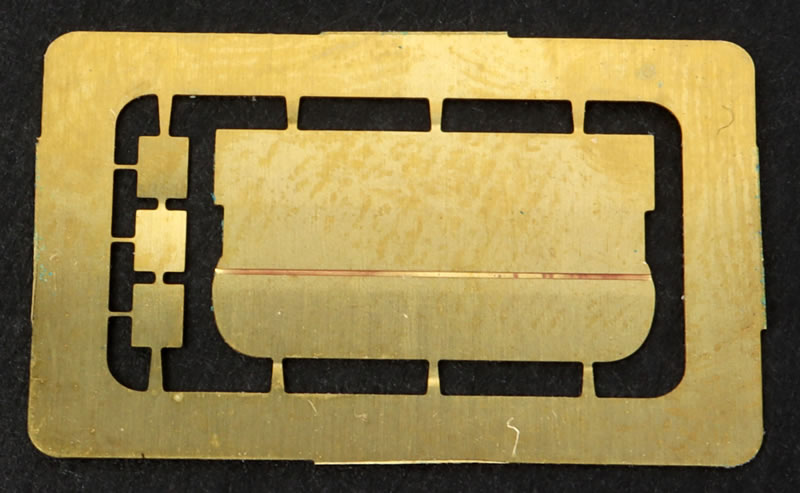 A small photo-etched fret incudes the door, which may be posed open or closed.
Attitude Aviation AS has produced a range of high quality parts that, with some careful research, extra work and dab of inspiration, will deliver a major transformation to the classic Airfix 1/24 scale Spitfire Mk.I and Mk.Vb kits.
The Spitfire boffins will love these.
Thanks to Attitude Aviation As for the review sample
---
Review and Images Copyright © 2022 by Brett Green
Page Created 27 October, 2022
Last updated 28 October, 2022
Back to HyperScale Main Page
Back to Reviews Page