Pacific Profiles Vol 5
Japanese Navy Zero Fighters (land-based) New Guinea and the Solomons 1942-1944
by Michael Claringbould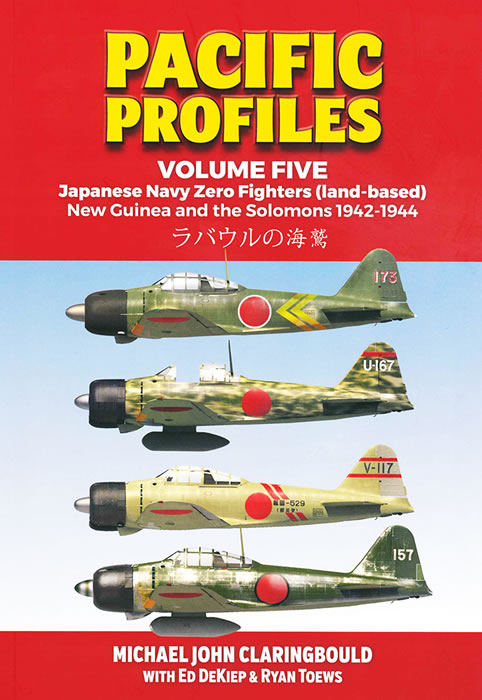 Avonmore Books
S u m m a r y :

Catalogue Number, Description and ISBN:

Pacific Profiles Volume 5
Japanese Navy Zero Fighters (land-based) New Guinea and the Solomons 1942-1944

by Michael Claringbould

Avonmore Books

ISBN:

978-0-6489262-4-5

Contents & Media:

120 pages, 25cm x 18cm, soft cover, many colour profiles and photographs of those aircraft.

Price:

AUD$34.95 plus shipping available online from Avonmore Books and hobby book retailers worldwide

Review Type:

First Look

Advantages:

Detailed and comprehensive look at the land based Japanese Navy Zero's in New Guinea and the Solomon Islands from 1942 to 1944, with excellent informative text, historical photos and matching aircraft profiles, as well as details of the units that flew them.

Disadvantages:

None noted.

Conclusion:

A great, should have, reference for modellers of all scales interested in the Southern Pacific theatre, especially IJN aircraft, in this case the land based Zero's during WWII.
Reviewed by David Couche

This book, the "Pacific Profiles Vol 5, Japanese Navy Zero Fighters (land-based) New Guinea and the Solomons 1942-1944 " describes this aircraft used by the Japanese Navy forces, in aerial fighting based in New Guinea and the Solomon Islands from 1942 until 1944.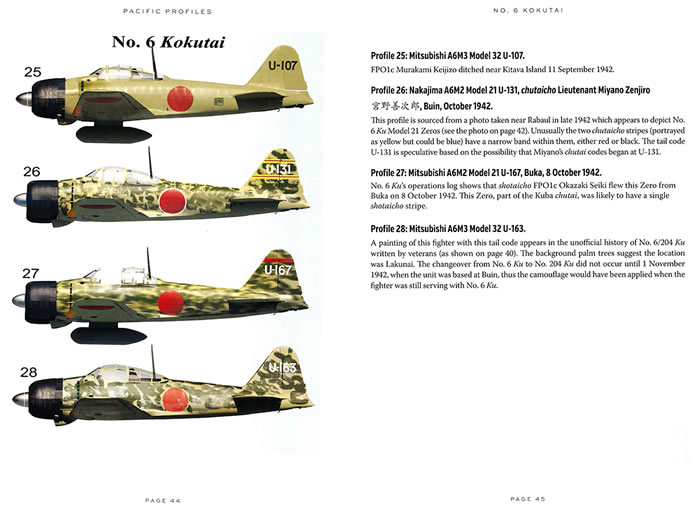 Michael Claringbould, the author, who I had the pleasure to meet and chat with at the Australian Model Expo in Melbourne, presents this book in chapters on each of the Japanese Kokutai (IJN term is equivalent of a RAF Group).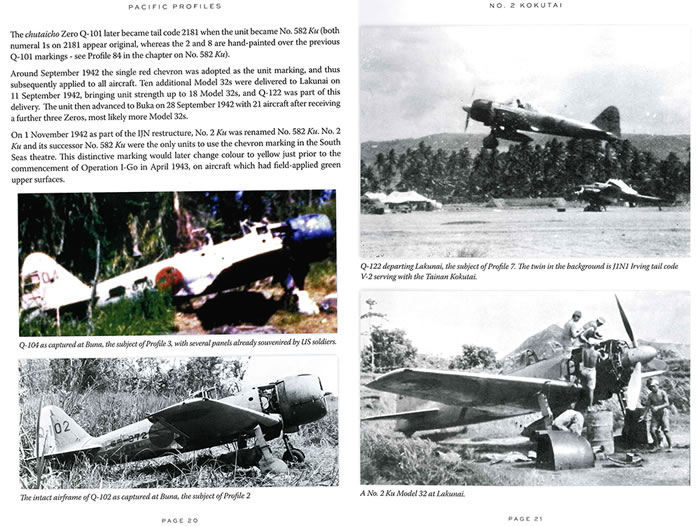 Before getting into each of these Kokutai, he provides a "Technical Notes: Zero models in the South Seas" overview, in 6 pages with maps, of the locations where the various Zero Kokutai's were based around New Guinea and the Solomon Islands as well some technical notes covering each of the Zero types that were operated in this area, mainly the A6M2, A6M3 and the few A6m5 types. Michael also gives us a detailed explanation of the Zero airframe stencils along with some really clear profiles illustrating these. He closes this overview with a chart with each of the squadrons on it, where they flew from and the time period. He finishes the introductory section with a two page glossary of terms and abbreviations used in the text.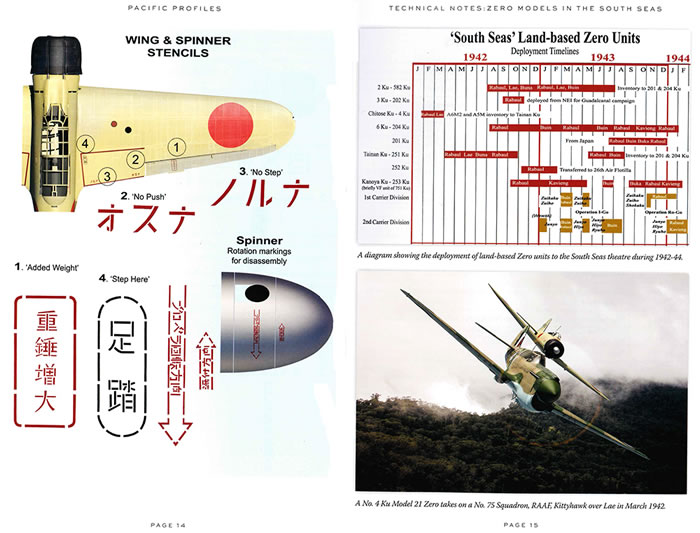 Michael then looks at each of the 13 Kokutai as individual chapters and provides a wide range of reference material which has been sourced to illustrate each profile – 101 in number, including shots from colour photos, post war wreck surveys, official records, POW interrogations, Allied intelligence summaries and hundreds of photographs.

The chapters of the book are:
Introduction Technical Notes: Zero models in the South Seas

1. No. 2 Kokutai

2. No. 3 Kokutai

3. No. 4 Kokutai (Fighter Wing)

4 No. 6 Kokutai

5. Kanoya Kokutai

6. Tainan Kokutai

7. No. 201 Kokutai

8. No. 204 Kokutai

9. No. 251 Kokutai

10. No. 252 Kokutai

11. No. 253 Kokutai

12. No. 582 Kokutai

13. Rabaul Air Force
Each of these Kokutai has detail notes on what type of aircraft flew in that Kukotai, at what time period as well as other valuable information. Each chapter follows the same construction with written text on that Kokutai, a page (and often more than one page) of numbered aircraft profiles with more detailed notes on the adjoining page.
There are original historical photographs of those aircraft which provides an excellent reference for those of us who are modellers. Some chapters have very rare colour photographs of the respective Japanese aircraft.
This book, the fifth volume of the Pacific Profiles series, is an excellent reference for modellers with an interest in the Pacific theatre, especially builders of Japanese aircraft and a liking for weathered aircraft as many these Zero's were certainly heavily weathered with their operation in the open air and from many dirt and coral based airstrips which were particularly abrasive.
I would see this as a highly desireable addition to your library and highly recommend it for its thoroughness of this aircraft. Having a number of these kits in the stash, I will be definitely using this book for my references in these builds.
Self-purchased from Avonmore Books.
---
Review Copyright © 2022 by David Couche
This Page Created on 4 October, 2022
Last updated 4 October, 2022
Back to HyperScale Main Page
Back to Reviews Page