Pacific Profiles Vol 6
Allied Fighters: Bell P-39 & P-400 Airacobra
South & Southwest Pacific 1942-1944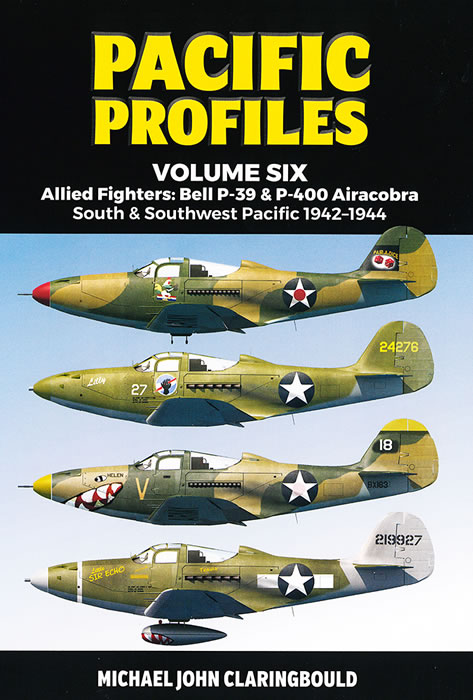 by Michael Claringbould
Avonmore Books
S u m m a r y :

Catalogue Number, Description and ISBN:

Pacific Profiles Volume 6
Allied Fighters: Bell P-39 & P-400 Airacobra
South & Southwest Pacific 1942-1944

by Michael Claringbould

Avonmore Books

ISBN:

978-0-6452469-0-2

Contents & Media:

120 pages, 25cm x 18cm, soft cover, many colour profiles and photographs of those aircraft.

Price:

AUD$36.95 plus shipping available online from Avonmore Books and hobby book retailers worldwide

Review Type:

First Look

Advantages:

Detailed and comprehensive look at the Airacobra in the South & Southwest Pacific from 1942 to 1944, with excellent informative text, historical photos and matching aircraft profiles, as well as details of the units that flew them.

Disadvantages:

None noted.

Conclusion:

This is a great book to have as reference for modellers of all scales interested in the Pacific theatre use of the Airacobra and its many varied and interesting schemes during WWIII.
Reviewed by David Couche

This book, the "Pacific Profiles Vol 6, Allied Fighters: Bell P-39 & P-400 Airacobra South & Southwest Pacific 1942-1944" describes these aircraft used by the Allied forces, in a variety of roles including as fighters, dive-bombers and strafers, and based in the Southern Pacific including Australian bases, and the Southwestern Pacific including New Guinea and the Celebes Islands from 1942 until 1944.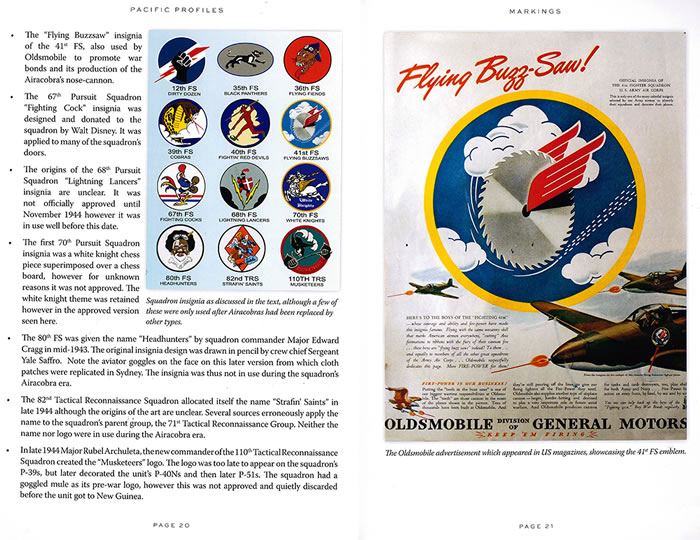 Michael Claringbould, the author, presents this book in chapters on each of the fighter squadrons of the USAAF Fifth and Thirteenth Air Force.
Volume Six covers a dozen squadrons which operated the Bell P-39 and P-400 Airacobra from April 1942 until March 1944. The wide-ranging colourful heraldry and nose art of Fifth Air Force Airacobras is partly explained by the frequent trading of particular airframes between units. Until now there has been a paucity of information about the markings of Thirteenth Air Force Airacobras, and this volume fills much of this wide gap. The first and last Airacobras lost in the theatre are illustrated, along with rare markings of a night fighter and a P-39 used by Fifth Fighter Command.
This volume includes the early P-400s through to the P-39D/F/Ks and then the late model P-39N/Qs. The development of markings for each squadron is explained, together with brief squadron histories accompanied with supporting photos. A wide range of reference material was consulted including many rare photos, colour movies, official records, diaries and photos from wreck sites.
As a starter, Michael provides an introduction with explanatory notes of how the P-400's ended up there and consequent versions deployed, with a timeline, maps of the locations where they were based in the South and Southwest Pacific, which include northern Australia.
Following on is a chapter covering markings used by these Airacobras. The author covers the insignia, serials, and stencils, used on the aircraft and the various squadron markings within each group. He discusses nose art which is quite prominent on many of these aircraft as well as the Squadron's insignia and the emblems involved with them. There are excellent images of these to back up the text.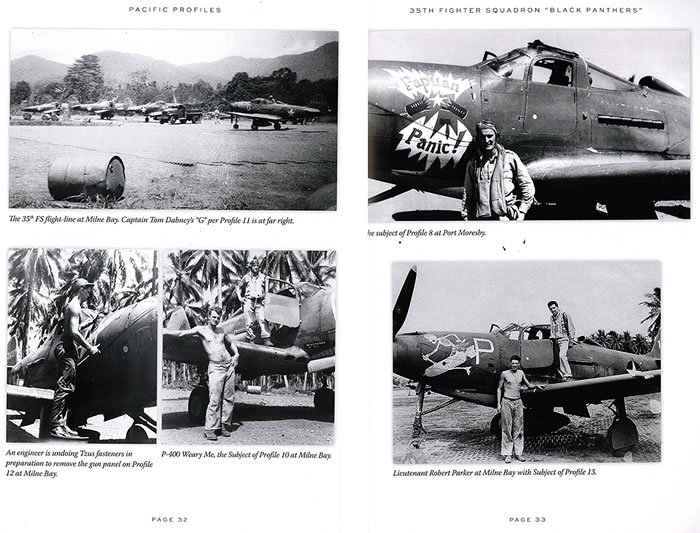 Michael then looks at each of the fighter and reconnaissance squadrons of the USAAF Fifth and Thirteenth Air Force. As per previous reviews, I've given you the first of these chapters complete so you can see the depth of information and detail in the rest of the book. The final chapter covers unique US Airacobras used within the area of operations

The chapters of the book are:
Markings
12th Fighter Squadron "Dirty Dozen"
35th Fighter Squadron "Black Panthers"
36th Fighter Squadron "Flying Fiends"
39th Fighter Squadron "Cobras"
40th Fighter Squadron "Fightin' Red Devils"
41st Fighter Squadron "Flying Buzzsaws"
67th Fighter Squadron "Fighting Cocks"
68h Fighter Squadron "Lightning Lancers"
70th Fighter Squadron "White Knights"
80th Fighter Squadron "Headhunters"
82nd Reconnaisance Squadron (Fighter) "Strafin' Saints"
110th Reconnaisance Squadron (Fighter) "Musketeers"
Unique Airacobras
Each of these Squadron's has detailed notes on what variant of aircraft flew, at what time period as well as other valuable information. Each chapter follows the same construction with written text on that Squadron, a page (and often more than one page) of numbered aircraft profiles with more detailed notes on the adjoining page. There are original historical photographs of those aircraft which provides an excellent reference for those of us who are modellers. Some chapters have very rare colour photographs of the respective aircraft, with the correlation between original photos and the profiles provided.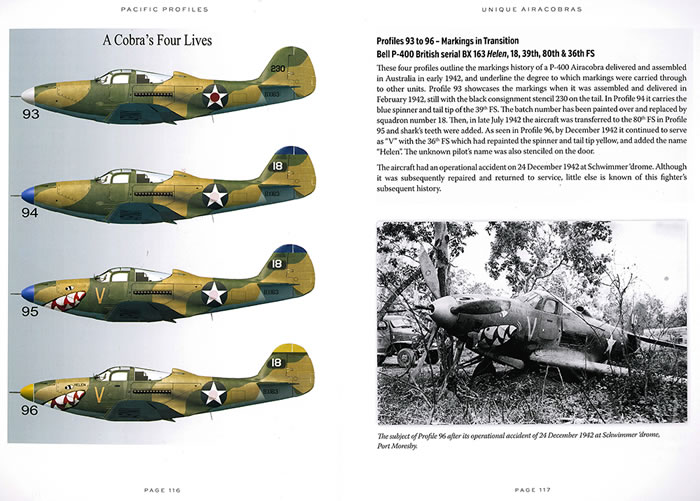 Michael has excelled again in finding a wealth of photographs, a number in original colour and producing informative profiles and notes to go with them. The quality of nearly 100 coloured profiles is seriously superb.

This book, the sixth volume of the Pacific Profiles series, is another excellent reference for modellers with an interest in the Pacific southwestern theatre, especially builders of Allied aircraft. I would see this as a highly desireable addition to your library and highly recommend ybe definitely using this book for my references in these builds with the problem being which ones to do with so many choices.

Self-purchased from Avonmore Books.
---
Review Copyright © 2022 by David Couche
This Page Created on 3 November, 2022
Last updated 3 November, 2022
Back to HyperScale Main Page
Back to Reviews Page