Pacific Profiles Vol 8
IJN Floatplanes in the South Pacific 1942-1944
by Michael Claringbould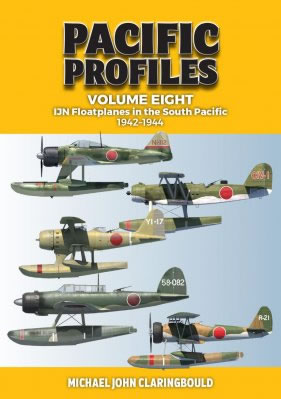 Avonmore Books
S u m m a r y :

Catalogue Number, Description and ISBN:

Pacific Profiles Volume 8
IJN Floatplanes in the South Pacific 1942-1944

by Michael Claringbould

Avonmore Books

ISBN:

978-0-6452469-4-0

Contents & Media:

124 pages, 25cm x 18cm, soft cover, many colour profiles and photographs of those aircraft.

Price:

AUD$36.95 plus shipping available online from Avonmore Books and hobby book retailers worldwide

Review Type:

First Look

Advantages:

Detailed and comprehensive look at the IJN floatplanes used in the South Pacific from 1942 to 1944, with excellent informative text, historical photos and matching aircraft profiles, as well as details of the units that flew them.

Disadvantages:

None noted.

Conclusion:

A great book to have as reference for modellers of all scales interested in the Pacific theatre use of the many and varied Japanese floatplanes during WWII.
Reviewed by David Couche

This book, the "Pacific Profiles Vol 8, IJN Floatplanes in the South Pacific - 1942-1944 " describes these aircraft used by the Imperial Japanese Navy, in a variety of roles and based in the Southern Pacific from 1942 until 1944.
World-renown for his expertise in Japanese aerial warfare in the Pacific, Michael Claringbould, presents this book in chapters on each of the Air Units of the Imperial Japanese Navy that were stationed in and fought in the South Pacific.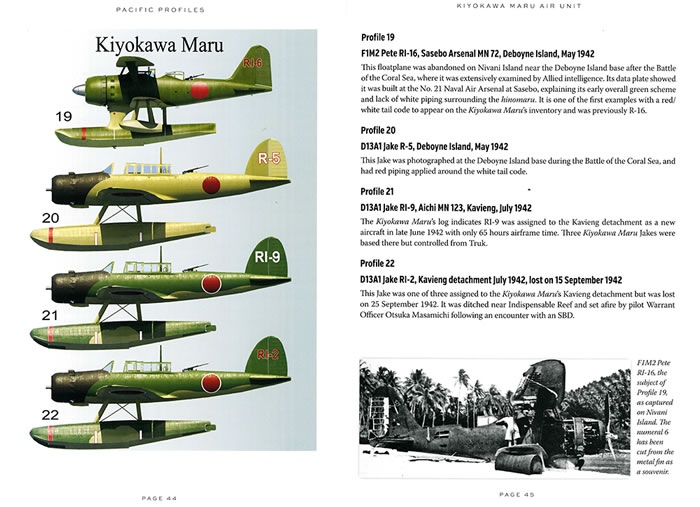 Volume Eight of the Pacific Profiles series presents the most accurate profiles and histories to date of Imperial Japanese Navy floatplanes which served in the South Pacific theatre, throughout New Guinea and the Solomons. The markings of the seven floatplane types deployed in the theatre are covered: the A6M2-N Rufe, E8N2 Dave, E13A1 Jake, F1M2 Pete, E7K Alf, E9W Slim and E14Y Glen.
Floatplane operations commenced in January 1942 with the invasion of Rabaul. Later Rufes were often misidentified as Zeros with their presence in the Solomons seemingly ubiquitous. Petes often fought Allied fighters, with other types focused on reconnaissance and occasional bombing missions, sometimes at night. Most floatplane activity had ceased by late 1943, leaving a handful of stay-behinds operating from Rabaul and Kavieng.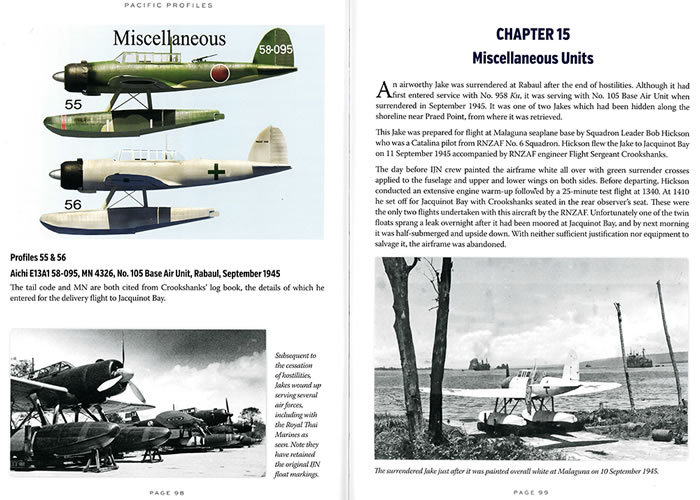 Illustrated, unit by unit, are examples of the varied types of markings, camouflage and tail code systems which appeared on floatplanes assigned to sea tenders, shore, ship and submarine-based units. Each of the 76 profiles draws on evidence from colour photos, Combined Fleet orders, POW interrogations, technical reports and post-war wreck surveys. Brief histories of every unit include their role in the theatre and defines the ever-changing markings systems as ordained by Tokyo. Numerous maps and diagrams help the reader understand command structures such as the R-Area Air Force and the 11th Seaplane Tender Division.
Michael opens this book with a brief introduction with explanatory notes, glossary of terms and with a timeline as well as maps of the locations where they were based in the South Pacific.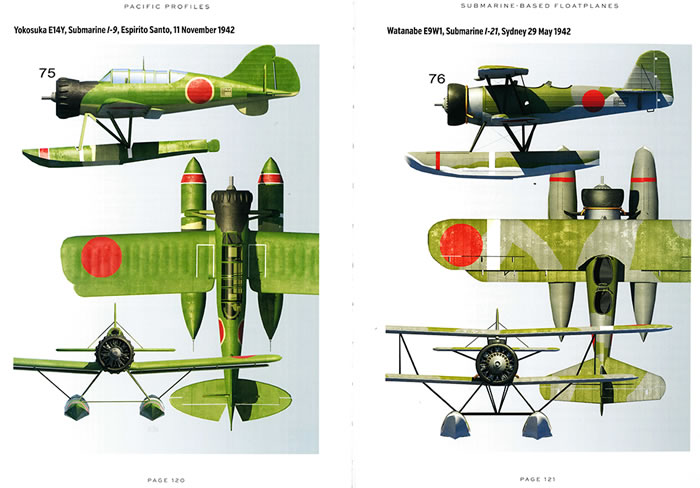 Following on is a chapter covering pre-war IJN floatplane markings. The author covers the insignia, serials, and stencils, used on the aircraft and the styles of markings, along with some excellent supporting photographs of these floatplanes. The book continues by looking at the "R-Area Air Force" with the R referring to the Rabaul area. The dispositions of the IJN forces have 2 charts showing seaplane tender ships and what aircraft were attached to each in November and then December 1942.
Michael then looks at each of the floatplane's units and ships, with each getting a dedicated chapter. As per previous reviews, I've given you the first couple of these chapters complete so you can see the depth of information and detail in the rest of the book. The final 3 chapters covers floatplanes of other miscellaneous unit, battleships, cruisers as well as submarine-based floatplanes.
The chapters of the book are:
Pre-war IJN Floatplane Markings
R-Area Air Force
No. 17 Kokutai
Yokohama Kokutai (fighter wing)
Chitose Air Unit
Kiyokawa Maru Air Unit
Kamikawa Maru Air Unit
Kunikawa Maru Air Unit
Sanyo Maru Air Unit
Sanuki Maru Air Unit
No. 14 Kokutai, (fighter wing)
No. 802 Kokutai
No. 938 Kokutai
No. 958 Kokutai
Miscellaneous Units
Battleships. Cruisers and Minelayers
Submarine based floatplanes
Each of these Units has detailed notes on what type and variant of aircraft flew, at what time period as well as other valuable information. Each chapter follows the same construction with written text on that unit, a page (and often more than one page) of numbered aircraft profiles with more detailed notes on the adjoining page. There are original historical photographs of those aircraft which provides an excellent reference for those of us who are modellers.

Michael has excelled again in finding a wealth of photographs and producing informative profiles and notes to go with them. The quality of the 76 coloured profiles is seriously supurb.There are several multiple view aircraft profiles at the end of the book in the submarine section. I found the last chapter particularly interesting regarding the use of aircraft operating from submarines. This chapter contains a list of submarine based operations using floatplanes, which at that period of the war, far more than I though had occurred. It's a small chapter but very interesting so I've added it in full here to fire up your interest

This book, the eighth volume of the Pacific Profiles series, is another excellent reference for modellers with an interest in the South Pacific theatre, especially builders of Japanese aircraft. As someone with quite a few IJN floatplanes still sitting in my stash, I would see this as a highly desireable addition to your library and highly recommend and will be definitely using this book for my references in these builds with the problem being which ones to do with so many choices.

Thanks to Avonmore Books for the sample.
---
Review Copyright © 2022 by David Couche
This Page Created on 15 November, 2022
Last updated 15 November, 2022
Back to HyperScale Main Page
Back to Reviews Page