B-25 Mitchell
Detail in Action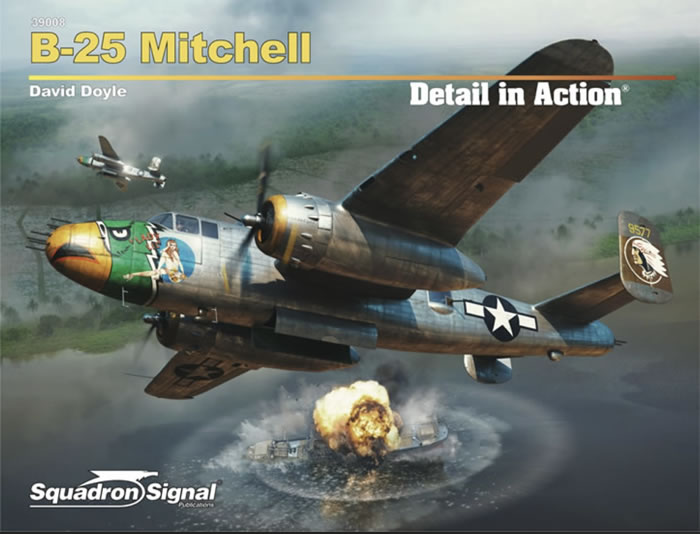 Squadron-Signal Publications
S u m m a r y :

Title and ISBN:

B-25 Mitchell
Detail in Action

by David Doyle

Squadron-Signal Publications

Catalogue Number: 39008

ISBN: 978-0-89747-003-2

Contents & Media:

Soft Cover, landscape format, 136 pages plus covers.

Price:

Review Type:

First Read.

Advantages:

Coverage of one of the most iconic and versatile aircraft of WW II, large volume compared to similar publications.

Disadvantages:

Reused narrative and photographs from publisher's previous volumes, omission of changes made to cockpit of cannon armed versions.

Conclusion:

Highly Recommended.

Reviewed by David Rezabek
My love affair with the B-25 began when I first started dating my wife almost 30 years ago. I was pleasantly surprised to discover she had a favorite airplane; the B-25 Mitchell. Her reasoning being that her favorite colors are "shiny & clear" and one of her favorite books is Joseph Heller's "Catch-22." Thus began my quest for all things Mitchell to build the penultimate B-25.
Over the years I've compiled a collection of over 20 books on B-25 Mitchells and the units that flew them. Thus when I saw the newly resurrected Squadron/Signal Publications had released a book on the B-25 in their new "Detail In Action" series I had to have it for my collection. This new publication is authored by David Doyle and has stunning front and back cover artwork by artist Piotr Forkasiewicz.
In the past, Squadron/Signal has published two volumes in both of their "In Action" series and in their "Walk Around" series on the B-25. Additionally they were the publishing company of Bert Kinzey's "B-25 Mitchell in Detail." By their own admission, this book includes all of the best parts from the "In Action" and the "Walk Around" series, specifically the last two ideations from each series both of which are also authored by David Doyle.
While the layout is familiar, the first thing that will impress upon you when picking up this new volume is that this has nearly twice as many pages as its predecessors. (Previous publications have approximately 80 pages while this one has 136.) The publication contains a brief history on the various Mitchell sub variants. Most of the book's narrative is provided by photo captions. The volume utilizes both B&W and color photos throughout. True to the title, the photos are a mix of B-25s in service and detailed photos of the various B-25 nuances. The detail photos use currently available restored examples but details that may differ on these modern day restorations compared to original wartime production are noted. Conspicuously missing are depictions of the cockpit crew accommodations and instrument panel that differed on the cannon armed Mitchells. This is about the only omission I could identify.
If one already owns Squadron/Signal's last two titles on the B-25 Mitchell there is nothing new to offer the reader with exception of the Forkasiewicz artwork and a half dozen new photographs. However, for those looking for a nice overview and detailed pictures of one of the most famous and versatile aircraft of WW II, Squadron/Signal's new "B-25 Mitchell Detail In Action" fits the bill nicely all at a very nice price point. Highly Recommended!
Purchased by the reviewer
---
Review Copyright © 2022 by David Rezabek
This Page Created on 30 August, 2022
Last updated 30 August, 2022
Back to HyperScale Main Page
Back to Reviews Page