The Fairey Firefly
by Richard A. Franks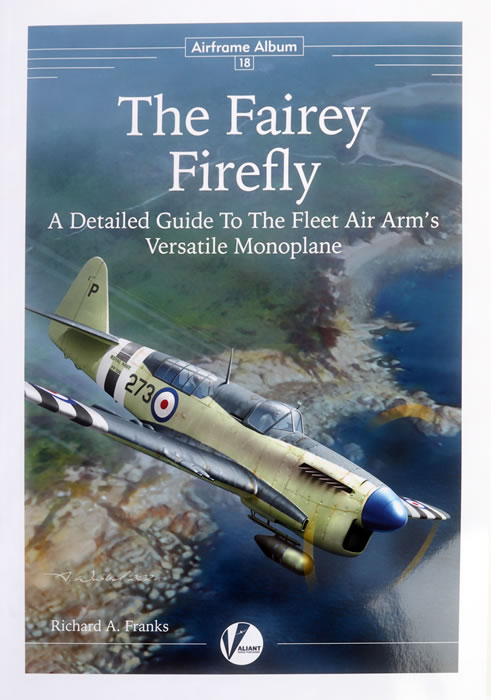 Valiant Wings Publishing
Airframe Album No. 18
S u m m a r y

Publisher and Title:

Valiant Wings Publishing
The Fairey Firefly
Airframe Album No. 18
by Richard A . Franks
2022

ISBN:
978-1-912932-28-3
Media:
256 pages in A4 portrait mode, many photographs and walkaround ones, colour profiles, historical manual drawings, line drawings and model details.
Price:

GBP£19.95 plus shipping available online from Valiant Wings

GBP£19.95 plus shipping available online from Hannants

and stockists worldwide.

Review Type:
First Read
Advantages:

Beautifully produced on quality paper, well bound so that it can be opened flat, masses of great information - photos, drawings and colour schemes - and excellent lists of all things a modeller needs to produce the next masterpiece.

Disadvantages:

None noted.

Conclusion:

This really is an exceptionally useful volume that should be in every Fairey Firefly modeller's library, regardless of which scale one works in, and I recommend it whole-heartedly.

Reviewed by Graham Carter
This is the latest edition in this popular series of modelling and technical books. It is a solid A4 162 page volume, well bound with a glossy card cover and printed on quality glossy paper that allows excellent reproduction of images and drawings. The cover is adorned with an excellent Arkadiusz Wrobel commissioned illustration depicting an FR Mk 1 of 827 NAS over the Yellow Sea coast off Korea in 1950. While aimed at the modeller, only a small section of the book, twelve pages, is taken up with kit reviews and builds, there is much to appeal to the historian and technically-minded person as well.
Following the familiar path, the volume begins with a Glossary, and an Introduction of thirty pages covering the story of the development of the Firefly, with quite a few B&W photos and to illustrate its development and usage across a number of variants and users in the late war years and afterwards.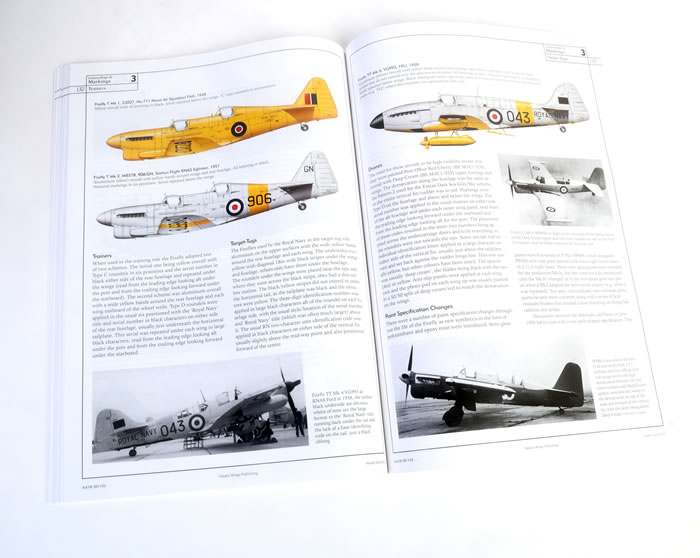 Then Chapter 1, fifty-three pages, covers the Technical Description of the aircraft, and is in eight sub-sections - Engine, Fuselage, Tail, Wings, Undercarriage, Armament, Electrics and Miscellaneous. There are superb detailed photos in B&W and colour as well as drawings from maintenance manuals to show these features, all with good captions. This is really a highlight of this and other volumes in the series and provides an invaluable source of information for the interested technophile or the super-detailer.
Chapter 2, Evolution shows in isometric drawings by Juraj Jankovic all the differences between all the different variants from the prototypes through the 'one-offs' , production variants, to the later conversions as target-tugs and drones. These clearly annotated sketches are invaluable to the modeller although I occasionally think that it would have been useful to have had some undersurface drawings as well. This section is some thirty pages length.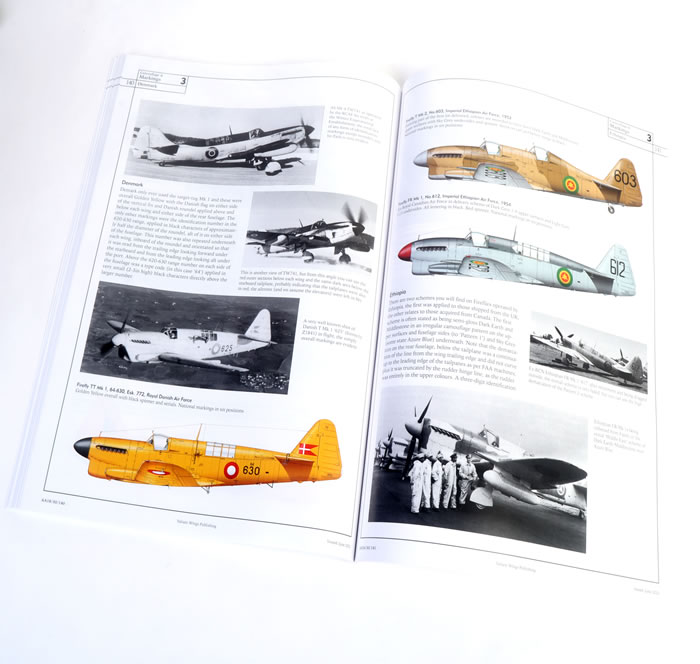 Next comes thirty-odd pages of Chapter 3, called Camouflage and Markings which provides information and photos or colour drawings by Richard Caruana of the schemes worn by examples from all users, including some quite unusual ones from all corners of the globe. The airframes illustrated are from the FAA, RAN, Netherlands, Sweden, Thailand, Denmark, India and Ethiopia.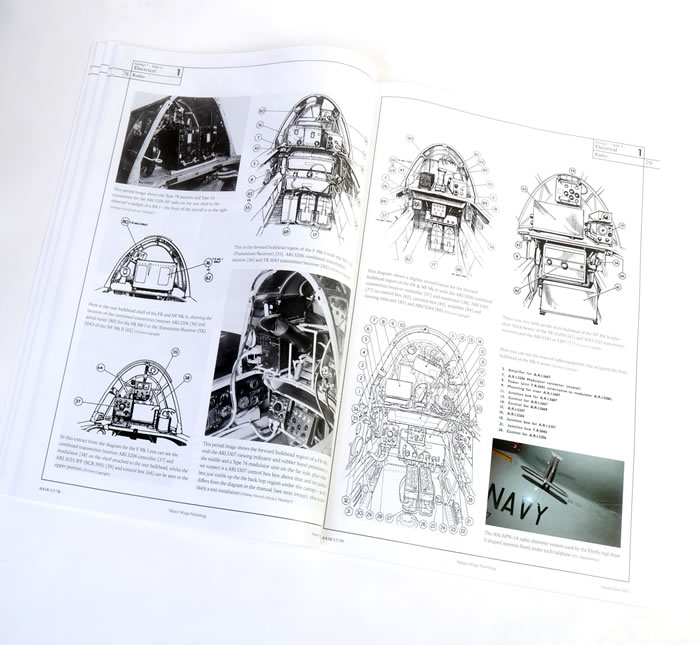 Chapter 4 covers a short build by Steve A. Evans of the Trumpeter 1/48 Firefly Mk.1and is illustrated with a good selection of informative colour images and good description of how Steve achieved the lovely model shown. This section concludes with two small photo-essays of the Special Hobby T Mk 1&2 and the Firefly AS Mk 7 kits by Libor Jell and John Wilkes. This also chapter lists a selection of the available kits in all scales from 1/144 through to 1/32, with some comments about their features. It is interesting to note that such a widely used aircraft is not all that well-represented in model form.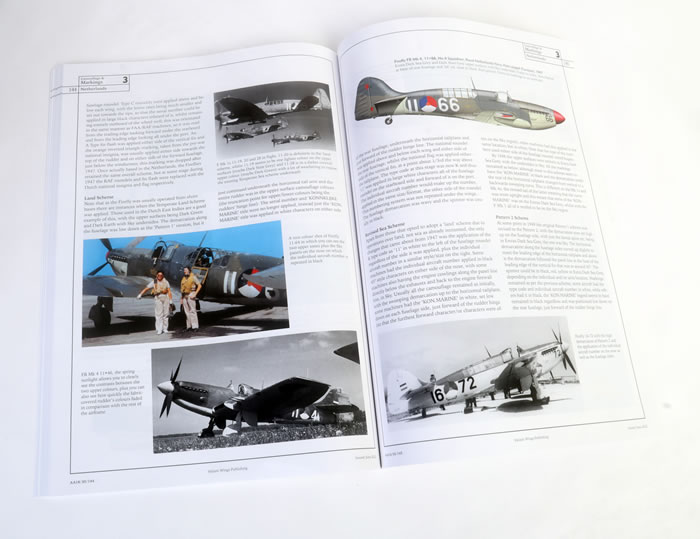 There are then four appendices covering, in alphabetic lists by scale (four full close-types pages) all of kits, accessories, decals available, plus a bibliography. The work that has gone into compiling these lists is quite impressive. Unlike most books in this series there are no drawings provided at the back.
The teacher-pedant in me picked up three tiny errors in the book, none of which reduce its usefulness but I'll mention them anyway : page 64, the top photo caption reads "pot" when it should be "port", on page 13 the caption under the second image says "either TW724 or TW725" when the undercarriage door clearly show the curved section of the '5' so it is the latter, and finally there is reference on pages 157 and 159 to a Special Hobby kit #72060 of the Mk III ASR which is patently incorrect as Fairey only built a cancelled prototype Mk III (see pages 12/13) and this kit is actually a Fairey Barracuda Mk III ASR.
This really is an exceptionally useful volume that should be in every Firefly modeller's library, regardless of which scale one works in, and I recommend it whole-heartedly. It brings together so much information that you probably have spread through several source and therein lies its usefulness.
Thanks to Valiant Wings Publishing for the sample.
---
Review Copyright © 2022 by Graham Carter
This Page Created on 11 August, 2022
Last updated 11 August, 2022
Back to HyperScale Main Page
Back to Reviews Page