The Messerschmitt
Bf 109 Late Series
(F to K including Z Series)
by Richard A. Franks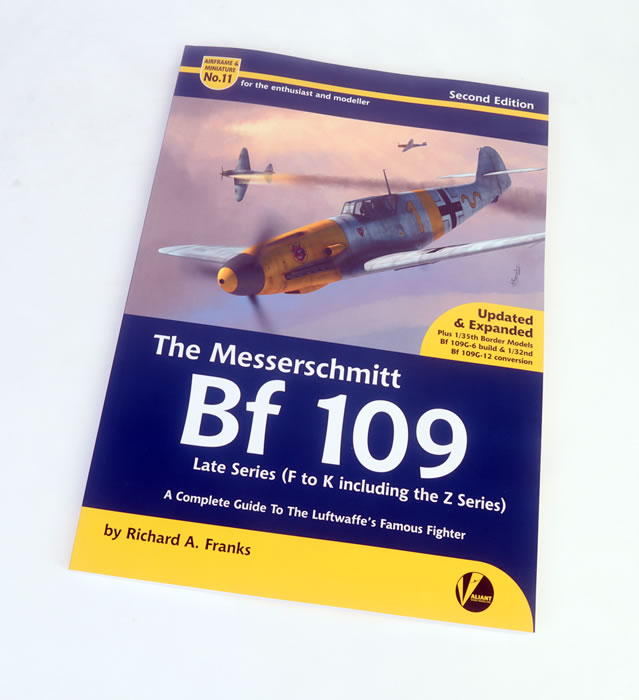 Valiant Wings Publishing
Airframe and Miniature No. 11
S u m m a r y

Publisher and Title:

Valiant Wings Publishing
The Messerschmitt Bf 109 Late Series (F to K including Z Series)
Airframe and Miniature No. 11
Second Edition
by Richard A. Franks

ISBN:
978-1-912932-26-9
Media:
272 pages in A4 portrait mode, many photographs and walkaround ones, colour profiles, historical manual drawings, line drawings and model details.
Price:

GBP£25.95 plus shipping available online from Valiant Wings

GBP£25.95 plus shipping available online from Hannants

and stockists worldwide.

Review Type:
First Read
Advantages:

Beautifully produced on quality paper, well bound so that it can be opened flat, masses of great information - photos, drawings and colour schemes - and excellent lists of all things a modeller needs to produce the next masterpiece.

Disadvantages:

None noted.

Conclusion:

This really is an exceptionally useful volume that should be in every later Messerschmitt Bf109 modeller's library, regardless of which scale one works in, and I recommend it whole heartedly.

Reviewed by Graham Carter
This is the latest upgraded edition in this popular series of modelling and technical books. First released in 2017 and now updated, hence the new ISBN. It is a solid A4 256 page volume, well bound with a glossy card cover and printed on quality glossy paper that allows excellent reproduction of images and drawings. The cover is adorned with another of Jerry Boucher's commissioned illustrations, this time of Hans Ekkland Bob's Bf 109F-2 from 9/JG54. While primarily aimed at the modeller with around a fifth of the book taken up by kit reviews and builds, there is much to appeal to the historian and technically-minded person as well. This new edition contains some new information and images but primarily introduces some kit builds of recently released kits in the popular scales, as well as listing of newer accessories from a wide variety of manufacturers.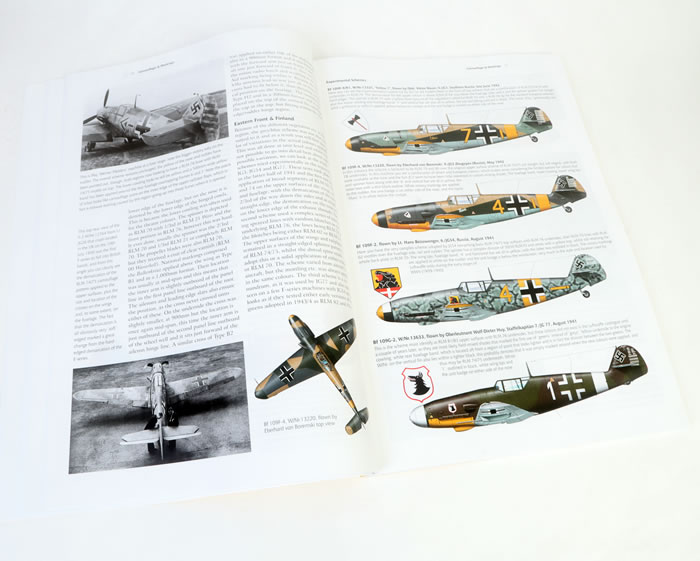 Following the familiar path, the volume begins with a Preface of nineteen pages tracing the development of the later Bf 109, starting with the Daimler-Benz DB601 engined F series with a few B&W photos and to illustrate. The G-Series comes next with its various wheel, cockpit, engine, fuselage and wing variations, including the butterfly-tail and twin-seater, followed by the end-of-war K, H and Z versions and projects. Richard Franks admits in his introduction that there is much confusion, contradiction and false info about some of the features of later designs and that he has tried to reduce these to a comprehensive level in this volume. It is not my job to comment on the efficacy of this.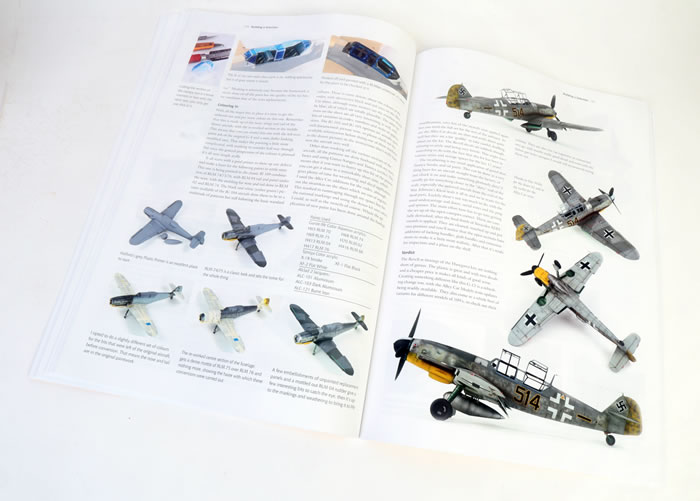 Then chapter 1 covers in 17 pages the Evolution of the F-Series from the fifteen 'V' variants through to production F-2 and F-4 variants, and covering the apparently unbuilt 5,6 and 8 versions. There are photos and drawings to show these different variants.
Chapter 2 looks at the Evolution of the G-series and projects and one-off conversions in twenty-two pages, including fascinating ones with radar, along with the caveat by the author that a lot of these were purely speculative and unlikely to have been produced. Plenty of scope for a great range of interesting models, both real and 'whatif' here!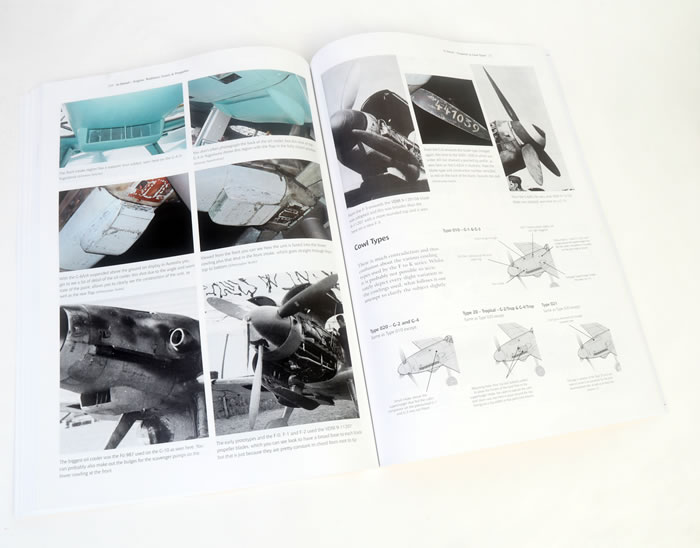 Chapter Three is a seven-page treatments of the K, H and Z versions, some of which were not actually produced beyond proposal stage.
Next comes forty-odd pages of info on Camouflage and Markings which provides information and photos or colour drawings by Richard Caruana of the schemes worn by examples from most users, including the extensive Italian and Hungarian ones. Late and post-war Swiss, Slovakian, Rumanian, Spanish, Slovak and Bulgarian use is also covered. This section includes a set of drawings that show the location of airframe stencils. There are some great variations in colour schemes here and one can understand the popularity of this aircraft as a modelling subject. The section is illustrated by B&W as well as a couple of colour images.
The fourteen-page sixth chapter lists a selection of the available kits in all scales from 1/144 through to 1/24, with an assessment of the pros and cons of each, after which Chapter Seven presents six builds. These start with the Fine Molds F-4 in 1/72 by Libor Jekl then the Eduard 1/48 G-5 and Border Models G-6, from Steve A Evans. There follows two 1/32 builds by the same modeller of a G-4 converted to a G-12 from the Revell/Hasegawa kit and finally, G-6 from Trumpeter, this time from Dani Zamarbide. These builders are well known for the quality of their modelling and their clear photos and explanations of how they produce their models are worth a detailed read.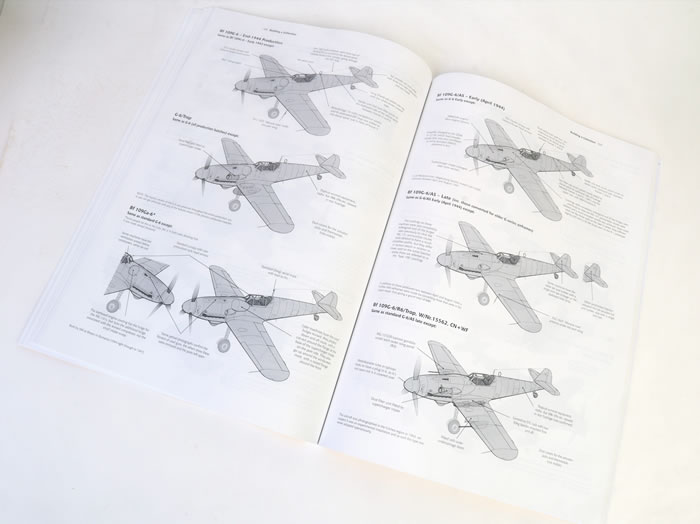 The thirty-one page Chapter Seven is called Building a Collection and shows in isometric drawings by Wojciech Sankowski all the differences between all the many variants and showing the versions with the slightly different airframes. These clearly annotated sketches are invaluable to the modeller although I occasionally think that it would have been useful to have had some undersurface drawings as well.
The Eighth, 'In Detail', section occupies a massive fifty-five pages and give the reader an enormous number of colour and B&W photos from modern and contemporary sources, along with German technical manual drawings with excellent notes. It covers most aspects of the airframes from the engine, propellors, cockpit, intakes, fuselage ( especially cowling variations) and wings, tail types, undercarriage and so on. This is really a highlight of this and other volumes in the series and provides an invaluable source of information for the interested technophile or the super-detailer.
There are then four appendices covering, in alphabetic lists by scale ( three full close-types pages!), all of the kits that have been available, Accessories (seven pages), decals (nine pages )and a two-page bibliography. The work that has gone into compiling these lists is quite astounding and the extent of these lists gives one a good idea of how popular these aircraft are as a modelling subject.
Finally, the rear of the book concludes with a fold-out double-sided four-page sets of 1/48 scale drawings - eight pages in all - showing side and upper and lower views of different variants, and including some details of fuel tanks and weapons racks.
This really is an exceptionally useful volume that should be in every Bf 109 modeller's library, regardless of which scale one works in, and I recommend it whole heartedly, especially if you missed the earlier edition. It brings together so much information that you probably have spread through several volumes and therein lies its usefulness.
Thanks to Valiant Wings Publishing for the sample.
---
Review Copyright © 2022 by Graham Carter
This Page Created on 5 July, 2022
Last updated 5 July, 2022
Back to HyperScale Main Page
Back to Reviews Page