OV-10 Bronco Decals
Preview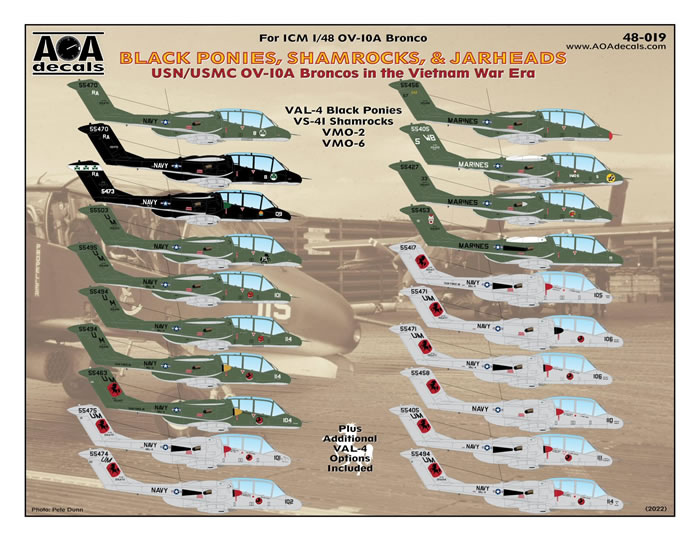 AOA Decals, 1/48 scale

AOA Decals has provided information on their next decal releases:
AOA decals announces three new upcoming 1/48 decal releases for the new ICM OV-10A Bronco:
48-019 - Black Ponies, Shamrocks, & Jarheads - USN/USMC OV-10A Broncos in the Vietnam War Era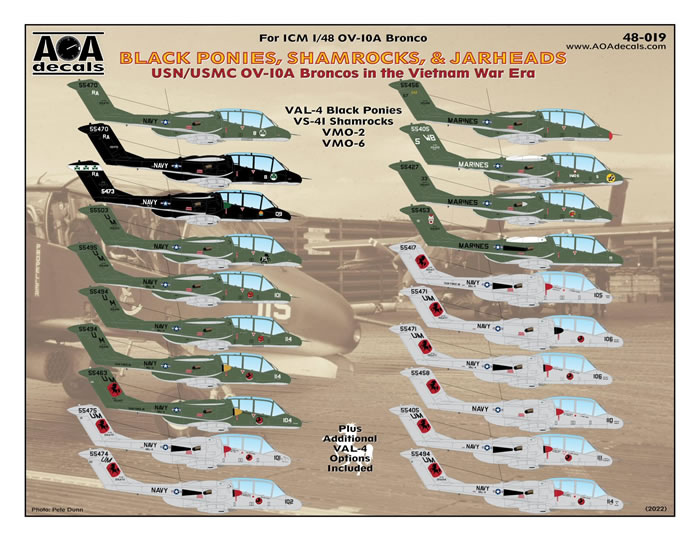 48-019 predominately covers US Navy VAL-4 Black Ponies, over 15 options spanning their entire time in Vietnam from 1969-1972. Also included are three options from VS-41 Shamrocks, an S-2 Tracker squadron responsible for the stateside training of VAL-4 crews and personnel throughout the war. Last but not least, also covered are two options each of USMC Broncos from VMO-2 and VMO-6, both of which also used the Bronco heavily in combat in Vietnam.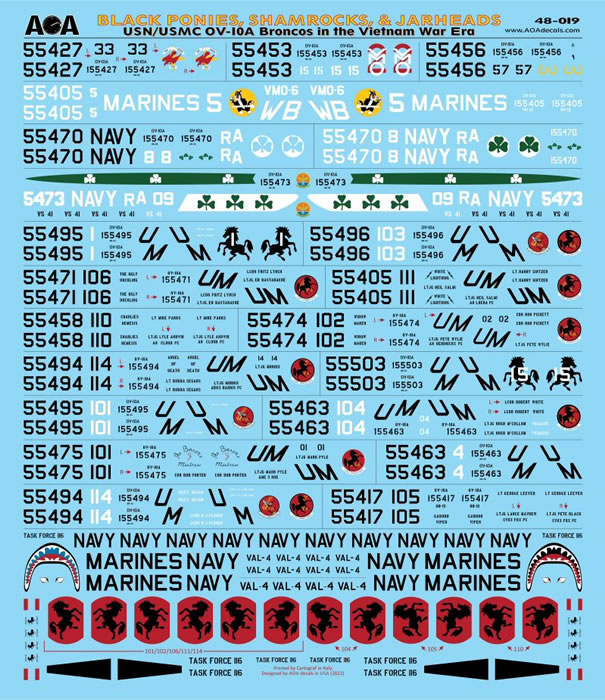 Specific ordnance loadout charts are provided for each squadron.
Included with the 48-019 release is full OV-10A airframe data and markings sheet 48-021 that also includes markings for various rocket pods and gun pods commonly used in Vietnam.
---
48-020 - "Tally-Ho on the FAC" - USAF OV-10A Broncos in the Vietnam War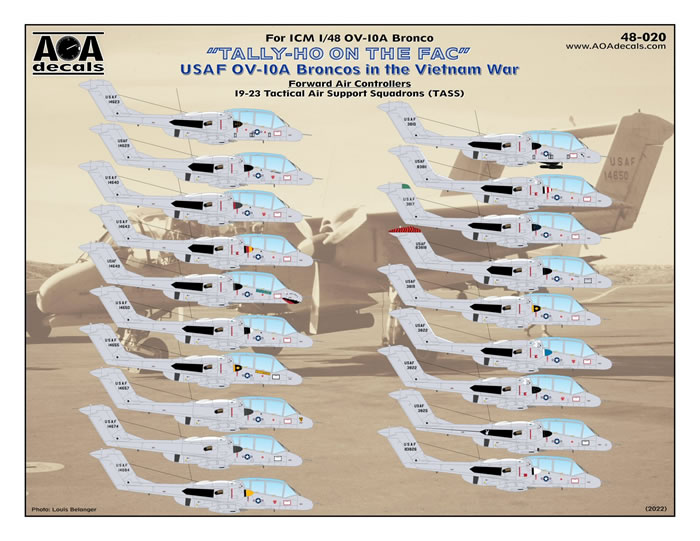 48-020 includes 19 options for USAF Forward Air Controller (FAC) Broncos in Vietnam.
Ordnance loadout charts for USAF Bronco FACs in Vietnam are also provided.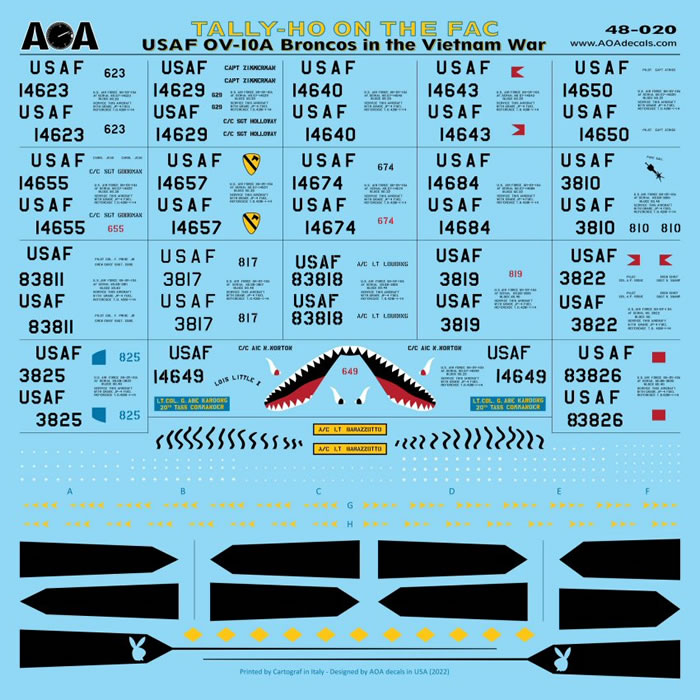 Included with the 48-020 release is full OV-10A airframe data and markings sheet 48-021.
---
48-021 - Airframe Data & Markings - USN/USMC/USAF OV-10A Broncos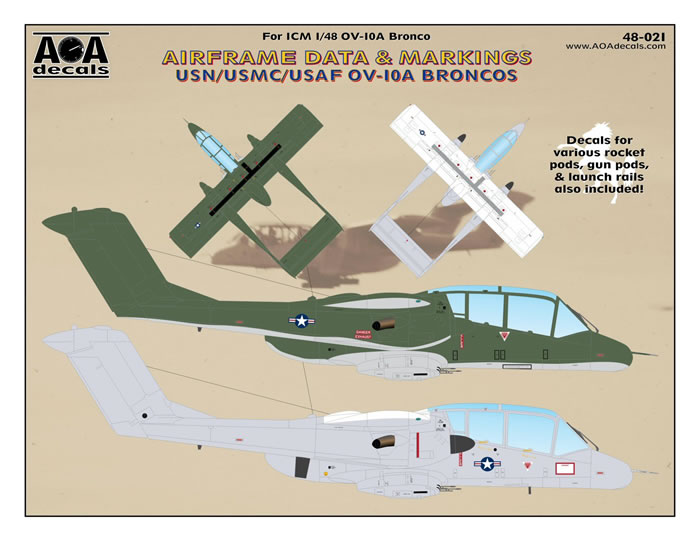 This combined service sheet provides complete OV-10A Bronco airframe data and markings (stencils) for one aircraft. Includes multiple variations of common markings, landing gear placards, tire slip indicators, formation lights, ejection seat markings, full sponson and wing pylon stenciling, and more. Also includes decals for ordnance common to early OV-10A Broncos such as various 2.75" FFAR and 5" Zuni rocket pods, SUU-11 and Mk.4 HIPEG gun pods, and also LAU-7 launch rails.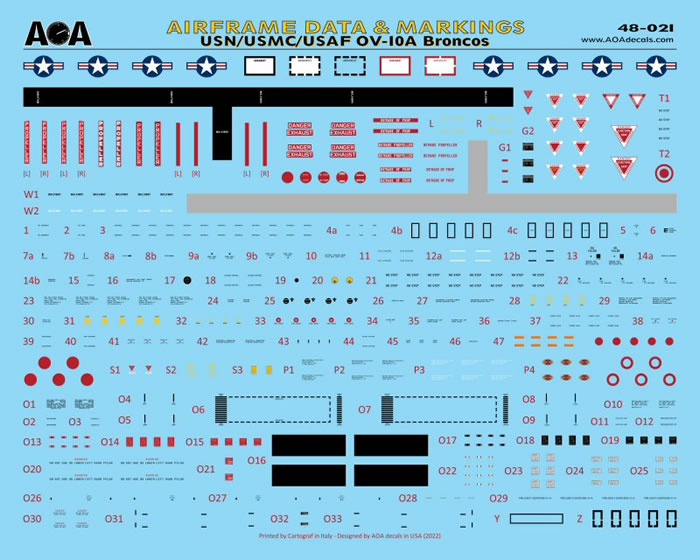 All sheets are currently at Cartograf for printing and are expected for a Q1 2022 release.
Thanks to AOA Decals for the information and images
---
Preview Text and Images Copyright © 2022 by AOA Decals
This Page Created on 7 January, 2022
Last updated 10 January, 2022
Back to HyperScale Main Page