McDonnell Douglas F-4 Phantom Factory Stencil Decal
PREVIEW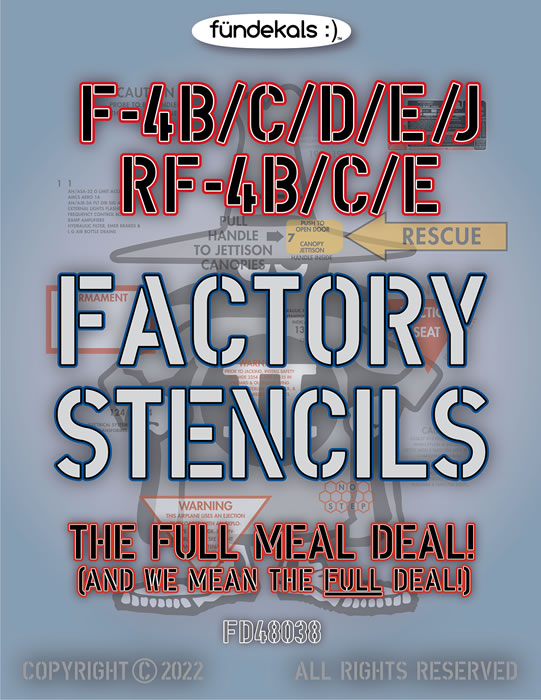 fundekals, 1/48 scale



Fundekals has sent the latest information about this new release:
McDonnell Douglas F-4 Phantom Factory Stencil Decal
Preview
Fündekals is very pleased to announce the availability of our new 1/48 McDonnell Douglas F-4 Phantom factory stencil decal. This is the first F-4 stencil sheet in history to cover ALL production variants of U.S. (and most export) Phantoms, including the F-4B/C/D/E/J and the RF-4B/C/E. We had no idea when we started down this road what a MASSIVE undertaking it would end up being (it has been a more than 2-year long project, and we feel like we should get a PhD in Phantomology!). At times frustrating, at times exciting new discoveries, and at times jaw-dropping, it was a learning experience from day one. We had lots and lots of help from some really great folks, and we learned SO much about the amazing Phantom that we're excited to share with all of you.
McDonnell Douglas used a unique lettering style on Phantom stencils, which we have faithfully reproduced using the correct colors and font, with many subtle variations, many never before documented. This set will cover any aircraft as it appeared in its original factory finish, before a depot overhaul and repaint. That means the vast majority of Vietnam War F-4Cs, F-4Ds, F-4Es, F-4Bs, F-4Js, and RF-4Bs and Cs. We have provided plenty of information on how to determine if your subject carried factory stencil data or depot applied stencil data.
The PDF instruction manual amounts to a whopping 212 pages - but fear not: not all of them apply to every model you might want to build! Because many previous stencil decal instructions have confronted you with a confusing and overwhelming mass of arrows and key numbers for decal placement, we chose to break things down into small, manageable bites. The first part of the instruction manual gives copious details on camouflage and finish for the various factory schemes applied by the factory, with a lot of details that we have never seen documented anywhere before.
The bulk of the instructions consists of a separate 'chapter' for each production variant, giving you a complete nose to tail, wing tip to wing tip, top to bottom guide to applying the decals to that specific version without having to flip back and forth. You start at the beginning and apply the decals in the order shown, one section at a time. If you're concerned about printing out 212 pages of instructions to have on your workbench, know that the 'chapter' for your specific variant is all you need to print. As you can see in the sample pages below, we broke the airframe down into small, logical sections, with separate diagrams for access door numbering, and for instructional markings and symbols.
Finally, we cover many subtle details of the airframe and provide decals for things like fiberglass canopy frames, dielectric panels, slime lights, and even AIM-7 Sparrow serial numbers. We believe that for the first time ever, you get a full set of landing gear strut, door, and bay, and speed brake placards, with detail as fine as it is technologically possible to print. We think you'll be amazed when you see them, as we were! Critical fit items are provided for both the Zoukei-Mura and Tamiya 1/48 kits, as appropriate.
As usual, the decals are printed by Cartograf, so you know they are the highest quality available. Many of the really tiny items with lots of detail in them (such as those yellow servicing placards so ubiquitous on Phantoms after about 1965) are offset printed at 1200 dpi. That allows us to incorporate detail not possible to print using silkscreen printing, and the results are astounding. We invite you to break out your loupe magnifier and have a look at them!
This set is only available in 1/48 scale. To do it in 1/32 would, unfortunately, be massively and prohibitively expensive. In 1/72, even Cartograf with their unique ability to print amazingly small stuff, wouldn't be able to do the kind of printing job we would demand.
The decals will be available at our table at the IPMS/US nationals in Omaha on Wednesday, 20 July 2022, and on our web site at www.fundekals.net next week. We hope you'll enjoy using them as much as we enjoyed researching and producing them!
As always, have fun!
PS: If you want to have a look at the instruction manual, it can be downloaded here:
https://fundekals.net/wp-content/uploads/2022/07/FD48038-Inst.pdf
Thanks to fundekals for the information and images.
---
Text and Images Copyright © 2022 by Fundekals
Page Created 19 July, 2022
Last updated 19 July, 2022
Back to HyperScale Main Page
Back to Reviews Page