Furball Aero Design
July 2022 Decal Preview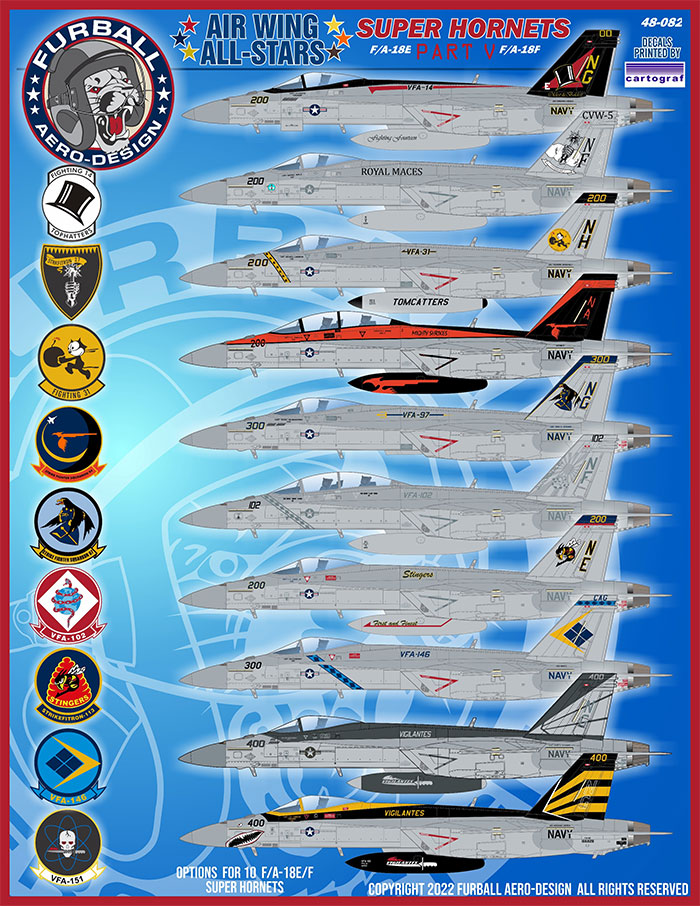 Furball Aero Design has sent information about their newest releases, available now from their website:
---
Hello and Happy 4th of July from your friends at Furball Aero-Design. Just a quick note to let you know that our new decal set Air Wing All-Stars: Super Hornets Part V is now shipping!
This mega sheet offers options for 10 colorful F/A-18E/F Super Hornets in 1/48 scale. Here are the jets covered:
VFA-14, F/A-18E 168927, NG-200, USS LINCOLN, 2019

VFA-102, F/A-18F 166917, NF-102, USS REAGAN, 2020

VFA-27, F/A-18E 168363, NF-200, USS REAGAN, 2017

VFA-113, F/A-18E 168877, NE-200, USS VINSON, 2020

VFA-31, F/A-18E 166776, NH-200, USS ROOSEVELT, 2021

VFA-146, F/A-18E 165783, NH-300, USS NIMITZ, 2015

VFA-94, F/A-18F 168929, NA-200, USS NIMITZ, 2021

VFA-151, F/A-18E 168471, NG-400, USS STENNIS, 2018

VFA-97, F/A-18E 1668867, NG-300, USS STENNIS, 2019

VFA-151, F/A-18E 166828, NG-400, USS TRUMAN, 2021
Two complete models can be built with the stencils provided.
This set is optimized to work best with the Meng family of kits but may work with other kits as well. As always, our decals are printed by Cartograf of Italy, the hobby industry's leading decal printer.
All of our products are available in the Furball Online store at: furballaero-design.com as well as the eBay Furball store.
The Furball Team
---
Text and Images Copyright © 2021 by Furrball Aero Design
Page Created 26 April, 2022
Last updated 3 July, 2022
Back to HyperScale Main Page
Back to Reviews Page