Airfix 1/72 scale ALL NEW
Meteor F.8
Preview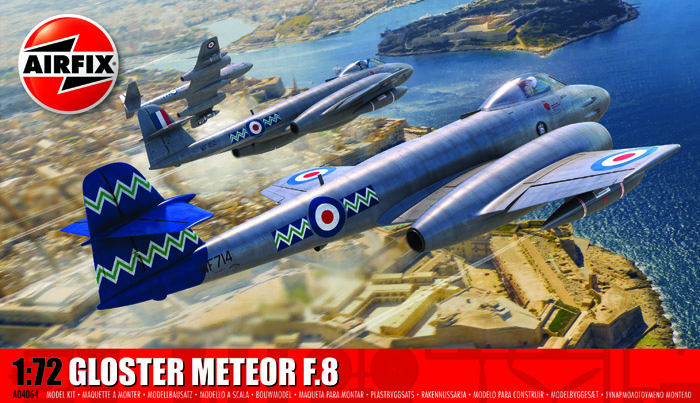 Airfix has sent information and images of this all-new release:
New Tool – Gloster Meteor F.8
One of the most anticipated releases this year, an evolution of Britain's first fighter jet, the brand-new tool 1:72 Gloster Meteor F.8 is now available.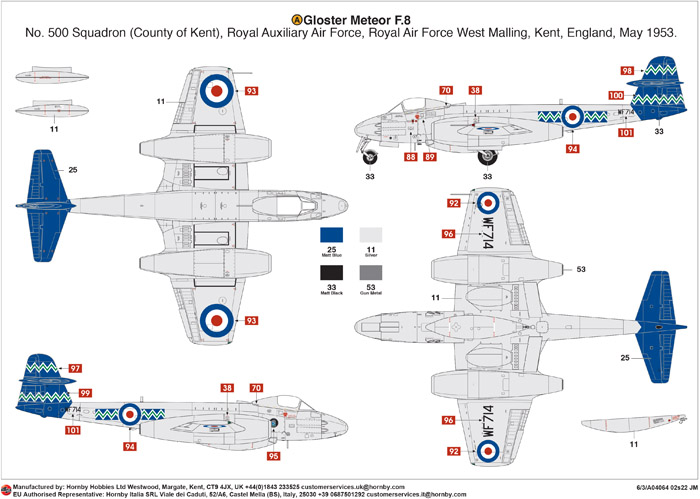 In exceptional detail, this newly tooled release features two different engine intake types, two canopy types, plus ventral fuel tank and drop tanks and includes three unique schemes.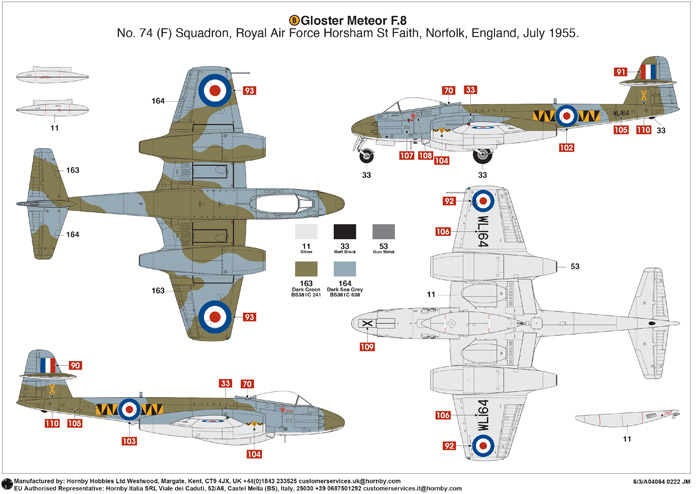 Measuring 158mm wide and 191mm in length, this new release features 111 parts and is rated a skill level two, ideal for both novices and pros alike.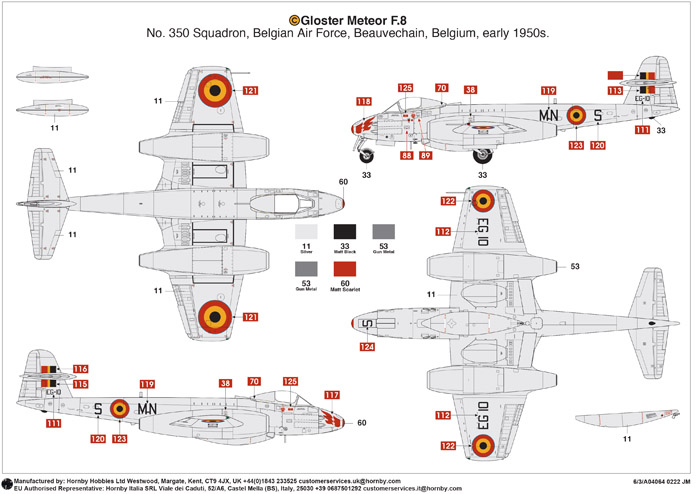 The three chosen schemes include (A) No.500 Squadron (County of Kent), Royal Auxiliary Air Force, Royal Air Force West Malling, Kent, England, May 1953, (B) No.74 (F) Squadron, Royal Air Force Horsham St Faith, Norfolk, England, July 1955 and (C) No.350 Squadron, Belgian Air Force, Beauvechain, Belgium, early 1950s.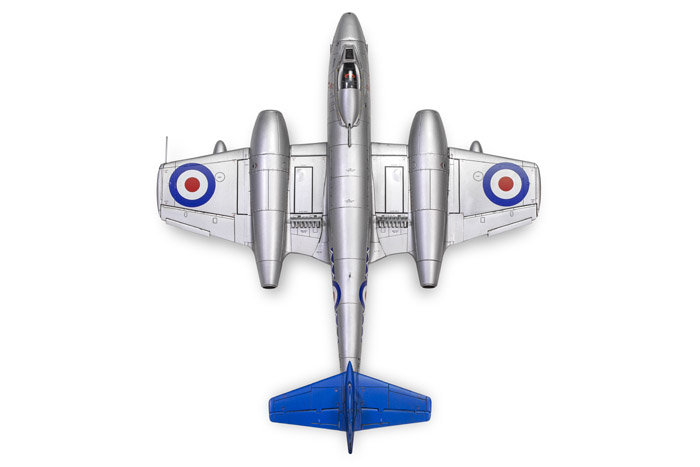 The capable of attaining speeds over 100 mph faster than the latest piston engine fighters, it is interesting to note that development work on jet propulsion started in the 1930s, with engineers in both Britain and Germany searching for the next generation of engine power.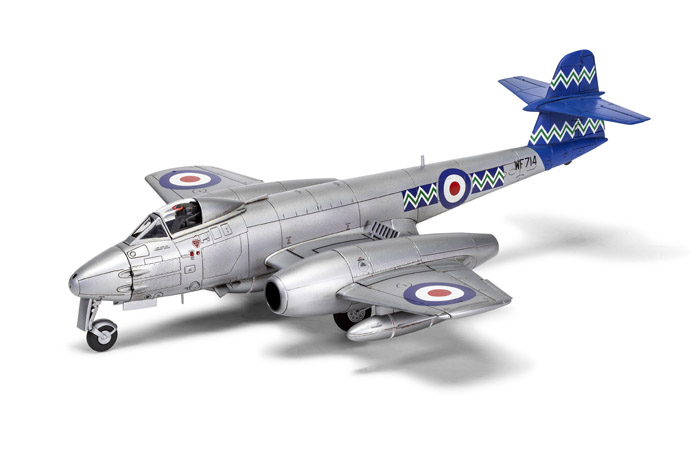 Gloster Meteor was the first jet-powered aircraft to appear in the skies over Europe towards the end of WWII. Post-war, the Meteor had to evolve rapidly to keep pace with the rest of the world as jet power became the standard means of propulsion for frontline fighters, this led to the F.8 variant.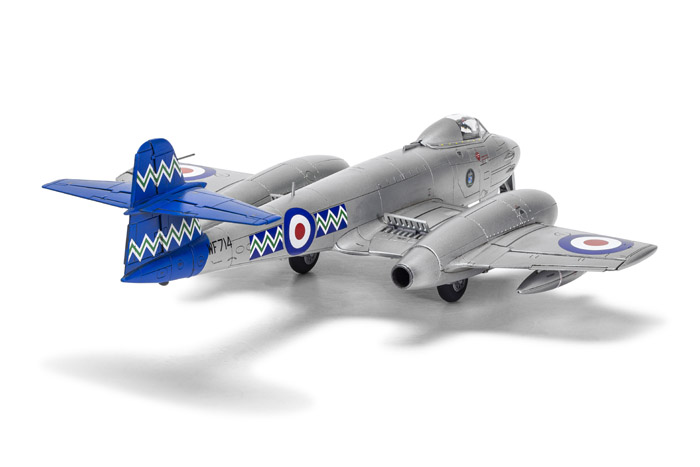 Conducted under the strictest security, the Gloster Aircraft Company prepared their new twin engined jet fighter for flight testing, but on test flight days, all non-essential personnel would be dismissed from the airfield and local police would close the surrounding roads to stop prying eyes discovering this closely guarded aviation secret. If anyone did catch a glimpse of this strange new aircraft in the air, they would have no doubt wondered where the propellers were and why did it sound so strange? By the summer of 1944, the secret was out and as No.616 Squadron prepared to take the Gloster Meteor F.1 to war from its base at RAF Manston, the Royal Air Force had their first jet fighter and a new era for British aviation had begun.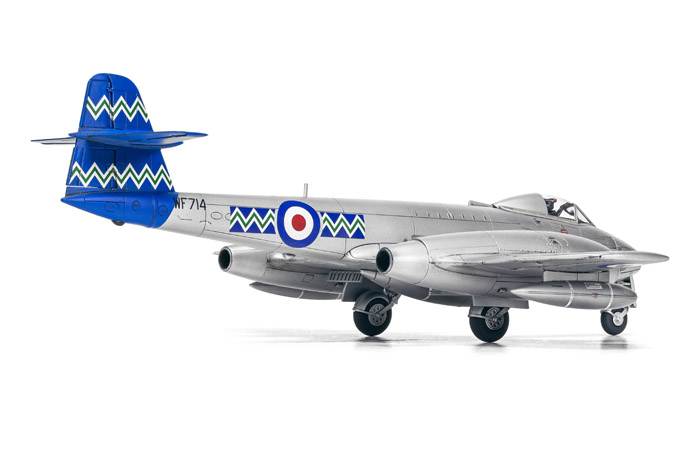 Britain's first jet fighter was still quite a primitive design and the reason it proceeded as a twin engined aircraft was down to the fact that these early jets were not overly powerful and rather slow to respond to the pilot's power input requests, so the use of two engines seemed practical.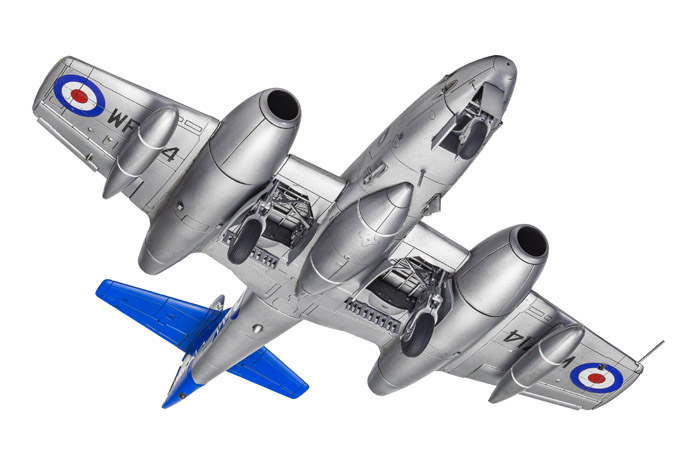 The view from the cockpit was however superb, with no propeller to obscure the pilots view and plenty of power available once the aircraft was up to speed. Undergoing almost constant development, the early marks of Meteor were all based around the first aircraft to enter service, however, the service arrival of the F.8 variant in 1950 saw the Meteor maturing into a truly exceptional early jet, one which would not only see service with the RAF, but also with several other air arms across the world. Slightly longer than its predecessors, the F.8 featured uprated engines, greater fuel capacity and the inclusion of an ejector seat. To counter some instability issues discovered during development, the new aircraft also featured a redesigned tail unit, something which really serves to identify this later mark of Meteor.
Hornby Hobbies Limited is a toy and hobby product manufacturer that was founded in the early 1900's. Hornby Hobbies Limited portfolio of brands include: Hornby – model trains, Scalextric – slot car racing, Airfix – plastic model kits, Humbrol – paints and craft product, and Corgi – die-cast models. In addition to these iconic British brands Hornby Hobbies Limited also owns a number of international brands including: Lima, Rivarossi, Jouef, Pocher and Arnold.
Thanks to Airfix for the information and images.
---
Text and Images Copyright © 2022 by Airfix
Page Created 4 August, 2022
Last updated 7 October, 2022
Back to HyperScale Main Page