Airfix 1/48 scale ALL NEW
Blackburn Buccaneer S.2C/D
Preview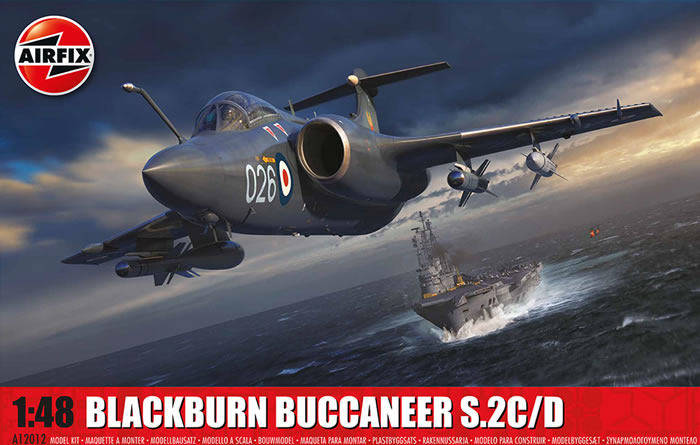 Airfix has sent information and images of this all-new release:
New Tool – NOW AVAILABLE Blackburn Buccaneer S.2C/D (Kit No. A12012)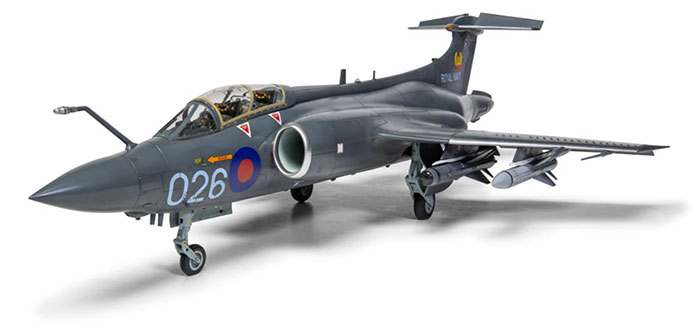 Arguably, one of the biggest releases this year for Airfix is the brand new 1:48 Scale Blackburn Buccaneer S.2C/D. The highly sought after 1:48th scale model comes with folding wings, an opening airbrake, engine panels, a detailed cockpit, and intake covers as well as crew access ladders. This kit also comes with a selection of armament; 2 x Royal Navy 2-inch rocket pods, 4 x 1000lb retarded bombs, 4 x 1000lb free fall bombs, 1 x Martel missile TV guidance pod, 2 x Martel Missiles (TV) and 2 x Martel missiles (AR).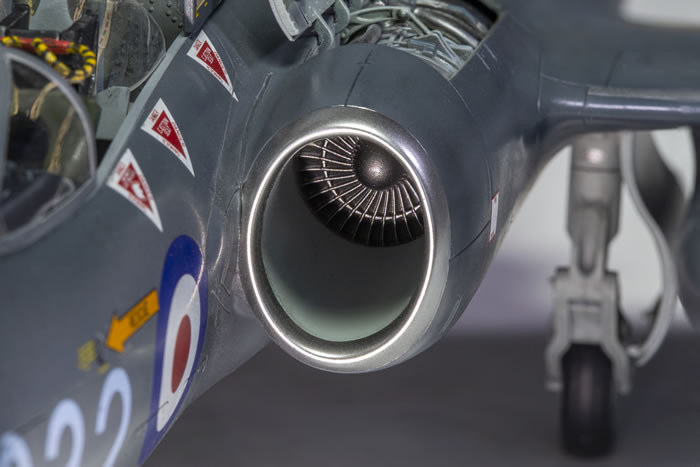 This highly anticipated kit is skill level three and comes with four scheme options, all which tell the story of the Buccaneer. Scheme A depicts an S.2D of 809 NAS armed with Martel Missiles. Entering service on 4th February 1965, initially allocated to 700B Flight at RNAS Lossiemouth, before going on to serve with No.801 NAS, embarking on HMS Victorious during June 1966. This aircraft would go on to have a long and illustrious service career, seeing service with Nos.800 and 809 Squadrons during her Fleet Air Arm days, before being transferred to the Royal Air Force in 1971, after undergoing conversion to S.2A standard.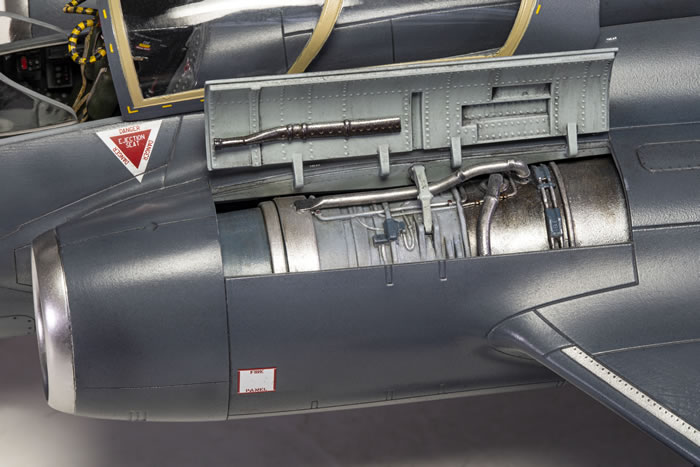 Scheme B portrays one of 17 new Buccaneers ordered from Hawker Siddeley Aviation at Brough to be delivered between April and December 1966, XV162 was delivered to the Fleet Air Arm on 21st September 1966 and allocated to No.810 Naval Air Squadron at RNAS Lossiemouth. The unit spent a brief period embarked on HMS Victorious for a Mediterranean cruise, before returning to Lossiemouth and then onto HMS Hermes in 1968 for an extended period operating at sea.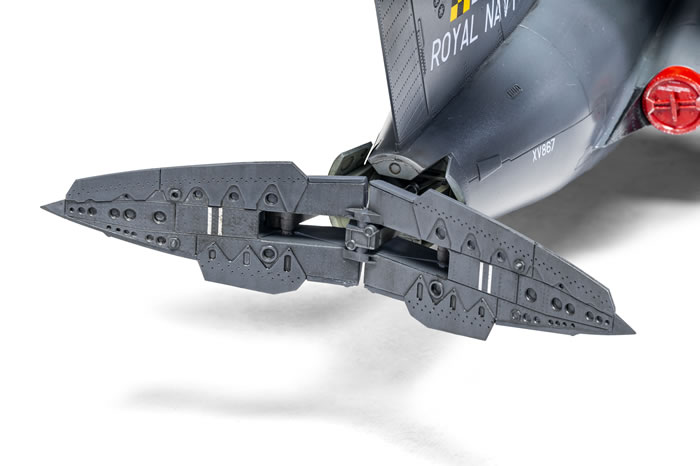 Scheme C depicts XV340 in early 809 NAS markings. Built by Hawker Siddeley Aviation during 1967, Buccaneer S.2 XV340 was delivered to the Fleet Air Arm on 26th April 1967, before being allocated to No.809 Naval Air Squadron at Lossiemouth to proudly wear the unit's 'Immortal Phoenix' crest on its tail. 809 have a proud heritage in operating the mighty Buccaneer, as they were reformed on 15th July 1963 to become the second front line Fleet Air Arm Buccaneer Squadron, at that time operating the S.1 variant of the aircraft. They would later trade these for the upgraded S.2 Spey engined Buccaneer, initially at Lossiemouth before a long stint at sea aboard HMS Hermes.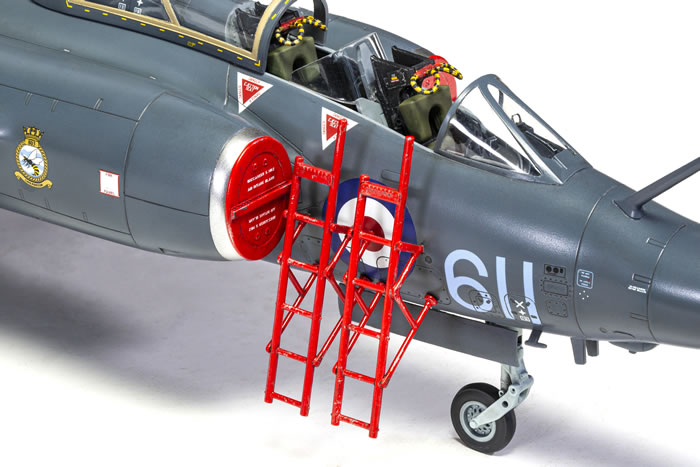 Scheme D, another well-travelled Buccaneer, XV867 was constructed as an S.2 variant at Brough during 1968 and like so many Buccaneers before it, was towed 18 miles on its own undercarriage to enable its first flight to take place at Holme-on-Spalding Moor airfield. She was taken on charge with the Royal Navy at the beginning of December 1968, delivered to the Naval Air Support Unit at RNAS Lossiemouth. She would be transferred to No.803 NAS on 19th June 1960, where she would operate with the fuselage markings 611/LM.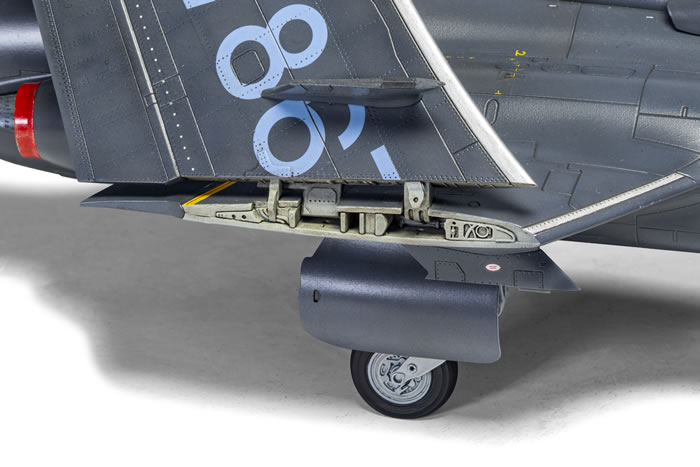 This mighty Buccaneer kit is made up from 291 pieces. Once built, the length is an impressive 40.2cm and the width is 28cm.
More information available via www.airfix.com
Thanks to Airfix for the information and images.
---
Text and Images Copyright © 2022 by Airfix
Page Created 4 August, 2022
Last updated 4 August, 2022
Back to HyperScale Main Page