I-16 Type 5
"In the Sky of Spain"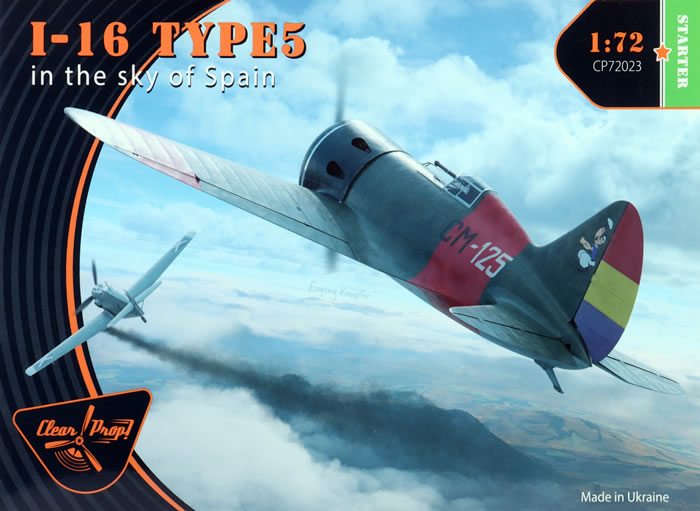 "Early Version"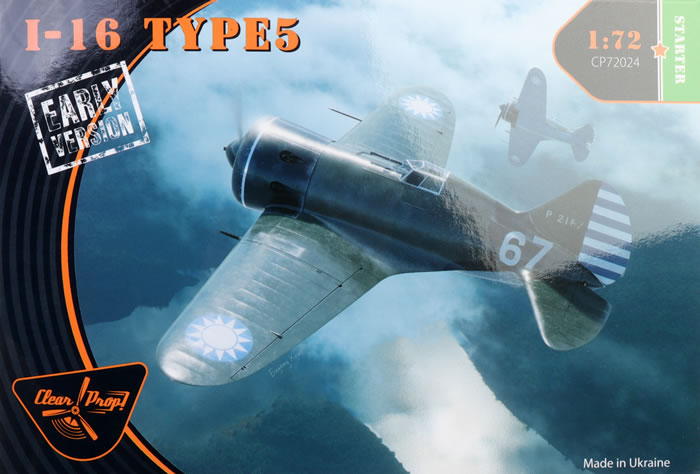 Clear Prop!, 1/72 scale
S u m m a r y :

Catalogue Number:

Clear Prop! Kit Nos.

CP72023 - I-16 Type 5 "In the Sky of Spain"

CP72024 - I-16 Type 5 "Early Version"

Scale:

1/72

Contents & Media

Grey injection moulded sprues, one clear plastic sprue, decals and instructions.

Price:

Euro 18,00 plus shipping available online from Clear Prop!

£17.82 EU Price (£14.85 outside Europe) plus shipping available online from Hannants

Click here for currency converter.

Review Type:

First Look.

Advantages:

Superbly moulded parts with great surface detail, fine individual details, good decal choices, and clear instructions.

Disadvantages:

None noted, although the flimsy boxes are a worry with postage.

Conclusions:

These are superb little kits, beautifully moulded and detailed, and are highly recommended to modellers with an interest in this era and aircraft. Get one or two while you can!

Reviewed by Graham Carter

I will deal with these two kits together as the contents are essentially identical apart from a pair of different upper wings for the Spanish ones, and the decals. Clear Prop is a kit manufacturer from the Ukraine and it is great to learn that production is continuing from this nation. They are called 'Starter kits' , despite their complexity which I think refers to their lack of resin and PE. They lack nothing despite these absences.
The Polikarpov I-16 is a diminutive Soviet single-engine single-seat fighter aircraft of revolutionary design.

It was the world's first low-wing cantilever monoplane fighter with retractable landing gear to attain operational status and as such introduced the aviation world to a new fighter layout, years ahead of other nations. Its size, shape and noise led to a number of soubriquets, Soviet fliers nicknamed it the "Ishak" or "Ishachok" (or donkey) and in Spain it was called the Rata (rat) by the Nationalists or Mosca (fly) by the Republicans.
More than 10,000 were produced and it was used by a bewildering number of air forces including China, Germany, Finland, Mongolia, Poland, Romania, Soviet Union, Republicans and Nationalist Spain.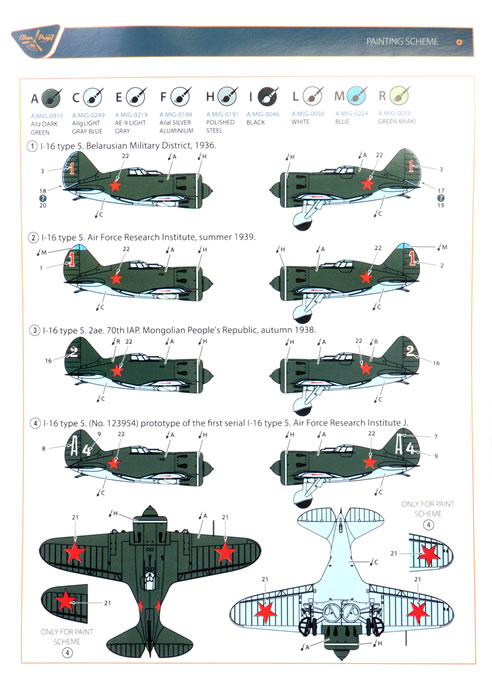 Twelve are known to be still surviving, five of which are airworthy. It was not an easy plane to fly but performed beautifully on the ground due to its rearward weight bias so that it could not be tipped on its nose, even in soggy ground! In the air it was highly manoeuvrable with a rate of roll of 240°/second (!) but was not a stable gun platform and had a tendency to spin easily, although recovery was easily achieved. It first flew in late 1933 and modifications to engines, weapons and wings over the next eight years or so resulted in around twenty different variants being produced, along with five or six projected versions. Plenty of room for a collection there!
---
Rata in Scale
The I-16 has been a popular subject for kit manufacturers with a number available in the major scales from 1/144 through to 1/32.
Previous 1/72 kits range from the venerable Revell offering of the 1960s to the more recent offerings from ICM and AModel.
It appears that Revell also released a later version, possibly Matchbox in origin?
I believe that these Clear Prop kits will eclipse the others as they are remarkable examples of the kit manufacturer's art.
Apart from the extra wing sprue in the Spanish variant, the parts are identical in each kit and come in a flimsy glossy card end-opening box with nice illustrations on the top by Eugeny Knupfer.
The sprues are separated into clear bags within a resealable outer bag.
The excellent instruction booklet of folded A4 pages with a parts map, seventeen construction stages, a paint guide for Mr Color and A-Mig and two or three pages of colour schemes and decal placement.
The parts map indicates the parts not to be used for each variant, nine in the Spanish case and seven for the early one, and they indicate that other variants will follow.
The instruction booklets are too big for the boxes and come curled around the parts bags. The box could be 10mm longer and wider for them to fit in perfectly.
There are seven mid-grey sprues in the Spanish kit and six in the early one, with a single clear sprue, all in clear sleeves, plus a decal sheet.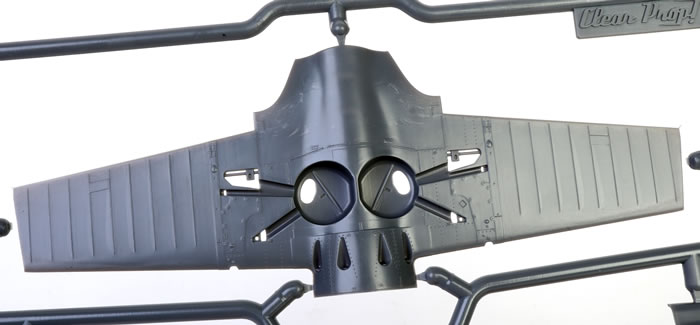 The parts themselves are superb. No sign of seams or flash, with some seriously fine cockpit parts that will require care separating from the sprue.
Surface details are exceptionally fine and will look great under a coat of paint, the variations of panels and fabric surfaces look fabulous.
The engine, seat, floor and side walls components are just amazing - who needs resin when the mouldings are of this quality? The rudder is separate to add interest.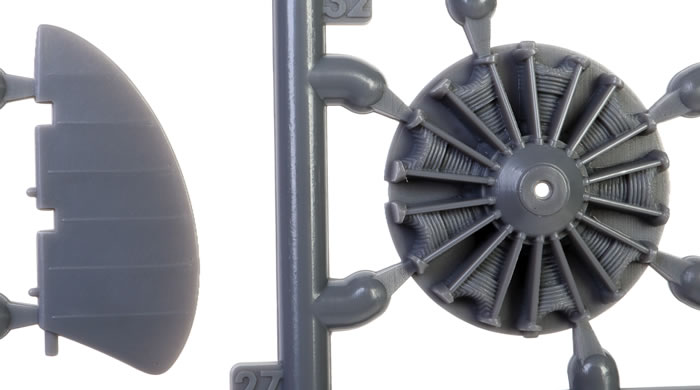 There are differing seat backs and guns for the wings. The exhausts are separate and very small so care should be exercised in their placement. The different upper wings allow for differing structures there.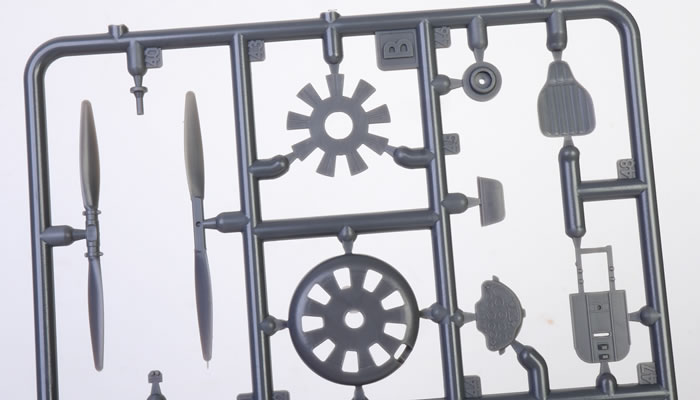 Seat belts come as decals, as does the instrument panel.
The upper fuselage in front of the cockpit is a transparency to allow for the two tiny windows that lit up the instrument panel.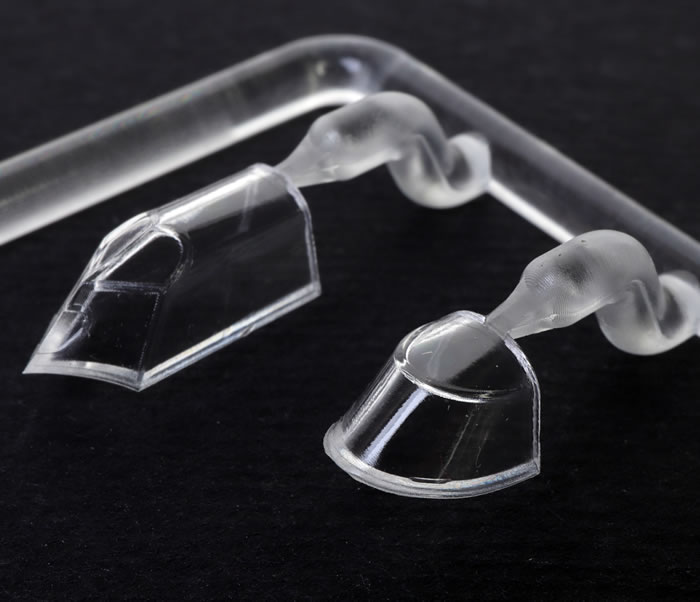 This is one fabulously well designed and moulded kit and it appears that Clear Prop have or will be producing later Soviet and ski-equipped variants, so stay tuned!
Decals are nicely printed with good colour, density and register. No stencils are provided. For the early version the schemes are:
Chinese Nationalist Air Force 1937-1945
White 67, Aircraft of Soviet pilots of Internationalists in 1938 in AMT-4 Green over Sky Line Blue with Black cowling

21 Sqn. flown by Liu Chi Sheng, at Hankow, 1938 in same scheme, and
Soviet Air Force
Belarusian Military District , Red 1, 1936 in AMT-4 Green over Sky Line Blue , and

later the same aircraft with the Air force Research Institute,

2ae. 70 th IAP , Mongolian People's Republic white 2, 1938 in the same scheme, and

Air Force Research, white A4 1939 in the same scheme again


and for the Spanish kit:
seven aircraft from various Republican units in 1936-38, all in dark green over pale blue with black cowlings and red bands around the wings and fuselage and red/yellow/purple rudders. They are numbers 9, 33, 35, 71, 108,125 ( which has a cartoon character on the fin) and 154, and

a single example captured by the Nationalists in March 1938 and repainted in 'sand and spinach' over pale blue with the identifying white crosses and black bands.
These are two very impressive kits and I heartily recommended them to any 1/72 modeller with an interest in this important fighter from the 1930s or the conflicts in Spain or the lesser-known air forces of South America and pre-communist China. I can see many award-winning replicas being produced from these components. Well done Clear Prop.
Highly Recommended.
Thanks to Clear Prop! for the review sample.
---
Review Text Copyright © 2022 by Graham Carter
Images Copyright © 2022 by Brett Green
Page Created 27 September, 2022
Last updated 27 September, 2022
Back to HyperScale Main Page
Back to Reviews Page