Focke-Wulf Fw 190 D-9 & D-11
Platzschutzstaffel JV 44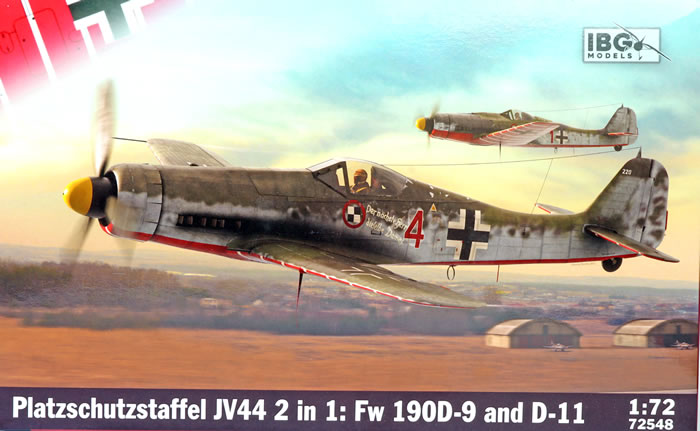 IBG, 1/72 scale
S u m m a r y

Catalogue Number:
IBG Kit No. 72548 - Platzschutzstaffel JV 44 2 in 1 Focke-Wulf Fw 190 D-9 & D-11
Scale:
1/48
Contents and Media:
Two full kits; grey coloured plastic; photo-etched parts, ten clear parts; three decal sheets with five marking options and full stencil data.
Price:

Euro 39.90 plus shipping available online from IBG's webstore

GBP£42.99 EU Price (£35.83 Export Price) plus shipping available online from Hannants

Review Type:
FirstLook
Advantages:
A great rendition of this late-war variant of the Fw190, very nicely moulded with a good PE set and terrific colourful decal choices. Cockpit and wheel wells are very well rendered.Instruction booklet is very nicely done with clear colour and decal call-outs.
Disadvantages:
None really except that the parts maps do not indicate the parts not to be used in each variant and the canopies on this sample were not as clear as I would have liked.
Conclusion:

Certainly a very fine kit of this variant of the Fw190 and I heartily recommend it to the Luftwaffe modeller. Great decal choices and instruction booklet.

Reviewed by Graham Carter
The Focke Wulf D series was the final production version of the famous Fw190 fighter and marked a change to in-line engines after serial years of air-cooled radials. Originally conceived in 1941 it was not until 1944 that the more powerful, faster, higher-altitude variants made it into service and then it was in smallish quantities. About 1500 were produced , out of which around 900 made it into Luftwaffe hands but still fewer got into front-line service, The D-9 had a single-stage , two-speed supercharged Jumo 213A engine , while the D-11 moved up to a Jumo 213F with a two-stage, three speed supercharged engine. Most were used in the role of Defenders of the Reich as both airfield defenders and to attack Allied bombers en route to targets in Germany in the last months of the war. Very few D-11s got to the front.
This kit came as a surprise to me, partly because I did not expect it and also because the enormous box led me to think IBG were trying to out-box Eduard! But no, there are in fact two kits in this strong top-opening box, slightly smaller than an A4 sheet so that the instruction booklet has to be curled over to fit in! On the cover is a nice illustration of two of the decal choices over an airfield in the concluding months of the war by an uncredited artist (as far as I could discover). The five decal choices are illustrated on the box side. Brett reviewed an earlier iteration of this kit, the Mimetall, in the What's New section on June 29, 2022.
Inside are two sets of near-identical sprues, the main difference being the upper wing set with different fairings over the mg/cannon bays. All sprues are sealed in their own plastic bags. Both sets contain the same range of engine parts, the modeller merely having to select those that fit the particular aircraft he/she is building.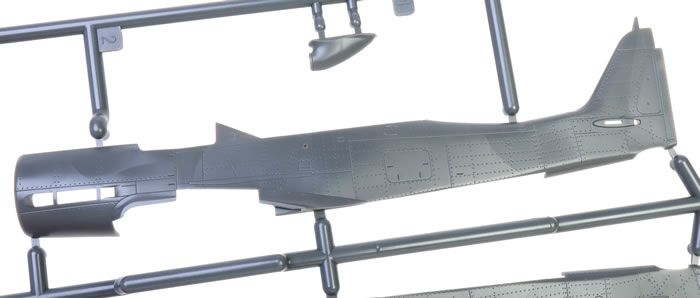 The parts are beautifully moulded in a mid-grey plastic with excellent surface detail and negligible flash. Rivets are a bit over-accentuated but coats of primer and paint should reduce their impact. Sprue gates are very fine and most do not impinge onto important areas of the mouldings. A number of parts will not be used or are alternatives but this is not made clear on the parts-map page. These include a couple of fuel tanks and what look like air-brakes (?) as well as alternate spinners and propellers, which I assume were used in the 'Mimetall' version.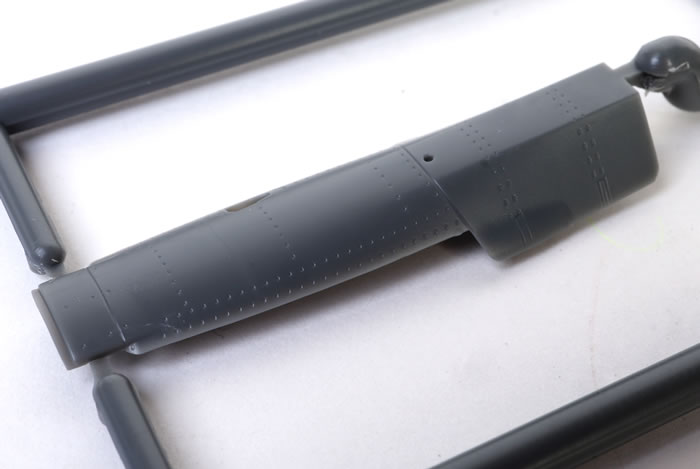 Similarly, the PE fret contains a number of very useful pieces but there are at least ten pieces which are designed for bombs by the look of them, not used in these models but again, not clearly pointed out in the instructions. I think that the ribbing on the separate horizontal control surfaces might be a bit too accentuated but a quick swipe with sander and a couple of layers of paint should reduce their impact.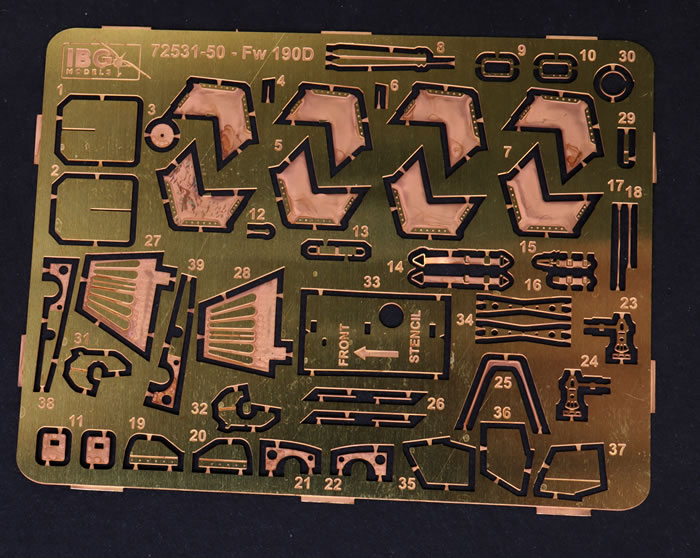 The transparencies are quite fine but a little distorted and would be best replaced by vac-formed versions.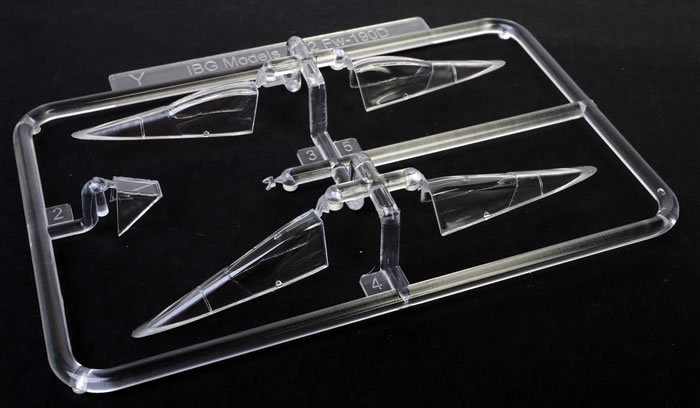 The engines are nicely detailed with detailed support frames and colour information as well as some very useful decals. The D-9 and D-11 each have a different supercharger set up so be careful in selecting the parts you need here.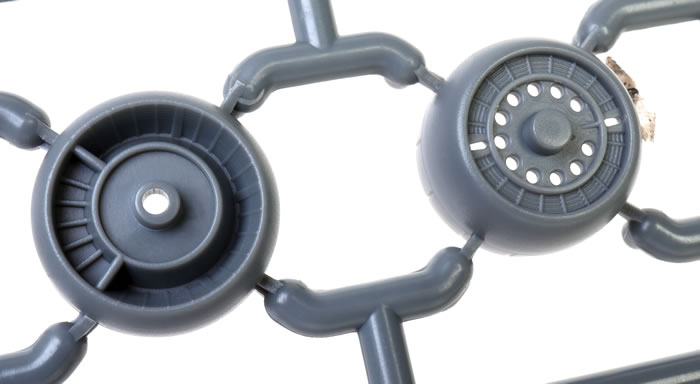 The cockpit is more than adequate in this scale with a combination of plastic and PE. Again, painting instructions are clear and plentiful all through this construction stage. It is nice to see sturdy wing spar being provided for alignment purposes and the armament has good detail, including shell case recovery boxes. Undercarriage bays are well detailed with plastic and PE parts. The interior of the canopy also receives some PE embellishment. I can see a small issue with PE part 8 as this fine aerial will require folding over on itself and it is only 2mm in width so will need some careful and accurate folding. I think a plastic part would have done the job better.
The stapled instruction booklet of 28 glossy A4 pages is an example for other companies ( except for the parts-maps which do not indicate those not to be used) with clear drawings and colour/decal call-outs at each point of construction. There are full-page colour four-view of each decal choice.
---
Markings
Decals are nicely printed by Techmod and fill three sheets of various sizes.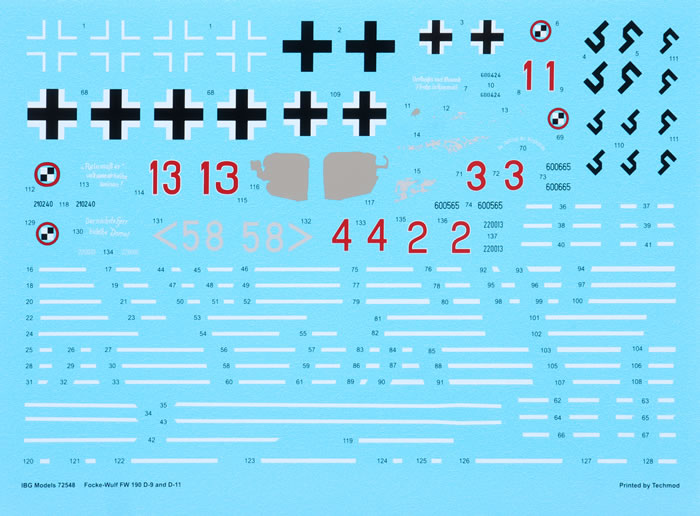 There are three D-9 examples and two D-11s. All five have the late war camouflaged uppers with red and white striped undersurfaces which I believed denoted airfield defence and to deter ground forces from having a pot-shot! The upper colours are 81/82/ over 76 with a later variant of 81 on the cowl. All have yellow spinner noses and carry messages under their port canopies.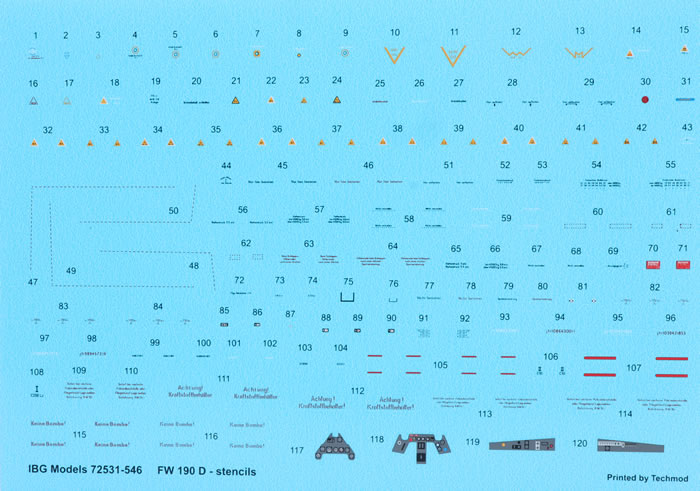 The white stripes are provided as decals and there are sufficient for two models. The white messages are also provided and will add something different to these replicas.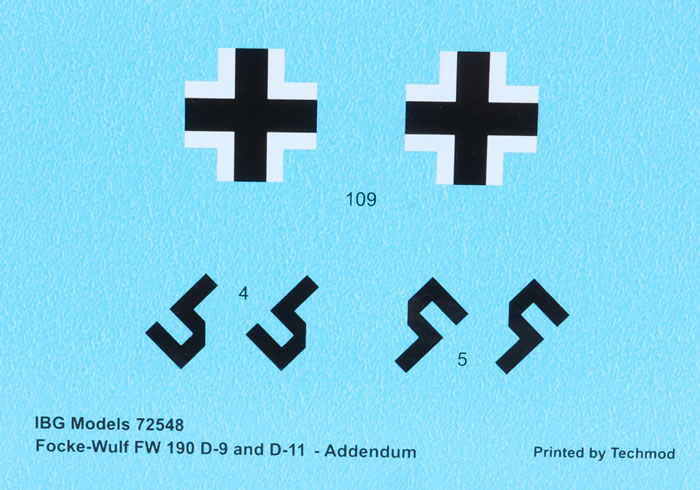 A good sized sheet covers stencils and the instructions contain four pages showing their placement. Swastikas are provided in two halves.
The D-9s are:
Red1, WNr.600424, flown by Lt. Walter Heinz-Sachsenberg and found by the Allies at Munchen-Riem in 1945,

Red 3, WNr.600565 flown by Hpm. Waldemar Wubke, and found by the Allies at Ainring in 1945, and

Red 13 WNr.210240, flown by Oblt. Klaus Faber, and found by the Allies at Ainring in 1945.
The D-11s are :
Red 2, WNr.220013, of an unknown pilot from training school and found by the Allies at Bad Aibling in 1945, and

Red 4 , WNr.220010, possibly flown by Lt. Karl-Heinz Hofman, and found by the Allies at Munchen-Riem in 1945.
All-in-all, a lovely pair of late-war Focke Wulfs that should find a ready place on many modeller's benches. Very nicely produced with great decal choices and terrific instructions.
Certainly recommended to the late war Luftwaffe fan.
Thanks to IBG for the sample
---
Review Text and Images Copyright © 2022 by Graham Carter
Page Created 26 October, 2022
Last updated 27 October, 2022
Back to HyperScale Main Page
Back to Reviews Page