KFIR C10
Kinetic, 1/48 scale
S u m m a r y

Item No.
Kinetic Model Kits Item No. K48048 - KFIR C10
Contents and Media:
300 parts in grey plastic; 11 parts in clear; markings for three schemes.
Scale
1/48
Price:
USD$39.99 plus shipping available online from Lucky Model
Review Type:
FirstLook
Advantages:
High level of detail inside and out; crisp and consistent surface textures including recessed panel lines; accurate detail; perfectly printed Cartograf decal sheet
Disadvantages:
Recommendation:

A lovely kit of this Latin American jet fighter.
Reviewed by Brett Green

Background
The Israel Aircraft Industries Kfir is an Israeli all-weather multirole combat aircraft based on the French Dassault Mirage 5, with Israeli avionics and an Israeli-built version of the General Electric J79 turbojet engine.
Since the J79 turbojet engine is an U.S. design, although manufactured under license in Israel, all export sales of the Kfir are subject to prior approval being granted by the U.S. State Department, a fact that has limited the sale of the Kfir to foreign nations. As of 2006, the IAI Kfir has been exported to Colombia, Ecuador, and Sri Lanka.
---
Colombia
In February 2008, Colombia signed a deal with the Israeli government for an additional 24 ex-IAF Kfir aircraft. It was estimated that these aircraft will most probably be upgraded by Israel Aerospace Industries to C.10 standard.
In June 2009, IAI delivered the first batch of upgraded Kfirs to the Colombian Air Force. This was a part of a multi-year contract awarded in late 2007 and worth over $150 million to upgrade the existing Colombian Air Force Kfirs, and to supply additional jets.
The additional Kfir jets, models C.10-C.12, have been upgraded and improved to include IAI's latest technologies and products.

On November 1, 2013, two Colombian Air Force IAI Kfirs intercepted Russian Air Force Tu-160s that had entered Colombian airspace. The Russian aircraft had taken off from Simón Bolívar International Airport Venezuela.
On October 10, 2017, Colombian IAI Kfirs were updated with the EL/M 2052 AESA Radar and incorporated the I-Derby-ER Active Air to Air Missile and the Python-5 Air to Air Infrared Missile.
As of 2019, 23 Colombian IAI Kfirs remain in service.
---
Ecuadorian Air Force IAI Kfir C10
In 1998, with its aging squadron of SEPECAT Jaguar fighter-bombers about to be withdrawn from active duty, Ecuador began talks with Israel for the sale of a new batch of eight Kfirs.
Fearing an escalation of the arms race in South America (Peru had recently acquired 18 MiG-29s and 18 Su-25s from Belarus), the United States blocked the deal. As an alternative, Ecuador and Israel signed an agreement in 1999 for the delivery of two Kfir C.10s and for the conversion of an undisclosed number of the FAE's original C.2s to the C.10 version, referred to in Ecuador as Kfir CE, featuring a Helmet Mounted Display System, and armed with Python 3 and Python 4 IR-homing AAMs.
By 2005, Ecuador had lost four Kfirs, including one TC.2, due to accidents since the aircraft entered service in 1982.
Historical summary sourced from Wikipedia.
---
Kinetic 1/48 scale Mirage III / V Kits
Kinetic released their first 1/48 scale Mirage IIIE kit early in 2015 followed by a Mirage IIIE/5 in 2016.
In his initial detailed in-box review, Mirage expert Mick Evans was very impressed with the kit, stating that it was accurate, well detailed and one of Kinetic's best kits to date.
In 2017 Kinetic added a two-seater Mirage kit to their lineup from which a Mirage IIIB, IIID, IIIDE, IIIDS or IIID2Z could be built straight from the box.
This was followed by a Mirage IIIEBR/IIIEA/V South America, single and two-seater IAI Nesher and additional variations on the theme by Wingman Models based on the Kinetic sprues.
A Cheetah D was added to the lineup earlier this year and now we have a Kfir C1 for the collection.
Back in 2013, Wingman Models released a Kfir kit that could be built as a C2, C7, C10 or C12. The kit was based on the Kinetic plastic with resin parts to create the later Kfir export variants. Mick Evans reviewed this kit at the time.
This is the first time that we have seen a proper injection moulded plastic kit of the Kfir C10
Kinetic's 1/48 scale Kfir comprises around 300 parts in grey plastic with 11 parts in clear plastic and markings for three schemes. There are many parts that do not apply to this version and many more optional parts, so the parts actually used for the build will be substantially fewer than 300.
Surface textures are crisp and fine. Panel lines, vents and fasteners are delicately and consistently recessed.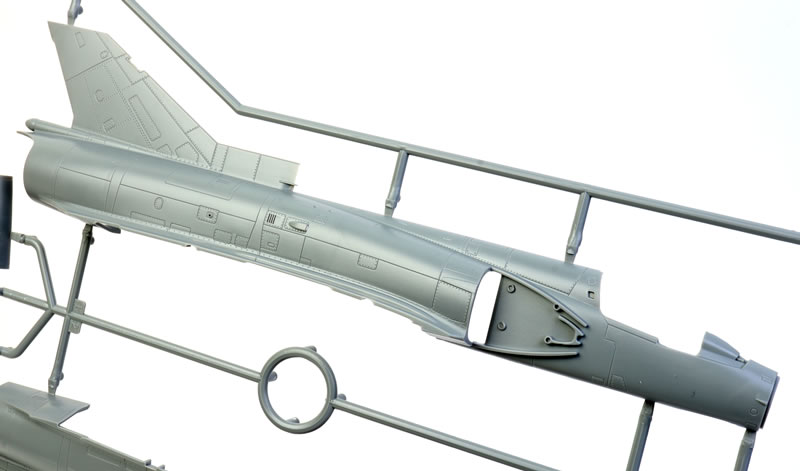 Many of the parts are common with earlier Mirage kits but the new parts are included to deliver the revised unique nose and raised ventral area on the spine. The result is quite distinctive.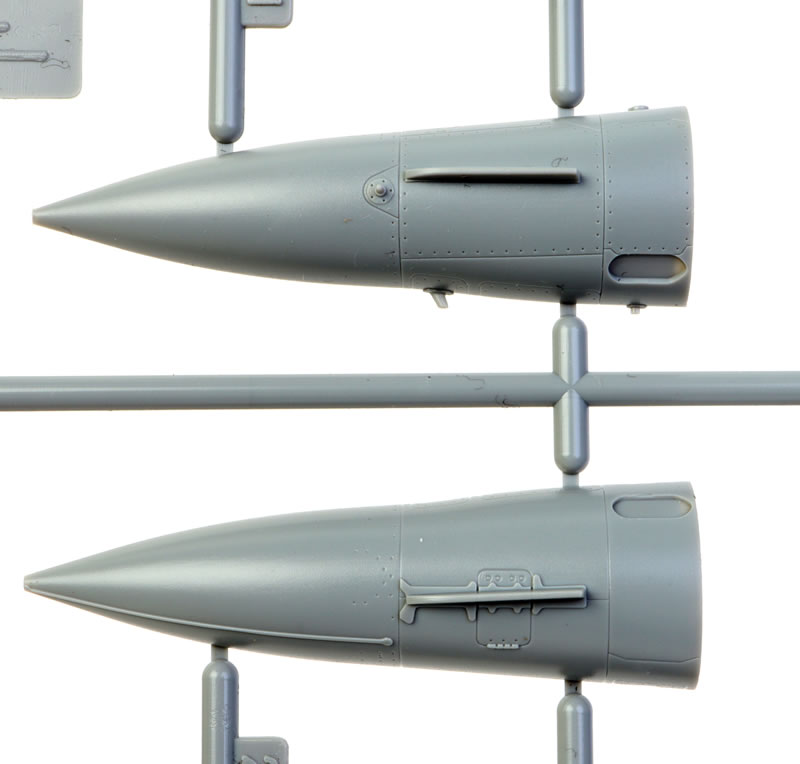 Other characteristisc of the type such as the small fixed canards, drooping leading edge and dog-tooth incision on each wing are included too.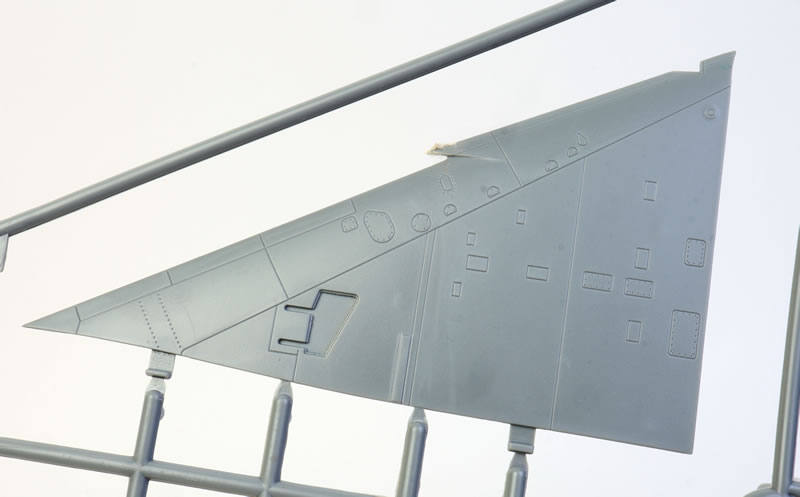 The appropriate instrument panel, ejection seat and refuelling probe are also present on the new sprues.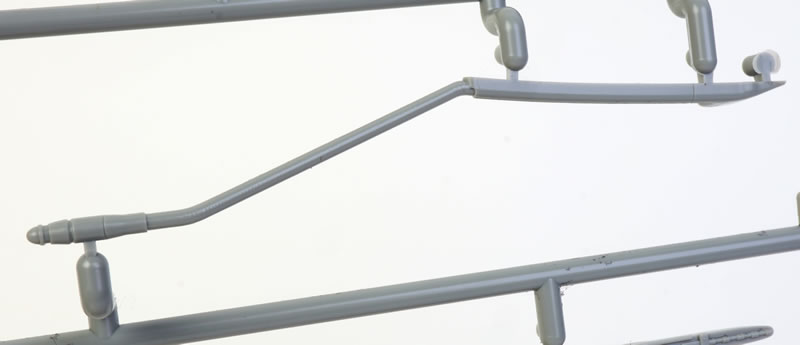 The detail in the all-plastic cockpit is very nice, but you will have to bring your own harness straps.
Flaps may be posed lowered or raised, and the wing air brakes are also poseable.
The clear parts are thin and free from distortion with no centreline seam to remove.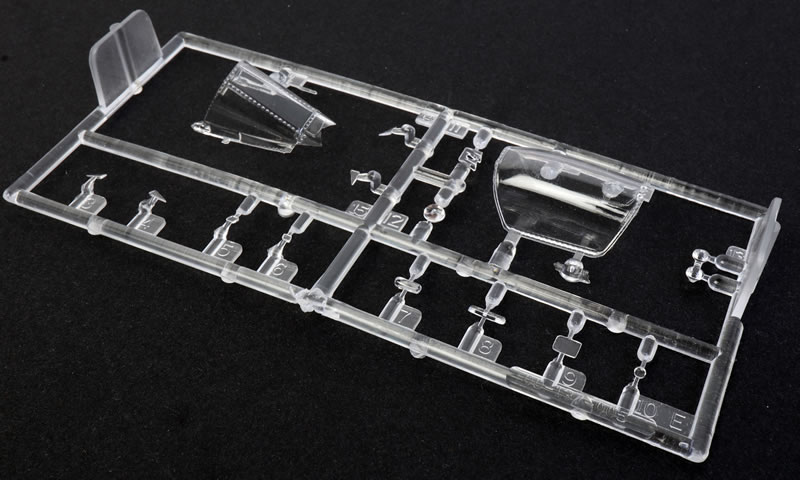 A new correct windscreen for the C10 is provided on Sprue J.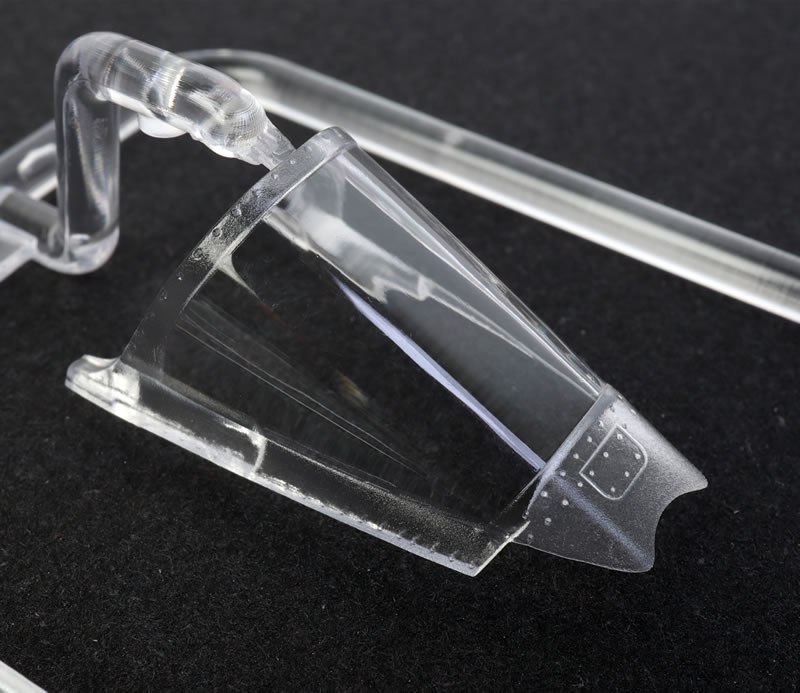 Ordnance includes wing drop tanks, Rafael Derby and Rafael Python 5 missiles.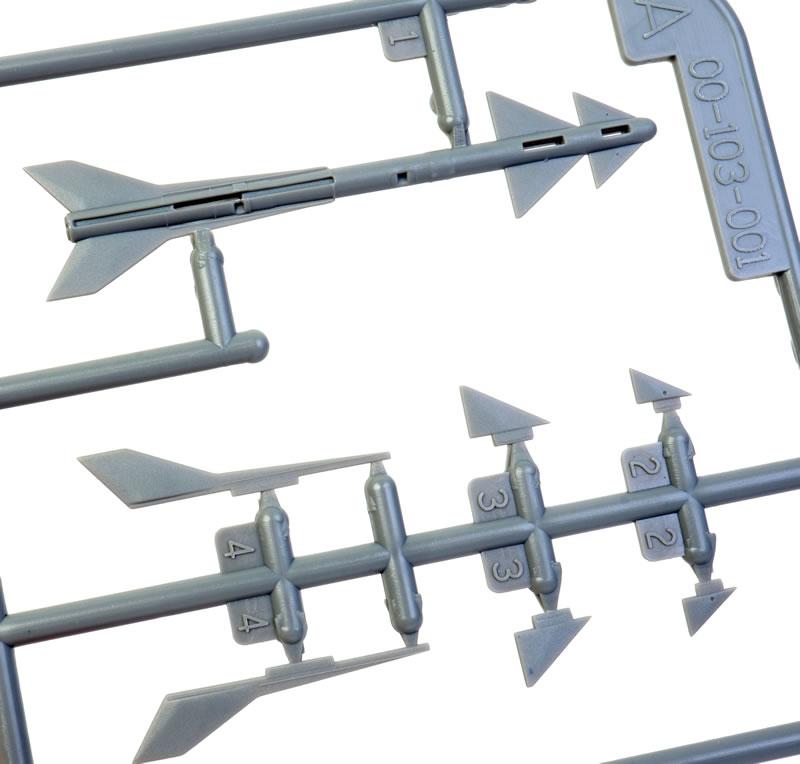 There will be a bonanza of leftover bombs, missiles and drop tanks left over for your spares box.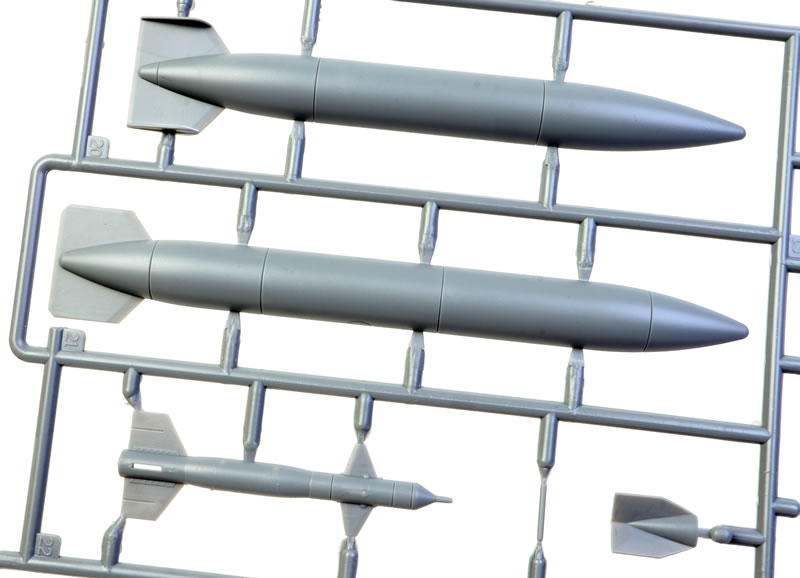 ---
Markings
Three marking options are offered on the Cartograf-printed decal sheet.
Two of these are Columbian and one is Ecuadorian.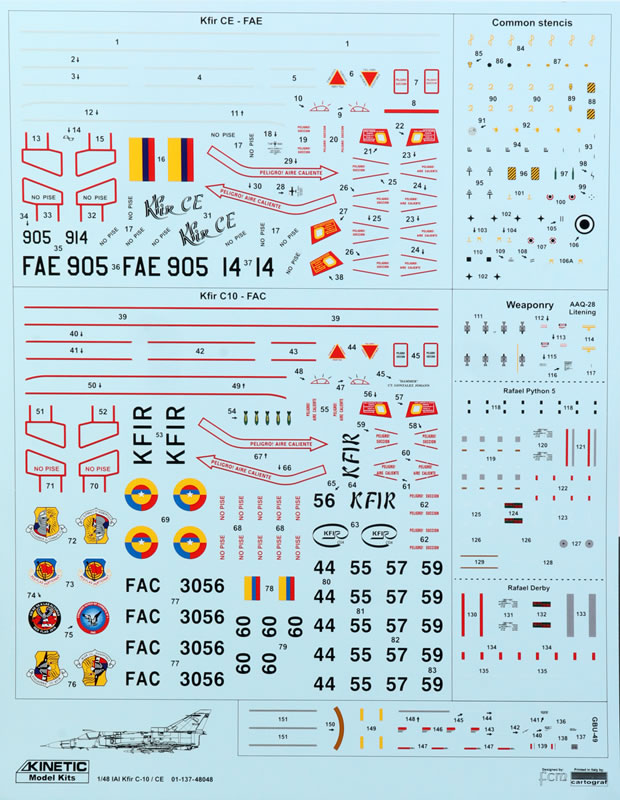 They have been designed by FCM and perfectly printed by Cartograf.
Kinetic has delivered a lovely 1/48 scale kit of this Delta wing Latin American jet fighter.
The Kfir C10 is a great looking aeroplane and Kinetic has certainly done it justice.
Highly Recommended.
Thanks to Lucky Model for the samples
---
Review Text and Images Copyright © 2022 by Brett Green
Page Created 22 November, 2022
Last updated 22 November, 2022
Back to HyperScale Main Page
Back to Reviews Page